Who is Fernando Tatis Jr.?
Fernando Gabriel Tatis Medina Jr was born in the Dominican Republic. He was nicknamed "El Nino" which means boy. Some don't realize, but his father played professional baseball (Tatis Sr)
Similar to most kids who have professional sports players as dads, He spent lots of time on infamous baseball fields. He got to enjoy the atmosphere of how it feels to be a player
In 2015, Tatis was picked up by the Chicago White Sox in their minor league system. However, he was soon traded to the Padres for James Shields when he was 17 years old without playing a single game for the White Sox organization. He ended up playing with the Padres for 3 years before becoming one of the top prospects in baseball. 
In 2019, Tatis had his inaugural season as a shortstop and finished with an outstanding season: .371 Batting average, 22 home runs, 61 runs batted in, and 106 hits. Unfortunately, his season was shortened because he injured his back
In 2020, Tatis got mainstream attention when he hit a grand slam against the Rangers on a 3-0 count.Breaking an "unwritten rule" of baseball. Funny enough, his dad is also famous for grands lams. He was the only player to hit two in one inning.
In 2021, Tatis signed a $340 million contract extension which was the 3rd richest deal at the time. Despite being riddled by COVID, he still have an awesome year with a .282 Batting average, 97 RBIs, 25 stolen bases, and 42 home runs.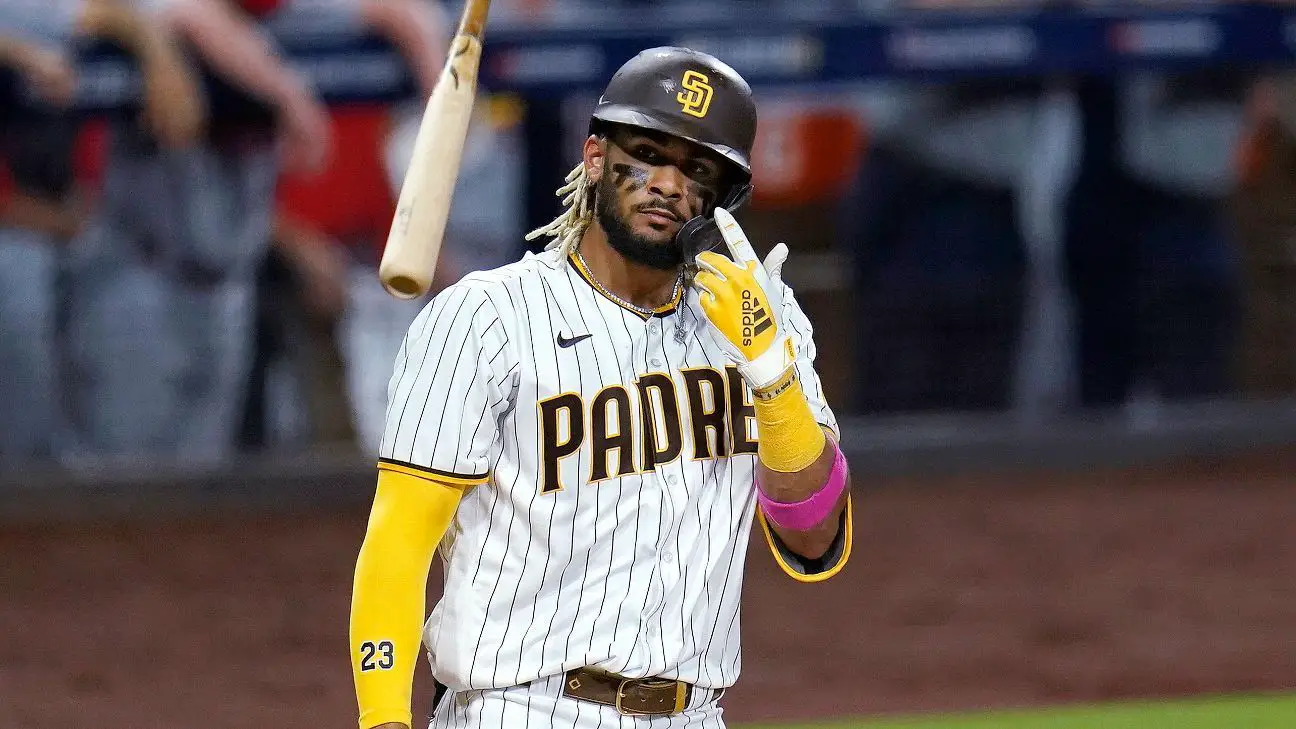 Why are Tatis Cards Expensive?
Tatis cards are expensive for a few reasons.
He's Young

People are chasing the next Trout

MVP type numbers

San Diego has money

Potential Face of the MLB
This causes investors and collectors to salivate over grabbing his cards,
Creating a marketplace with expensive rookie cards.
A Note on Graded Cards
Graded cards are always going to demand a premium in the market.
The go to companies in order are PSA, BGS, and SGC.
If you are trying to sell your card, and it's in good condition, Get it graded! 
Sure wait times are a bit long, but your return in value is a lot higher.
Pre-Rookie Cards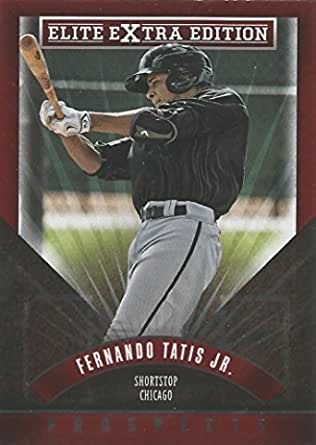 2015 Elite Extra Edition Prospects Fernando Tatis Jr. #175
This is Tatis's first baseball card. 
It's a full year before the Bowman 1st card.
But, it commands no where near the demand of the 1st bowman
The manufacturer is Panini.
Panini doesn't have the MLB license. So many collectors stay away from them.
On top of that, it doesn't have the brand history like Bowman Chrome 1st cards.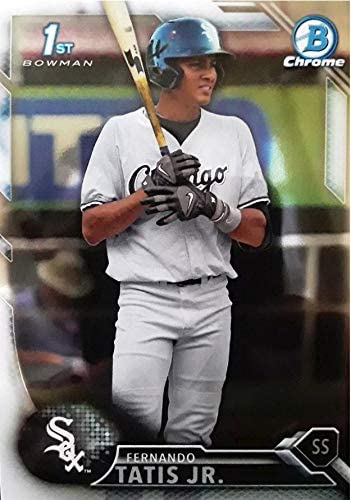 2016 Bowman Chrome Fernando Tatis Jr. #BCP17
This is Tatis's best pre rookie card (non auto).
The Bowman 1st is the equal of a rookie card for prospects.
They offer both a paper and chrome version of the card.
The chrome is always the better route to go. 
But you can't pass up a paper version of the card for cheap.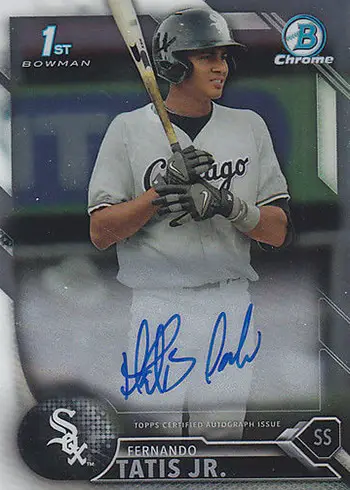 2016 Bowman Chrome Prospect Autograph Fernando Tatis Jr. #CPA-FT
The 2016 Bowman 1st auto is what investors think can be one of the next iconic cards.
It's commanding crazy prices for his first bowman autograph.
For a small collector, the price is out of the budget.
But for those with deep pockets, this is the card to get.
2019 Rookie Cards
Best Paper Cards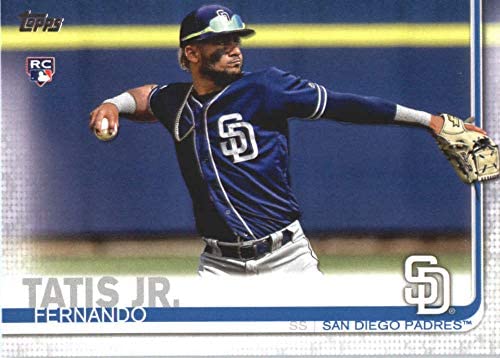 2019 Topps Series 2 Fernando Tatis Jr. RC #410
The flagship topps rookie is always going to be the most desirable paper rookie card of any player. 
And there is no exception with Tatis.
Because of his rookie and a few other young stars, the 2019 series two packs and boxes have skyrocketed in price.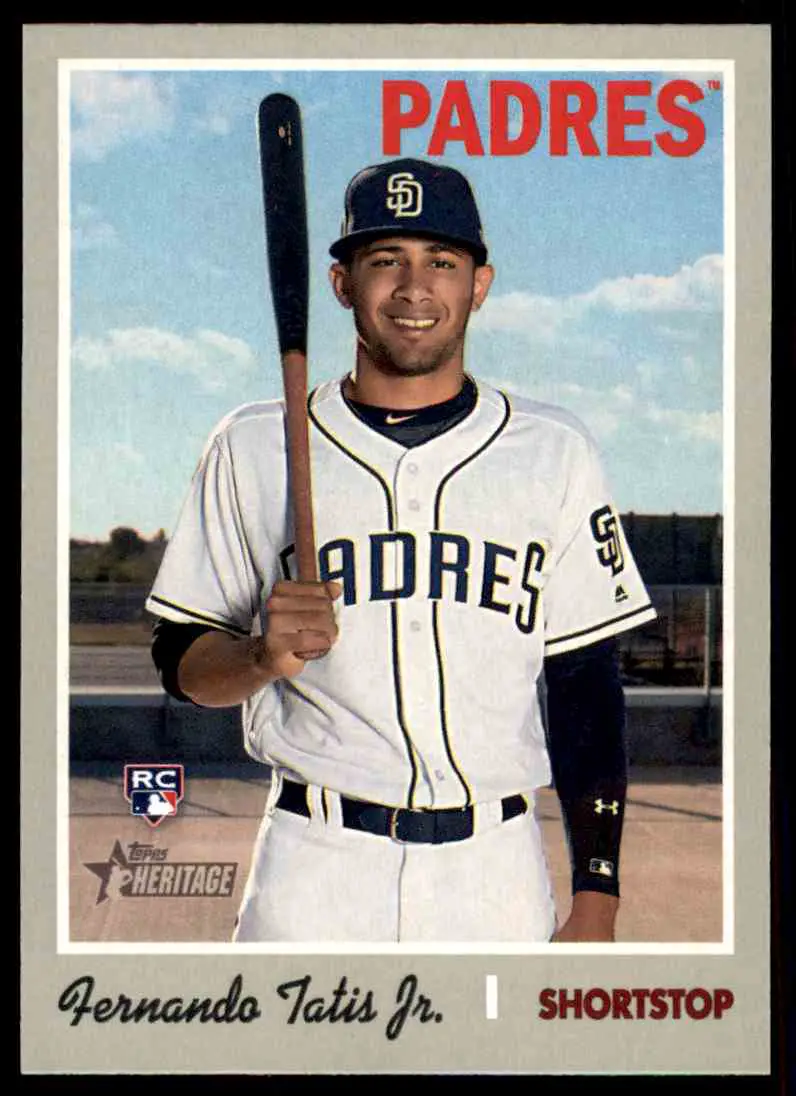 2019 Topps Heritage High Number Fernando Tatis Jr. RC #517
Heritage high number wasn't produced a ton.
It's heritage's version of Topps Update.
This is why the heritage rookie is a rare card to find.
And over time, I expect it to keep rising.
Heritage is one of the brands topps produces year after year.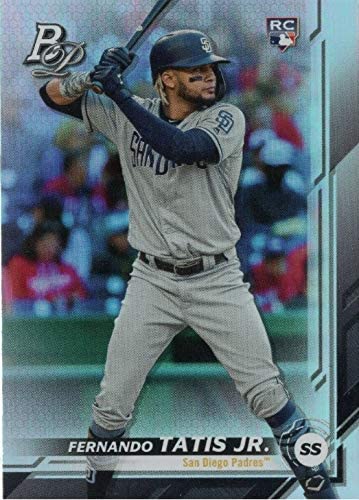 2019 Bowman Platinum Fernando Tatis Jr. RC #23 SP
In 2019 Topps made the 4 biggest rookies short prints.
The Tatis is one of the big 4 rookies.
In it's normal set, card #23 is Josh Hader.
The SP of this card is the Tatis rookie making the card desirable for set and Tatis collectors.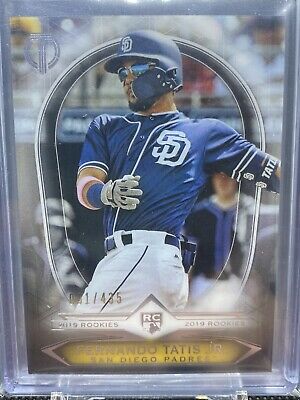 2019 Topps Tribute Fernando Tatis Jr. RC #19R-12 #/435
Tribute is a high end brand that Topps produces year after year.
In 2019, topps made the rookies have a print run of only 435 copies, making this card hard to find.
Limited production and a high end brand cause this to be an expensive rookie.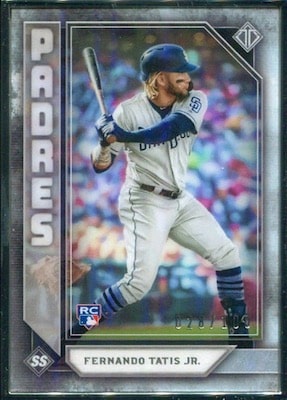 2019 Topps Transcendent Collection Fernando Tatis Jr. #49 RC
Transcendent Collection is the most expensive brand of Topps. 
At a cost of around $20,000 a set, anything pulled is going to be expensive.
Best Chrome Cards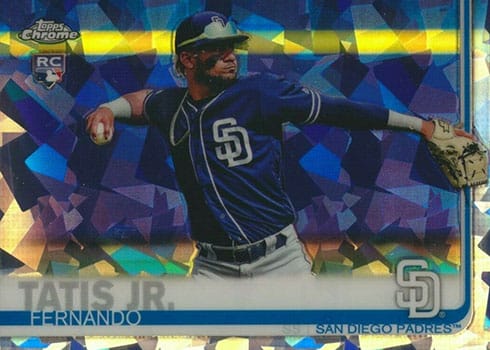 2019 Topps Chrome Sapphire Fernando Tatis Jr. RC #203
The sapphire chrome card is one of Tatis's best rookie cards.
The boxes were really expensive and it was difficult to pull a Tatis.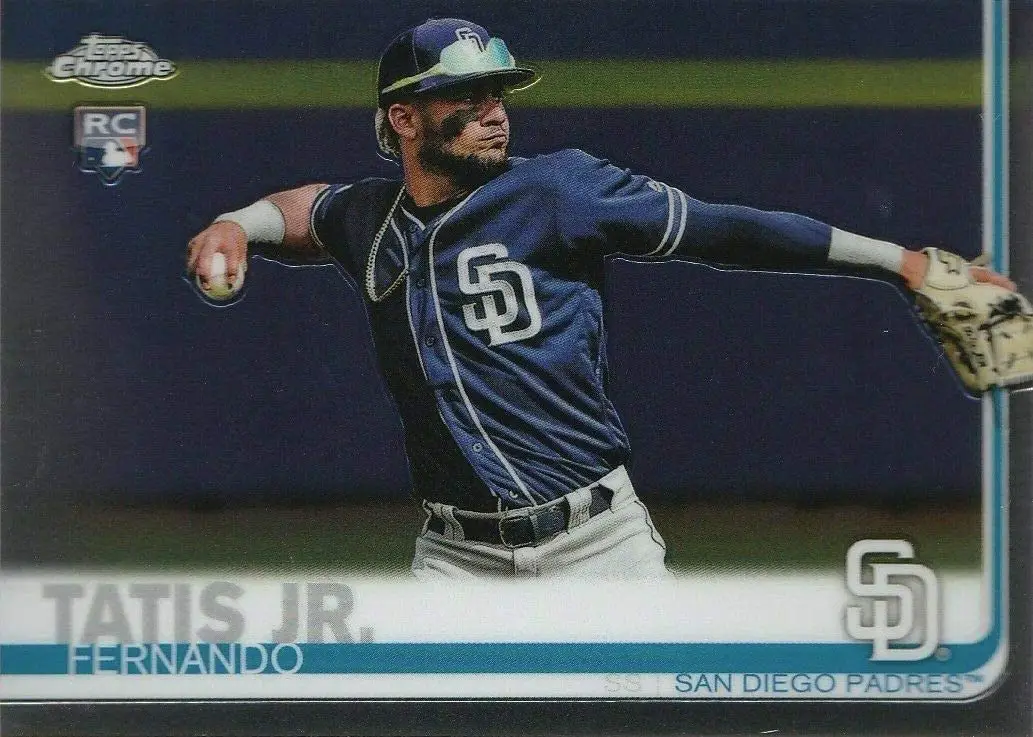 2019 Topps Chrome Fernando Tatis Jr. RC #203
The Topps chrome card is always king in baseball.
And the Tatis is no exception.
The Topps chrome rookie currently goes for more than his flagship.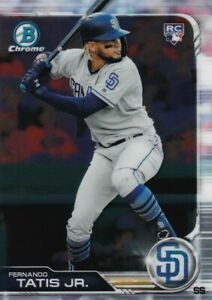 2019 Bowman Chrome Fernando Tatis Jr. RC #26
The 2019 Bowman Chrome Tatis doesn't command the price of his 2016. 
In fact his Topps Chrome card is better.
It's still a great card to grab for a PC though.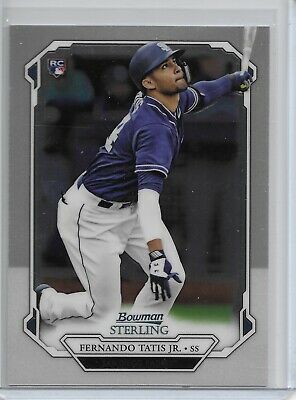 2019 Bowman Sterling Fernando Tatis Jr. RC #BSR-73
Bowman sterling is a mid end brand full of prospects.
The Tatis goes for a decent amount, but is not in as much of demand as the Topps or Bowman chrome.
Still a great card to own though.
Best Auto & Jersey Cards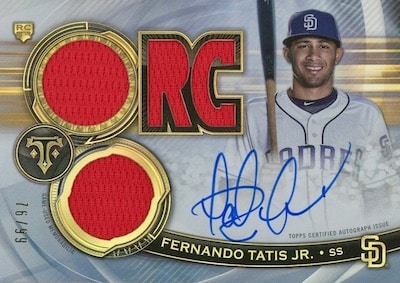 2019 Topps Triple Threads Fernando Tatis Jr. RC #RFPAR-FT Autograph Jersey #/99
Topps Triple threads has been the go to brand for rookie jersey autos in baseball since the early 2000s.
Tatis has a few cards in the 2019 set, but his Autograph jersey is the go to card.
The base is out of 99, but there are many variations of the card which are lower numbered.
2019 Panini National Treasures Fernando Tatis Jr. RC #35 Autograph Jersey #/99
It doesn't matter that Panini doesn't have the MLB License.
The RPAs still grab a lot of collectors.
They are still a fraction of the value of basketball or football though.
And could be a long term play value wise.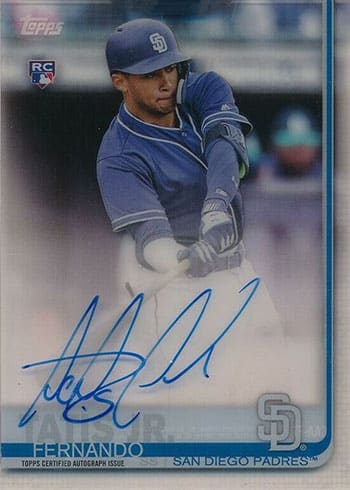 2019 Topps Clearly Authentic Fernando Tatis Jr. RC #CAA-FT Autograph
Clearly authentic cards are a bit underrated.
They feature the flagship design, have on card autos, and are acetate cards.
The Tatis fetches high prices, but nowhere near his Topps Chrome autos.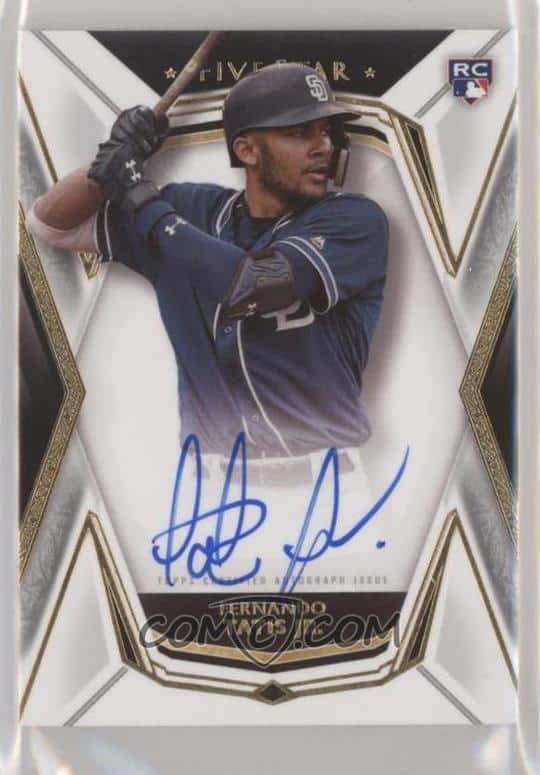 2019 Topps Five Star Fernando Tatis Jr. RC #FSA- Autograph
Five star offers premium cards with on card autos.
It features 2 cards per box, at a price of around $200.
So any decent pull is going to be worth some money.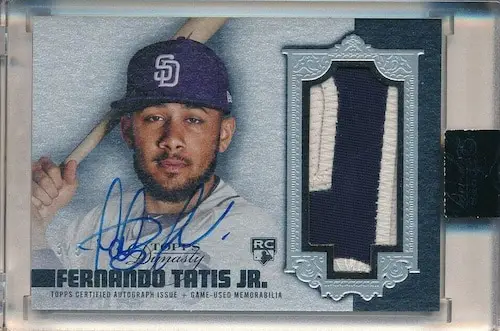 2019 Topps Dynasty Fernando Tatis Jr. RC #DAP Autograph Patch #/10
One of the rarest cards in existence, this RPA is what any baseball collector desires.
It's low numbered, features an on card auto, and a large patch.
On top of that, Topps Dynasty is a super expensive brand.
Good luck finding this card.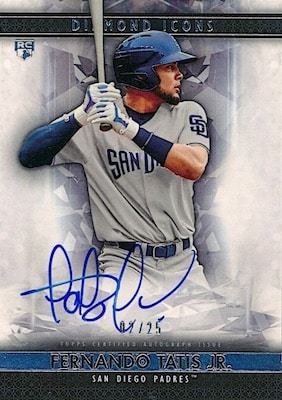 2019 Topps Diamond Icons Fernando Tatis Jr. RC #AC-FTJ Autograph #/25
Like Dynasty, this card is super rare to find.
The base auto is /25 and is from an ultra high end brand.
The autograph is on card.
How much is a Fernando Tatis rookie card worth?
It depends on the brand and variation.
At the basic level, you are looking at a $5 card for something out of a lower end product like Ginter or Archives.
On the upper end, it can be worth thousands if from Diamond icons or Dynasty.
Tatis's long term potential
Tatis is young so it's still difficult to project his long term value. 
If he ends up being the face of baseball, the prices are going to continue to rise.
If he ends up a good but not great player, prices are going to dip a bit.
Tatis is one of baseball's newest stars
He is young, however consistently proving himself as a premier player in the MLB
His higher end cards are fairly expensive, but could potentially skyrocket in value over the next couple of years