Who is Juan Soto?
Juan Soto is an outfielder for the Washington Nationals.
Called up at the young age of 19, he showed the world his superstar potential.
Within two seasons, he's now considered one of the best players in baseball.
And he's already won a World Series in 2019.
Soto is a future potential Triple crown and MVP candidate.
Who is capable of having war numbers like Mike Trout.
Why are Soto Cards Expensive?
Soto cards are expensive for a few reasons.
He got called up at 19 (Most players debut in their early 20s)

People are chasing the next Trout

Won a World Series

A lot of WAR at a young age

Raw Baseball Talent

Lot of Hype based on his early results
A Note on Graded Cards
Graded cards are going to increase the value of cards
Whether it's PSA, BGS, or SGC.
For modern cards, you are looking for a 9 or a 10 grade.
Anything below, it's better to have raw.
2016 Juan Soto Bowman Chrome Rookie Card #JS
Juan Soto has a few pre-rookie cards. But his Bowman 1st auto is the most notable one.
Over the years the 1st chrome autos of stars have increased in price.
Juan Soto's is one of the most expensive on the market.
Without a doubt, this is his best card to have of his.
It's his first card, chrome, and features an on card auto.
The different refractor variations can also make this more expensive.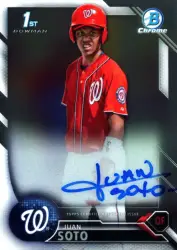 2018 Juan Soto Topps Update Rookie Card #US300
By far the best Juan Soto paper card.
Baseball collectors always value the flagship topps rookie.
The fact that Soto is in the update set also increases his price.
Topps Update, Traded, and Series 3 always have high priced rookie cards due to limited print runs.
When the last series is being printed, Football season is going on.
And most collectors jump from collecting Baseball to Football.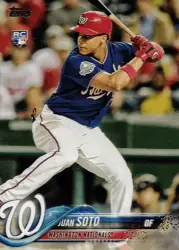 2018 Topps Heritage Juan Soto Rookie Card #502
The other notable paper card from 2018 is Soto's Heritage rookie.
Heritage is an underrated set. 
Topps produces it every year based on the vintage design of it's past releases.
It has a history and uses its flagship designs.
The Heritage rookie is about 30% the price of his Update.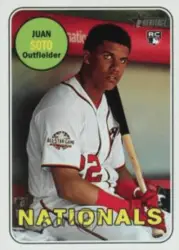 2018 Topps Chrome Update Juan Soto Rookie Card #HMT55
Chrome update is a recent addition to Topps's brands in the past few years.
It's a Target exclusive release and always has collectors demanding it.
It has the benefit of being chrome & an update series.
This makes it more expensive than his base update rookie card.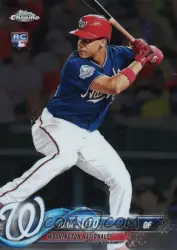 2018 Bowman's Best Juan Soto Rookie Card #29
Bowman's Best doesn't get the demand of other hobby brands.
While it features a great design and a chrome card, collectors often pass it for Topps or Bowman chrome.
Soto doesn't have many chrome cards since he got called up late into the year.
So his Bowman's Best is a decent card to have in your collection.
It's much cheaper than the chrome update though.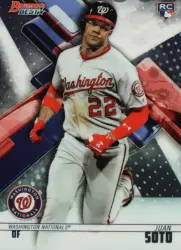 2018 Chronicles Prizm, Select, and Optic
Panini made more chrome cards of Soto then Topps did in 2018.
In their chronicles release, panini has a Prizm, Select, and Optic cards released.
For an unlicensed product, they do a pretty good job on the 2nd market.
Many collectors will buy them as they are popular in basketball, football, and soccer.
All are still much cheaper then the Chrome Update.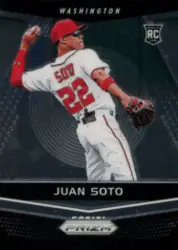 2018 Topps Transcendent Collection Juan Soto RC
Transcendent collection is more a collection of cards then a box break.
It's the most expensive set Topps produces.
So anything from it will cost a pretty penny.
Soto's rookie is an on card auto.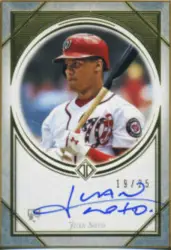 2018 Topps Dynasty Juan Soto RC Auto Patch #AP-JSO1 to AP-JSO3 /10
Besides the Transcendent collection, Topps Dynasty is the second most expensive brand Topps produces.
Dynasty is a box that has one card for $500.
So it's a super expensive gamble.
All cards have a print run of 10 or less.
This is Topps's best version of an RPA that competes with National Treasures.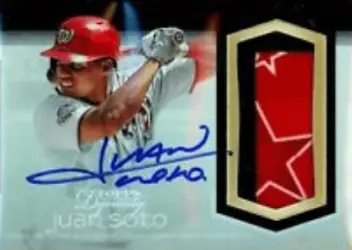 2018 Topps Five Star Juan Soto RC Autograph #FSA-JSO
Five Star is yet another high end Topps brand.
The rookie auto is on card.
And the stock of the card is super thick.
A box of Five Star runs around $200 for two cards.
So at the base level you are paying $100 a card for a gamble.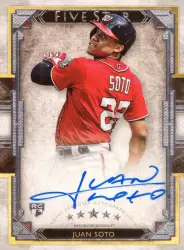 Panini National Treasures Juan Soto RPA /49
If Panini had the MLB license, this would be the most expensive card on the list.
The Soto RPA is still expensive, but doesn't compare to other sports national treasure rpa prices.
A luke RPA will cost you 6 figures
Whereas a Soto RPA is currently a few thousand.
How much is a Juan Soto rookie card worth?
It depends on the brand and variation. For a low end brand, his cards are about $15. For his upper end cards, you are looking at 5 figures and more.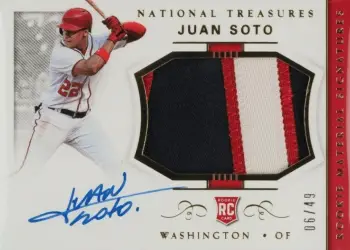 Soto's long term potential
If Soto keeps playing the way he is, there is no doubt he will be a Hall of Famer. 
The real question is if he will be a superstar or legend.
Most players develop in their late 20s. 
And Soto was putting up great numbers before he was even able to drink.
So it boils down to what he can produce in 5 years.