Who is Luka Doncic?
Luka Doncic is a second year player from Slovenia who has been lighting the NBA on fire.
He got drafted by the Atlanta Hawks with the 3rd pick in the 2018 NBA draft. He was then traded to the Dallas Mavericks as they swapped with the Hawks for Trae Young.
Luka was born in Ljubljana, Slovenia. His father was a professional b-ball player and his mother was a hurdler.
He started playing organized basketball when he was 7 years old and never looked back.
In 2015, Luka entered the Euro league at the ripe age of 16 and became the youngest player to debut for Real Madrid.
In 2018, he won the Euro League MVP and decided he was ready for the draft at 19 years old
When he got into the league, he had an immediate impact and won rookie of the year. Fast forward to today, he is a dominant player and regarded as a possible generational talent.
Why are Luka cards expensive?
He has received a lot of hype from fans around the world.
In fact, Mark Cuban said he would rather get rid of his wife if that meant keeping Luka on the team.
Luka has accomplished an insane amount for someone his age. He won rookie of the year and has continued to improve on an amazing first season.
One interesting factor into the price of Luka's cards is the influence of Gary V.
Gary promotes certain cards that he thinks will rise in value.
A while back, he told his followers to buy the Luka Prizm Base Rookie for $60. As I am writing this, the card goes for north of $600! Crazy.
Most Valuable Luka Doncic Cards
Pre-NBA Cards:
2016-17 Upper Deck EuroLeague Basketball Rainbow #23 Luka Doncic
Along with Luka's rookie cards, another card that has an insane amount of value is his Euro League card.
This is valuable because  the card appeared even before Luka's NBA rookie card.
No one knew he would be a sensation, so few people obtained the card.
It's obtained by only by collecting 10 digital base Luka cards or on online websites such as Ebay.
There is also an autographed version of this card that is available about a year later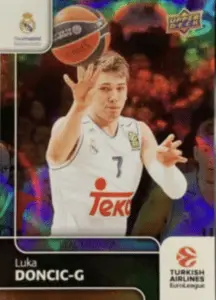 Paper Cards:
2018-19 Panini Court Kings #145
There are four variations of the Luka Court Kings card
They have beautiful designs on the cover and are super collectible.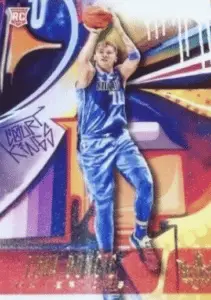 2018-19 Donruss #177 Rated Rookie Luka Doncic RC
Looks like the optic version and has the same card number.
Be on the lookout for limited parallels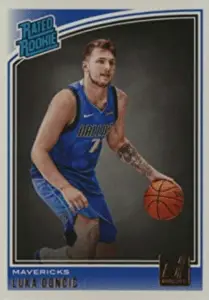 2018-19 Panini Crown Royale #63 Luka Doncic RC
This card is unique as it has a crown on the front of the card.
It is also a horizontal card that has an interesting die-cut signature design.
This will be a stand out card in any collection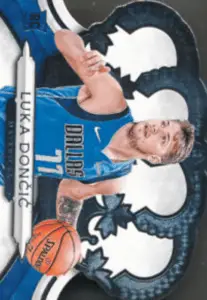 Chrome Cards:
2018-19 Panini Prizm #280 Luka Doncic RC
This card is a must for every Luka collector.
The prizm brand is growing and this card is the definition of iconic.
You have seen this card online or at a card show as it is popular.
Definitely a great grab if you can get it at the right price.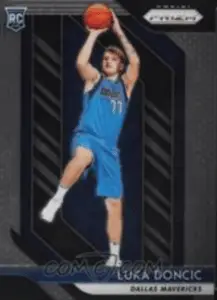 2018-19 Donruss Optic #177 Rated Rookie Luka Doncic RC
The Optic rated rookie is an absolute classic.
It has different parallels and the rated rookie logo is a staple for any card collector
There is a Donruss version that is like this version except it is a little cheaper
A must have for every Luka fan.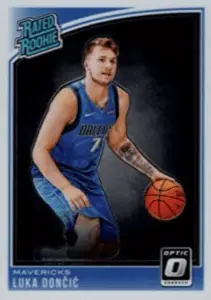 2018-19 Panini Select Luka Doncic RC #25 
Another great brand of sports cards for Luka is Panini Select.
There are three different variations with Concourse being with the least amount.
One important aspect to note is that the concourse has special die cut cards
the premier also has rare parallels worth loads of money.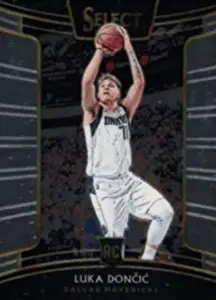 Autograph and Memorabilia Cards
2018-19 Donruss Optic Rated Rookie Signatures #117 Luka Doncic RC
The same image for the Kaboom! Card is on this card.
The design looks awesome with the rated rookie emblem in the top left corner.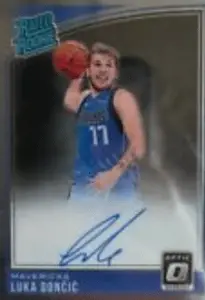 2018-19 Panini Contenders Luka Doncic #122 RC Autograph
This card is very distinct as it has a ticket emblem in the top left corner.
There is a white and black variation of this card.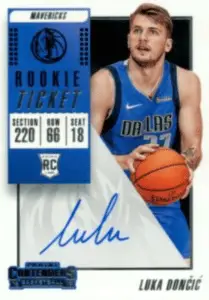 2018-19 Panini Dominion Luka Doncic RC #159 /199 Autograph Jersey
This card is exclusive due to its numbering
It has part of his jersey and an autograph.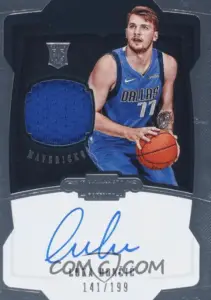 2018-19 National Treasures #127 Luka Doncic autograph/jersey card /99
This card has ridiculous value and sold for around $200,000 dollars on Ebay.
If you can find it for a discount and have loads of money, it might be worth your while.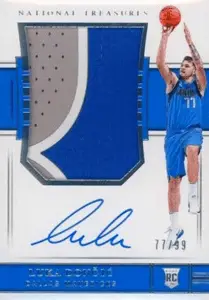 2018-2019 #SSLDC Luka Doncic Prizm Sensational Signatures
This card has the iconic prizm design and a signature towards the bottom.
Definitely a card you want to get graded.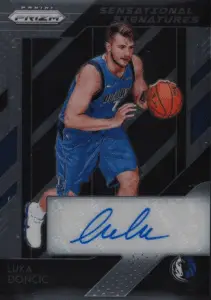 What is the Best Luka Doncic rookie card?
Besides the autograph card and pre-rookie card, Luka's best rookie card is his panini prizm card.
This is due to its rise in popularity as collectors go nuts over this card when graded (especially numbered variations).
Luka's Long term Potential
He has enormous upside potential and Mavericks fans adore him. He is one of the few players that has the potential to be a generational talent.
Luka is a fan favorite and definitely someone to keep as the sky's the limit for him.
Summary:
Luka has played basketball ever since he was a little kid and never turned back.
He has had a sensational first two years in the NBA.