Bronko Nagurski isn't just a guy you find in some vintage football sets, he's THE guy you want in them. Red Grange has more of a name cache to the casual fan, but Nagurski was the better player, with more expensive cards. A four-time first-team All-Pro, Nagurski was a beast. His 235 pounds made him one of the biggest players on the field, and playing fullback, was one of the faster players with it.
In college at Minnesota, Nagurski was All-American on both sides of the ball as he was proficient at defensive tackle as well as fullback. Was later named into the College Football Hall of Fame in their inaugural class.
Numbers from the era don't reflect how dominant Nagurski was, as he only had 3,947 rushing yards for his career. Due to his size, he had numerous defenders trying to tackle him, and was eventually injured. Bronko was then put in as offensive tackle, and was proficient there as well.
Retired after 1937, but came back during World War II as the Bears had lost too many players to the draft. Originally used as a tackle because his speed was gone, Nagurski was forced back into playing fullback due to injury. He then played a critical role in winning the 1943 championship for the Bears despite being a runner at age 35. That doesn't seem overly impressive, but medical technology to heal injuries, or general bruises, wasn't what it is today. 35 in 1943 was the equivalent to playing at age 45 today, and not at a position that barely gets hit (ex. Quarterback Tom Brady).
The NFL was not booming business during Nagurski's career, so he sought out extra money in professional wrestling. Was good enough, and enough of an attraction, to win the NWA World Heavyweight Championship in 1939 and 1941. Won various other lower territory championships and is a member of various wrestling Hall of Fames as well. He'll probably be inducted to the WWE Hall of Fame when they've had enough of electing mediocre guys from the 1970's-1990's. But making sound decisions isn't exactly in their playbook.
Cards wise, Nagurski is an absolute monster as well.
Most Valuable Bonko Nagurski Football Cards

Nagurski's first appearance on cardboard is in the 1933 Diamond Matchbooks. Featuring a silver border, 1933 Matchbooks are rare to find for any player, much less Nagurski. As of writing, nine total are in PSA and SGC cases. Value on these can range drastically as scarcity overrides. One sold in 2013 on a small auction site for $159. Other forums covering Matchbooks tend to say $1,000 is closer to fair, and those were written before the card boom. As the proud owner of one of the nine mentioned above, it would take multiples of that to even get me to consider moving it.
1934 & 1936 Diamond Matchbooks

Likely tougher to find than 1933, is 1934 Matchbooks. Featuring a tan border in 1934, only three have been graded by SGC. PSA has two graded as 1934, but they're listed as red. The 1936 version is red, where PSA has nine total graded and SGC has 15, is much more common. The 1934 and 1936 versions, look virtually identical. Love to be able to tell you how to tell if a red is 1934 or 1936, but I can't. Have one off for grading, really more for authentication, as of writing and hope it comes back as a 1934. 1936 copies can usually be found, but might be missing the striker or have a tear. They tend to run around $200 in decent shape, which leads me to think the $1,000 from 1933 is more likely accurate, if not low.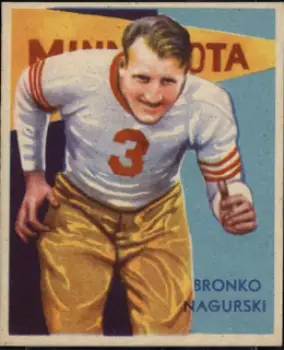 The granddaddy of all vintage football cards is 1935 Chicle Bronko Nagurski. Chicle is an iconic set on its own and Nagurski is the best player in the set, coupled with being a short print. If you want to get frustrated for no reason, go look at PWCC sold history on this card, and see what they go for today, if they can be found. Authenticated copies start at around $5,000-$7,500 today. 185 exist in PSA and SGC cases as of writing. That seems like a lot, but many are locked away in Hall of Fame rookie checklist collectors. They're also sent in more to authenticate, or put into a slabbed case, just based off value, so 185 is scarcer than you'd think.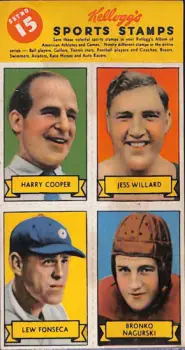 On a sheet with Harry Cooper, Jess Willard, and Lew Fonseca, Nagurski features an almost painted image with him wearing a helmet. Sales are tough to find for this card, but a few are available on eBay around $400.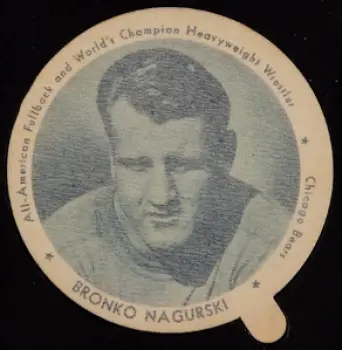 Ice cream lids from Dixie feature Nagurski as one of the images. You could also get a full-size sheet version that had punch holes designed to be put in a binder. Sammy Baugh is equally as desired as Nagurski for both the regular ice cream lid and full-size premium version. Regular lids are often $200-300 in decent shape with the striker intact, and slightly less without. The premium version is often $75-100. Personally feel the four cards (Baugh and Nagurski both versions) represent one of the biggest values in vintage cards across all sports.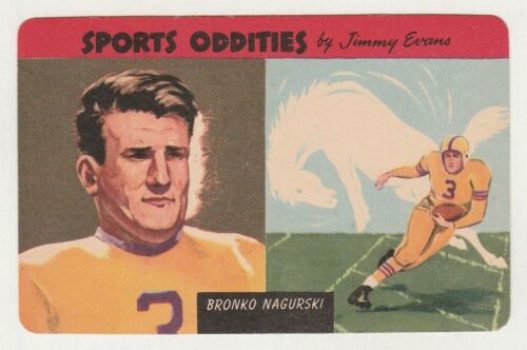 Another food product features Nagurski two decades after he retired for the first time. A painted image on the front and short biography on the back is in a rare set to find. Sales have been around $100 recently on eBay, but this is whatever two people agree upon. It's entirely possible to find one for $20 at a show. The trick is more finding the card than paying for it.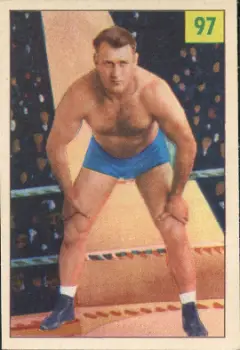 The wrestling rookie card for Nagurski is 1955-56 Parkhurst. Very rare card that commands premium from the football community, along with the wrestling fans. The only sale the last 90 days was $328 for a PSA 1.5. Another example of the issue is more finding the card.
Nagurski's first autograph card comes in 1999 SP Signature with a total print run of four. Four 1/1's were made with cuts as he passed away in 1990. Normal Nagurski autographs on index cards, or similar, are about $100-150. If you have a card with an in-person autograph, you're likely looking at $200-500. Pack pulled tends to draw a nice premium off that number as well. There are not any game worn memorabilia cards of Nagurski as of writing.
Final Thoughts on Bronko Nagurski Football Cards
Bronko is not the first name that comes to sports fans when they think of vintage sports, but card collectors typically point to him in the first handful of names to chase. Younger fans will look at his career stats and not understand right away, but he could play offensive and defensive tackle at a high level along with fullback. Fullback doesn't seem glamorous today, but it was effectively the running back. In today's game, it would be like Nick Chubb, Aaron Donald, and Trent Williams all in one player. Truly a dominant force.