Joe Namath is one of the very few players who changed the game forever. Five times he was named Pro Bowler or AFL All-Star and four times was All-Pro or All-AFL, Namath was an AFL staple. Tailed off later in his career due to knee injuries, Namath only appeared in 140 games, and had a less than ideal 173-220 touchdown to interception ratio. But his impact is still felt today.
Starting from the beginning, Namath was a clear franchise quarterback prospect coming out of Alabama. Due to the NFL and startup AFL being in a war for talent, the draft for both leagues were essentially a sham and whoever offered more money typically won. Due to wanting Namath not wanting to miss his final game at Alabama, Namath chose to sign with the AFL's New York Jets over the NFL's St Louis Cardinals. Side note, the Cardinals and Rams both left St Louis? No wonder they cheered for the Battlehawks.
'Broadway Joe' was born the second he joined the Jets, and his star power became a real attraction for the AFL and the Jets alike. His free agency status right from the start was one of the keys to a merger between the two leagues. They both realized that spending a lot of money for one player was suicide and merged. Free agency for veterans would come later (1993), but Joe Namath being an attraction with game changing potential was the first guy you can trace eight figure per year contacts for quarterbacks to.
While the lore of Namath is better than the on-field game of Namath, he also has a truly remembered moment. Today we have games between the AFC and NFC during the regular season all the time. For the 1968 season, the AFL only played AFL teams, and NFL only played NFL teams, until the Super Bowl. Add on that the NFL's Packers crushed the Chiefs and Raiders and some felt the NFL made a mistake to merge with the inferior AFL. When asked about this general sentiment at a Miami pool before the game, Namath guaranteed victory. Keep in mind that the Colts had the MVP in Earl Morrall, Coach of the Year in a young Don Shula, John Mackey, and a roster full of quality players. The Jets then went out and beat the Colts soundly at a time when TVs would only have a few channels. Live sports, and a big game, meant if you had a TV, you watched that game. The Jets won due to timely interceptions, and the running game, but everyone remembered Namath running off the field holding one finger up in a truly iconic moment.
For cards and collectibles, Namath is a tier one football asset as well.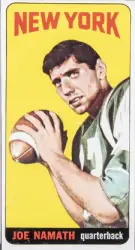 One of the few players before 1989 to get a rookie card in his rookie year, Namath's 1965 Topps is on the short list of THE football cards to have. Tall cards at 4 11/16" x 2 ½", many got destroyed or creased due to not having a good way to keep them in good shape back then. Featuring a colored background, the set stands out from others in that era, or any era. Being a short print adds to the value as well. The
Namath also has two versions where the short print has a butterfly looking mark on his hand. While the butterfly version doesn't add much value, it's much harder to find. If money is an object, this card typically starts around $1,500, and you kind of take what you can get. If money isn't, the butterfly is the one to get if you can be patient. I personally wouldn't sell a butterfly for what regular version goes for, but It's not listed on PSA labels and can be missed. SGC has graded 587 as of writing, and three are in the variation holders.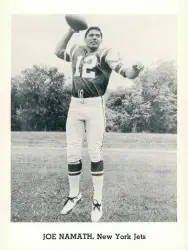 More photographs than cards, and listed on PSA cases as 1962-1965, Namath sneaks in with a rookie photo. Valuable for rarity alone, commons in the set tend to draw $20. A star like Namath is whatever two people agree upon.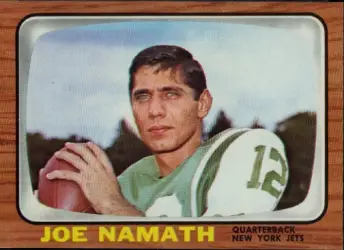 Early career Namath Topps cards are some of the most desired within the sets. 1966 features a look as if you're watching it on the TV similar to 1955 Bowman baseball and is the most expensive of his remaining playing days mainstream cards. 1967 and 1968 are fine cards to own, and are needed if you're a player collector, but go down in value the further you get into his career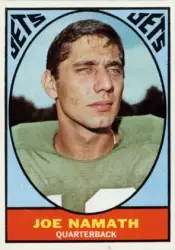 967 and 1968 are fine cards to own, and are needed if you're a player collector, but go down in value the further you get into his career
1968 CHAMPION CORN FLAKES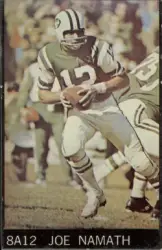 From the cereal box, 1968 Champion Corn Flakes are beyond rare. As of writing, only two are available on eBay, and only one has sold in the last 90 days. 24 have sold on PWCC since 2016 and that's from the set in total. With 49 total cards in the set, star players are whatever two people agree. A Gale Sayers drew $168 in 2016 as comparable player. One Ray Nitschke is available for $390 or best offer to give some sense of value to what Namath should sell for.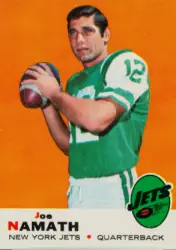 The year that Namath guaranteed victory in the Super Bowl is why his 1969 Topps gets a value bump. Not an overly great set with only Larry Csonka as a rookie Hall of Famer, Namath is near the top of the mark for value.
Released for the 26 teams with 12 per team, the stamps were originally meant to be taken out and put into a sticker book. The set features many pre-RC's for many Hall of Famers with Willie Lanier and Gene Upshaw leading the list. More difficult to find than pay for, the Namath is typically a $20 bill.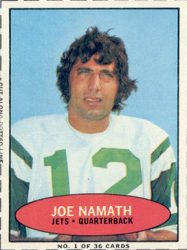 Coming from the back of the gum box, 1971 Bazooka is another oddball food item. More rare than valuable, most players can be had for $10-50, with Namath being at the upper end or exceeding that valuation slightly. 18 of the 36 in the set are in Canton, but none are pre-rookies.
1971 MATTEL INSTANT REPLAY RECORDS
A kids toy, the 'cards' came in the form of small musical records. 17 are in the football set with 13 eventually going to the Hall of Fame. None of those 13 are pre-rookies. Whoever paid $15 for the Namath at auction a few weeks ago got an absolute steal. These are extremely rare.
The NFL Players Association put out stamps in 1971 and 1972, and also fabric cards and a vinyl card in 1972. The chase out of those is a rookie Roger Staubach. Rare but not overly valuable, most can be had for around $5, but the stars are $20-50. The 1972 Vinyl Sticker is my favorite as it has a bobblehead like look to it.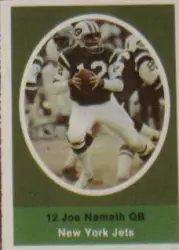 Fill up your gas tank and get the kid a stamp pack to keep their mind occupied. 624 total stamps are in the checklist with like NFLPA, Roger Staubach is the chase. Not hard to find, most cards are $1 with even Staubach being under $20 in most cases.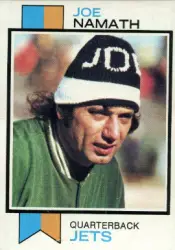 Namath's last playing days Topps card comes in 1973 with a great sideline shot of him in a custom 'JOE' hat. Due to knee injuries, and worse overall Jets teams by this point, Namath's play was declining. He never had a playing days card for when he signed with the Los Angeles Rams in 1977 in a cost cutting move for the Jets. Later, he would get jersey cards with the Jets, but decades later. Namath also almost signed with the World Football League in 1975, but the WFL passed on his demands and collapsed shortly after.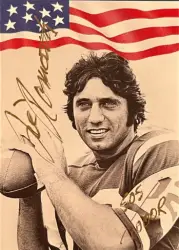 Namath's first autograph card came in 1992 All World with gold ink and hand numbered to 1,000. Jim Brown's first signed card is also featured as a way to get a brand off the ground. Namath and Brown autographs were not enough to save All World. Namath's 1997 Upper Deck Legends autograph is a short print and commands four figures due to set builders. Normal Namath autographs are $75-150 but can vary if a patch is on the card, or is a premium brand.
Namath's first memorabilia cards come in 2000, but with being in multiple brands from multiple manufacturers, the first jersey cards do not hold a premium. Normal one-color Namath cards are $10-20 in normal brands. Patch cards tend to fall from $25-50.
There is some truth to Namath being highly overrated due to his stats not being great along with a persona that was enhanced by alcohol instead of true charm. Just ask Suzy Kolber. But he simply embodies everything about the glamorization of football from a slow running game to a passing league. The AFL had a better quarterback in Len Dawson, but Namath had the moment first in Super Bowl III. If the Chiefs defeat the Vikings before the Jets defeat the Colts, you might be thinking of Dawson as the player to chase instead of Namath. He is lucky to have his rookie card fall in a hard-to-find set as a short print. He's lucky to have his 1997 Upper Deck Legends autograph be short print. He's lucky to have gone to a big city for his game to shine. But Joe Namath also delivered an iconic moment in front of an entire nation with a celebrity persona that will be hard to match going forward. He also helped usher in an era where contracts added digits behind them instead of being whatever the club wanted to pay you.