A Jerry Rice Football Card is a must for any serious Football card collector.
When discussing the greatest football players of all time, Jerry Rice is a name that has to be included. Don Hutson has an argument to be the best receiver, but Rice performed longer against much better competition. Only Reggie White has more All-Pro appearances (13) than Rice (11) who is tied with Anthony Munoz and Bruce Smith. Rice is only behind Tom Brady (15), Tony Gonzalez, Merlin Olsen, and Bruce Matthews (14 each) for most Pro Bowl appearances as well. Yes, Pro Bowl can be a fan vote, but Rice was legitimately good with the Oakland Raiders towards the back half of his career as well.
Rice also holds the NFL record for all time receptions, receiving yards, receiving and total touchdowns, along with total yards gained. The product of hard work with just enough natural talent, Jerry Rice was simply an unstoppable force throughout his career. Having Joe Montana and Steve Young throwing him the ball helped, but even with Oakland and later Seattle, Rice could still play. If he comes out of college a year earlier and never tears an ACL in 1997, it's staggering to think how high his numbers might have gotten to.
For cards, Jerry Rice is also championed. His memorabilia, autograph, rookie, and other general cards are not rare, but always command premium.
Most Valuable Jerry Rice Football Cards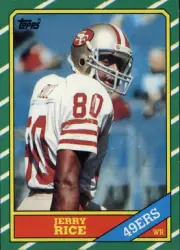 Rice's 1986 Topps rookie card is THE football card of the 1980's along with the 1981 Joe Montana. Tough to get in high graded because of edges that are very prone to wear, only 121, as of writing, are in gem mint from PSA, SGC, and BGS. That's out of north of 43,000 graded.
Yes, many are sent in decent shape just for authentication as this is a faked card, but PSA has a 5.2% gem rate. Basically, any other card in the set you need a 9 or 10 to profit from grading with a few exceptions. You're not sending even good cards in; they have to be exceptional.
The real pay curve on 1986 Topps comes at mint. In NM-MT, Rice tends to sell around $200, where mint fetches $2,000. The last two PSA 10's from PWCC have fetched $66,000 and $90,000. Yearly salary money for most Americans.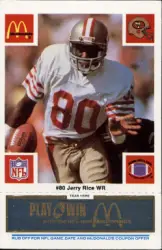 Back in 1986, if you lived in San Francisco, you could order a Big Mac and get a rare Jerry Rice rookie card. Distributed in team sets, the set also features rookie cards of Hall of Famers Reggie White, Chris Doleman, Andre Reed, Bruce Smith, and Reggie White. 
Condition sensitive due to the scratch off tab at the bottom, sometimes missing all together in an attempt to get a small fry, or intact and scratched off, high grade copies of this set make 1986 Topps look plentiful. Stains are also not totally uncommon from ketchup and mustard. A clean copy in decent shape is one of the underrated gems from the era. Poor conditon copies will fetch $20-40 just based off rarity, while a PSA 9 has a $5,000 recent eBay sale.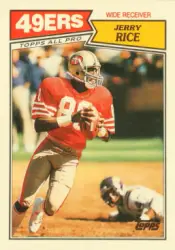 The second year Jerry Rice Football card features an image of him about to throw a pass in a trick play. Not nearly as condition sensitive, or desired, as 1986, PSA 10 copies are around $300. 
You need the 10 when submitting as mint copies only get around $40. Rice also has a League Leaders, 1,000 yard club, and two stickers,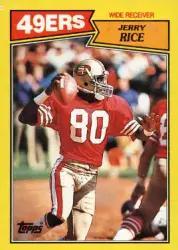 This Jerry Rice Football card has the same design as the normal 87 Topps but with a distinct yellow border. This is actually the bottom of a box and really tough to get in a high grade. 
1988 Kenner Starting Lineup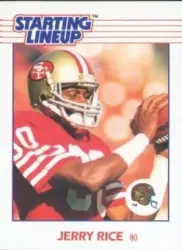 One of Rice's rarer cards is the Starting Lineup cards. Originally found with a toy inside, and without a penny sleeve or top loader, many are in less than ideal shape. 
New in box models command around $150, while just the card, or action figure, is around $10-15 individually.
Being an active player through 2004, if there was a set made from 1986 and beyond, Rice was in it. Even now, he appears as a legend in many as a base card. From the Action Packed 24 Karat Gold cards, Topps Chrome Refractors, Finest Refractors, Wild Card Stripes, or the granddaddy of them all the 1997 Metal Precious Metal Gems, Rice has some great cards that aren't his rookie. The PMG has recent sales in the red version (/150) for $18,000 and green (/15) for $150,000. Case hit, or worse odds, Rice cards command premium and it's not going away.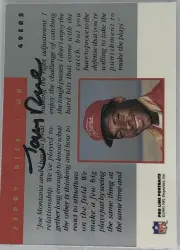 Rice's first on card autograph comes in 1991 Pro Line Portraits. The authenticity is supposed to come on the bottom right corner with an embossed stamp, but the early 1990's Pro Line autographs are faked. 
The 1991 Rice version does command premium to a normal autograph, as they tend to sell for $150-200 where a lower tier autograph will do around $100.
1996 UPPER DECK GAME JERSEY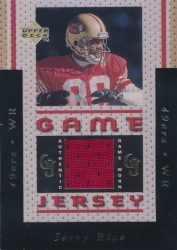 The first memorabilia card for Rice, and cards as a whole, was in 1996 Upper Deck. Simply titled 'Game Jersey', the cards are 1-2,500 packs, with a 10-card checklist. Two are Rice, so only 12,500 packs gets you one. Patches in 1996 are uncommon as well, meaning you're looking at one color for most. 
Recent sales are around $400 on the low end for Rice. Nine of the 10 players on the checklist ended up in Canton. Sorry about that Mark Brunell.
Normal one-color Jerry Rice game used cards typically command around $10, while patches tend to start at $25 on the low end. A good brand Rice with multiple colors tend to be around $100 for just the memorabilia. Nice autographed patches typically start at $300 and be much more depending on if a premium brand.
Final Thoughts on Jerry Rice Football Cards
Jerry Rice's place in history is not disputed unless you want to argue best overall player in league history. While not uncommon, except if going by three letter grading, Jerry Rice football cards commands premium. The only time I've ever personally gotten a deal on a Rice is after the person admits they recently upgraded and want cash. Jerry Rice is the Michael Jordan equivalent, and is deserving of his spot on the football Mount Rushmore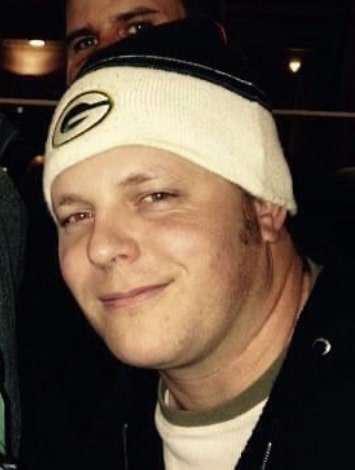 Paul. Card collector since 1993. Serious collector since 2014. PC Pro Football Hall of Famers regardless of team. Go Packers, Seminoles, New Jersey Devils, Milwaukee Bucks, and whoever I have money on in auto-racing. Would rather be found forging my own path than following the beaten one.