Mickey Mantle baseball cards are the staple of any serious collectors collection. Many devote a large percentage of their collection to his cards from the 50s and 60s. 
Mickey Mantle was born in 1931 in Oklahoma. Along with baseball, Mantle also played football. However, in 1946, he sustained a terrible injury from football. Thankfully, he ended up being okay and went on to initially join the Yankees organization in 1949.
Mantle spent his early years of his career in the outfield and didn't get switched to first base until the end of his career. He spent most of his career with wraps around his body because of the injury.
Mantle had over 500 homeruns in his career and over 100 WAR. Mantle won 7 MVps, 3 MVPs, a Golden Glove, Batting title, and Triple Crown. Almost everything you can accomplish as a baseball player
Most Valuable Mickey Mantle Baseball Cards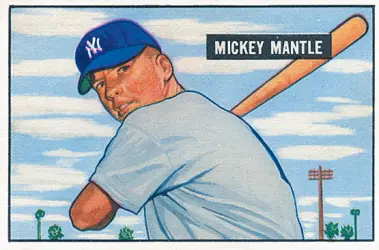 This is Mantle's mainstream rookie card. It's his first major release and an aesthetic card. This is definitely an expensive card as even low grade examples can eclipse $10,000. There is one PSA 10 example that is said to sell for millions of dollars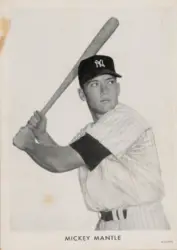 The Wheaties card is oversized. It's from a test issue and there are only around 90 examples graded at PSA. In low grade, the card can be found for a few thousand dollars. In higher grade, the card can be easily exceed the 5 figure range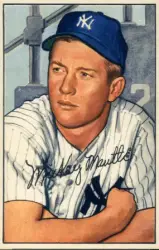 This is Mantle's second bowman card and second year card. It's not as expensive as the 51 Bowman, but it certainly costs a pretty penny. low to mid grade examples cost a few thousand dollars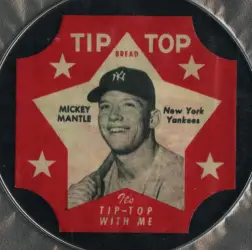 This card is bright red and has a unique shape. The 52 issue is the only Tip Top bread mantle card. Its a scarce card, so make sure to keep an eye out for it
This card has the same picture as the 51 Bowman Mantle. It's not nearly as colorful, but still a cool card.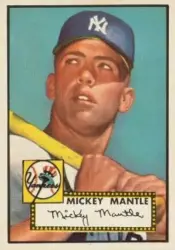 The 52 Topps Mantle is arguably the most iconic sports card in the hobby. This is Topps' first mainstream issue of traditional cards. These cards were the first to have stats on the back. This is not Mantle's rookie card but certainly the most expensive. A decent looking PSA 1 sells for aroun $25,000-30,000 dollars. A PSA 9 of this card sold for $5.2 million
Despite looking about as cool as the 52 Topps card, this rendition does not sell for nearly as much. Nice centering on cards like these does demand a premium. Low grade 1953 Topps examples sell for a few thousand dollars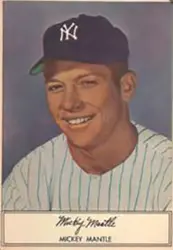 This is Mantle's first food card. It was packaged with hot dogs. This card is fairly scarce, so keep you eyes peeled for it.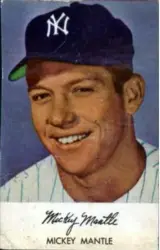 Another food card of Mantle is the Briggs Meat card. It's a two year release and the first meat card of Mantle (aside from hot dogs). It's a tough card, so keep your eyes out for it.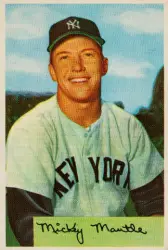 The 54 Bowman Mickey Mantle baseball card is a nice looking portrait of Mantle. The card typically has good centering and isn't too hard to find. It sells for around $500-700 in low grade.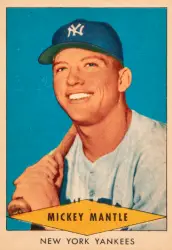 This card is unique as it came when one purchased dog food. Despite it being a food card, it has an awesome aesthetic. a PSA 5 recently sold for around $3,000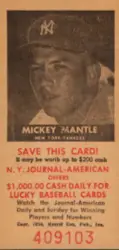 These cards were only made of Yankees and Giants players. It has a weirdly skinny and oversized shape and is definitely an oddball Mantle card
1954 Dan Dee Potato Chips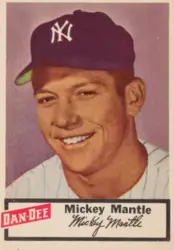 This is Mantle's first potato chip card. Crazy how one player could have so many food cards. This one is popular and condition sensitive. PSA 2s sell for around $1600-1800.
1955 All-American Sports Club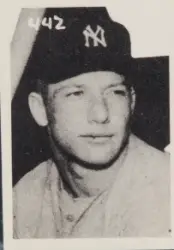 The All-American Sports Club card is a multi-sports set. It features around 500 different players from sports like basketball, baseball, and football. Mantle is featured here and every card from this set is hand-cut.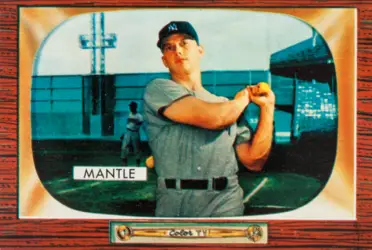 The 55 Bowman cards resemble a TV screen. Some don't love the look of these cards, but that doesn't stop them from having value. PSA 2s sell for about $400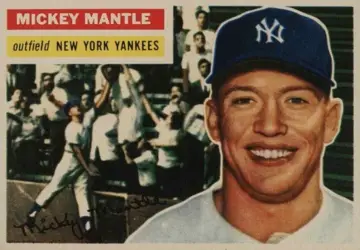 The 56 Topps card has two versions: a white back and a gray back. The fronts of these cards looks the same. It's only the backs that are different. The card can be found from about 500-800 dollars in low grade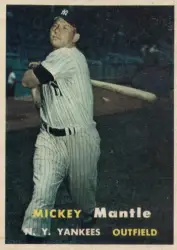 The 57 Topps has rough centering. If the Mantle card is centered it will demand a bit of a premium. The photo looks like Mantle is batting lefty but he's actually a righty.PSA 2s sell for around $200-300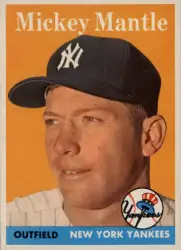 This card depicts Mantle with a distinct orange background. Low grades sell for a few hundred dollars.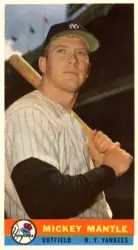 This card is hand-cut and has a blank back. Its a bit long in terms of length and is unnumbered. This is his first bazooka card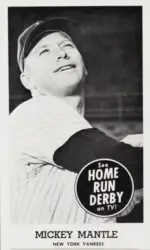 This card was made just before the 1959 home run derby. It's oversized and scarce. It's also expensive as a PSA 3 sold for $3.300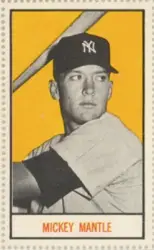 This card is unique as it's a regional release. The card is hand-cut and fairly scarce. a PSA 6 recently sold for around $1,800. It's cool to see a card of Mantle from his home town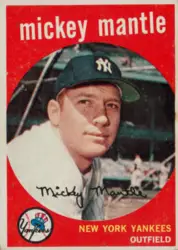 the 59 Topps card is Mantle's first Venezuelan Topps card. It looks similar to the 59 Topps card, but has a different paper stock and is super condition sensitive. In 2017, an SGC 3 sold for $4,500.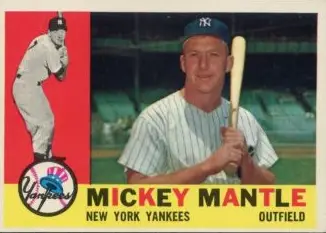 This 1960 Topps Mickey Mantle baseball card is the first horizontal card since 1956. It's not too expensive as PSA 4s sell for around $500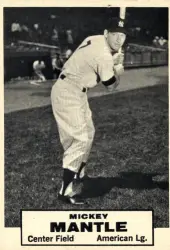 The Topps Dice Game was a test set. There are only 17 graded examples in the whole set. One of which is the Mantle. That's right, this card is a true pop 1 as of writing this. The only example in existence is a PSA 1 and sold for $144,000 at Robert Edwards Auctions in 2018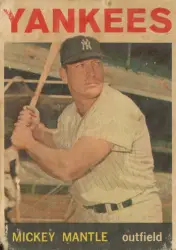 As most of these cards are, it's expensive and condition sensitive. Higher grades (such as 4-6) are extremely hard to find. It's much more expensive than the normal Topps version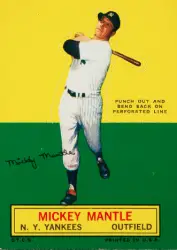 The stand up Mickey Mantle baseball card has a figurine-like picture of Mantle that can be cut out. It has a yellow and green background and certainly one of Mantle's most unique cards.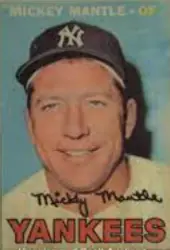 Along with the normal Topps issue, Mantle is featured in the Venezuelan Topps issue as well. This one is fairly easy to determine the difference between the two cards. This is because the Venezuelan version has no white borders but the Topps version does.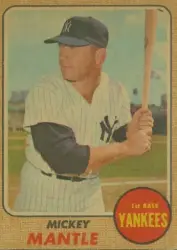 This is Mantle's last Venezuelan card. It's condition sensitive and pretty scarce. It has a normal version as well, but the Venezuelan version is much more expensive
This is last playing day Mickey Mantle baseball card. It has two varations: Last name in white letters and in yellow letters. This Mantle is definitrly more affordable as you can find low grades around the 100-$250 range for the yellow letter version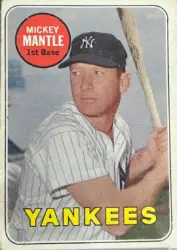 The white letters variation is rarer and demands a premium.  Lower-Mid grades are going to cost you a minimum of 4 figures.
Final Thoughts on Mickey Mantle Baseball Cards
Mickey Mantle baseball cards are going to be collectible for a long time. Many consider him to be the face of vintage Topps cards.