Zion Williamson Rookie Cards are extremely popular with modern NBA collectors. Most will have many within their collections.
Zion was born in 2000 in Salisbury, North Carolina. In high school, Zion Williamson won three consecutive Regional championships and was a highly sought-after College Talent. He was offered scholarships as soon as his freshman year in high school, but didn't receive a scholarship offer from Duke until he was in his sophomore year. A fun fact while at Duke during the game versus North Carolina Zion Williamson's Nike shoe broke apart during the game. This caused Nike to lose 1.1 billion in its stock's value the very next day due to bad publicity.  
Zion Williamson was the 1st Overall pick in the 2019 NBA draft. Zion was hyped as the next LeBron James with every team trying to get him. The Pelicans with a 7.5% lottery draft odds managed to be the lucky team to draft Zion Williams. Coming out of Duke, Zion was considered a Surefire All-Star, however so far injuries have limited his playing time. When he is on the court, Zion looks like an All-Star averaging 25 points per game. He is only played 85 out of 246 possible games completely missing the 2021 season 
As of writing in 2022, Zion is coming off of a major foot injury which is lead to his cards being devalued for fears that he will become Greg Oden. 2022 feels like the most important year of Zion's career as another major injury could realistically end or hamper his career
Most Valuable Zion Williamson Rookie Cards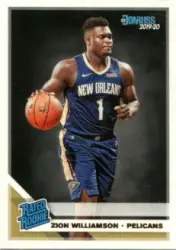 The classic base Zion Williamson rookie card, Donruss' Rated Rookie, features Zion with a very generic background exactly like years before it. Due to being one of the most hyped prospects in 10 years, PSA has graded over 11,000 rated rookie cards for Zion Williamson. 
Which is by far the most of a single player that has been graded by PSA of 2019 Donruss cards. Parallels include Green Flood, Infinity, Green/Yellow Laser, Orange Laser, Silver Press Proof /349, Purple Press Proof /199, Red /99, Green Laser  /99, Red Press Proof /99, Pink Laser /50, Blue Press Proof /49, Blue /35, Yellow Laser /25, Purple Laser /15, Red/Blue /15, Purple/Green Laser /10, Gold Press Proof /10, Gold /10, Black Press Proof 1/1, Black 1/1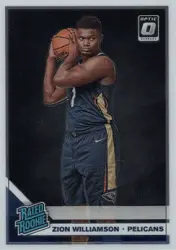 Optic differed slightly from the base Donruss rated rookie mostly in a photo variation and a less smoky background. Keeping the same Trend as the Donruss rated rookie, PSA has graded almost 25,000 Zion Williamson rookie cards. This comprises 12% of all optic graded PSA cards which is staggering. 
Parallels include  Holo, Checkerboard, Red/Green, Blue,  Hyper Pink, Purple, Purple Shock, White Sparkle, Premium Base /249 Orange /199, Lime Green /149, Red /99, Purple /95, Pink /79, Blue /59, Blue /50, Black /39, Purple Stars FOTL /29, Pink /25, Pink /20, Gold /10, Black Gold /8, Lucky Envelopes /8, Green /5, Gold Vinyl 1/1, Black 1/1.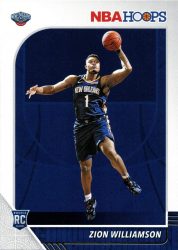 2019 NBA Hoops featured both a normal Zion Williamson rookie card and a tribute rookie card, which was a call back to previous NBA Hoops styling. PSA has graded ~17,000 #258 normal rookie card variation and ~10,000 #296 tribute variation cards. If you are a Zion fan, you have no trouble finding these cards. 
Parallels include for the normal set Winter, Purple Winter, Blue, Neon Green, Purple, Red Backs, Teal Explosion, Yellow , Premium Box Base /199, Silver /199, Green /99, Red /75, Blue Explosion /49, Teal /49, Artist Proof /25, Orange /25, Orange Explosion /25, Red Explosion /15, Gold Artist Proof /10, Black Artist Proof 1/1.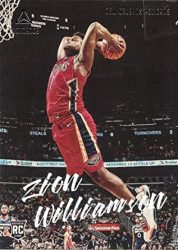 2019 Chronicles included the following sets Prestige, Threads, Base Panini, Luminance, Playbook, Updated Donruss Rated Rookie, Marquee, XR, Essentials, Elite Black Box, Recon, Majestic, Gala, Limited, Titanium Draft Position, Vanguard, Updated Prizm, Updated Donruss Optic (Traded), Hometown Heroes, Crusade, Phoenix, Score, Flux, Classics, and Rookies & Stars. 
PSA has graded 52,000 Zion Williamson Rookie cards with Luminance being the most rated at 7,600. Parallels include Bronze, Green, Pink, Teal, Silver, Red /149, Blue /99, Titanium Jersey Numbered, Limited Red /75, Limited Blue /49, Purple /49, Titanium Draft Year /19, Gold /10, Gala Base /8, Platinum 1/1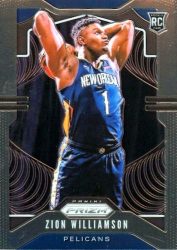 2019 Panini's Main Line retail brand didn't do much differently than previous years. It did have a heavy amount of Zion cards. PSA has graded 55,000 Prizm Zion Williamson rookie cards which is almost 10% of all 2019 Prizm graded cards. 
Parallels include Silver, Green, Hyper, Red/White /Blue, Blue/Yellow/Green, Tiger Stripe, Green Cracked Ice, Orange Cracked Ice, Pink Cracked Ice, Red Cracked Ice, Purple wave, Ruby wave, Red /299, Blue /199, Fast Break Blue /175, Cracked Ice Purple /149, Fast Break Red /125, Cracked Ice Blue /99, Choice Red /88, Purple /75, Fast Break Purple /75, Fast Break Pink /50, Orange /49, Pink Pulsar /42, Purple Pulsar /35, Mojo /25, Green Pulsar /25, Fast Break Bronze /20, Gold /10, Choice Green /8, Fast Break Neon Green /8, Black 1/1, Nebula 1/1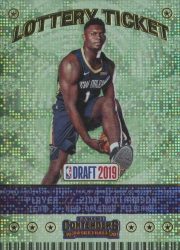 2019 Contenders contained Draft Class, Rookie of The Year and Lottery Ticket base versions of Zion Williams. PSA has graded ~620 Draft Class, ~320 Rookie of the Year, and ~1325 Lottery Ticket. Parallels only included Base and Cracked Ice with Cracked Ice being significantly rarer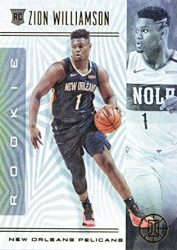 2019 Illusions looked incredibly better when compared to its 2020 counterpart. However, it was still less popular than other retail brands. PSA has graded ~3,500 of these cards with nearly 3000 being base. Parallels include Bronze, Emerald, Orange, Pink, Sapphire, Starlight, Ruby /199, Yellow /149, Teal /125, Red /99, Black /49, Blue /25, Gold /10, Green /5, Purple 1/1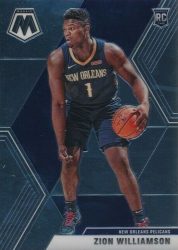 2019 was the first year for Mosaic as a set. It was previously seen as a Prizm parallel. The set featured a Zion Williamson rookie #209 and NBA debut rookie cards #269. PSA has graded ~37,000 #209 and 20,500 #269. 
Parallels include Red, Camo Pink, Green, Reactive Blue, Reactive Orange, Genesis, Peacock, Red Wave, Gold Wave, Fast Break Silver, Blue /99, Fusion Red /88, Fast Break Blue /85, Fast Break Purple /50, Purple /49, White /25, Orange Fluorescent /25, Purple Snakeskin /24, Purple & Gold /20, Blue Fluorescent /15, Fast Break Gold /10, Green Swirl /10, Choice Gold /8, Snakeskin Gold /8, Black 1/1, Fast Break Black 1/1, Snakeskin Black 1/1, Nebula 1/1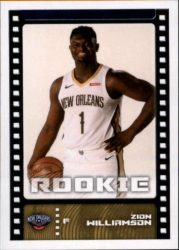 2019 Sticker Collection went with a movie reel like look in its design.These cards tended to be very cheap with each pack containing only one card and 5 stickers. These cards tend to be very common and not in high demand. PSA has graded ~20 Cards (Only 2 10s) and ~420 Stickers. Parallels include Silver, Blue /299, Red /199, Aqua /75, Pink /35, Gold /10, Green /5, Black 1/1, Purple 1/1. No Parallels for stickers.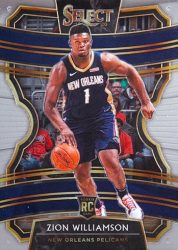 At the time a hobby set, Select featured a lot of die-cuts and contained three different tiers of cards: Concourse, Premium Level, and Courtside. PSA has graded ~8,000 Concourse, ~2,500 Premier level, and ~675 Courtside.
 Parallels include for Concourse Disco, Silver, Scope, Tri-Color, Zebra, Light Blue /299, Red /199, White /149, Neon Green /75, Red Disco /49, Blue Disco /25, Tie-Dye /25, Neon Orange Pulsar /13, Gold Disco /10, Gold /10, Lucky Envelopes /8, Green /5, Black Disco 1/1, Black 1/1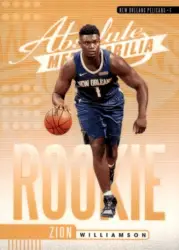 Known for its thick card stock, this hobby/retail set features two Zion Williamson rookie cards with one base and one 'Rookies Yellow'. PSA has graded ~640 Zion cards with ~400 being Retail and ~600 rookie yellow cards. Parallels include retail, Red /199, Blue /99, Orange /75, Purple /25, Gold /10, Green /5, Black 1/1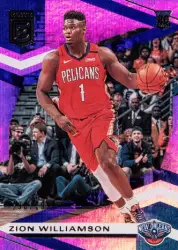 2019 Donruss Elite's Style was heavily focused on sharp lines and polygons. This was the first year Donruss Elite was given its own box and not contained in Chronicles since 2015. A defining feature of Donruss Elite is the fact that all rookies are numbered by default with the expectation of 'Red'. Therefore, this set is rare for Zion as PSA has only graded ~200. Parallels include Red, /299 Base, Aspirations /99, Blue /99, Status /99, Purple /49, Gold /10, Black 1/1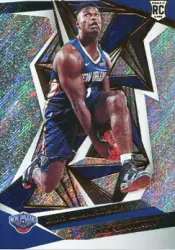 A flashy hobby set, Revolution features a sparkly Zion Williams performing a In-between-the-legs dunk or layup. PSA has graded ~1,600 rookie Revolution Zion Williams cards with more than half being base. Parallels include Fractal, Chinese New Year, Astro, Groove, Galactic, Impact /149, Cosmic /100, Chinese New Year Emerald /88, Sunburst /75, Cubic /50, Lava /10, Chinese New Year Gold /8. Special note Zion Williamson was one of five rookies to receive a 'Liftoff' die cut rookie insert 
A hobby box known for its dark black cards featuring colorful patterns and geometrical lines. This was the second year that the Obsidian set was a stand-alone box. Due to the fact these boxes only contain 7 cards per pack, this is another example of a rare set with few Zion rookie cards. 
PSA has only graded ~220 Obsidian Zion rookie cards. Parallels include Electric Etch White Pulsar, Purple /75, Orange /50, Green /25, Blue /16, Yellow /10, Asia Tmall /8, Red /5, Contra /3, White Mojo 1/1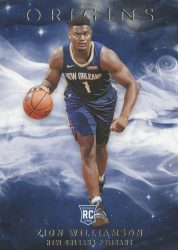 2019 Origins debuted with a heavy emphasis on rookies from the 2019 draft class. Origin cards had a paint canvas like cardstock with swirls of color as the background. The cards oddly enough had the word 'Origins' partially cut at the bottom. PSA has graded ~180 base cards and ~15 autos. Parallels include Red, Blue /99, Orange /75, Pink /35, Turquoise /25, Purple /21, Gold /10, Green /5, Black 1/1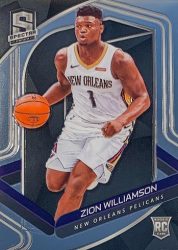 Spectra's 2019 set features a very unusual design with mostly colorless base cards. Being a very low cards per box for a hobby box, Base wasn't very common as half of the box or inserts or Parallels. It did however feature two photo variations of Zion rookie card. 
PSA has graded ~450 all of which fall under the same Card# of 109. Parallels include Silver, Celestial /99, Interstellar /49, Meta /25, Gold /10, Universal Die-Cut /8, Marble /5, Nebula 1/1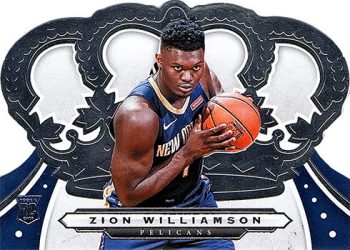 A high-end hobby box known for its die cuts; Crown Royale features one of the most chased case hits of 2019 'Kaboom!'. As Zion Williams was one of the most hyped rookie prospects, Zion's kaboom is well sought-after. With only five possible bass cards per box, Zion's die cut rookie card is quite rare as well. PSA has only graded ~200 Base and ~30 'Kaboom!'. Parallels include Crystal, Blue /99, Red /49, Purple /25, Gold /10, Platinum 1/1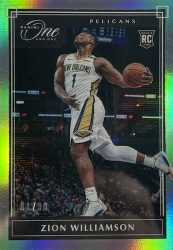 As the name suggests the one and one series is a two card pack with one autograph and one base or parallel. These cards were incredibly rare and are quite expensive due all base guards being numbered to /99 or lower. PSA has graded ~70 Zion rookie cards with 40 of /99 Base being graded. Parallels include Blue /25, Purple /20, Red /15, Gold /10, Green /5, Black 1/1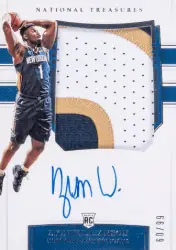 National Treasures holds the most expensive Zion Williamson Rookie cards. This is the premiere Rookie Patch Autograph (RPA) for collectors and investors to grab. It features a large on-card auto as well as a jumbo patch.
Another expensive and highly desirable RPA is from the flawless set. The RPAs are lower-numbered than the National Treasures but aren't as desirable to many basketball collectors. 
Final Thoughts on Zion Williamson Rookie Cards
As of 2022, Zion is coming off of a major foot injury that kept him out for the entire 2021 season. This has resulted in a lot of people losing faith in Zion as he is an injury-plagued player so far in his career. This means that Zion cards are typically at their cheapest as Zion will either continue to be injured or return to an All-Star level form. 
In the brief time that we've seen him on the court in the last 3 years, Zion has looked as dominant as advertised, but his injury troubles will determine his future. One thing to know regardless, Zion's RC is likely the most graded basketball player so Pelican fan collectors can easily get their hands on his cards.