The 1937 O-Pee-Chee baseball card set (V300) was an important canadian release in the late 1930s. It features two early cards of legendary players: Bob Feller & Joe DiMaggio. 
This was the first OPC baseball card set and was released about 30 years before the Topps/OPC cards of the 1960s.
The 1937 O Pee Chee baseball card set is only made up of 40 cards, however, 15 of them are that of Hall of Famers. 
The design of the set takes a lot of inspiration from the American Batter Up and DeLong releases earlier in the decade. Each card has a cut out of the player and a bio on the back in both English and French.  
Another interesting thing about the set is the numbering. The cards start at 101 and go through 140. 
Most Valuable 1937 O Pee Chee Baseball Cards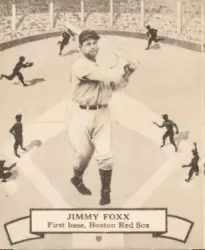 This was one of the first baseball cards to depict Jimmie Foxx as a member of the Boston Red Sox. Up until 1936, Foxx had played the entirety of his career with the Philadelphia Athletics.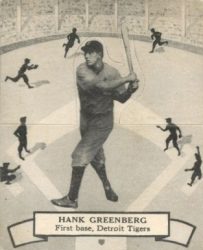 Greenberg had a very short MLB career due to the war. The two time MVP averaged 38 home runs a season with a stellar 159 OPS+. Since his first card was from the 1934 Goudey Baseball set, this is considered an early card of his.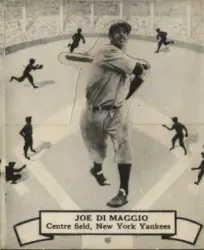 DiMaggio had a few cards produced earlier, but this is a key card for many collectors. It's one year earlier than his 1938 Goudey Heads up and is a much tougher card to find. 
1937 was one of DiMaggios best seasons. He would hit a career-high of 46 home runs while batting .346!
This is considered one of the first Bob Feller baseball cards alongside his goudey premium that was produced in 36 and 37.
Feller led the league in strikeouts in 7 seasons and missed 3 years due to WW2.  If he didn't miss time he would have easily cleared 3000 strikeouts and 300 wins.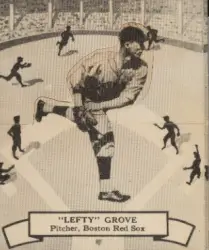 Lefty Grove was one of the most dominant pitchers of the 1930s. He had 9 ERA titles which led him to winning exactly 300 games and accumalating over 100 WAR.
This card is at the very end of his career. Like Foxx, he was a member of the Red Sox.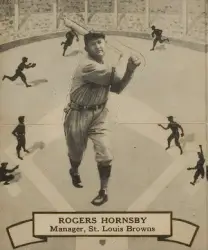 This was the last Roger Hornsby baseball card. He would retire at the end of 1937. Across his 23-year career, Hornsby was able to maintain a ridiculous 175 OPS+ and gain 127.3 WAR.
1937 O Pee Chee Baseball Set Checklist
101 John Lewis
102 Jackie Hayes
103 Earl Averill
104 Harlond Clift
105 Beau Bell
106 Jimmie Foxx
107 Hank Greenberg
108 George Selkirk
109 Wally Moses
110 Gee Walker
111 Goose Goslin
112 Charlie Gehringer
113 Hal Trosky
114 Buddy Myer
115 Luke Appling
116 Zeke Bonura
117 Tony Lazzeri
118 Joe DiMaggio
119 Bill Dickey
120 Bob Feller
121 Harry Kelley
122 Johnny Allen
123 Bob Johnson
124 Joe Cronin
125 Rip Radcliff
126 Cecil Travis
127 Joe Kuhel
128 Odell Hale
129 Sam West
130 Ben Chapman
131 Monte Pearson
132 Rick Ferrell
133 Tommy Bridges
134 Schoolboy Rowe
135 Vern Kennedy
136 Red Ruffing
137 Lefty Grove
138 Wes Ferrell
139 Bobo Newsom
140 Rogers Hornsby