This is Topps' full first basketball set. It contains 80 cards and about every card in the set is considered a rookie card. These cards are in color and have a yellow and red banner. There are 30 single-prints, 49 double-prints, and 1 quadruple print. It's important to note that these sets are known to have terrible centering and the cards sometimes tend to have print dots. This makes it a difficult task to find any of these cards in pristine condition
The most notable card in this set is certainly the Bill Russell card. This is the first card of him in a Celtics uniform and is fairly rare with a pop of about 700. Other notable rookies in this set include Bob Cousy and Bob Pettit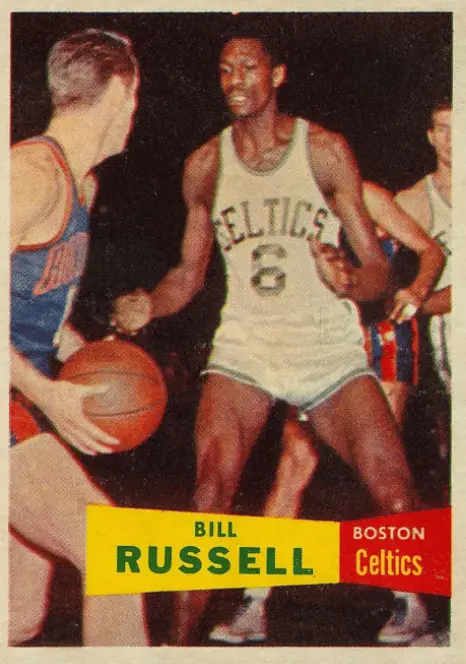 The most notable card in this set is certainly the Bill Russell card. This is the first card of him in a Celtics uniform and is fairly rare with a pop of about 700; He is shown playing defense. Bill Russell has one card in the 1955 american sports club release that predates this 57 Topps card. It's hand-cut and technically a pre-rookie card.
Russell won a jaw dropping 11 championships as a player which is almost as many seasons as he played in the NBA. Bill Russell averaged 15 points and 22 rebounds a game. Crazy because very few HOF players in the NBA averaged more rebounds than points per game in their career.
Bob Cousy played on the Boston Celtics alongside Bill Russell and won 6 NBA championships with him. He played on the Celtics for almost his entire career until he made a 1 year comeback at the ripe age of 41 and played with the Cincinnati Royals for 1 year.
Cousy averaged 18 points, 5 rebounds, and 7 assists per game. In addition to winning 6 rings, he also was the assist champ 8 times and won MVP in the 1956-57 season.
Similar to Russell, Bob Cousy also has a pre-rookie card in the 1951 Berk Ross Set. He has his holy cross jersey on and has a panel card that is connected to Richie Ashburn.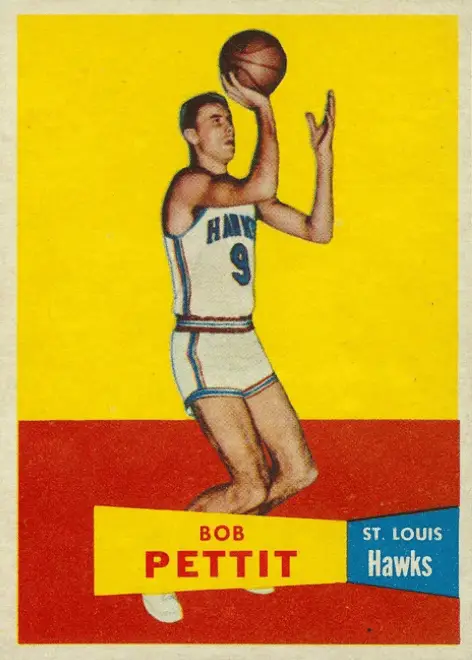 Despite having played only 11 years, Pettit had an extremely impressive career which was played exclusively with the Hawks organization. He averaged 26 points and 16 rebounds for his entire career. To add to this already impressive resume, Pettit won 2 MVPs, ROTY, 2 Scoring titles, and was an NBA champ in 1958.
These normally sized  cards are in color and have a yellow and red banner on the front. There are 30 single-prints, 49 double-prints, and 1 quadruple print in the set.
On the back there are vital stats, the card number, a small description of the player, and basketball stats. There is also a picture of a generic player show which illustrates the height of whatever player is on the front of the card.
1 Nat Clifton 
2 George Yardley 
3 Neil Johnston
4 Carl Braun
5 Bill Sharman
6 George King
7 Kenny Sears
8 Dick Ricketts
9 Jack Nichols
10 Paul Arizin
11 Chuck Noble
12 Slater Martin
13 Dolph Schayes
14 Dick Atha
15 Frank Ramsey
16 Dick McGuire
17 Bob Cousy 
18 Larry Foust
19 Tom Heinsohn 
20 Bill Thieben 
21 Don Meineke 
22 Tom Marshall 
23 Dick Garmaker
24 Bob Pettit
25 Jim Krebs 
26 Gene Shue 
27 Ed Macauley 
28 Vern Mikkelsen 
29 Willie Naulls
30 Walter Dukes 
31 Dave Piontek 
32 John Kerr 
33 Larry Costello 
34 Woody Sauldsberry
35 Ray Felix 
36 Ernie Beck 
37 Cliff Hagan 
38 Guy Sparrow 
39 Jim Loscutoff 
40 Arnie Risen 
41 Joe Graboski
42 Maurice Stokes
43 Rod Hundley
44 Tom Gola
45 Med Park
46 Mel Hutchins
47 Larry Friend
48 Lennie Rosenbluth
49 Walt Davis
50 Richie Regan
51 Frank Selvy
52 Art Spoelstra
53 Bob Hopkins
54 Earl Lloyd
55 Phil Jordon
56 Bob Houbregs
57 Lou Tsioropoulos
58 Ed Conlin
59 Al Bianchi
60 George Dempsey 
61 Chuck Share 
62 Harry Gallatin
63 Bob Harrison
64 Bob Burrow 
65 Win Wilfong 
66 Jack McMahon 
67 Jack George 
68 Charlie Tyra 
69 Ron Sobie 
70 Jack Coleman 
71 Jack Twyman 
72 Paul Seymour 
73 Jim Paxson 
74 Bob Leonard 
75 Andy Phillip 
76 Joe Holup 
77 Bill Russell 
78 Clyde Lovellette 
79 Ed Fleming 
80 Dick Schnittker