After the 1961 Fleer set, there was no major production of cards until 1969. It wasn't until this year that Topps produced its first basketball set. Technically, there was a 1968 Topps Test set made before the 1969 Topps, but it was never released to the public (note: these cards are extremely rare and carry a high premium). These cards are known as tall boys due to how long the cards are in length (2 ½ by 4 11/16 inches). Because of this, it was tough for collectors to keep these cards in pristine condition. At this time, the hobby of card collecting had just started, so there weren't many ways to protect these cards.
This set is quite interesting because of how the cards look. The front features silhouettes of players on the outer parts of the card with the main player being in color and in the middle. The player's name and position is on the top of the card and the player's team city is on the bottom.
The back of these cards contains red, white, and blue colors. The writing is in blue ink and shows a card number, player's vital stats, description of their career, and basketball stats. Directly underneath is a ball going into a hoop with a silhouette player in the middle of the ball.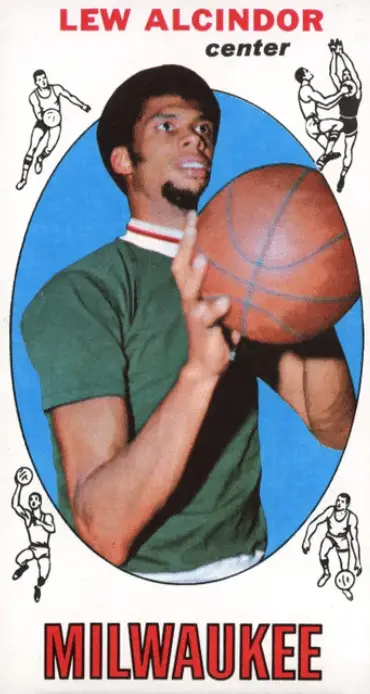 Alcindor was one of the most dominant centers of all-time. This card is considered his rookie card and he is shown wearing a green shirt with a white collar. There is one Alcindor  card out of the 1968 Panini Tuttosport set that is a pre-rookie card. It's rare and is the only card that shows him before his rookie year.
Lew Alcindor has an impressive resume which includes 6 NBA championships and 6 MVP awards. He also averaged 24 points and 11 rebounds throughout his entire 20 year career.
 Lew Alcindor is also known as Kareem Abdul Jabbar. He is renowned for his famous skyhook which was nearly impossible to block.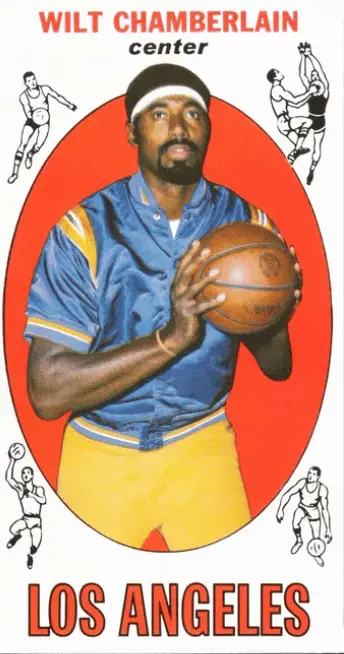 Wilt Chamberlain averaged 30 points and 22 rebounds a game over his entire 15 year  career. During this time, Chamberlain was a 2x NBA champ, 4x MVP, 7x scoring champ, and also once won the assist champ title as well. He also once scored 100 points in a single game!
One fact about Wilt Chamberlain that most people don't know is that he was not only inducted in the basketball hall of fame but also in the volleyball hall of fame. It's cool how a player of this calibur gets to be the first card in the set.
1969 Topps Basketball Checklist
One interesting tidbit to note is that the checklist from the set is worth lots of money if it's in excellent condition and not written on. It's a tough card for set collectors to get since they were often thrown away or written on. 
There are 99 cards in this set and they are all listed by card number down below:
1 Wilt Chamberlain
2 Gail Goodrich
3 Cazzie Russell
4 Darrall Imhoff 
5 Bailey Howell 
6 Lucius Allen 
7 Tom Boerwinkle 
8 Jimmy Walker 
9 John Block
10 Nate Thurmond
11 Gary Gregor
12 Gus Johnson
13 Luther Rackley
14 Jon McGlocklin
15 Connie Hawkins 
16 Johnny Egan 
17 Jim Washington 
18 Dick Barnett
19 Tom Meschery 
20 John Havlicek 
21 Eddie Miles 
22 Walt Wesley 
23 Rick Adelman 
24 Al Attles 
25 Lew Alcindor 
26 Jack Marin
27 Walt Hazzard 
28 Connie Dierking 
29 Keith Erickson 
30 Bob Rule 
31 Dick Van Arsdale 
32 Archie Clark 
33 Terry Dischinger 
34 Henry Finkel 
35 Elgin Baylor 
36 Ron Williams 
37 Loy Petersen 
38 Guy Rodgers 
39 Toby Kimball 
40 Billy Cunningham 
41 Joe Caldwell 
42 Leroy Ellis 
43 Bill Bradley 
44 Len Wilkens 
45 Jerry Lucas 
46 Neal Walk 
47 Emmette Bryant 
48 Bob Kauffman 
49 Mel Counts 
50 Oscar Robertson
51 Jim Barnett 
52 Don Smith 
53 Jim Davis 
54 Wally Jones 
55 Dave Bing 
56 Wes Unseld 
57 Joe Ellis 
58 John Tresvant 
59 Larry Siegfried 
60 Willis Reed 
61 Paul Silas 
62 Bob Weiss 
63 Willie McCarter 
64 Don Kojis 
65 Lou Hudson
66 Jim King 
67 Luke Jackson 
68 Len Chappell 
69 Ray Scott 
70 Jeff Mullins 
71 Howie Komives 
72 Tom Sanders 
73 Dick Snyder 
74 Dave Stallworth 
75 Elvin Hayes 
76 Art Harris 
77 Don Ohl 
78 Bob Love 
79 Tom Van Arsdale 
80 Earl Monroe 
81 Greg Smith 
82 Don Nelson 
83 Happy Hairston 
84 Hal Greer 
85 Dave DeBusschere 
86 Bill Bridges 
87 Herm Gilliam 
88 Jim Fox 
89 Bob Boozer 
90 Jerry West 
91 Chet Walker 
92 Flynn Robinson 
93 Clyde Lee 
94 Kevin Loughery 
95 Walt Bellamy 
96 Art Williams 
97 Adrian Smith 
98 Walt Frazier 
99 Checklist