1984 Topps football has a good argument as the best football set of the 1980's.
The set has 396 cards, 17 of which are Hall of Fame rookies, with 12 different Hall of Famers among those 17.
This set is also partially responsible for the boom in quarterback prices that you see to this day.
At the time of release, John Elway was as big of a prospect that the league had seen in some time, and Dan Marino was a Pro Bowler as a rookie despite only starting come week six.
Helping to bolster hype was Eric Dickerson and his 1,808 rushing yards as a rookie.
The 1984 Topps football card set is condition sensitive as centering is an issue.
As of writing, PSA has 106,877 total cards graded in the set with only 11,005 in gem mint.
SGC is considerably worse as only 165 gem mint slabs exist out of 9,463 total graded.
The most common grade is either NM-MT or Mint with the non-QB Hall of Fame rookies needing to be mint to gain value from grading over the grading fee.
Most Valuable 1984 Football Cards
One of the bigger rookies in 1984 topps football cards. Five-time first team All-Pro and four-time league rushing leader, Dickerson was Adrian Peterson of the 1980s.
You ran the offense around him, and he was good enough to score from anywhere on the field.
A running back who could run around you and over you all on one play, Dickerson was simply unstoppable during his prime.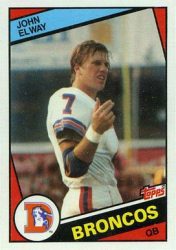 One of two major QB rookie cards in 1984 topps football. Elway was a generational talent at quarterback and knew it. Forced his way out of Baltimore Colts having the first pick by essentially saying he wouldn't play for such an unstable organization., to which hindsight says he was correct.
Won an MVP, nine-time Pro Bowler, 1990's All-Decade team, and member of NFL All-Time 100th anniversary season team, he was a guaranteed Hall of Famer when his career was over.
Won two Super Bowls at the end of his career to really put to rest any doubt of his greatness.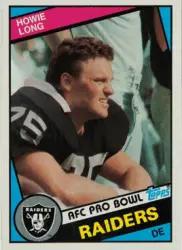 The Future FOX pregame broadcast personality was a dominant end for a decade.
Eight-time Pro Bowler and five-time All Pro he could win with speed or power on any given play.
Some may point to his 84 sacks as a low number for a Hall of Famer, but Long was good against the run and could play inside when asked.
He credits fellow Hall of Famer Ted Hendricks for learning the game to an expert level.
The most valuable card in the 1984 Topps Football card set. Marino was another guaranteed Hall of Famer by the midway point of his career.
The 1980's version of Patrick Mahomes eclipsed 5,000 passing yards in 1984 and averaged three touchdown passes per game that season.
Six-time All-Pro, nine-time Pro Bowler, MVP, and five time passing yardage leader, Marino was a special talent.
Never won a championship, but ran into Montana's 49ers in the Super Bowl, and later in career just did not have a good roster around him.
Also has a non-Topps rookie card in the 1984 Miami police set.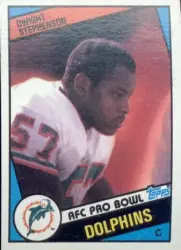 Only a six-year starter in the league but earned All Pro honors five times.
Dolphins had the fewest number of sacks allowed during every year he was a full-time starter (1982-1987).
Pro Football Focus annually gives out the 'Dwight Stephenson Award' awarded to the best player regardless of position.
This is a way of acknowledging that the best player may not play a position that gets much media coverage.
Career was ended early due to injury, but no one disputes how good of a player Stephenson was. Like Marino, also has a Miami Police rookie card in 1984.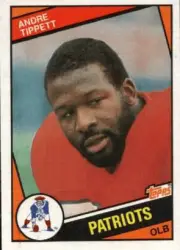 Tippett was a member of the 1980's All Decade Team, co-Defensive Player of the Year in 1985, four-time All-Pro, and five-time Pro-Bowler.
Had both a dominant stretch along with consistency, Tippett was either highest, or second highest, among Patriots in sacks for ten years in a row.
Easley had a seven-year career due to illness but was dominant when he played.
Five time All-Pro and a Defensive Player of the Year, Easley could do it all.
The 1980's version of Ed Reed where he could blitz and tackle, but was truly feared in coverage with the ability to return an interception for a touchdown.
Would have gotten into Canton earlier than 2017 had he not had a career ending illness, or the committee changing their stance on greatness vs longevity.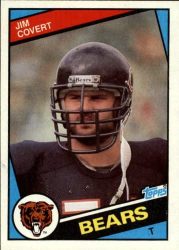 Covert was an imposing tackle for a decade. Does not possess top tier Hall of Fame numbers, but he was a senior committee selection in 2020.
1980's All-Decade team member was a two-time All-Pro and two-time Pro Bowl selection. More solid for a longer time than elite for a shorter stretch type player.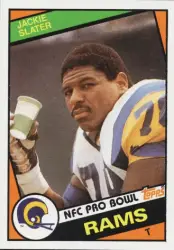 Slater was essentially the slightly better version of Covert.
Four-time All Pro and seven-time Pro Bowler was inducted in 2001 because he simply played longer at the same borderline Pro Bowl level.
Played in college with Walter Payton and has a tie to today's game with his son Matthew Slater being likely the best special teams player for a long time.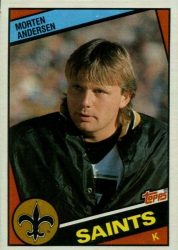 This is the paragraph where half the readers gloss over because Andersen played kicker and doesn't have a drunken bar moment like Sebastian Janikowski.
Six-time All-Pro and seven-time Pro Bowl selection, Andersen was just consistent. One of the few players in league history to be named to the All-Decade team twice (1980's and 1990's).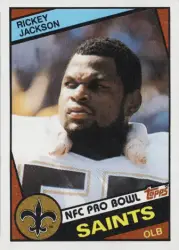 Jackson was a second team All-Pro five times and Seven-time Pro Bowler.
He was a simply a menace to quarterbacks alongside fellow Hall of Fame player Sam Mills and just outside Hall consideration Pat Swilling.
Joined the 49ers in 1994 to win a Super Bowl at the end of his career. Side note, go take a look at that 1994 49ers roster. As the kids say, sheesh. The number of Hall of Famers, solid players entering their prime, and quality backups is nuts.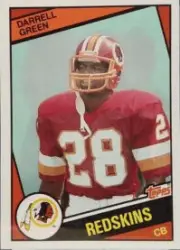 Green had speed in spades. Rumored to run a 4.09 40 time in 1986 and ran 4.43 at age 50, he could cover anyone.
Was used as a punt returner when asked, and was good doing that as well.
Likely would have been used more at returner, but teams were starting to realize players only had so many elite snaps before a lack of production started to show.
Green was a four-time first team All Pro, seven-time Pro Bowl selection, and two-time Super Bowl Champion. No brainer Hall of Famer was still playing effectively two decades into his long career.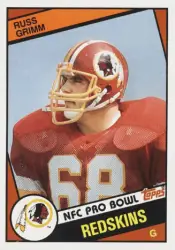 Grimm was one of Washington's 'Hogs' and a key member of their three Super Bowl titles in the 1980's.
Four times a Pro Bowl selection and first team All Pro. Won a fourth Super Bowl ring as a coaching member of the Steelers 2005.
Final Thoughts on 1984 Topps Football Cards
1984 Topps Football Cards does suffer from the non-quarterbacks not being the most collectable hobby players. However, this is the set that defines the 1980's.
124 of the 396 cards feature a Hall of Famer on them and a good number do not show up later in 1989 Score. That set will be covered in the future, and just feels like a different era of the game, despite being only five years apart. In conclusion, 1984 Topps is a destination set for football.
1984 Topps Football Card Checklist
1 Eric Dickerson 
2 Ali Haji-Sheikh 
3 Franco Harris 
4 Mark Moseley 
5 John Riggins 
6 Jan Stenerud 
7 AFC Championship 
8 NFC Championship
9 Super Bowl XVIII 
10 Colts Team Leaders
11 Raul Allegre 
12 Curtis Dickey 
13 Ray Donaldson 
14 Nesby Glasgow 
15 Chris Hinton 
16 Vernon Maxwell 
17 Randy McMillan 
18 Mike Pagel 
19 Rohn Stark 
20 Leo Wisniewski 
21 Bills Team Leaders 
22 Jerry Butler 
23 Joe Danelo 
24 Joe Ferguson 
25 Steve Freeman 
26 Roosevelt Leaks 
27 Frank Lewis 
28 Eugene Marve 
29 Booker Moore 
30 Fred Smerlas 
31 Ben Williams 
32 Bengals Team 
33 Charles Alexander 
34 Ken Anderson 
35 Ken Anderson 
36 Jim Breech 
37 Cris Collinsworth 
38 Cris Collinsworth 
39 Isaac Curtis 
40 Eddie Edwards 
41 Ray Horton 
42 Pete Johnson 
43 Steve Kreider 
44 Max Montoya 
45 Anthony Munoz 
46 Reggie Williams 
47 Browns Team
48 Matt Bahr 
49 Chip Banks 
50 Tom Cousineau 
51 Joe DeLamielleure 
52 Doug Dieken 
53 Bob Golic 
54 Bobby Jones 
55 Dave Logan 
56 Clay Matthews 
57 Paul McDonald 
58 Ozzie Newsome 
59 Ozzie Newsome 
60 Mike Pruitt 
61 Broncos Team 
62 Barney Chavous 
63 John Elway 
64 Steve Foley 
65 Tom Jackson 
66 Rick Karlis 
67 Luke Prestridge 
68 Zack Thomas 
69 Rick Upchurch 
70 Steve Watson 
71 Sammy Winder 
72 Louis Wright 
73 Oilers Team 
74 Jesse Baker 
75 Gregg Bingham 
76 Robert Brazile 
77 Steve Brown 
78 Chris Dressel 
79 Doug France 
80 Florian Kempf 
81 Carl Roaches 
82 Tim Smith 
83 Willie Tullis 
84 Chiefs Team 
85 Mike Bell 
86 Theotis Brown 
87 Carlos Carson 
88 Carlos Carson 
89 Deron Cherry 
90 Gary Green 
91 Billy Jackson 
92 Bill Kenney 
93 Bill Kenney 
94 Nick Lowery 
95 Henry Marshall 
96 Art Still 
97 Raiders Team 
98 Marcus Allen 
99 Marcus Allen 
100 Lyle Alzado 
101 Lyle Alzado 
102 Chris Bahr 
103 Malcolm Barnwell 
104 Cliff Branch 
105 Todd Christensen 
106 Todd Christensen 
107 Ray Guy 
108 Frank Hawkins 
109 Lester Hayes 
110 Ted Hendricks 
111 Howie Long 
112 Rod Martin 
113 Vann McElroy 
114 Jim Plunkett 
115 Greg Pruitt 
116 Dolphins Team 
116 Mark Duper
117 Bob Baumhower 
118 Doug Betters 
119 A.J. Duhe 
120 Mark Duper 
121 Andra Franklin 
122 William Judson 
123 Dan Marino 
124 Dan Marino 
125 Nat Moore 
126 Ed Newman 
127 Reggie Roby 
128 Gerald Small 
129 Dwight Stephenson 
130 Uwe Von Schamann 
131 Patriots Team 
132 Rich Camarillo 
133 Tony Collins 
134 Tony Collins 
135 Bob Cryder 
136 Steve Grogan 
137 John Hannah 
138 Brian Holloway 
139 Roland James 
140 Stanley Morgan 
141 Rick Sanford 
142 Mosi Tatupu 
143 Andre Tippett 
144 Jets Team Leaders 
145 Jerome Barkum 
146 Mark Gastineau 
147 Mark Gastineau 
148 Bruce Harper 
149 Johnny Lam Jones 
150 Joe Klecko 
151 Pat Leahy 
152 Freeman McNeil 
153 Lance Mehl 
154 Marvin Powell 
155 Darrol Ray 
156 Pat Ryan 
157 Kirk Springs 
158 Wesley Walker 
159 Steelers Team 
160 Walter Abercrombie 
161 Gary Anderson 
162 Terry Bradshaw 
163 Craig Colquitt
164 Bennie Cunningham 
165 Franco Harris 
166 Franco Harris 
167 Jack Lambert 
168 Jack Lambert 
169 Frank Pollard 
170 Donnie Shell 
171 Mike Webster 
172 Keith Willis 
173 Rick Woods 
174 Chargers Team 
175 Rolf Benirschke 
176 James Brooks 
177 Maury Buford 
178 Wes Chandler 
179 Dan Fouts 
180 Dan Fouts 
181 Charlie Joiner 
182 Linden King 
183 Chuck Muncie 
184 Billy Ray Smith 
185 Danny Walters 
186 Kellen Winslow 
187 Kellen Winslow 
188 Seahawks Team 
189 Steve August 
190 Dave Brown 
191 Zachary Dixon 
192 Kenny Easley 
193 Jacob Green 
194 Norm Johnson 
195 Dave Krieg 
196 Steve Largent 
197 Steve Largent 
198 Curt Warner 
199 Curt Warner 
200 Jeff West 
201 Charlie Young 
202 Passing Leaders 
203 Receiving Leaders 
204 Rushing Leaders 
205 Scoring Leaders 
206 Interception Ldrs. 
207 Punting Leaders 
208 Falcons Team 
209 William Andrews 
210 William Andrews 
211 Stacey Bailey 
212 Steve Bartkowski 
213 Steve Bartkowski 
214 Ralph Giacomarro 
215 Billy Johnson 
216 Mike Kenn
217 Mick Luckhurst
218 Gerald Riggs 
219 R.C. Thielemann 
220 Jeff Van Note 
221 Bears Team 
222 Jim Covert 
223 Leslie Frazier 
224 Willie Gault 
225 Mike Hartenstine 
226 Noah Jackson 
227 Jim McMahon 
228 Walter Payton 
229 Walter Payton 
230 Mike Richardson 
231 Terry Schmidt 
232 Mike Singletary 
233 Matt Suhey 
234 Bob Thomas 
235 Cowboys Team 
236 Bob Breunig 
237 Doug Cosbie 
238 Tony Dorsett 
239 Tony Dorsett 
240 John Dutton 
241 Tony Hill 
242 Ed "Too Tall" Jones 
243 Drew Pearson 
244 Rafael Septien 
245 Ron Springs 
246 Dennis Thurman 
247 Everson Walls 
248 Danny White 
249 Randy White 
250 Lions Team 
251 Jeff Chadwick 
252 Garry Cobb 
253 Doug English 
254 William Gay 
255 Eric Hipple 
256 James Jones 
257 Bruce McNorton 
258 Ed Murray 
259 Ulysses Norris 
260 Billy Sims 
261 Billy Sims 
262 Leonard Thompson 
263 Packers Team 
264 John Anderson 
265 Paul Coffman 
266 Lynn Dickey 
267 Gerry Ellis 
268 John Jefferson 
269 John Jefferson 
270 Ezra Johnson 
271 Tim Lewis 
272 James Lofton 
273 James Lofton 
274 Larry McCarren 
275 Jan Stenerud 
276 Rams Team
277 Mike Barber 
278 Jim Collins 
279 Nolan Cromwell 
280 Eric Dickerson 
281 Eric Dickerson 
282 George Farmer 
283 Vince Ferragamo 
284 Kent Hill 
285 John Misko 
286 Jackie Slater 
287 Jack Youngblood 
288 Vikings Team 
289 Ted Brown 
290 Greg Coleman 
291 Steve Dils 
292 Tony Galbreath 
293 Tommy Kramer 
294 Doug Martin 
295 Darrin Nelson 
296 Benny Ricardo 
297 John Swain 
298 John Turner 
299 Saints Team Leaders George Rogers 
300 Morten Andersen 
301 Russell Erxleben 
302 Jeff Groth
303 Rickey Jackson 
304 Johnnie Poe 
305 George Rogers 
306 Richard Todd 
307 Jim Wilks 
308 Dave Wilson 
309 Wayne Wilson 
310 Giants Team 
311 Leon Bright 
312 Scott Brunner 
313 Rob Carpenter 
314 Harry Carson 
315 Earnest Gray 
316 Ali Haji-Sheikh 
317 Mark Haynes 
318 Dave Jennings 
319 Brian Kelley 
320 Phil Simms 
321 Lawrence Taylor 
322 Lawrence Taylor 
323 Brad Van Pelt 
324 Butch Woolfolk
325 Eagles Team 
326 Harold Carmichael 
327 Herman Edwards 
328 Michael Haddix 
329 Dennis Harrison 
330 Ron Jaworski 
331 Wilbert Montgomery 
332 Hubert Oliver 
333 Mike Quick 
334 Jerry Robinson 
335 Max Runager 
336 Michael Williams 
337 Cardinals Team 
338 Ottis Anderson 
339 Al Baker 
340 Carl Birdsong 
341 David Galloway 
342 Roy Green 
343 Roy Green 
344 Curtis Greer 
345 Neil Lomax 
346 Doug Marsh 
347 Stump Mitchell 
348 Lionel Washington 
349 49ers Team Leaders
350 Dwaine Board 
351 Dwight Clark 
352 Dwight Clark 
353 Roger Craig 
354 Fred Dean 
355 Fred Dean 
356 Dwight Hicks 
357 Ronnie Lott 
358 Joe Montana 
359 Joe Montana 
360 Freddie Solomon 
361 Wendell Tyler 
362 Ray Wersching 
363 Eric Wright 
364 Bucs Team 
365 Gerald Carter 
366 Hugh Green 
367 Kevin House 
368 Michael Morton 
369 James Owens 
370 Booker Reese 
371 Lee Roy Selmon 
372 Jack Thompson 
373 James Wilder 
374 Steve Wilson 
375 Redskins Team 
376 Jeff Bostic 
377 Charlie Brown 
378 Charlie Brown 
379 Dave Butz 
380 Darrell Green 
381 Russ Grimm 
382 Joe Jacoby 
383 Dexter Manley 
384 Art Monk 
385 Mark Moseley 
386 Mark Murphy 
387 Mike Nelms 
388 John Riggins 
389 John Riggins 
390 Joe Theismann 
391 Joe Theismann 
392 Don Warren 
393 Joe Washington 
394 Checklist 1-132 
395 Checklist 133-264 
396 Checklist 265-396