Mike Schmidt Baseball Cards are not as popular as they should be.
Many consider Schmidt to be  the best third baseman in history. Add on top of it a crazy sports town, questions arise why his cards are relatively cheap.
Across his 18 year career, Schmidt was able to hit 548 home runs, win 10 gold gloves, appear in 12 all star games, and accumalate 106 WAR as well as 1500 RBIs. He was also a 3x MVP and won the 1980 World Series.
This would be good enough to become elected on the first ballet of the Baseball Hall of Fame with a 96.5% vote.
Below we will be going over the key Mike Schmidt baseball cards to collect for your PC.
Most Valuable Mike Schmidt Baseball Cards
1972 Puerto Rican Winter League Sticker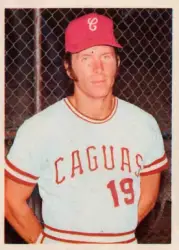 In 1972 Schmidt only had a total of 13 game appearances. While Topps didn't produce a card that year, Schmidt had a Puerto Rican Winter League sticker.
The set featured players from the league and historical Latin American figures. You can find a Satchel Paige baseball card in here which is pretty cool.
Technically this is his first-ever baseball card appearance as a Major Leaguer.
The card is quite rare as I've only seen a handful at card shows. Less than 100 are graded with PSA. That being said the last 10 sold for over $20,000 in 2020! An 8 consistently sells around $1500.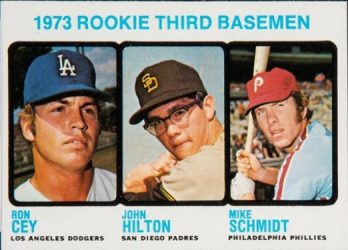 The sports card hobby considers the 1973 Topps to be the flagship rookie card of Mike Schmidt.
The card features 3 players: Ron Cey, John Hilton, and Mike Schmidt. It's considered a high number as it was in series five that year. And although it was released later it still can be found pretty easily at shows or online marketplaces.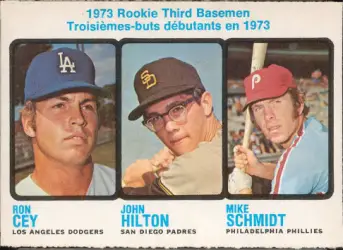 The O-Pee-Chee Rookie has a nearly identical design except it was distributed in Canada and is much scarcer. A few different ways in which you can tell the difference between the two.
Rough Cut Edges
French writing on the top 
Printed in Canada on back
OPC copyright on back
The total pop at PSA is around 400 compared to the Topps where it was 9000.
Price-wise, an 8 runs about $1,000 and a 6 is $300.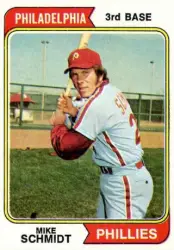 Unlike the 1973 Topps, in 74 Schmidt was a solo card. It shows him prepared to swing with a fence in the background. Like many other cards of the 60/70s, this photo was taken during spring training.
The card is pretty in most grades as 8s only do $125. 9s and 10s do get pricy, however. The last 10 sales have eclipsed the 5 figure mark. 
1974 Johnny Pro Philadelphia Phillies Stand-Ups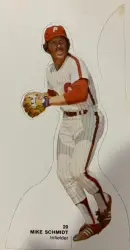 This was an oddball release set that featured 12 different Phillies players. The size of these cards were pretty large and they featured a stand up cut out like what Topps did in 1964.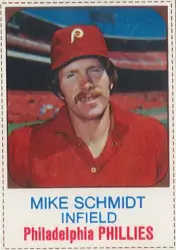 These cards were originally panels on the back of hostess cake packages. Each one was individually handcut from a 3 card strip. On the strip with schmidt were Sparky Lyle and hall of famer Willie Stargell. A 9 in this card is about $150. A 10 hasn't sold since 2019.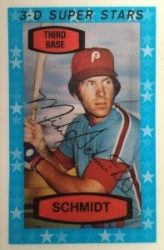 These were 3d cards that were offered through a mail in offer with Kellogg's cereal boxes. Raw copies sell between $25-$50 depending on the condition. The last PSA 10 sale was under $1,000.
The third card that Topps released if Schmidt is from the iconic 1975 set. These cards were bright and standout compared to many of the dull mid 70 releases. 
Due to the colored borders and centering issues getting high grades within the release is tough at times. The last 9 sale was around $2,500.
While rarer, the 1975 mini topps mike schmidt baseball cards just aren't as popular. You can grab an 8 for aroun $100. While 9s go for slightly under $800
1977 Venezuela League Stickers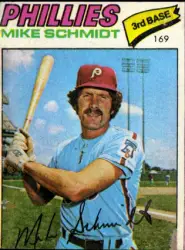 Another rare Latin American card. This Mike Schmidt baseball card uses the same design as his 1977 Topps release but is miscut and considered a sticker. 
The last two sales of this card were all the way back in 2018 when a 2 did $85 and a 6 did $675 
1989 Topps Heads Up Test Issue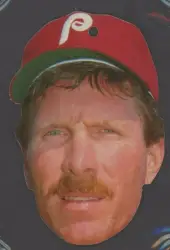 This rare test issue was released the last year of Schmidts baseball career. It featured giant large face cut outs and is the 2nd rarest Schmidt playing day card.
With this release there were a limited about of boxes distributed throughout Pennsylvania. There have only been 15 of them graded. The last 9 sold for over $1000.
1999 Upper Deck Piece of History 500 HR Club Bat Auto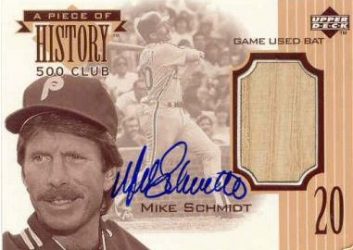 While the most valuable in this set is the Hank Aaron baseball card, the Schmid still commands a high value. This copy is limited to only 20!
1999 Upper Deck Century Legends Jersey Card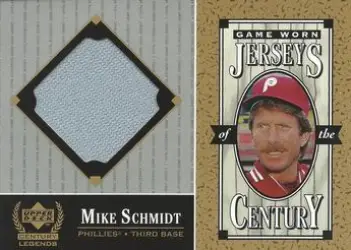 This Mike Schmidt baseball card featured a game used Jersey! Unlike the 500 Hr club, this copy is not numbered. You can find copies under $20 pretty easily.
Mike Scmidt Baseball Cards Longterm Value
At this time, I don't think Schmidt receives the current values he deserves in respect to how dominant of a player he was. His 73 is a pretty popular card to a lot of older collectors but the younger generation doesn't know who he is.