In 2002 the Coachella Music Festival used trading cards as a way to promote different artists playing over the 2 day event.
Each back was identical and showed your typical concert festival lineup. Bigger acts and headliners as the top, smaller artists at the bottom.
The quantity of cards printed were correlated with how high up on the lineup the band/artist was. With Bjork having the most cards printed out of all of the lineup. Bands like Queens of the Stone age had much less available.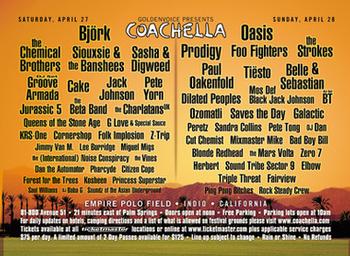 These cards were not available as a set and were not inside packs. Rather they were originally given away outside the gate and within backstage areas like the artist village. They were often laying around as most concert goers didn't grab them or looked at it as trash.
The quantity of cards that remain after the festival should be assumed to be quite low and collectors should have an open mind about the condition. What concertgoer is going to bring top loaders and pennysleeves. 
As of writing, this was the only year that Coachella decided to make music cards. Hopefully, that changes in the future and they can bring back some rock artists.
Most Valuable 2002 Coachella Music Cards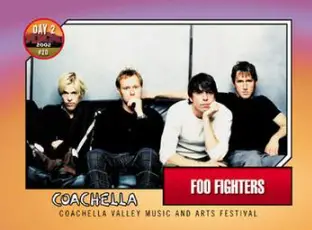 Foo fighters have two rookie cards in 2002. I like this one better as it features the entire band instead of an album cover. While the Foo Fighters play to stadiums now, back in 2002 they were not large enough to headline the festival.
This also isn't Grohl's first card as he has numerous with Nirvana.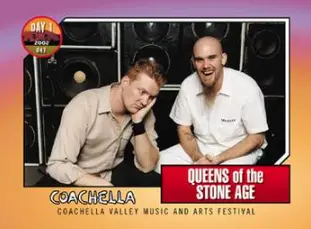 2002 was the release of Songs for the Deaf. At the time QOTSA had recruited the legendary Dave Grohl to record the Drums and tour with them. Sadly he is not featured on the card.
While Queens of the Stone Age has had many lineup changes Josh Homme has been there since the beginning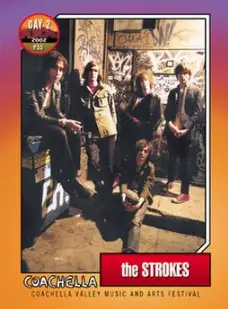 In 2002 The Strokes only had 1 album in their discography, yet it was one of their best. Due to the popularity of Is This It they were catapulted towards the top of the lineup. You may know songs like Last Nite and Someday from it.
2002 Coachella Music Cards
The checklist in this set starts with 0 and works its way up to 60, for a total of 61 cards. Numbering is by ABC order with the exception of card 00.
00 Rick Van Santen
1 DJ Baba G. Soundz of the Asian Underground
2 Bad Boy Bill
3 Belle & Sebastian
4 The Beta Band
5 Bjork
6 Blonde Redhead
7 BT
8 Cake
9 The Charlatans U.K.
10 The Chemical Brothers
11 Citizen Cope
12 Cornershop
13 Cut Chemist
14 Dan the Automator
15 DJ Dan
16 Dilated Peoples
17 Elbow
18 Fairview
19 Folk Implosion
20 Foo Fighters
21 Forest for the Trees
22 G. Love & Special Sauce
23 Galactic
24 Groove Armada
25 Herbert
26 The (International) Noise Conspiracy
27 Jack Johnson
28 Jimmy Van M.
29 Jurassic 5
30 Kosheen
31 KRS One
32 Lee Burridge
33 The Mars Volta
34 Miguel Migs
35 Mixmaster Mike
36 Mos Def
37 Oasis
38 Ozomatli
39 Paul Oakenfold
40 Peretz
41 Pete Tong
42 Pete Yorn
43 Pharcyde
44 Ping Pong Bitches
45 Princess Superstar
46 Prodigy
47 Queens of the Stone Age
48 Rock Steady Crew
49 Sandra Collins
50 Sasha & Digweed
51 Saul Williams
52 Saves the Day
53 Siouxsie & the Banshees
54 Sound Tribe Sector 9
55 The Strokes
56 Tiësto
57 Triple Threat
58 The Vines
59 Z-Trip
60 Zero 7