Bill Russell was born in 1934 in Monroe, Louisiana.
As a kid, Russell fought a lot of illnesses
His parents got fed up with the racial tension in the South, so they moved to California
When Russell started playing basketball, he wasn't great at first. This is contrary to many other players when they were younger.
In 1952, Russell tried out for a walk-on spot at the University of San Francisco. Over time, he earned a scholarship. Russell improved and led his team to an NCAA championship in 1955 and 1956. After college, he played on the Olympic team and won the Gold at Melbourne in 1956
When the Olympics culminated, Bill Russell got drafted into the NBA. The Boston Celtics traded for him as Red Auerbach thought he would be a great addition to the team. He thought right.
In 1957, Russell won his first NBA championship with the team. He didn't realize it at the time, but Bill Russell would go on to win 11 out of the 12 NBA finals that he appeared in.
During his career, Bill Russell was a 5 time MVP. At one point he scored the second most points in NBA history only falling short of Wilt Chamberlain.
After 1966, Auerbach retired from coaching. Bill Russell could have left, but instead he decided to become a player-coach. He led the team to more championships and is one of the only players to do this. Insane.
In 1975, he got inducted into the Naismith Hall of Fame
Why are his cards so valuable?
Bill Russell is an 11 time NBA champion. He is also one of the best defensive players of all time. The NBA did not record blocks at the time, but Russell got known as an outstanding shot blocker during his time.
Russell is also a Celtic. People adore this franchise and it is synonymous with the Yankees in baseball. This makes Bill Russell's card collectable.
Also, cards in the 1950s-1960s were not as collectable as they are today. This means that finding these cards in pristine condition is ultra rare and could run a fortune.
Most valuable cards:
1955 All-American Sports Club Bill Russell Pre-Rookie #61  
This is Bill Russell's first sports card. 
It depicts him in college on the San Francisco Dons
This card was hand-cut from a sheet and is considered very rare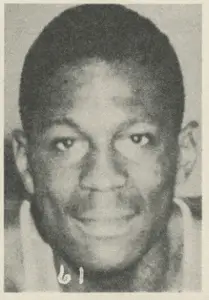 1957-58 Topps Bill Russell RC #77
This is a cool action shot of Bill Russell defending
This card is rare as most were not treated as collectables when they got made
Rookie hall of fame cards  collectable, so this is a great card for any personal collection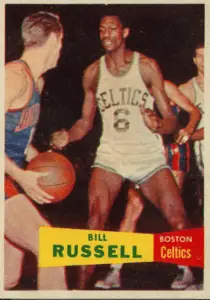 1961-62 Fleer Bill Russell #38
This card is from the iconic 61-62 fleer set
It is from the same year as Wilt Chamberlain's rookie card
Depicted is an awesome picture of Bill Russell with a blue background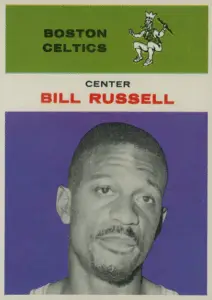 1961-62 Fleer Bill Russell In-Action #62
This is an action card of Bill Russell shooting a layup
The caption of this card is "Takes to the air"
This is Russell's second card in the 1961-1962 Fleer set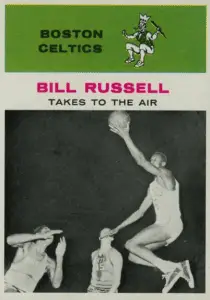 1968-69 Topps Test Bill Russell #4
This set came out before Topps' official return to basketball
Bill Russell got depicted dribbling in a black and white card
This set only includes 22 cards and is super rare to collect.
1999 UD Century Legends Epic Signatures Bill Russell #BR
There is also a wilt chamberlain card in this set
The card is epic and there are only few of them out there
The design is simplistic yet pleasing to the eye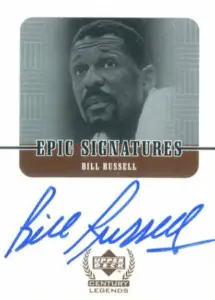 2003-04 Exquisite Collection Uniforms Bill Russell #BR Autographed Jersey #/100
There are only 100 of these cards and they look stunning
There is a jersey patch and an auto
The Exquisite collection is high end and this card is immaculate
One of the most valuable autos out there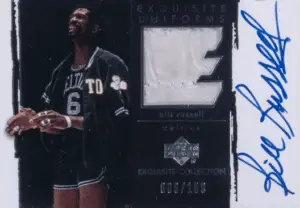 2007-08 UD Black Octo Autograph  Bill Russell, Michael Jordan, LeBron James, Magic Johnson, Larry Bird, Julius Erving, Kareem Abdul-Jabbar, Hakeem Olajuwon #JOEJJRB #/10
This is not your typical Bill Russell autograph and is very unique
The signatures are genuine and in silver
The card does not have lots of room for artwork and there are only 10 that exist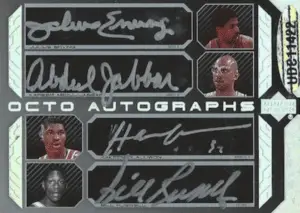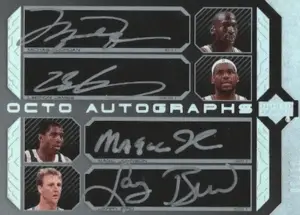 Long-Term Potential
Bill Russell cards are in low population and will always hold good value
He was an outstanding player than won more rings than he has fingers
He is a basketball icon who is still alive as of writing this
Bill Russell also only has a handful of cards so all these cards have pretty good value
Summary
Bill Russell is an 11 time NBA champion and Hall-of-famer
He become known for his ability to score, rebound, and play defense
Russell won the MVP award 5 times in his career and was unstoppable in his prime