Who is Julius Erving?
Julius Erving was born on February 22, 1950 in Roosevelt, New York.
He attended Roosevelt High School
He got the nickname "The Professor" after his style of play. Over time, this nickname got molded into his final nickname: Dr. J
After high School, Julius Erving played for the University of Massachusetts. He dominated his competition with 32 points a game and 20 rebounds per game.
In 1971, Erving left college and joined the Virginia Squires in the ABA. He had an amazing rookie season, and was even drafted into the NBA by the Milwaukee Bucks. But, he was not allowed to go to the NBA because he already signed a contract with an ABA team.
Although this is not professional play, Dr. J was a legend at Rucker Park. There was a time where dunking was illegal, so the doctor brought his famous moves to this park. People used to gather around and watch him perform this magic.
In 1976, Dr. J won the first ever ABA dunk contest. He finally got to showcase his talents in front of crowds of people
After 1976, the ABA collapsed and ended up merging with the NBA. The 76ers ended up picking up Dr. J for 3 million dollars
Julius Erving had trouble winning an NBA championship when he arrived. The first year, he felt short to the Los Angelos Lakers and a young Magic Johnson. In 1982 Julius Erving and his team were NBA champions
In 1993 he got elected to the basketball hall of fame
Why are his cards so expensive?
His cards are expensive because they got made before sports cards were mass produced. If you can find them in mint condition, they are worth picking up.
Dr. J revolutionized the sport of basketball 
Some people recognize him as one of the best players of all-time
Most Expensive Cards:
1986-87 Fleer Sticker Julius Erving #5
This card is in the famous 86 set
There is only one sticker card in every pack
This is a card in his later years, but it is still cool to collect
Most people took the stickers off the cards, so the card is collectible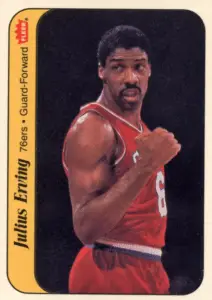 1975-76 Topps Julius Erving #300
Julius Erving is in action in this picture
This is an ABA card that is also an all-star card
It is unique and has colors that pop
A very nice addition to any Dr. J collection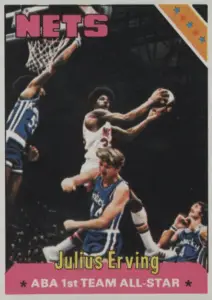 1980-81 Topps Julius Erving, Magic Johnson RC, Larry Bird RC #6
This is a triple card including Magic, Bird, and Dr. J
The Magic and Bird cards are rookie cards
Dr, J got featured in the middle and this card is a holy grail
This card is worth even more than his rookie card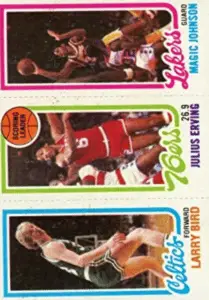 1972-73 Topps Julius Erving RC #195
This is an awesome rookie card of Dr. J on the Virginia Squires
The card has a yellow background and Erving is shooting a red, white, and blue ball
The centering on these cards is rough, but if you can find a centered one it can go for lots of money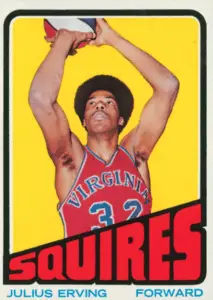 1986-87 Fleer Julius Erving #3
This is the normal card from the 86 Fleer set
It has a nice background and super collectible
It isn't expensive, and a very cool card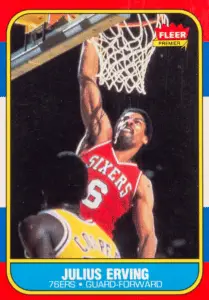 1977-78 Topps Julius Erving #100
This is an NBA card of Julius Erving 
It's Dr. J's first year on the Sixers
The card depicts a portrait of Erving on the bench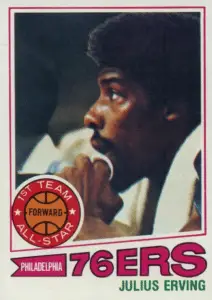 Long-Term Potential:
Dr. J was an awesome player that was ahead of his time
He brought a sense of swagger and style that no one had ever seen before
Erving had an awesome afro and is a distinguishable player
He is an ABA and NBA championship
Julius Erving is a basketball icon and his cards will continue to climb in value over time
Summary:
Dr. J got famous for his dunking and flamboyant play style
He dominated the ABA and NBA and won championships in both
His cards are gaining value, but they aren't expense
You cannot go wrong with this legend in your personal collection