Donovan Mitchell Rookie Cards can be found in 2017 Panini Basketball products.
Donovan Mitchell was born in 1996 in Elmsford, New York. His father was the director of player relations for the Mets, so he was around sports at an early age. Towards the end of his high school career he attended Brewster Academy. After high school, he attended Louisville University. He was not a stand out there his first year, but got better in his second year. 
In 2017, Donovan Mitchell was drafted 13th overall by the Jazz in a Draft Night Trade. He was traded for the 24th pick and Trey Lyles, a role player. Safe to say the Jazz got more than enough value out of Donovan. Donovan's first few months in the league showed he was going to be a star scoring 41 points in Dec 2017. Donovan's Rookie of The Year race was highly controversial as 2nd year Ben Simmons was eligible for the award due to sitting out of the 2016-17 NBA season. 
Ultimately Donovan finished 2nd in the Rookie of The Year behind Ben Simmons, but he was considered one of the best players out of the 2017 draft class.A 3 time All-Star, Donovan Mitchell was traded by the Jazz to the Cavaliers in 2021 where he had his best season to date. Despite being only 6-1, Donovan manages to be a high scoring high effort defensive player. He is a very popular player ranking 4th in All-Star votes in 2021
He also earned the name "Spida-Mitchell" because he has an insane vertical leap

Most Valuable Donovan Mitchell Rookie Cards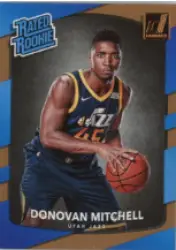 2017's Donruss Rated Rookie featured a 'Candy Cane' style look with a variety of different color mixes and matches. A common card to find with around ~2,400 PSA Graded cards. Parallels include Green/Yellow Laser, Orange Laser, Green Flood, Press Proof Purple /199, Green Laser /99, Red Laser /99, Press Proof Red /75, Blue Laser /49, Yellow Laser /25, Press Proof Blue /25, Purple Laser /15, Press Proof Gold /10, Press Proof Black 1/1
Donruss Optic Rated Rookie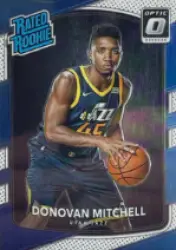 Similar to Donruss normal set, the optic set appears with slightly higher quality cards. Thanks to Donovan's rise to Star level, ~14,000 Optic Rated Rookies have been graded by PSA making it the most commonly graded Donovan card. Parallels include Holo, Flash, Blue Velocity, Purple, White Sparkle, Checkerboard, Orange /199, Lime Green /175, Red /99, Pink Velocity /79, Blue /49, Black Velocity /39, Aqua /25, Pink /25, Purple Stars /13, Gold /10, Green /5, Gold Vinyl 1/1, Black 1/1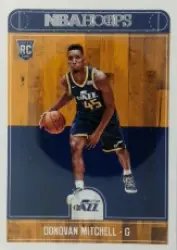 With the classic hardwood background, the NBA Hoops RC features a simple design with old school feel. This is another common set with ~2,600 PSA Graded Donovan RC. Parallels include Teal Explosion, Blue, Red, Platinum, Premium Box Set /199, Silver /199, Teal /125, Green /99, Blue Checkerboard /75, Orange Explosion /75, Red /49, Artist Proof /25, Orange /25, Red Checkerboard /15, Gold /10, Artist Proof Black 1/1
A set that used to be in Chronicles, 2017 was the last year of Prestige as a stand alone set. It featured very few parallels compared to other retail products. Only ~820 Donovan Prestige PSA Graded RC cards exist with ~725 being base. Parallels include Horizon, Mist, Rain, Crystal /199, Crystal Gold /10, Crystal Blue 1/1.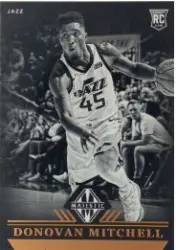 In 2017, the Chronicles set had far fewer different card types in it and features some we have not seen since. Chronicles had Limited, Majestic, Pinnacle, Gala,  and the base Chronicles card. Meanwhile Brilliance, Momentum, Panini, Marquee, and Titanium completely lacked Donovan Mitchell Cards. PSA has graded ~60 Base type and ~55 Majestic which is quite low. Parallels include Red /299, Pinnacle/Majestic /249, Blue /199, Limited Blue /149, Purple /149, Pinnacle/Majestic Silver /199, Pink /99, Gold /10, Gala /8, Black 1/1, and Holo Gold 1/1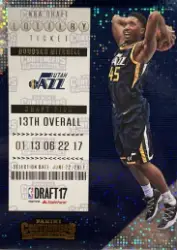 Featured in a much less sparkly fashion than future Lottery Ticket/Rookie of The Year cards, Donovan Mitchell is mostly an insert/auto/mem card in this set. Only ~57 Rookie of The Year cards were graded by PSA with the cards being a reminder of the controversy with Ben Simmons. Parallels include Retail, Cracked Ice /25, and Championship Edition 1/1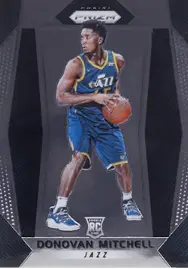 With a very plain design, 2017 Donovan Mitchell Rookie card is somehow very sought after due to the Prizm label. With only the parallels contain much color at all. PSA has graded a staggering 13,000 cards only beaten by Optic due to its higher printed cards. Parallels include Silvers, Hyper, Green, Red/White/Blue. White Sparkle, Ruby Wave, Blue /199, Fast Break Blue /175, Fast Break Red /125, Blue Ice /99, Purple /75, Fast Break Pink /50, Orange /49, Pink Pulsar /42, Green Pulsar /25, Mojo /25, Red Pulsar /25, Fast Break Bronzes /20, Gold /10, Red Shimmer /8, Fast Break Neo Green /5, Fast Break Black 1/1, and Black 1/1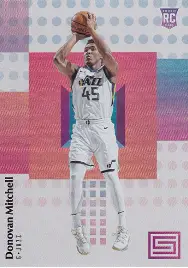 A hobby set with a flair for lighter color palettes, Status cards feature a lot of pinks with an 80s appeal. This made the set quite popular with collectors on release and years later. Despite being a hobby set, PSA had graded ~950 with ~750 being Base. Parallels include Aqua, Orange, Pursuit, Foundations, Red /299, Blue /199, Purple /149, Green /75, Gold /10, Kaleido 1/1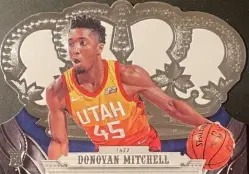 In 2017 Crown Royale boxes featured 12 cards per box instead of >10 we have seen in recent releases. This made getting Donovan's Base rookie card a bit easier. However not easy enough as only ~90 cards have been PSA grade with few 10s. Other than base, you can find Pacific Marquee and Panini's Choice insert Die-cuts. Parallels include Base Crystal /99, Red /75, Blue /25, Purple /25, Gold /10, Green /5, and Black 1/1
Panini National Treasures Rookie Patch Autograph #113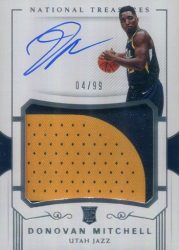 Many consider this to be the premiere rookie card of Donovan Mitchell. It features a beautiful colored patch. There are only 99 of these in existence.
Final Thoughts on Donovan Mitchell Rookie Cards
In a year with quite a few sets without being over printed like future rookies, Donovan's Rookie card is rare enough to have long term value. At age 26, as of writing, he is expected to have quite a few more All-Star years ahead of him. This makes his Rookie card's value decently high despite being traded to a new team.