Wardell Stephen Curry II, the son of formner NBA player Dell Curry, is a multi-All star, MVP, Finals MVP, and Future Hall of Famer for the Golden State Warriors. Known for his smooth ball handling and can't miss shots, Curry has become one of the most recognizable basketball players in the world. Coming out of Davidson College, He was drafted in 2009 by Golden State with the 7th pick and is expected to retire with Golden State as he is under contract till 2026 at the age of 38
Curry was originally not recruited much coming out of high school. He attended Davidson University. Curry gained popularity when he dropped  32 points against the University of Michigan. During his junior year, Curry averaged 28.6 points per game. 
Many did not think Steph Curry would be a star player, but he proved them wrong. In 2010, Steph Curry averaged 22 points a game and finished 2nd in the rookie of the year vote. 
In 2015, Curry led the Golden State Warriors to their first championship. He defeated Lebron James and the Cleveland Cavillers. He would win again in 2017, 2018, and 2022.
Why are his cards so expensive?
Stephen Curry is an amazing shooter. He has the record for most 3-pointers in a single season. Some argue that he revolutionized basketball. 
After the Warriors started winning, other teams took notice. The mid-range game has declined since Curry entered the league.
This is because teams would rather shoot a three for one extra point than a mid-range shot and only earn two points
Card-wise, Stephen Curry's Rookie card has been highly sought after since the beginning of his career. Collectors can choose to go after Topps, Panini, Bowman, or Classic. 
Best Cards: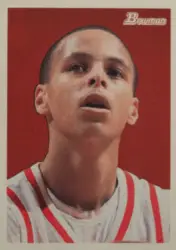 This card is one of the most thought of Stephen Curry cards due to its simplicity and large picture of young Stephen. The card is designed to mimic the '48 Bowman set. ~550 cards have been graded by PSA with a surprisingly large amount of PSA 10 Base cards. Parallels included Black, Blue, Print Plate-Cyan 1/1, and Print Plate-Magenta 1/1.
2009-10 Upper Deck #196 & #234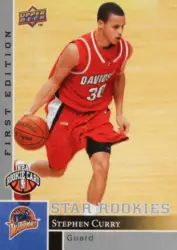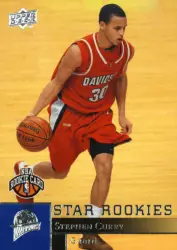 These two cards were in one of Upper Decks last basketball sets. A practice we don't see anymore, Upper deck has the First Edition #196 and Normal version #234. Of course the First Edition is rarer and more sought after. ~2800 Normal and ~750 First Edition have been PSA graded. The only parallel that existed was Gold
Upper Deck SP Game Used #133
A special edition series with Stephen Curry Rookie cards numbered to /399. This card featured Curry in his Davidson College Jersey with "7th Draft Pick Overall" in large font. Despite the name, "Game used" it didn't have any memorabilia. PSA has only graded ~107 of the /399 existing cards. No parallels exist for this card.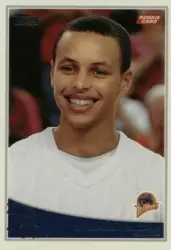 Another full face Curry card with a simple design with a high amount of existing cards. ~3,900 PSA graded with ~332 Golds, very few of which are 10s. Parallels are Gold, Black, Printing Plate Cyan 1/1, and Printing Plate Magenta 1/1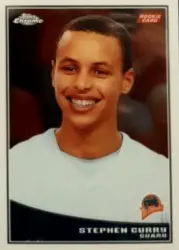 Chrome was basically the same picture but a bit more flashy and valuable. The chrome version is much more rare than the normal Topps, but they were found in the same packs. Base being /999 and Gold Refractor being /50. ~300 PSA Graded with 100 being parallels. Parallels include Refractor and Gold Refractor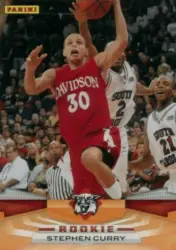 Panini Generic basketball card series with 3 separate Stephen Curry RC cards. Card#307, Card#358, and Card#372 Davidson College. PSA has graded ~895 Card# 307, ~820 Card# 357, and ~1090 Card# 372. Parallels included Artist Proof, Glossy, and Autograph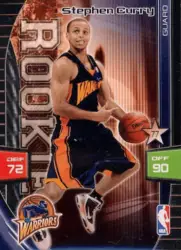 A rarely known set of panini with cheaper cards and modern flash designs. This card is considered one of the easier rookie cards to get a hold of due to its high level of prints. PSA has graded ~540 cards with no known parallels. This series has been discontinued in 2018 for Basketball.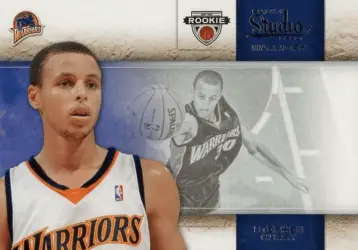 A bit of a rarer Stephen Curry Base this card features not one but TWO pictures of Curry. As always the first picture is Curry staring off in the distance with a background picture of him attempting a layup. This being one of the only landscape base rookies instead of the normal portrait. ~780 PSA graded cards with ~711 being the base version. Parallels include Bronze Proof, Silver Proof, Gold Proof, Materials, Autograph, Silver Proof-Autograph, and Gold Proof-Autograph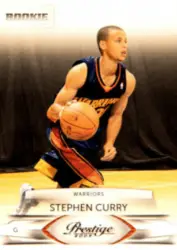 Another 3 base card set of Stephen Curry with the same card in different pictures. Card#157 has Curry posing with the Golden State Jersey while Card#207 is a live action picture from the summer league. Card#230 is Curry's Davidson College Card. PSA has graded ~1,154 Card#157, ~1,089 Card#207, and ~973 Card#230. Parallels include Draft Picks Light Blue, Draft Picks Light Blue Autograph, Bonus Shots-Orange, Bonus Shots-Green, Bonus Shots-Black, and Bonus Shots Black Signature.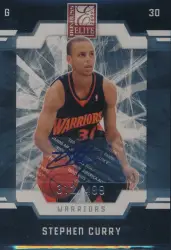 Coming from a series that is still ongoing, the donruss elite Stephen Curry looks unrecognizable to the current iteration. These cards are much more rare than previously mentioned cards only coming in Parallels/Autos. PSA has only graded ~56. Parallels include Autograph (Base), Die-Cut-Aspirations, Die-Cut-Status, Die-Cut-Status Gold, and Die-Cut-Status-Gold-Autograph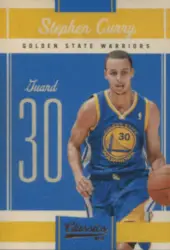 This series featured one of the few on-card Rookie autos you can get. Similar to Donruss Elite, Stephen Curry's rookie cards only came in Parallels/Autos. PSA graded just ~83 total. Parallels included Autograph (On Card), Timeless Threads, Timeless Tributes-Silver, Timeless Tributes-Gold, Timeless Tributes-Platinum, and Timeless Tributes-Prime
Panini Absolute Autographed Jersey-Ball #/499
This is a Panini signature card with a unique set up. It features leather of an NBA ball as well as a jersey and an autograph.
Playoff Contenders #106 Autograph SP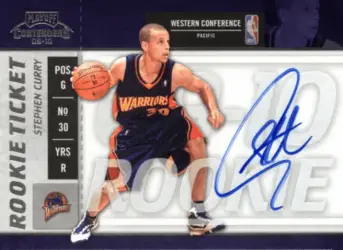 This is a Panini signature card with a unique set up. It features leather of an NBA ball as well as a jersey and an autograph.
Exquisite Collection #64 & #72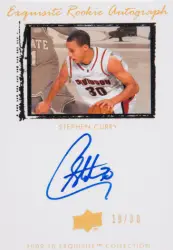 Curry has two autographs within the set which are both numbered to /225. Both are on card and feature the thick premium stock exquisite cards have. 
National Treasures #206 RPA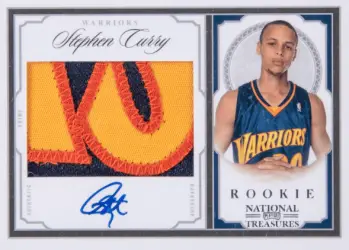 Limited to only 99 copies, this is the best Curry rookie card to own. In today's basketball market, the National Treasure RPA is the crown jewel of any players card run. With Curry his features a horizontal design with a jumbo patch and a small autograph underneath. Expect to pay 6 figures.
With Stephen Curry coming off another Finals Title and his first Finals MVP, Curry's cards are at all time high prices. Expect them to cool off a little depending on how many more awards he wins, then skyrocket upon his retirement in the next 6 years.