| | |
| --- | --- |
| Entry Fee | $10-$40 |
| Tables | 100 |
| Foot Traffic | Medium |
| Walkability | Easy |
| Bargain Bins | Decent Amount |
| Dealer Friendliness | Down the Middle |
| Type of Cards | Raw Vintage, High End  |
| Modern/Vintage | 99% Vintage |
| Food Options | None |
| Venue | Hotel |
| Show Hours | Noom – 8 PM Saturday | 10 AM – 6 PM Saturday | 10 AM – 4 PM Saturday |
Over the last 6 months, I've heard nonstop from vintage dealers all across the country that I should attend the Strongsville Card show. Many consider it to be one of if not the greatest vintage card show out there. It was founded in 1978 and is one of the longest-running shows in the country. 
There are very few modern cards and the best of the best vintage dealers. And it's all in a small hotel conference room. It's like seeing your favorite rock band in a dive bar. This obviously intrigued me as I have a large vintage and pre-war PC ranging from baseball to cricket. So, I decided to fly out to Cleveland to see if the show was worth all the hype.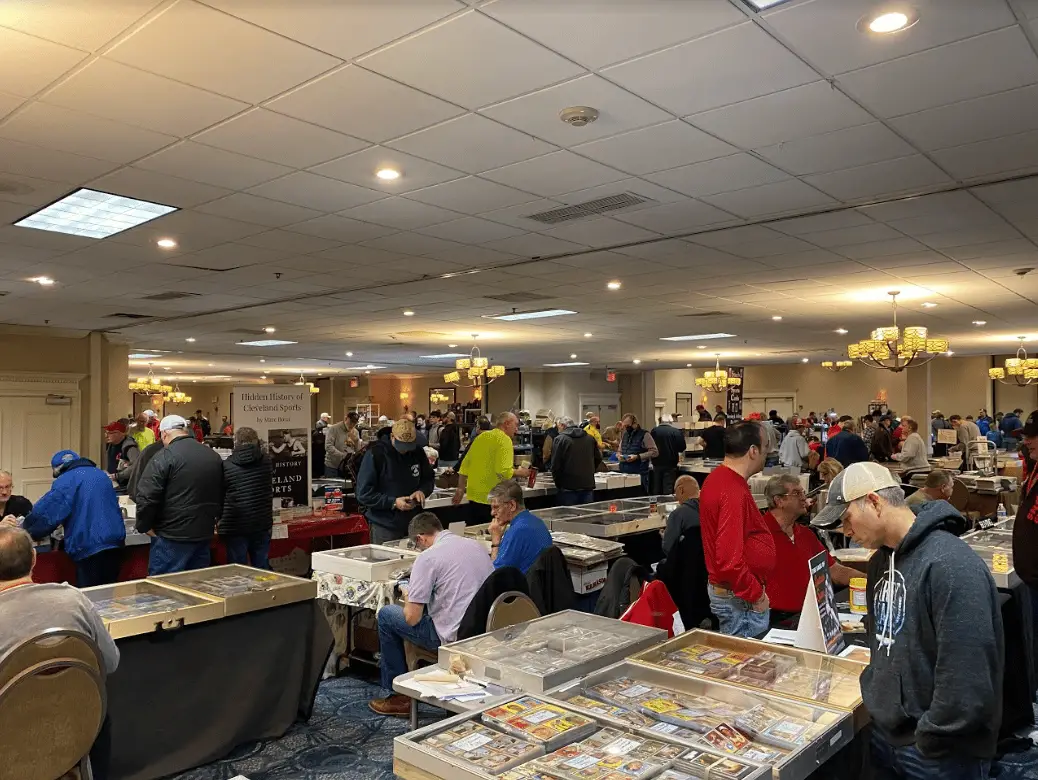 Getting to the show wasn't too difficult. It was located in a Best Western about 20 minutes from the airport. Like many other card shows, you had to have a ticket to enter. I found the price was a bit high as I had to pay $15 to get in on Saturday. 
Strongsville also had an autograph lineup mixed with local players and HOFers. One could snag an auto of Wade Boggs, Lawrence Taylor, or Kareem Hunt. Unlike the Chantilly or Philly card shows, they didn't announce over an intercom that a player was signing every 5 minutes. Cards here were the focus, not the autograph guests.
Walking the show was like viewing a museum. I saw many scarce cards and historical artifacts that are typically found at the national. One dealer even had stacks of Kahn's which were a regional release distributed in Cincinnati! Sports-wise, baseball dominated the show followed by football. There was very little basketball, hockey, and soccer. I only saw 2 dealers who had a decent amount of non-sports as well. 
I'd say the majority of dealers also brought large stacks of cards for people to go through. As is typical with vintage cards, they were either in rubber band stacks or in binders. This is where I personally found the best deals to be at. I found many of the slabs to be slightly above comps.
The tough part with this show was negotiating. Many dealers would only take off a few dollars here or there. Which can make things difficult when trying to find deals.
Overall if you like vintage cards, I'd recommend going to the show. If you are strictly modern, I would avoid it this isn't the show for you.
Strongsville Card Show Information
If you want to find out more information about the show, visit their website here. The show takes place once a year in March. Show hours are noon to 8 PM on Friday; 10-6 on Saturday and 10-4 on Sunday.