A Chipper Jones rookie card should be an essential of any baseball card collector. While not everyone can afford a Tiffany or Dessert Shield, there are many affordable options out there for the collector on a budget.
Across his 19 year career, Chipper Jones was able to accumalate 85 WAR as well as 2700 hits and 468 home runs. A lifetime Atlanta Brave he won the 1995 World Series championship with them. 
Most Valuable Chipper Jones Rookie Cards
Below are the most valuable Chipper Jones Rookie Cards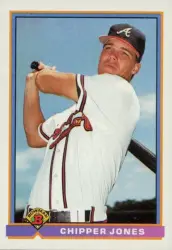 The 91 Bowman design looks classic and it's a shame a tiffany set was never created for that year. It shows Chipper jones finishing a swing.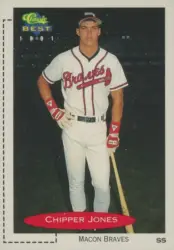 Classic first made Chipper Jones cards in 1989 but this is considered his rookie card. Its one of the cheapest ones available.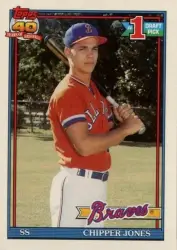 The OPC Chipper Jones rookie card uses the same exact design as topps, however it was distributed up north in Canada. Due to the limited distribution, there are significantly less copies than the American Topps card. 
This makes it one his best rookie cards available.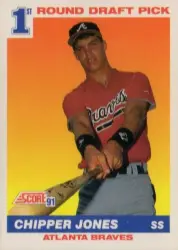 Score cards have typically been a low end brand within baseball and the chipper jones is no exception. You can typically find this rookie in $1 bins at a card show.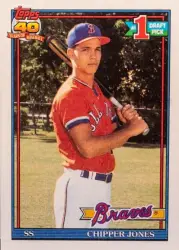 This is the design that most people think of when Chipper Jones rookie card is mentioned. There are probably a million of these cards, but not all are in great shape.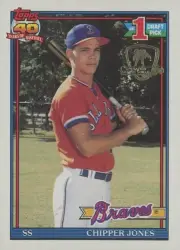 This is by far the most expensive Chipper Jones rookie card. Although it is quite pricey, it is still not the rarest rookie card. It has a pop of around 750 with PSA.
Chipper Jones Rookie Card Value - Desert Shield

The above chart shows the prices of a PSA 8 Chipper Jones Desert Shield Baseball Card. This was grabbed from Market Movers. Get your first month for $1 using code BREAKOUT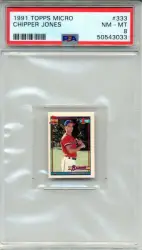 The Micro cards were distributed within complete sets and are significantly smaller than the typical Topps card. It uses the same base 1991 design and can be tough to find in high grade due to centering issues.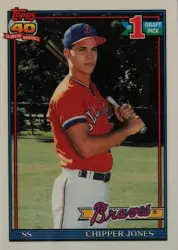 Like the Micro, the Tiffany was only found within complete sets. The Tiffany cards are extremly popular with collectors. In fact for many rookie cards in the 80/90s, the Tiffany is the best one available.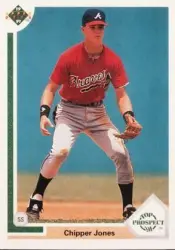 The upper deck Chipper Jones is no where near the popularity of the 1989 Griffey. Its a quite affordable option for those on a budget.