Johnny Unitas Football cards are a must for any vintage Football card collector.
Johnny Unitas is one of the most iconic players in NFL history. Like Joe Namath, Unitas gets the benefit of being in the right place at the right time as well. Starting quarterback for the Baltimore Colts in the 1958 Championship Game, Unitas lead one of the first 'two-minute drills' at the end of regulation to tie the game, and subsequently lead his team to victory in overtime. While not the first nationally televised game, televisions were becoming more affordable, and thus available, and the combination of quality of an overtime game along with 17 future Hall of Famers make it an iconic moment for the sport.
Originally drafted by the Steelers, and subsequently released, whoops, Unitas played semi-pro ball for a year and signed on with the Colts for 1956. Got starting job due to injury later that year, and never looked back. Was MVP three times, made All-Pro team eight times, and was a 10-time Pro-Bowler. Won two league championships in 1958 and 1959 and well, both times beating the Giants.
Johnny Unitas was voted as the top player in league history for the 50th Anniversary of the league but you wouldn't know it just through numbers. His highest passing yards in a season is 3,481. Most touchdown passes was 32. His best completion percentage was 58.4. These are bench able numbers today, but in an era where passing was still viewed as more risk than reward, Unitas was top tier.
Unitas is also a player without a home team. The Baltimore Colts moved to Indianapolis in 1984, and while the Indianapolis Colts celebrate his legacy, none of his accomplishments came in Indianapolis. Baltimore acquired the Cleveland Browns in 1996, changed their name to the Ravens, and is a different franchise than what Unitas played for. Despite this, the Baltimore Ravens gave him a shrine outside the stadium following his death. He belongs to all of us as a league superstar, but you need to be at least in your upper 50's, and a Colts fan as a kid, to really have him be your quarterback.
Most Valuable Johnny Unitas Football Cards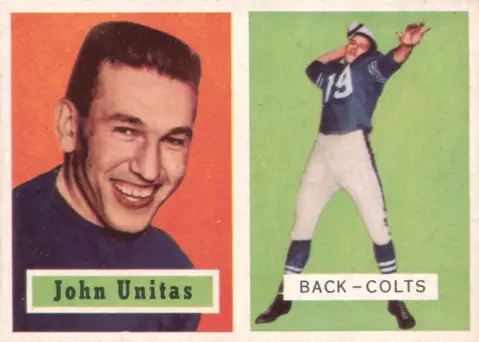 Unitas is as iconic in cardboard as he was on the field as well. His 1957 Topps rookie card is tier one iconic. Featuring a split image, left side showing a portait of Unitas smiling, and the right a throwing shot, this card is one of the sought-out cards in vintage football. Having just over 4,300 graded copies in PSA and SGC cases as of writing, it's common enough to find, only 944 are near mint or better. Current pricing is $2,500-3,000 for a PSA 7, to show the desirability of this card.
The 1957 Topps Bart Starr in a PSA 5 is $1300-1600 range while Unitas is only $600-800. This is more because the strange mix of the current Baltimore Ravens and Indianapolis Colts though. Unitas is a true icon of the game as a player. He struggled financially post career, but wasn't in police trouble and a man you would want your sons to grow up to be. You'll never find a Unitas card on clearance, and that is a testament to his legacy.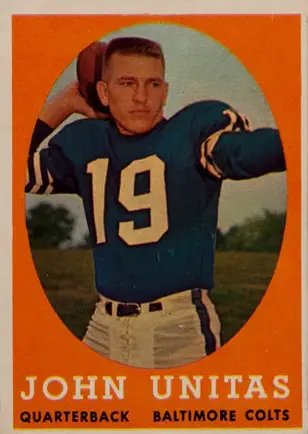 The second year Johnny Unitas football card is vertical and only features one image instead of two. It has a cropped oval picture with an orange background.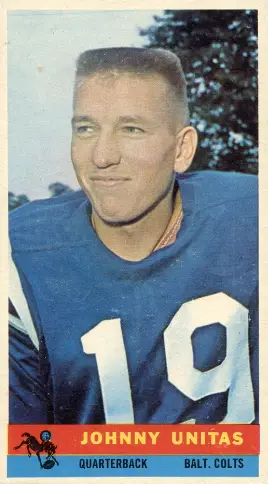 Compared to the 58/59 Topps, the Bazooka cards were much larger in size. They were also hand cut instead of being cut at a factory like many other releases. The last Authentic Graded Unitas sold for $1,000 making it easily one of his most expensive cards.
The 1960 Topps Johnny Unitas Football Card looks very similar to the previous years Bazooka release. It's a much more affordable option and is a standard size card.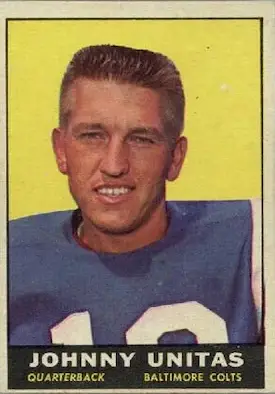 61 Topps Football cards featured a very similar design to their baseball counterpart. The main difference is the solid background color that makes the player stand out.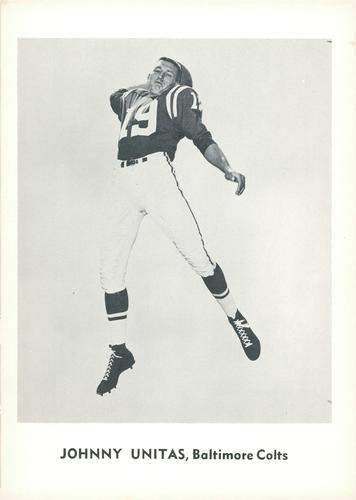 These were large 5×7 photos. Many are available to purchase online, but I have not been able find a sale of the Unitas. I would assume it's a $100-$250 card.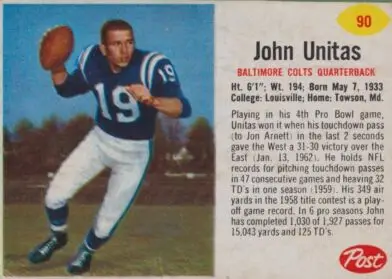 These cards were handcut from the outside of cereal boxes. Due to many being damaged or cut poorly, you oftern see them designated with an A grade.
The black borders on the 1962 Topps make finding a high grade Johnny Unitas Football Card extremely difficult. It's the same issue that Baseball collectors find with their 1971 set.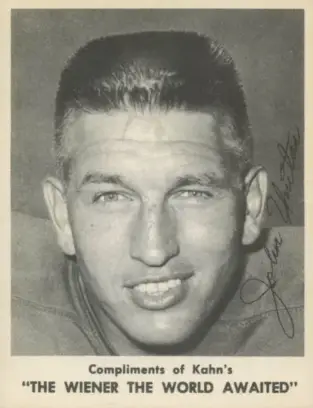 Kahn's Wieners are a tougher food regional release. I only see these at card shows in the Midwest. They are much larger than the Topps issues and command a bit of a premium.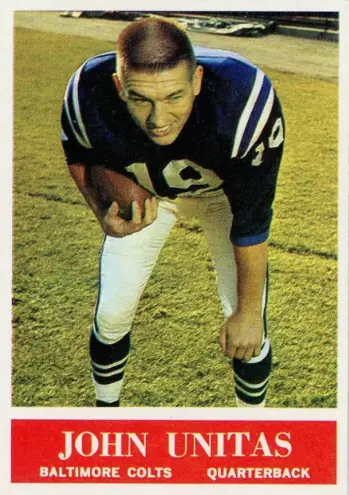 In 1964 Philadelphia took over the license for AFL cards. This was before the two leagues would eventually merge.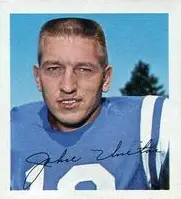 These cards were distributed in a mail in offer for an album. They aren't too expensive and you can find mid to high graded examples under $100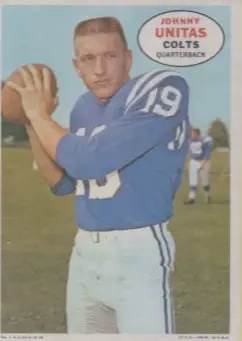 These were an interesting oddball release distributed in packs. The cards/poster is huge measing in at 10 x 18 inches.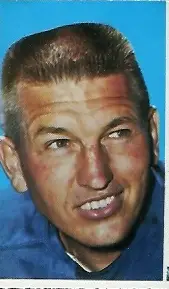 Another stamp card, the 1969 Glendale features a close up image of Unitas's face.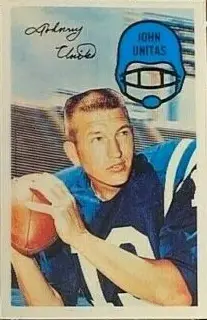 These cards were much different then other releases as they featured a 3d technology.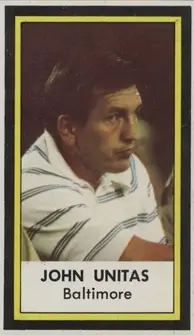 Like the 1962 Football card this release was black bordered. Unlike the majority of his cards, this shows unitas in a polo instead of a Football uniform
1997 Upper Deck Legends Auto
The first autographed cards for Unitas come in 1997. All three come in the iconic 1997 Upper Deck Legends set, which feature on card signatures of action shots. Quite frankly, they're a fantastic start.
They don't receive the recognition they probably deserve because Unitas filed for bankruptcy in 1991 and was an active signer at many card shows in the 1990's, which puts a lid on the ceiling for these. Even with the demand for an all-time great autograph, a lot of signatures exist. Non-licensed, in person, or oddball Unitas autographs typically sell for $75-125. Pack pulled is normally $200 plus
2000 Fleer Greats of the Game Feel the Game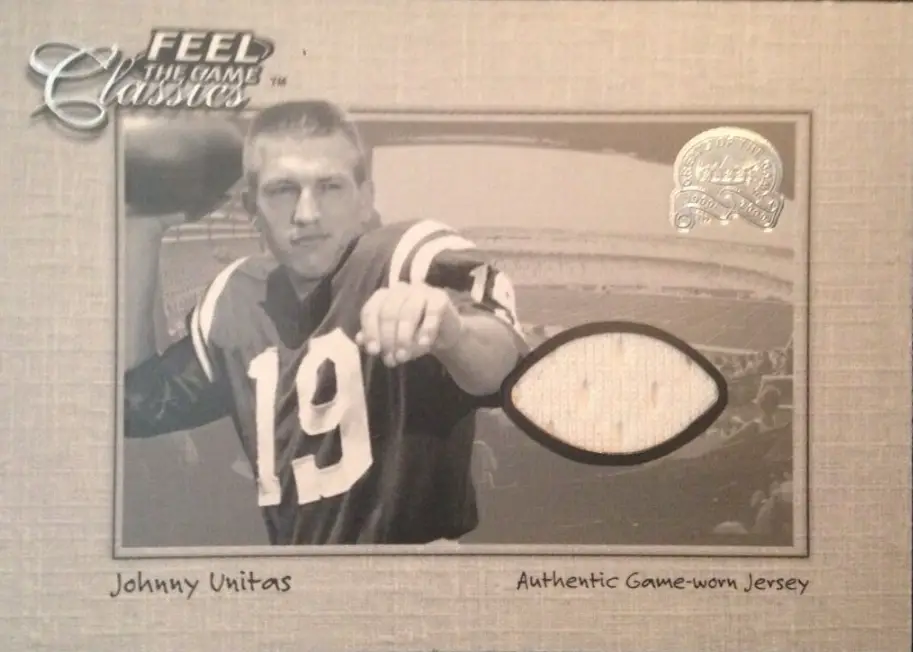 First appearance for memorabilia cards is in 2000, when he is featured across many card manufacturers. One color game used is normally between $20-30, while patches are $100 and up. Higher end product adds to those numbers.
Final Thoughts on Johnny Unitas Football Cards
Unitas will always be a player that collectors chase after. He was an important Football player in the 1960s and a legend for the Colts.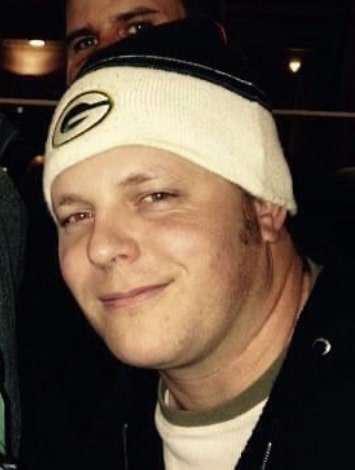 Paul. Card collector since 1993. Serious collector since 2014. PC Pro Football Hall of Famers regardless of team. Go Packers, Seminoles, New Jersey Devils, Milwaukee Bucks, and whoever I have money on in auto-racing. Would rather be found forging my own path than following the beaten one.