1997 Metal Universe Football is the best looking sports card set of all time. This will be a football article, but the basketball, baseball, and hockey sets have the same base card look, and there are some inset sets that cross over. The base set features 200 cards with a foil finish, six insert sets, and the greatest parallel set of all time, Precious Metal Gems.
Within the base set, there are 36 Hall of Famers, and only Kevin Greene displayed with the Panthers does not look to appear with the jersey we remember the player for.
Terrell Davis looks like he has titanium shoulder pads. Troy Aikman is throwing with electricity. Rod Woodson appears to be in a commissioned painting. Michael Irvin gets a picture in picture shot with a bionic arm. Marshall Faulk appears to be be in a different galaxy. Marcus Allen is running through the city which is on fire. Jerome Bettis looks like he's running through a World War I trench. John Elway has an image in the jungle. Isaac Bruce appears to have a backpack on fighting aliens in space. Thurman Thomas looks like he's running through a wall. Barry Sanders runs through outer space.
The base set easily compares to the best looking cards today.
1997 Metal Universe Insert Cards
Gold Universe is 1-120 packs, but retail only. Six of the ten cards display Hall of Famers. Every card appears to be in outer space, with a gold background, these cards are stunning looking.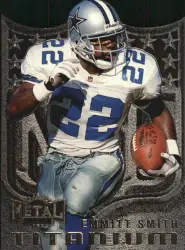 Titanium inserts appear 1-72 packs but with a longer checklist at 20. Half of the 20 have busts in Canton. Titanium features a die-cut top and the NFL shield behind the player. Overshadowed by other cards on the Metal checklist, but these are fantastic in their own right.
Platinum Portraits are case hits at 1-288 packs and nine of the ten on the checklist made it to the Hall of Fame. Keyshawn Johnson, the one guy who did not, was also a solid receiver for a decade. Featuring a silver finish on the front, and pixelated photo, this insert set is one of the most desired of the decade. When people say '90's inserts', this is close to the top of the list.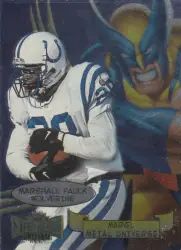 Marvel Metal is only 1-6 packs, but with the recent rise of Marvel cards, the set became a lot more popular. A 20-card checklist, every card has either Hulk, Soider Man, Wolverine, or Captain America in the background. The Jerry Rice (Spider Man) and Barry Sanders (Wolverine) are chase cards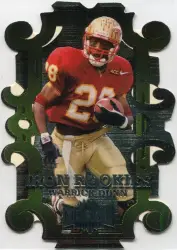 Iron Rookies show up one per box (1-24) but only has one Hall of Famer in Orlando Pace. Die-cut cards feature many good players (Warrick Dunn, Sam Madison, Peter Boulware, etc) but lack top end players to make them desired today.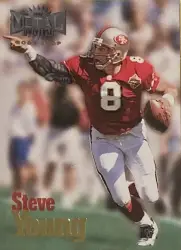 Body Shop inserts are 1-96 packs, and have 15 on the checklist. Common sense would say one in every four boxes inserts would be desired, but the cards are simply less visually appealing than the base set. The photos have some minor detail added to the players body to enhance, but the lack of foil added hurts the appeal. Personally paid $10 for the Deion Sanders, one of only four (Zach Thomas might make it five) Hall of Famers.
Precious Metal Gems simply define the term '90's insert' despite not being an insert. Technically a parallel set, PMG's come in two versions, red and green. The red version is more common as 150 total were made, and the first 15 were green, leaving 135 red copies. Extremely condition sensitive, as of writing, only one PMG has been slabbed as a PSA 10. Fortunately for the owner, it's a Hall of Fame
rookie in Orlando Pace. Nine more are graded mint by PSA. Simply put, near mint is a great score for these cards.
The most visually appealing of the card of the 1990's, PMG's are very desirable. They combine a shiny foil with some element of the artwork from the base version to create an awesome design. The price also reflects how awesome these cards are. Lesser collected Hall of Famers Curtis Martin and Marvin Harrison have had green copies sell for $6200 and $7100 respectively within the last three months.
Brett Favre had a red version fetch $8000 recently. No word on whether Mississippi welfare funds were used to complete the purchase. Ray Lewis, Terrell Davis, Troy Aikman, John Elway, Terrell Owens, Dan Marino, have all sold north of $2,000 within the last three months of this writing. Barry Sanders had a BGS 8.5 copy sell on PWCC for $28,000 in August 2022. They have remade the 1997 design in 2012 and 2013 Fleer retro in homage to the original.
While 1997 Metal Universe does not get its luster from Hall of Fame rookies, it doesn't need it. When card designers go to sleep, they dream of creating sets that are remembered. Platinum Portraits, Gold Universe, Marvel Metal, and the base set/PMG's will be remembered fondly decades from now
Most Valuable 1997 Metal Universe Football Cards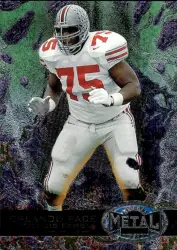 Pace was drafted first overall, went to seven Pro-Bowls, and was a five-time All-Pro. That offense with Kurt Warner, Marshall Faulk, Isaac Bruce, and Torry Holt, was allowed to thrive because Pace was a top tier tackle for a decade. Had enough devastating blocks in college that the term 'pancake block' gained popularity.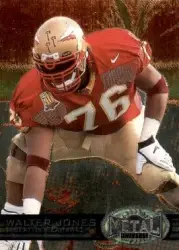 Jones went sixth overall because teams simply had less tape on him. Redshirted his second to last year simply because Florida State was that good at that time after transferring in from community college. Put simply, Jones is one of the best offensive tackles of all time and only really Art Shell and Jim Parker have good arguments in comparison. Nine-time Pro Bowler played in one Super Bowl.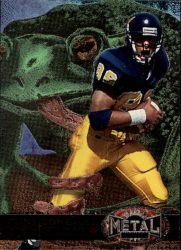 Tony Gonzalez has a good argument as the best tight end of all time. Legit receiver skills in a 6'5" 247 LB body gave defenses nightmares. 14-time Pro-Bowler is almost as impressive as breaking a tackle from a 20-foot frog as displayed on his base Metal rookie card. Easy selection for the NFL 100th Anniversary team.
Hall of Fame rookie Jason Taylor is not on the checklist for 1997 Metal, as well as many other sets that year.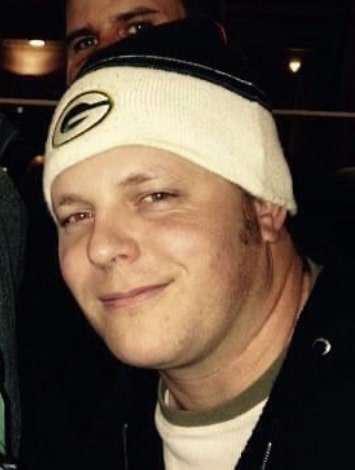 Paul. Card collector since 1993. Serious collector since 2014. PC Pro Football Hall of Famers regardless of team. Go Packers, Seminoles, New Jersey Devils, Milwaukee Bucks, and whoever I have money on in auto-racing. Would rather be found forging my own path than following the beaten one.