Chris Bosh Rookie Cards are popular among many early 2000s NBA collectors.
Chris Bosh was born in 1984 in Dallas Texas. Bosh grew up to become a lengthy 6'11 by his high school years.
During his high school years, Bosh gained several awards with one being named "Mr. Basketball." Bosh decided to go to Georgia Tech for a single season of college basketball before declaring for the 2003 NBA Draft.
Bosh was selected 4th overall by the Toronto Raptors as the co-star to the rising Vince Carter. He would go on to rack up 4 All-Star Appearances, 1st Team All-Rookie, and 2nd Team All-NBA with Toronto before moving on.
He joined the Miami Heat in 2010 as part of their "Big 3" with Lebron James and Dwayne Wade. This led to 2 NBA Championships and 7 more All-Star Selections.
However in 2016 Chris Bosh was forced to retire extremely early due to Blood Clots discovered in 2015. He retired at the young age of 32 with several years ahead of him. He had been selected to the 2016 All-Star, but missed it due to his injury. Bosh is a top 100 points scored and rebounds all time attesting to being an all time great player. In 2021, Chris Bosh was inducted to the Basketball Hall of Fame not as a First-Ballot though.
Most Valuable Chris Bosh Rookie Cards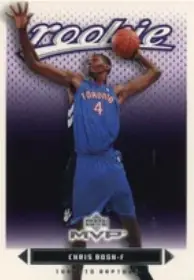 One of the biggest brands of the 2000s, Upper Deck created several Chris Bosh rookie cards like MVP Rookies #204, Star Rookie #304, Rookie Exclusive #4, and Hardcourt Future Rookie #129. 
Most RC cards have a Base and Gold variation which is considerably rarier. PSA has graded ~216 #204, ~65 #304, ~383 #4, and ~4 #129. Parallels include Silver/Gold #204, Exclusive Rainbow/UD Exclusive #304, Black & White/RK Excl-Super Variation/Rookie Exclusives/Auto/Jersey #4, /799 #129.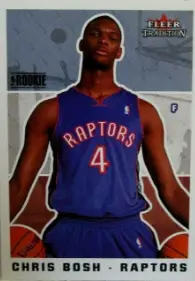 Another big brand, Fleer went for iconic looks similar to past and future versions of the brand. Fleer had Tradition #264, Focus #125, E-X #92, Avant #68, Mystique #98. Tradition even has multiple players on the same card, however his edition was mixed with Jarvis Hayes/Mike Sweetney and Chris Kaman/Darko Milicic. 
PSA has graded ~90 #264, ~27 #125, ~40 #92, ~15 #68, and  ~35 #98 making these cards pretty rare to find. Parallels include Draft Day Rookie/Crystal for Tradition #264, Gold/Century Edition/Decades Edition for Focus #125, Essential Credentials Now for E-X #92, 'Black and White' for Avant #68, and Die-Cut/Gold for Mystique #98. Note there are many other fleer RC cards as well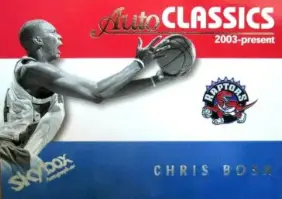 Considered a smaller card brand, Skybox featured a more modern card design for the early 2000s. From Card #10 Auto Classics with its flag like design to the weirdly titled Card #54 Autographics with no Autograph on the card. 
Skybox also released 'Sky's the Limit' which accurately predicted Chris Bosh's Potential during his early years. PSA has graded 13 Autographics but 0 Auto Classics and 8 Sky's The Limit. Skybox cards rarely had parallels with only Limited Edition Artist Proof and Gold Proof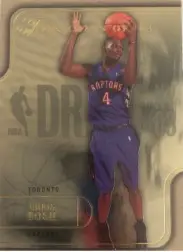 With a more 90s look, Flair went with mostly purple Jersey matching cards with 1 die-cut Gold Draft Ticket card similar to today's Lottery Tickets out of Contenders. Finial Edition Card #66 with a black and white Chris Bosh Surrounded in Raptors Purple, Wave of the Future Card #4, and Hot Numbers Card #32. 
PSA has graded these rare cards at 8 for Finial Edition, 3 Wave of The Future, and 1 sole Hot Numbers (Non-Jersey). Like Skybox Flair didn't use many Parallels with most just having Jersey Variations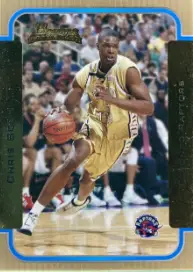 Bowman is the only card brand that used Chris Bosh in his Georgia Tech College Uniform and a few Raptors jersey cards. 2003 wasn't Bowman's year for Ionic Base RCs like later years.  Bowman Rookie Card #153 has his College Uniform while Fabric of the Future Card #FF-CB and Bowman Signatures Card #78. 
PSA has graded 0 Card #153 Base, 6 Card #78 Foils, and 7 #FF-CB. Parallels included Autograph, Chrome-Auto, Chrome-GoldRefractor-Auto, Refractor Auto, and Gold for Card #153. Foil, Jersey-Auto, Jersey-Auto Silver, and Jersey-Auto Gold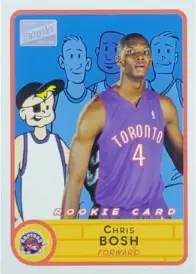 A more silly approach to cards, Bazooka features 3 main cards with various odd backgrounds. From Chris Bosh with the Bazooka mascot 'Bazooka Joe' Card #279 to Bosh dunking from a ridiculous height Card #228. 
PSA has graded ~85 Card #279 and ~68 Card #228. Parallels include Mini/Gold for Card#279. Meanwhile Card# 228 has a Black Jersey vs White Jersey with Mini/Gold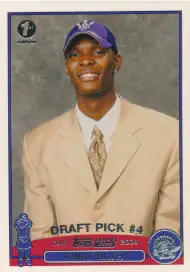 One of the most in-demand Chris Bosh rookie card brands, Topps has Chris Bosh's Ionic Draft Night picture wearing a Raptors cap. This card was Card #224 with 2 variations. 
Topps also released Pristine Card #110/111/112, The Famous Topps Chrome #114, and Matrix featuring Lebron James+TJ Ford, Dario Milicic+Kirk Hinrich, Carmelo Anthony+Kirk Hinrich, Carmelo Anthony+Lebron James, and the most famous Matrix Lebron James+Dwyane Wade as his future Championship teammates. 
PSA has graded a staggering ~1,600 Card #224, ~1,850 Card #114 Chrome, ~1,500 Matric with ~500 being Lebron/Dwyane. Parallels include 1st Edition, Black Border, Collection, and Gold for Card #224. Refractor, Black Refractor, Gold Refractor, and Xfractor for Chrome Card #114. Refractor, Gold Refractor, and Press Plate Magenta for Pristine Card #110/111/112
Final thoughts on Chris Bosh Rookie Cards
Despite a significantly shortened career, Chris Bosh has become a well known player with Raptor/Heat fans both collecting. A Hall of Famer with 2 rings with a tragic end of his storied career. With several brands to choose from, Collectors have a wide array of different styles and card types to choose from with Topps being the most commonly found. Some cards being as cheap as a few dollars.