Bart Starr football cards are a staple of many collections. The legendary Packers quarterback has a very strong following for vintage Football collectors.
Bart Starr is a player that just personifies vintage football, both from a card perspective, and real-life quality of player. Starr won seven NFL championships despite only being a four-time All-Pro. He was the quarterback for the Green Bay Packers throughout Vince Lombardi's entire run as head coach there.
Fell to the 17th round of the 1956 NFL Draft due to a back injury that limited his playing time in college. Due to draft status, and established starters ahead of him, split time as starter until 1961. Starr never had great statistics, as his best season throwing touchdowns was 16, passing yards was 2,438, and completions was 172. 
However, the Packers had two Hall of Fame running backs in Jim Taylor and Paul Hornung for a majority of Starr's time, and the league in general ran the ball more often. When those two were towards the tail end of their careers, passing became more relied on for victories.
Became head coach of the Packers from 1975-1983, but was unsuccessful. The combination of not being able to communicate Hall of Fame level knowledge of the game, average moves in his other role of General Manager, and competing with the Steelers and Cowboys dynasties, was a recipe for mediocre.
Bart Starr Football Card Value
You can find most low to mid grade Bart Star cards under $50. The exception is his 1957 Rookie card and a few oddball releases.
Most Valuable Bart Starr Football Cards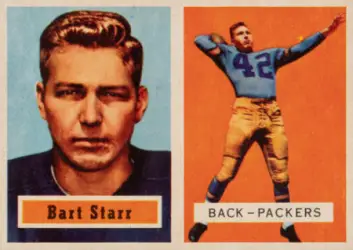 Starrs rookie card is in 1957 Topps, which features two portraits thrown together to create an iconic landscape image. PSA 3's should run $600-800, depending on eye appeal. PSA 6 copies are around $1400-1700 currently. 
1957 Topps can have wax stains on the back, coloring issues on the front, and is notoriously difficult to find centered. Johnny Unitas is also a rookie in this set, but you already knew that because you read the prior article.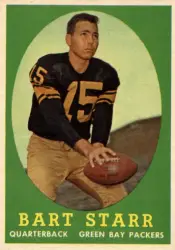 Topps did not have any competition from 1958-1960 for NFL cards. A PSA 5 Starr should cost around $100 for all of these with 1958 being slightly higher just off second year status and a more iconic set. 1958 featuring Jim Brown's rookie helps.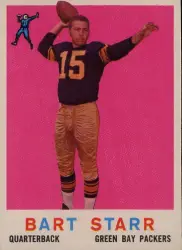 The 1959 Topps release looks as if you changed the 57 from horizontal to vertical. A 1 color solid background with two images.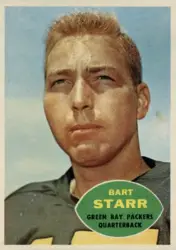 The 1960 Topps features a portrait shot as well as a football in the bottom right corner mentioning Bart Starr, Green Bay Packers, and Quarterback.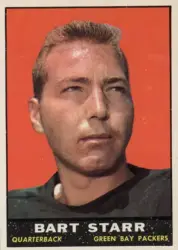 1961 Topps has to share the spotlight with Fleer. Both sets feature portrait still shots. Both sets can likely be had for $50-75 in a PSA 5.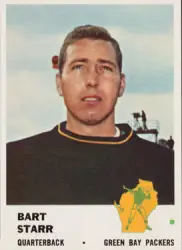 1961 Fleer football I feel is the best overall looking set of the 1960's. White borders and a full image of the player helps. 
Most Topps sets feature a background color and clearly staged photograph, but Fleer's photography features the players mostly in pads and the stadium. Often with print lines, 1961 Fleer is a tough set to find in good shape.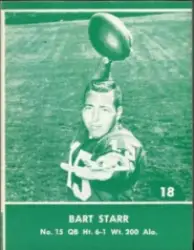 Our first food card, 1961 Lake to Lake Dairy was released in either partial set form by mailing in enough copies from the milk carton, or simply pulling the card off the milk carton and dealing with the staple holes, milk stains, or not worrying about the staple holes and just ripping it off. 
Personally feel a good looking copy with the staple holes is better than a PSA 7 for example. That copy actually saw 'the wild'. Many Wisconsin dealers have never seen some of the many short prints in the set.
1961 Lake to Lake also features pre-RC's of Hall of Famers Ray Nitschke, Willie Davis, Herb Adderley, and Willie Wood. Henry Jordan's rookie card is 1961 Topps and is also in Lake to Lake. Starr, being a short print commands at least $200. Some of the common names that are short print can command $10,000 plus just off rarity.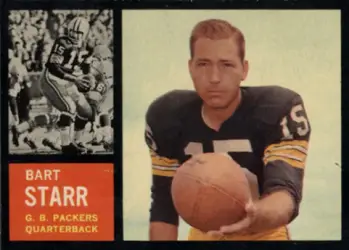 1962 Topps features black borders and PSA 5 copies tend to be $75-100. These can be tough to find in higher grade and can easily command a premium.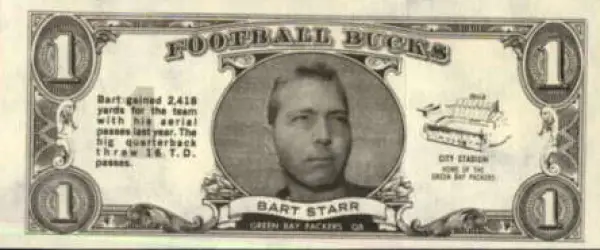 Topps put a dollar bill style insert in one per pack in 1962 as well. Mike Ditka and Fran Tarkenton also feature as Hall of Fame rookies in the insert set. However, a 48-card checklist, and one per pack lead to a lower price.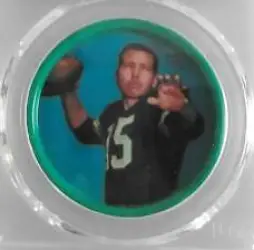 Salada coins could be found across various food products including tea and ice cream.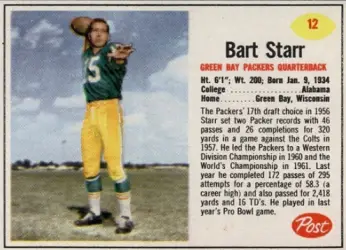 Post Cereal cards are hand cut, unless you somehow have a full box. Most receive A grades since they were cut short of the borders.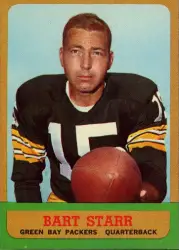 Starr's 1963 Topps card is overshadowed by Packers icon Ray Nitschke featuring his major issue rookie card. The colorful borders make any damage easily noticeable.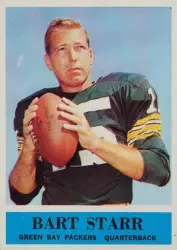 Philadelphia Gum Company took over the NFL licence from 1964 to 1967. Starr is not overly valuable in any of these sets as PSA 5 copies are around $50 each, but the sets feature some valuable rookies.
 The 1966 Chicago Bears team set in Philadelphia features Gale Sayers and Dick Butkus. Copies where the back trivia question is not filled out clear $100 easily on Butkus and slightly lower on Sayers.
You can learn more about 1964 Philadelphia Football Cards here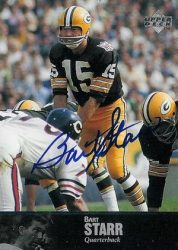 Bart Starr kicks off his autographed card run in top tier fashion. 1997 Upper Deck Legends will always be a preferred set among Hall of Fame autograph collectors.
 On card signatures with action shots are always preferred. A short print in the set, this card will command top of the range pricing for any Starr autograph. Also has Jimmy Dean and Tombstone Pizza autographs in 1995 and 1996, but they're not sought after.
2000 Upper Deck Jersey Auto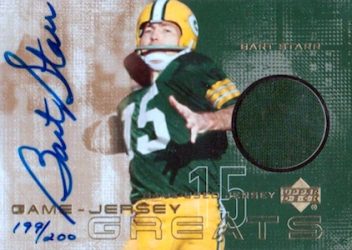 The first Bart Starr memorabilia cards are in 2000. Featured in Donruss, Fleer, and Leaf, none command a premium for first Starr jersey card. His 2000 Upper Deck jersey autograph however, is on the more expensive end just being on card autograph with a game used jersey swatch.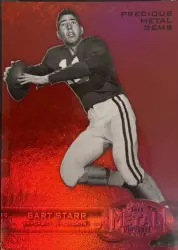 Bart Starr also gets a run in Precious Metal Gems. 2012 Fleer Retro features green (/10), blue (/50) and an Alabama color match red (/100). 
Largely overlooked by the hobby due to all players being in college uniforms, instead of just the rookies like the original 1997, these cards still look like PMG's and I personally own many of them. Even selling to dealers, the feeling is more that the cards are cool, especially at the reduced price instead of undesirable.
Final Thoughts on Bart Starr Cards
Bart Starr will always have a high collector base due to the large Packers fan base. His 1957 Topps rookie does not sit long in Wisconsin showcases if priced fairly. 
He didn't need the money post retirement, like many other great players of his era, so he didn't need to sign many autographs. His signature commands $100 on the low end, which is significant for most NFL Hall of Famers.
Starr's multiple color patch cards get snatched up even faster than his rookie. The Packers storied franchise coupled with a 17-year gap (1944 to 1961) before Starr's first title, and a 29-year gap (1967 to 1996) after, lead to a player very highly collectable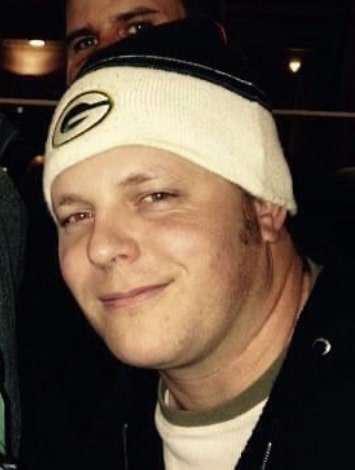 Paul. Card collector since 1993. Serious collector since 2014. PC Pro Football Hall of Famers regardless of team. Go Packers, Seminoles, New Jersey Devils, Milwaukee Bucks, and whoever I have money on in auto-racing. Would rather be found forging my own path than following the beaten one.