Jim Brown Football cards are some of the most desired cards of the late 1950s and early 60s. Collectors who aren't even Football focused want to have at least one of his cards within their collection.
Jim Brown is in the discussion for greatest football player of all time. He was voted unanimously to the NFL All Time 100th Anniversary team. In only nine NFL seasons, he won three MVP's, made first team All-Pro eight times, was rushing leader eight times, and a Pro Bowler every season of his career. Named to the Lacrosse Hall of Fame, many consider him the greatest lacrosse player of all time as well.
Was popular enough that upon retirement took up acting. Has 51 non-documentary movies to his name as of writing, 16 of those as the lead actor. Was featured over Burt Reynolds in promotion for a movie when Reynolds was already a star.
How Much is a Jim Brown Football Card Worth
Most Jim Brown cards can be found under $100 in lower graded shape. His 1958 rookie card and oddball releases can fetch 4 to 5 figures regularly depending on condition. 
Top Jim Brown Football Cards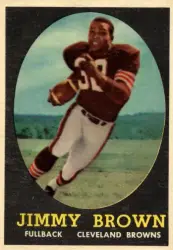 For cards Brown's status reflects in the price as well. His 1958 Topps #62 rookie card commands about $1,000 for a PSA or SGC 2 and a 5 is $2,500-3,000 as of writing. Is also featured on the 1958 Browns team card, #9, in the middle row if his normal #62 is out of the price range. This is a personal favorite to flip from the low dollar value bins at shows into higher on eBay.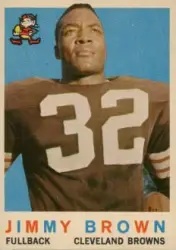 The second year Topps card is still quite valuable. It features more of a portrait shot with a blue background. These are often centered better than the rookie card the year before.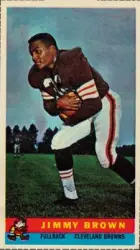 Brown is also featured on many food and regional issue sets during his career. His 1959 Bazooka is among the most valuable just off rarity. As of writing, nine total from the entire 18 card set are on eBay and only six have sold the past three months. 
Prices can swing wildly based on set collectors, but for a Brown or Unitas, it will likely set you back $1,000 or more if the seller knows what they have. 
Finding a complete set at a garage sale for $20 would not be the out of the realm of possibility. They're rare enough to stump seasoned collectors, much less random family members putting together a garage sale.
1959 Carling Black Label Beer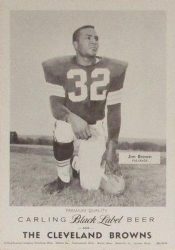 These were large photo cards (8 1/2″ by 11 1/2″) that featured players on the Cleveland Browns. It was originally distributed through the Carling Black Label Beers.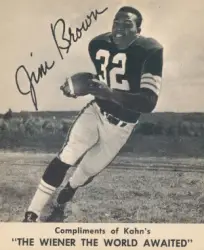 This was Jim Browns first Kahn's card. He has a few others in the early 1960s. These were distributes with hot dogs throughout the midwest.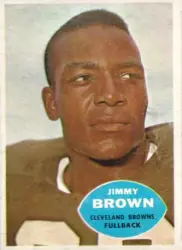 1960 was the 3rd year for Jim Brown Topps cards. The design is lacking compared to the 59 and features a somewhat dull image.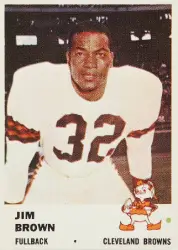 This was Jim Brown's first Fleer football card. In 61 the NFL also allowed Fleer to print cards alongside Topps.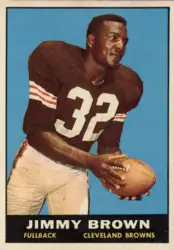 1961 Football cards closley resemble their baseball counterparts. The main difference is the colorful background. The blue imagery really makes Jim Brown pop.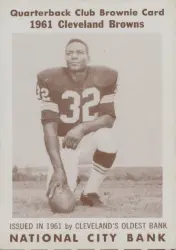 This is an extremely tough regional issue out of Cleveland. Originally distributed on 6 card panels, each one was hand-cut. The set also features an early card of Len Dawson.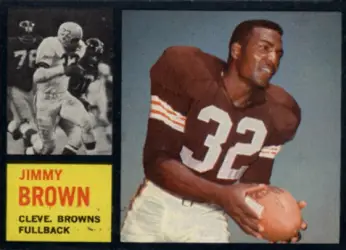 The 1962 Topps Football Cards are typically pretty tough to find in mint condition. Due to the black boders on the outside.
This is Jim Browns first horizontal card and features two images as well as a bright yellow text box.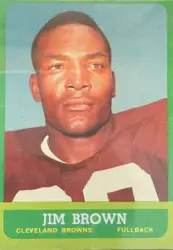 1963 Topps is another tough Jim Brown football card to find in mint condition. 
Many of these chip easily due to the green borders extending throughout the card.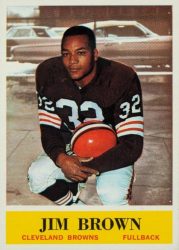 Brown's 1964 Philadelphia Football Card is particularly popular, as the background has his own Cadillac in the background. The card a fantastic representation of the 1960's.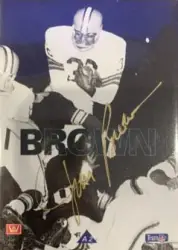 Browns first pack pulled autograph is 1992 All World. This was more failed stunt to generate buzz for a low tier product than anything.
The autograph checklist is Desmond Howard, the reigning Heisman Trophy winner numbered to 2,500, Joe Namath numbered to 1,000, and Brown also numbered to 1,000.
 The cards feature black and white photos and the Brown has a back shot in his college uniform. The card is more a cheap way to get a Jim Brown autograph than good way to represent his first pack pulled signature.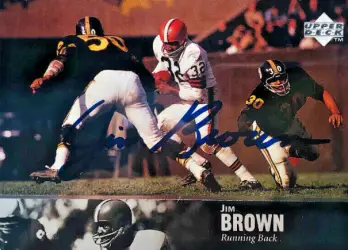 Jim Brown's second pack pulled autograph is an absolute top tier item. 1997 Upper Deck Legends is an iconic set. 
Colorized images of 169 Hall of Famers, All Decade Team members, or team legends, this set is fantastic. 
Brown being a short print commands a very nice premium. PWCC has sold three in their history ranging from $1,225 to $3,059. The most recent being in November 2018. 
Therefore, the only copy on eBay currently at $6,000 or best offer makes more sense given the upward trend of card prices since. Other Jim Brown autographs from 1999 and beyond normally command around $400 on the lower end, and can easily reach $1,000 for general higher end product. He simply does not sign often.
1999 Upper Deck Century Legends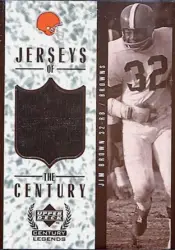 Brown's first pack pulled memorabilia card was 1999 Upper Deck Century Legends. 
This card carries premium to other game used cards, but most memorabilia collectors prefer the best patch they can find regardless of release date. 
As long as the memorabilia is game used, that tends to carry more weight than first jersey card. A one color 1999 Legends should go for more than one color from later years, but a patch wins the day.
Final Thoughts on Jim Brown Football Cards
Player collectors do only need nine cards to finish the Jim Brown playing career base licensed checklist, but there is a ton of quality that makes up. His cheapest playing days card is the 1961 Topps Highlights version at around $20 on the low end. 
This may seem cheap to the baseball collectors reading this, but it's actually more expensive than many realize. Jim Brown may have some off field issues which prevent some from being die-hard fans, but his play on field speaks for itself
He was Dwayne Johnson before his time by going into films, and getting feature roles off stardom than pure acting skill. Johnny Unitas and the 1958 Championship game against the Giants helped propel the game, but it was Jim Brown who was the best player. 6'2" 232 LBs running with 4.5 40-yard dash speed, his game translates in any era. Brown is one of the very few timeless players across all sports.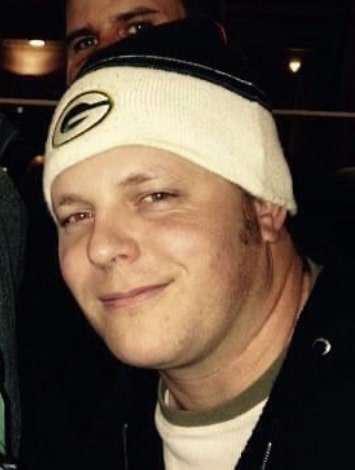 Paul. Card collector since 1993. Serious collector since 2014. PC Pro Football Hall of Famers regardless of team. Go Packers, Seminoles, New Jersey Devils, Milwaukee Bucks, and whoever I have money on in auto-racing. Would rather be found forging my own path than following the beaten one.