Drafted in 2019 with the 5th pick by the Cleveland Cavaliers, Darius Garland was a very hyped prospect despite suffering a major injury in his sole college year. The Cavaliers drafted Garland in the hopes of finding a replacement after losing Kyrie Irving in 2016. Paired with fellow guard Collin Sexton, Darius ultimately fulfilled the Cavaliers dreams as he ascended to near All-Star levels of play. 
Darius is a point guard known for being an amazing shooter with good passing vision. It's important to note Darius had a pretty iffy rookie season considering his draft position. Scoring 12 points and 4 assists on a very ineffective 40% Field Goal shooting. He ended up breaking out in his 2nd and 3rd season becoming a consistently good scorer. 
Darius Garland Rookie Cards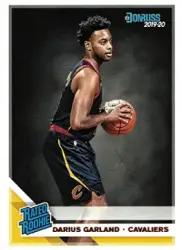 The classic base rookie card, Donruss' Rated Rookie, features Darius with a very generic background exactly like years before it. A very popular player with a rising team, PSA has graded ~500 rated rookie cards for Darius Garland. 
Parallels include Green Flood, Infinity, Green/Yellow Laser, Orange Laser, Silver Press Proof /349, Purple Press Proof /199, Red /99, Green Laser  /99, Red Press Proof /99, Pink Laser /50, Blue Press Proof /49, Blue /35, Yellow Laser /25, Purple Laser /15, Red/Blue /15, Purple/Green Laser /10, Gold Press Proof /10, Gold /10, Black Press Proof 1/1, Black 1/1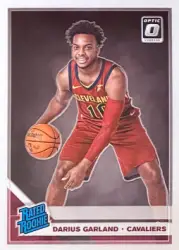 Optic differed slightly from the base Donruss rated rookie mostly in a photo variation and a less smoky background. PSA has graded almost 4,080 Darius rookie cards which is far more common than the generic Donruss Rated Rookie. 
Parallels include  Holo, Checkerboard, Red/Green, Blue,  Hyper Pink, Purple, Purple Shock, White Sparkle, Premium Base /249 Orange /199, Lime Green /149, Red /99, Purple /95, Pink /79, Blue /59, Blue /50, Black /39, Purple Stars FOTL /29, Pink /25, Pink /20, Gold /10, Black Gold /8, Lucky Envelopes /8, Green /5, Gold Vinyl 1/1, Black 1/1.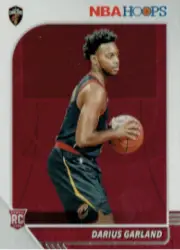 2019 NBA Hoops featured both a normal rookie card and a tribute rookie card, which was a call back to previous NBA Hoops styling. PSA has only graded ~350 NBA Hoops Rookies for Darius with most being normal base. 
Parallels include for the normal set Winter, Purple Winter, Blue, Neon Green, Purple, Red Backs, Teal Explosion, Yellow , Premium Box Base /199, Silver /199, Green /99, Red /75, Blue Explosion /49, Teal /49, Artist Proof /25, Orange /25, Orange Explosion /25, Red Explosion /15, Gold Artist Proof /10, Black Artist Proof 1/1.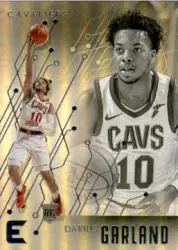 2019 Chronicles included the following sets Prestige, Threads, Base Panini, Luminance, Playbook, Updated Donruss Rated Rookie, Marquee, XR, Essentials, Elite Black Box, Recon, Majestic, Gala, Limited, Titanium Draft Position, Vanguard, Updated Prizm, Updated Donruss Optic (Traded), Hometown Heroes, Crusade, Phoenix, Score, Flux, Classics, and Rookies & Stars. 
PSA has graded ~1,400 Darius Rookie cards with Luminance being the most rated at 180. Parallels include Bronze, Green, Pink, Teal, Silver, Red /149, Blue /99, Titanium Jersey Numbered, Limited Red /75, Limited Blue /49, Purple /49, Titanium Draft Year /19, Gold /10, Gala Base /8, Platinum 1/1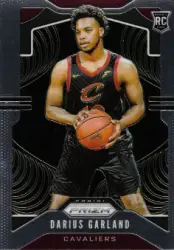 2019 Panini's Main Line retail brand didn't do much differently than previous years. It did have a heavy amount of rookie cards. PSA has graded ~15,000 Prizm Darius Garland rookie cards which is more than any other set by 3x. 
Parallels include Silver, Green, Hyper, Red/White /Blue, Blue/Yellow/Green, Tiger Stripe, Green Cracked Ice, Orange Cracked Ice, Pink Cracked Ice, Red Cracked Ice, Purple wave, Ruby wave, Red /299, Blue /199, Fast Break Blue /175, Cracked Ice Purple /149, Fast Break Red /125, Cracked Ice Blue /99, Choice Red /88, Purple /75, Fast Break Purple /75, Fast Break Pink /50, Orange /49, Pink Pulsar /42, Purple Pulsar /35, Mojo /25, Green Pulsar /25, Fast Break Bronze /20, Gold /10, Choice Green /8, Fast Break Neon Green /8, Black 1/1, Nebula 1/1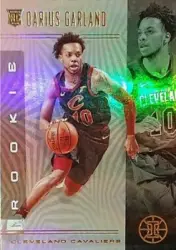 2019 Illusions looked incredibly better when compared to its 2020 counterpart. However, it was still less popular than other retail brands. PSA has graded ~160 of these cards which is very low for a common retail set. Parallels include Bronze, Emerald, Orange, Pink, Sapphire, Starlight, Ruby /199, Yellow /149, Teal /125, Red /99, Black /49, Blue /25, Gold /10, Green /5, Purple 1/1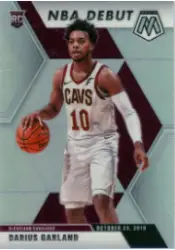 2019 was the first year for Mosaic as a set as it was previously seen as a Prizm parallel. The set featured Darius's base rookie #249 and NBA debut rookie cards #262. PSA has graded ~4,100 #249 and ~1,300 #262. 
Parallels include Red, Camo Pink, Green, Reactive Blue, Reactive Orange, Genesis, Peacock, Red Wave, Gold Wave, Fast Break Silver, Blue /99, Fusion Red /88, Fast Break Blue /85, Fast Break Purple /50, Purple /49, White /25, Orange Fluorescent /25, Purple Snakeskin /24, Purple & Gold /20, Blue Fluorescent /15, Fast Break Gold /10, Green Swirl /10, Choice Gold /8, Snakeskin Gold /8, Black 1/1, Fast Break Black 1/1, Snakeskin Black 1/1, Nebula 1/1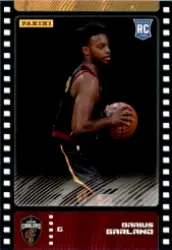 2019 Sticker Collection went with a movie reel like look in its design. These cards tended to be very cheap with each pack containing only one card and 5 stickers. 
These cards tend to be very common and not in high demand. PSA has graded ~2 Cards and ~6 Stickers of Darius making this a very rare find as a graded card. Parallels include Silver, Blue /299, Red /199, Aqua /75, Pink /35, Gold /10, Green /5, Black 1/1, Purple 1/1. No Parallels for stickers.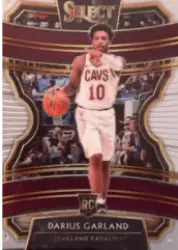 At the time a hobby set, Select featured a lot of die-cuts and contained three different tiers of cards: Concourse, Premium Level, and Courtside. PSA has graded ~1,350 Concourse, ~560 Premier level, and ~215 Courtside. 
Parallels include for Concourse Disco, Silver, Scope, Tri-Color, Zebra, Light Blue /299, Red /199, White /149, Neon Green /75, Red Disco /49, Blue Disco /25, Tie-Dye /25, Neon Orange Pulsar /13, Gold Disco /10, Gold /10, Lucky Envelopes /8, Green /5, Black Disco 1/1, Black 1/1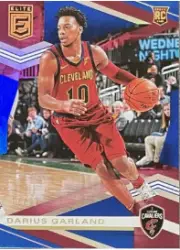 2019 Donruss Elite's Style was heavily focused on sharp lines and polygons. This was the first year Donruss Elite was given its own box and not contained in Chronicles since 2015. A defining feature of Donruss Elite is the fact that all rookies are numbered by default.
 Therefore, this set is rare for Darius as PSA has only graded ~36. Parallels include Red, /299 Base, Aspirations /99, Blue /99, Status /99, Purple /49, Gold /10, Black 1/1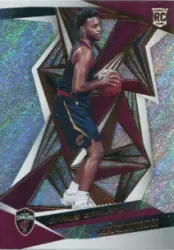 A flashy hobby set, Revolution features a sparkly Darius Garland poised to shoot or pass. PSA has graded ~170 rookie Revolution Darius Rookie Cards with less than half being base. Parallels include Fractal, Chinese New Year, Astro, Groove, Galactic, Impact /149, Cosmic /100, Chinese New Year Emerald /88, Sunburst /75, Cubic /50, Lava /10, Chinese New Year Gold /8.
Darius Garland Rookie Cards
One of many 2019 rookies from what will likely go down as a stacked draft class, Darius is currently enjoying another good season with fellow star Donovan Mitchell. His cards continue to rise in popularity as the Cavaliers continue to impress in the 2023 season. Whether Darius will ever get his first All-Star nod will depend heavily on him improving his defense or becoming a 25+ points per game player. His future looks bright either way as he signed a 4 year deal with the Cavaliers to keep him there for the foreseeable future.