Over the past year, Desmond Bane Rookie Cards have taken off in value.
Desmond Bane has been under the radar his whole career going from Indiana, a state known for basketball, to committing to a small D1 college school in TCU. He wasn't heavily recruited coming out of High School receiving 1 scholarship offer from Furman University. Bane didn't declare for the NBA Draft till his Senior year. 
While at TCU, he impressed NBA Scouts enough to be drafted 30th overall by the rebuilding Memphis Grizzlies. Bane has a slow rookie season, but started 17 games. Bane's second season caused him to explode on the NBA landscape with 18 points and 1.2 Steals per game for a team 2nd in the western conference. The combination of Ja Morant and Desmond Bane have become one of the hyped backcourt duos of the 2020s
Important note regarding 2020, PSA has spotty data on 2020 graded cards
Most Valuable Desmond Bane Rookie Cards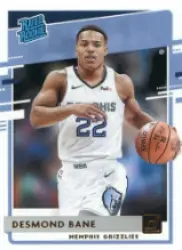 A Classic Rookie card which is highly sought after by small collectors for a cheap RC card. This card is found in Retail Donruss packs making it quite common. PSA has only graded ~135 Desmond Bane Rookie cards however this data might be incomplete. 
Parallels include Green Laser, Green Flood, Green & Yellow Laser, Orange Laser, Red & Gold Laser, Yellow Flood, Press Proof Silver #/349, Press Proof Purple #/199, Purple Laser #/99, Red Laser #/99, Blue Laser #/49, Yellow Laser #/25, Red & Blue Laser #/15, Gold Laser #/10, Black Laser 1/1
Donruss Clearly Rated Rookie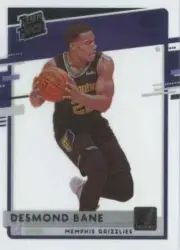 With a clear background and plastic stock, these cards are considered good cards to some and bad cards to others. PSA has graded ~14 Bane Cards. Parallels include Gold, Purple, Mosaic Holo, Blue /99, Red /49, Green /25, Silver Holo /10, Gold Holo /5, Platinum Holo 1/1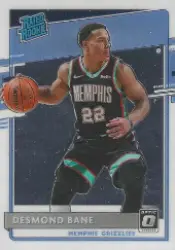 Another Rated Rookie with a different photo, Optic tends to be a more sought after card due to quality of card stock. PSA has graded ~1000 which is far higher than the plain Donruss. 
Parallels include Holo, Photon, Hyper Pink, Purple, Purple Shock, Blue, Blue Velocity, Dragon, Red, White Sparkle, Checkerboard, Orange /199, Lime Green /149, Red /99, Purple /95, Red /88, Red /85, Pink /79, Blue /59, Blue /50, Black /39, Pink /25, Pink /20, Gold /10, Lucky Envelopes /8, Green /5, Black 1/1, Gold Vinyl 1/1, Nebula 1/1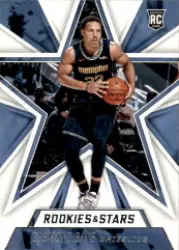 2020 Desmond Bane Rookie Card Chronicles included Base Panini, Threads, Prestige, Luminous, Playbook, Essentials, Marquee, Plates and Patches, Majestic Limited, Gala, Titanium Draft Position, Gold Standard,  Crusade, Hometown Heroes, Phoenix, Honors, Score ,Classics, Rookies and Stars, and Legacy Totally Certified. 
PSA has graded ~100 with over 60 different card types! Parallels include Bronze, Green, Green Ice, Pink Teal, Red /149, Blue /99, Purple /49, Gold /10, Lucky Envelopes /8, Platinum 1/1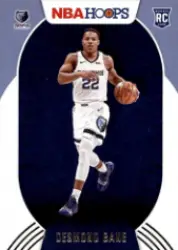 Different from the 2019 premium stock, the 2020 NBA Hoops featured a very simple design that lacked any iconic look. PSA data, as of 11/4/2022, only has 2 Teal Explosions NBA Hoops cards graded.
 Parallels included Winter, Blue, hyper Blue, Green, Purple, Purple Explosion, Purple Winter, Redbox, Teal Explosion, Yellow, Silver /199, Hyper Red /99, Green Explosion /89, Red /75, Teal /70, Blue Explosion / 59, Artist Proof /25, Hyper Green /25, Orange /25, Orange Explosion /25, Red Explosion /15, Artist Proof Gold /10, Hyper Gold /10, Artist Proof 1/1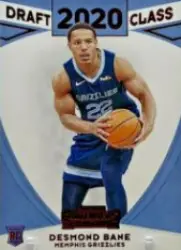 Desmond Bane rookie cards are only found as an Insert, Auto, or Memorabilia (Jersey) in the Contenders series. The Draft Class 2020 Bane rookie card being the most common. PSA has graded 0 of these cards as of 11/4/22 per PSA's Pop report. Parallels include Red, Cracked Ice /25, Championship Edition 1/1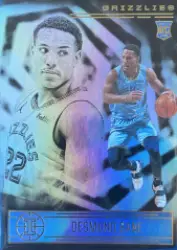 Illusions is a retail product known for its dark parallels with a similarity to Noir hobby. With only ~30 PSA graded cards, it is one of the lowest retail graded cards due to unpopularity in 2020. 
Parallels include Bronze, Emerald, Orange, Pink, Sapphire, Starlight, Yellow /149, Ruby /125, Red /99, Teal / 75, Black /49, Blue /25,  Gold /10, Green /5, Purple 1/1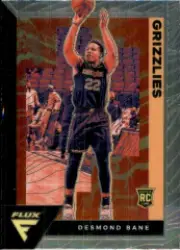 A series that only ran for the 2020-21 season with no plans for future series as Panini has inserted it into the Chronicles series. Many not liking the Flux series, Desmond Bane's rookie card happens to be quite cheap compared to others. PSA has only graded ~130. 
Parallels include Light Blue, Moonlight, Pink, Red, Silver, Sunrise, Blue /99, Supernova /75,  Solar Eclipse /49, Lunar eclipse /25, Purple Scope /18, Gold /10, Gold Scope /8, Green /5, Black 1/1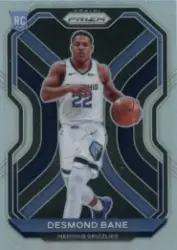 Panini's headliner series with a classic silver foil picturing Desmond Bane without a 2nd photo variate as he wasn't a hyped draft pick. The Prizm Desmond Bane Rookie Card has by far the most PSA graded cards at ~1,400. 
Parallels include Silver,  Blue Wave, Gold Wave, Green, Green Ice, Hyper, Orange Ice, Pink can Ice, Purple Wave, Red Ice, Red/White/Blue, Ruby Wave, White Sparkle, Red /299, Blue /199, Purple Ice /175, Blue Ice /125, Purple /99, Orange Wave /60, Orange /49, Pink Pulsar /42, Blue Shimmer /35, Purple Pulsar /35, Green Pulsar /25, Mojo /25, Gold /10, Gold Shimmer /10, Lucky Envelopes /8, Black Gold /5, Green Shimmer /5, Black 1/1, Black Shimmer 1/1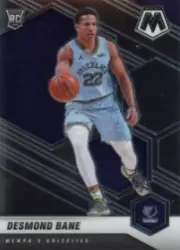 The second year of Panini's newer series featured largely the same look as last year with a normal rookie card and a NBA debut rookie card. PSA has graded ~580 with ~45 Genesis (Case Hit).
Parallels include Mosaic, Camo Pink, Gold Wave, Green, Green Ice, Red, Red Wave, Genesis, Blue /99, Purple /49, Orange Fluorescent /25, White /25, Blue Fluorescent /15, Pink Swirl /11, Gold /10,  Green Fluorescent /10,  Green Swirl /10,  Pink Fluorescent /10,  Lucky Envelopes /8,  Black 1/1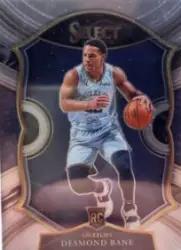 This set has Desmond Bane coming in three different variants called Concourse, Premier Level, and Courtside with increased rarity. PSA has graded ~570 between the 3 levels. 
Parallels include Blue Retail, Elephant, Scope, Silver, Tiger, Tri-Color, Zebra, Red White Orange, Blue White Purple, Red White Green, Cosmic, Green White Purple, Light Blue /299, Red /199, White /149, Neon Green /75, Teal White Pink /49, Blue White Green /49, Tie-Dye /25, Gold /10, Lucky Envelopes /8, Green /5, Black 1/1, Black White Gold 1/1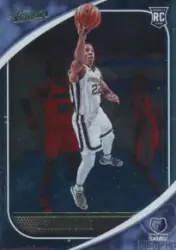 A lesser-known hobby box known for its thicker cards with a small supply of Desmond Bane rookie cards. Only ~3 PSA graded cards exist (non-autos). Parallels include Dollar Tree, Red /199, Blue /99, Orange /75, Teal /49, Purple /25, Gold /10, Green /5, Black 1/1
Final Thoughts on Desmond Bane Rookie Cards
With Desmond Bane scoring 20+ points in the 2022 season, he looks to be pushing for a possible All-Star berth. With his cards currently being cheap compared to his current performances, Bane continues to fly under the radar for now.