Otto Graham Football Cards have been rising in price over the past few years. For the longest amount of time, the hobby ignored the accomplishments of one of the greatest quarterbacks of his generation.
Otto Graham has a better argument than many think for being the greatest of all time.
Graham had a ten-year career, and the Browns made the championship game every one of those seasons, winning seven of those games. Six times Graham was named All-Pro, and three times Most Valuable Player, he was simply amazing.
Drafted fourth overall after only picking up football as a sophomore at Northwestern after the coach saw him in an intramural game. Originally a basketball player, Graham was All-American in football and basketball while at Northwestern.
Even won a professional basketball title in 1946 with the Rochester Royals, in a league that would eventually merge and rebrand as the NBA. His basketball skills helped him learn where and when to pass the ball just as coaches began to not be afraid of the forward pass.
Originally drafted in 1944 by the Cleveland Browns, but not eligible to play until 1946 due to military commitments, Graham started by his second game. Originally thought of as a second-class league, both because of the NFL's existence, and the general feeling that the college champion would defeat the pro champions, the AAFL merged with the NFL in 1950.
Only three teams from the AAFL joined the NFL, Browns, 49ers, and Colts, but the other rosters were allowed to go into the NFL draft. That second class feeling quickly faded when the Browns won the 1950 NFL Championship. Won another league title in 1954, retired, got recruited back in 1955, won another, and then retired for good.
From a card perspective, Graham is on a high perch for players of his era. None of his main issue cards are short print, giving it the luster of say a 1948 Leaf Chuck Bednarik, but they do command solid money.
Most Valuable Otto Graham Football Cards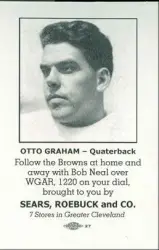 1946 Sears was a regional set of only Browns players put out by the local store. The eight card set features Hall of Fame pre-rookie cards of Graham, Dante Lavelli, and Frank Gatski. Value is truly what a collector will pay. They're incredibly rare.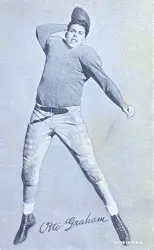 Many reprints exist of the Exhibits sets from the late 1940's. One sided and cream color, the set is hurt by not having an exact year. The image is also the same between the multi-sport set and football only set. $50 should get you a decent copy of the Graham. Whether or not you consider it a rookie, is totally up to the individual.
Using photos that went on to become the team issue photo set in 1950, 1949 Sohio are typically sold in set form, and five of the 11 photos are Hall of Famers. Like Exhibits, consider these alternative rookies if you want. 
Original copies are hard to find, as reprints of this set run rampant. Like 1946, if you can verify and original, it's whatever two people agree to.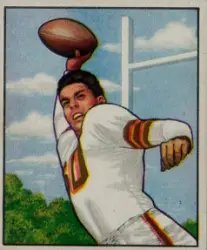 Graham's most recognized rookie card is from the 1950 Bowman Football Cards set. Undersized and featuring a painting photo on the front, 1950 Bowman is an iconic set. Due to the AAFL, the Browns, Colts, 49ers, and New York Yanks entire checklist of players in the set, are all rookies.
 Presentable copies of Graham start at about $200. If vintage football becomes more of a commodity than it is today, this is one of the cards that will take off with it.
Shaped like a bread loaf, with the corners cut out in circles, the 1950 Bread for Health set is extremely rare.
11 of the 32 cards in the set are Hall of Famers. Commons tend to sell for around $250, and a star like Graham is whatever two people agree upon.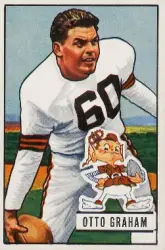 1951 Bowman is another painting style set, where Graham has a shot looking like he's about to hand off the football. Featuring five Hall of Fame rookies, the set is most famous for a Hall of Fame coach. Tom Landry was a punter and defensive back, but went on to coach the Dallas Cowboys to their dynasty in the 1960's and 1970's.
 The 1951 Otto Graham is about $30-50 raw.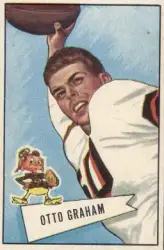 Due to college players making appearances, 75 of the 144 cards on the checklist in 1952 Bowman are rookies. 1952 Bowman has both a small and large version, with the same photo. 
The large version is preferred from a value standpoint, as high-grade copies just have more cardboard that can be affected in a negative way for grading purposes. 
The standout rookies are George Halas, as 1952 had coach cards, and Frank Gifford, showing his Giants photo, but having USC at the bottom as he was a rookie in 1952. 1952 is one of the few sets until 1989 where true rookies would appear.
A 60-card set, featuring only 30 players across multiple sports, 1952 Wheaties were hand cut from the back of the cereal box. Every player had a portrait, and an action shot. Rare, but not valuable, Graham can be had for around $10 for each version.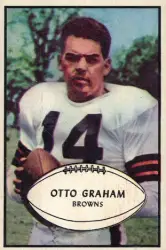 The first major release to not have a Hall of Fame rookie, 1953 Bowman is not remembered as easily as other sets of the era.
There just isn't a card to point to as to why the set would stick out at first glance. Graham can be found for around $40 in 1953.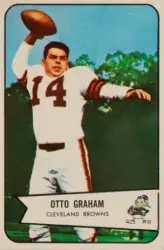 1954 Bowman at least features two Hall of Fame rookies. However, George Blanda was a kicker, and Doug Atkins was a defensive end more remembered for being a Chicago Bear when his rookie card is with the Cleveland Browns. 
The Browns then gave up Atkins for a third-round pick. Whoops. The Graham copy in 1954 can be acquired for around $20 in presentable shape.
1954 Carling Black Label Beer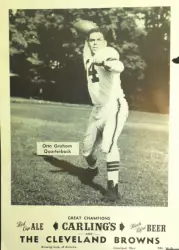 In 1954 Carling Beer and Fisher Foods made a ten-card full sheet photo set featuring the first appearance of future Steelers Hall of Fame coach Chuck Noll in the set.
Due to demand for the 'rookie' the set is valuable, but Noll is most of the value.
Typically sold in set form, due to being only ten cards, it's another one of the whatever a buyer will pay. As of writing, one full set is available for $750 but none have sold.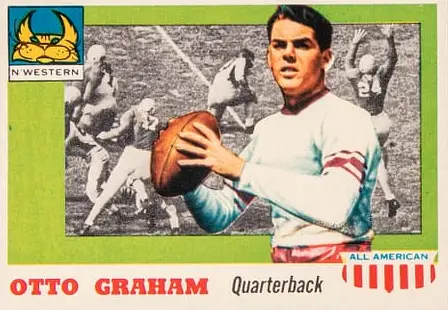 While not being a professional set, 1955 Topps All-American defines the 1950's very well. The set is almost an admission that the card companies missed a lot of elite players having cards, Seven Hall of Famers find their rookie cards in this set if you consider rookie first major release. 
Jim Thorpe, Red Grange, Sid Luckman, and others are very collectable among the 'veterans', while Don Hutson is the most desired 'rookie'. Otto Graham can be had around $30 in low grade. Football does not have the set collectors that baseball does, but this is a set people do want the entire checklist.
Graham's last playing days card is on the 1956 Cleveland Browns team card as a member of the team. He does not have a solo card in 1956. It's notable, but a value bin card. Lenny Moore leads the 1956 charge with his rookie costing around $30.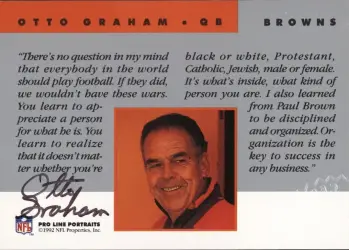 Graham's first pack pulled autograph is 1992 Pro Line Portraits.
The players were told to sign on the back, and some did, Graham being one, but collectors want the signature on the front.
Early 90's Pro Line autographs are easier to fake than others, leading to a lower value on secondary market.
Otto Graham signed a lot during his life, and the signature not being worth the cost of authentication, leads to a $30 or so card.
There are set collectors on these, but not enough to drive up value by much. Had two requests to do a full article on Pro Line autographs, but there just isn't enough to write a full article. Shoutout to you Dakota and Dustin.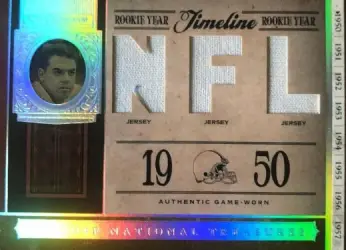 Before Panini started putting player worn,  Donruss Playoff made National Treasures with game worn memorabilia cards inside.
Otto Graham finds his first jersey cards inside.
2006 National Treasures is an iconic set, helping Graham's value, but being a decade after the first jersey cards, it's not a huge premium over other Graham game used cards.
Due to passing away in 2003, he does not have any signed memorabilia cards that are not cut or sticker signatures left over.
Final Thoughts on Otto Graham Football Cards
In summary, Otto Graham is one of the greatest players of all time.
He was clutch, has championships, awards, and played on one of the few AAFC teams that transferred to the NFL.
Personally feel his 1950 Bowman Football Card should be higher up the mythical food chain than it is.
It probably should be closer to the 1965 Namath than further away.
If the 1950 NFL Championship, where the Browns come back late in the fourth quarter to win, is nationally televised, Graham is remembered as more of an icon than he is.
Johnny Unitas, one of the best ever, has the 1958 Championship game televised to a national audience. Otto Graham has his signature moment reserved more to radio, the stadium, and a small television audience. It's easy in hindsight to say, but if that television is more prevalent in 1950, Otto Graham might be remembered as better than Tom Brady.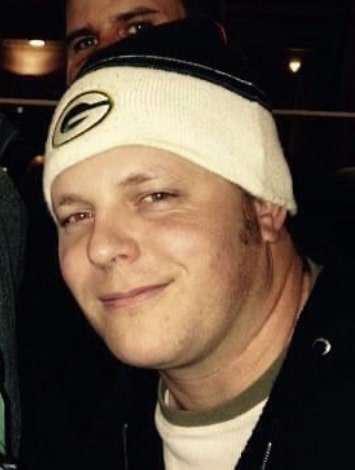 Paul. Card collector since 1993. Serious collector since 2014. PC Pro Football Hall of Famers regardless of team. Go Packers, Seminoles, New Jersey Devils, Milwaukee Bucks, and whoever I have money on in auto-racing. Would rather be found forging my own path than following the beaten one.