Red Grange Football Cards are tough to find as many are within the personal collections of passionate vintage collectors.
To many, hes one of the most influential pre war football figures. 
The NFL is not the NFL we know it today without Red Grange.
Professional football was started in 1890's as more of a side hustle for players who would get a percentage of the paying audience. When Jim Thorpe was dominating regional leagues, it was thought of to start a formal league instead of just limiting games to driving distance between teams.
However, after the NFL formed in 1920, the league was mostly void of true stars. There were good players, but no one was a must-see draw.
Insert Red Grange. Initially feared to be a sell out for skipping his final season at Illinois, 40,000 people attended his first game a mere five days after his final collegiate game. Once out of college, it wasn't a business of wait for the draft and sign later. Anyone eligible, was a free agent, and it was the wild west.
Following his first year with the Bears, Grange formed his own team, and league in New York knowing they could get attendance from just his name and play. Capitalism bay bay!
After one year the league folded, mainly because Grange couldn't support the league in games he didn't play, but his team, the New York Yankees, was allowed to join the NFL.
In a made for Hollywood situation, the New York Giants were struggling financially in 1925, but secured a game against the Grange led Chicago Bears.
That games ticket profits put the Giants back on track. So even after starting his own league, the Giants let the Yankees into the league, despite sharing the same city.
So not only did Grange kickstart the NFL, but he saved the New York Giants from folding along the way.
Grange later went back to the Bears after the Yankees folded due to finances, but wasn't the same player. Knee injuries had drained him of his explosive speed and agility.
However, he was still a big enough star to be in three movies. One Minute to Play in 1926 and The Galloping Ghost in 1931 were hits.
Most Valuable Red Grange Football Cards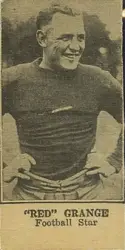 To some, the W590 is Red Grange's rookie card. Produced over a six-year stretch, Grange is one of the more valuable cards in the set. 
But the set has a six-year time run, and it's a multi-sport set. It's also a set that is very hard to find most cards from the set. 
It's almost too scarce to be collected. A Babe Ruth recently sold for $1,000 in poor shape. Grange should command more than that, but it's what will a collector pay. Six have been graded by SGC and PSA as of writing.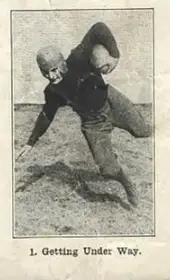 A total of 36 Red Grange football cards were produced in 1926 for Shotwell's Candy. All featuring Grange, the football poses are generally more desired. 
Commons in low grade tend to sell for $100-150. 405 have been graded by PSA and SGC as of writing across the entire 36 card checklist.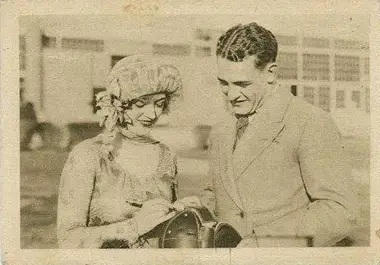 Featured with Marion Davies, Grange appears in the Spanish Amatller Chocolate set.
 Very rare, the card usually commands $200-300 as some consider it a pre-RC, but most don't. Primarily a non-sport set, this card is more for player collectors than anything. SGC has seen 10 as of writing. PSA does not have any additional.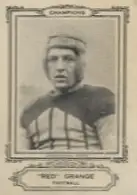 Like the W590, 1926 Spalding Champions is a multi-sport set, that carries a steep price for even commons. 
Common names in presentable shape typically carry a $150 or more price tag. A star like Grange is whatever two people agree upon. PSA has seen three copies, while SGC does not have a copy in their population report.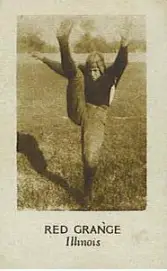 1928 Star Player Candy features football players in their college uniforms. Finding the football set in general is tough, much less the star of the show, Grange. Only the baseball set is graded by PSA and SGC as of writing. With authentication an issue, whatever two people agree upon is the price.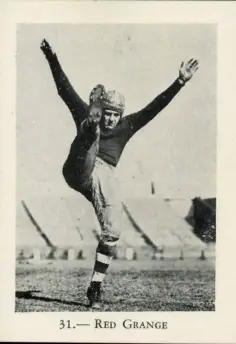 1930 Rogers Peet is similar to Star Player Candy above. Finding most of the multi-sport set is tough to begin with. Due to rarity, PSA does not have the set on their pop report and SGC has it listed as 1930-39 or 1930's as a decade in two separate population reports. 
Three Red Grange football cards exist in SGC holders. Commons command a couple hundred dollars. Grange should be five digits, but past that, your guess is as good as mine for one of the SGC authenticated copies.

The first football set with NFL licensing, 1933 Diamond Matchbooks feature Grange as one of the stars of the set. You should go read that article from this same blog when you're done with this.
Grange typically sells for $200-300 in presentable shape, but with how many matchbooks are missing the match striker, presentable varies based on the tolerance for needing the striker.
14 Grange copies are in PSA or SGC holders as of writing. Also in 1934 Matchbooks, but 1934 is extremely scarce, as one Grange is in an SGC holder.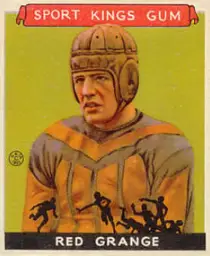 Generally considered Red Grange's rookie card, 1933 Goudey is iconic in its own right. One of the first major release sets across all sports, its place among sport card history is not disputed. 
Similar to European cards of the 1960's, where minor manufacturers would make a card of a person, but the rookie would be their first Panini card, you can consider basically the entire 1933 Goudey set as a rookie. 
Grange copies tend to be around $1,000 for presentable copies in a 1 or authentic. Mid-grade would be a 3-4 and are around $2,000 to $3,000.
1937 Kellogg's Pep Stamps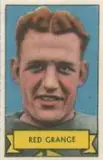 Another multi-sport set, 1937 Kellogg's Pep Stamps is extremely rare. Coming on a sheet with four athletes, they're less desired than a card of just one athlete. Grange copies typically sell for around $100, being hurt by being retired by this time. 12 are in PSA and SGC holders as a solo version.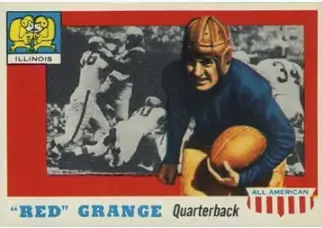 1955 Topps All-American will be covered more in depth here in the future. But for now, it was basically Topps way of saying football from the past needed to get onto cardboard. 
A lot of retired players find their 'rookie' in the set, with the standout of that being Don Hutson. Had to include a Packer since we're talking about a Bear for this long. Typically $50-100, the Red Grange Football card commands good money for a card two decades after he hung up his cleats.
Grange's first memorabilia cards come in 2002 Donruss Elite and Classics. Only his helmet is featured, instead of a jersey, these cards are extremely popular among NFL historians. They're a card that once you acquire, they just don't get let go. 
For the baseball guys reading this, think Babe Ruth jersey cards. Some Grange helmet cards feature Walter Payton, Sammy Baugh, Ray Nitschke, Jim Thorpe and others which command a premium. 
Solo Grange helmet cards typically go for around $200. Due to Grange passing away in 1991, the only pack pulled Grange autographs are cuts. Pack pulled cuts typically start at $500-750, and due to being cuts, tend to extremely short printed. 
A 1/1 could easily be stickered at a few thousand with a dealer not really being obligated to negotiate down. Normally an authenticated 3×5 index card draws $50-75, while one of the many 1970's or 1980's cards featuring a Grange image will get $100-200 when authenticated.
Red Grange Football Cards Final Thoughts
It's hard to say Red Grange is underrated, but for everything he did to help popularize football, he'll never be overrated. It is entirely possible professional football drowns in debt without him, and does not survive. 
Would the game have come back with new owners in the 1940's after World War 2, or the 1960's when America was back on their feet financially? A great what if in history is what happens to professional football without Red Grange. He's a tier one icon and I feel his cards should be closer to Babe Ruth than further away. He embodied the sport like few others.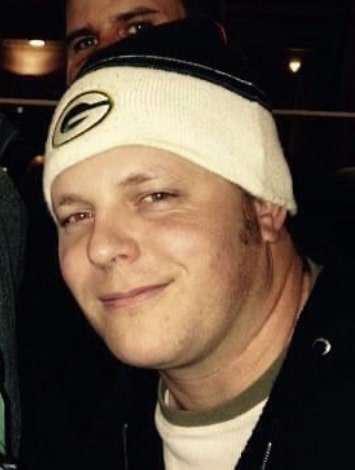 Paul. Card collector since 1993. Serious collector since 2014. PC Pro Football Hall of Famers regardless of team. Go Packers, Seminoles, New Jersey Devils, Milwaukee Bucks, and whoever I have money on in auto-racing. Would rather be found forging my own path than following the beaten one.