George Sisler baseball cards are under the radar for most casual collectors. Missing two historical sets: t206 & Goudey, most don't even know about his cards. 
George Harold Sisler was born in 1893 in Ohio. His parents owned a countryside and this allowed him to always be around baseball. George Sisler was a splendid athlete and played 3 sports in high school: football, basketball, and of course, baseball. 
Sisler also excelled in academics and attended the University of Michigan. He pursued a degree in Engineering. Sisier ended up tryout out for the baseball team. He made the team and was coached by none other than the legendary Branch Rickey. Rickey was the GM who helped integrate baseball by signing Jackie Robinson to the Dodgers years later inn 1947.
After college, Sisler pursued professional baseball. He initially signed with the St. Louis Browns.
George Sisler was one of Baseball's greatest contact hitters. He started his MLB career with the St Louis Browns as a hybrid player. He both Hit and Pitched. However, his hitting capabilities transitioned him to a full-time first baseman. 
Before his records were passed he once had a 41-game hitting streak and had 257 hits in a single season. While that may sound impressive, he also had two years where he hit over .400 and had a lifetime .340 batting average.
Altogether, this led Sisler to have 2800 hits, an MVP award in 1922, 57 WAR, and a plaque in Cooperstown.
His playing day cards, unfortunately, missed two iconic classic eras. The early 1910 Tobacco and Caramels as well as 1930s gum cards. Due to this and being in the shadow of iconic players like Cobb, Gehrig, and Ruth it's my belief that he has been overlooked by the sports card hobby.
Most Valuable George Sisler Baseball Cards
George Sisler Rookie Card
Sisler has three different baseball cards which could be considered his rookie. They are the 1916 M101, 1916 Ferguson Bakery Pennants, and 1916-20 UNC Big Heads.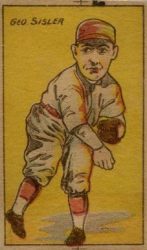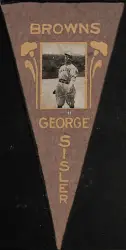 1916 Ferguson Bakery Pennants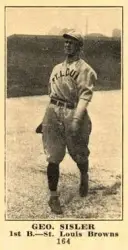 1916 M101 & Standard Biscuit
These  cards are hand-cut. They are considered to be rookie cards, but their production did span multiple years. They are unnumbered and have a blank back
The a PSA authentic last sold for about $400, but did happen a few years ago.
1916 Ferguson Bakery Pennants
This is another rookie year release. Some people debate though whether or not it should be considered a sports card. 
These were miniature pennants that feature a card/picture of a player on the top with the player's name underneath. I've seen a few of these (not of Sisler) at card shows in Ohio. Outside of the state though, I have yet to find any.
Sisler shares his Rookie Card with the Legendary Babe Ruth. While Ruth consistently sells for 6-7 figures, Sisler is on the more "Affordable" side of things. In May of 2022, an SGC 4 was auctioned on eBay for a total of $4,251. Which makes it his most expensive and desirable card.
1916 D350 Standard Biscuit
This San Fransisco regional release features the same exaxt design as the M101 but is way tougher to find. PSA & SGC have not graded an example of the Sisler yet he is on checklists found online.
1917 Collins-Mccarthy #162
Some consider this to be one of  Sisler's rookie cards, however it's technically a second year card. Its a little larger in size when compared to the M101 cards. These two are often compared because they tend to have the same picture. However, with the Sisler, this is not the case
Check out one of Steven's PC cards on the Instagram page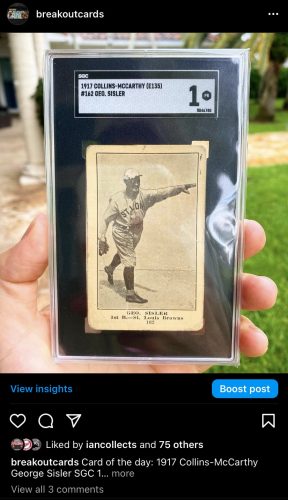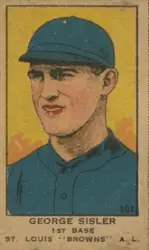 Sisler has many different strip cards throughout the 1920s, but I wanted to highlight one of his first releases which were the W514. Online there are a lot of debates on what years the cards were distributed (a flaw of strip cards), but many sites date this release from 1919 to 1921.
These cards are pretty affordable still for most collectors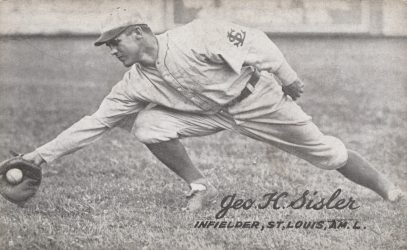 Exhibit cards/postcards were much larger than many of the releases in this era. On this Sisler card, he is fielding a ground ball. A mid-grade example will cost you slightly less than $500
1922 E120 American Caramel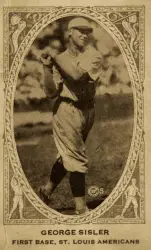 This is the only American Caramel card with a patterned background. The same which is features in the Neilson's Chocolate set.
American League players (such as Sisler) were printed on a cream color background and all the National League players were printed on a light green paper
1922 E121 American Caramel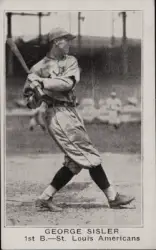 One of sislers best 1920s cards. The American Caramel cards stand out during a time of "Ugly" strip cards. These were much larger in size and featured better pictures. These do go for a small premium over the strip cards, but it's worth it.
1922 E122 American Caramel
This George Sisler baseball card has the same picture as the 1917 Collins-Mccarthy. It was typical in this time period for card makers to reuse photos.
It shows him mid-pitch which is unique since Sisler only started in 24 games within his career. This photo had to be taken in either 1915 or 16.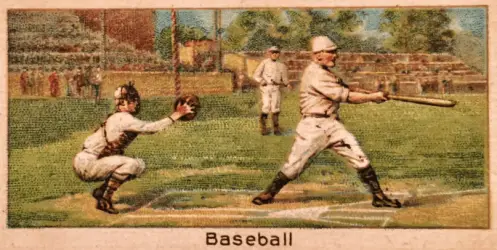 Although it doesn't say it on the front, this is indeed a George Sisler baseball card. It was part of a multi-sport release and features vibrant colors.
"In America's great Ball-game, C.H. Sisler of St Louis (USA) put up the highest batting percentage in the history of the America League, with his hit for 41979. Mr. Sisiler's name is to be inscribe on the $100,000 baseball monument which is erected in Washington"
1927 E126 American Caramel #49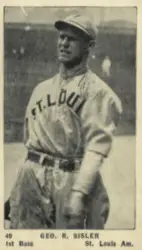 This card depicts Sisler in the same picture as his rookie, except zoomed in. This was American Caramels last set and it was in a series of 60. This is one of his end-of-career cards
1927 E210 York Caramel #54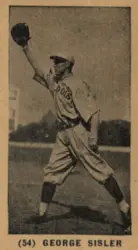 This card came out in the same year as the American Caramel except it has a cool action pose!
This card has two types: Type 1 has a normal finish whereas Type 2 has a glossy finish
Definitely a fan favorite amongst collectors
Future of George Sisler Baseball Cards
While George Sisler baseball cards don't have the popularity and pricing of other stars during the era, I do see his cards slightly rising year after year. More collectors go backward to vintage over time and Sisler is a historical name that will continue to come up in conversations