George Sisler was one of Baseball's greatest contact hitters. He started his MLB career with the St Louis Browns as a hybrid player. He both Hit and Pitched. However, his hitting capabilities transitioned him to a full-time first baseman. 
Before his records were passed he once had a 41-game hitting streak and had 257 hits in a single season. While that may sound impressive, he also had two years where he hit over .400 and had a lifetime .340 batting average.
Altogether, this led Sisler to have 2800 hits, an MVP award in 1922, 57 WAR, and a plaque in Cooperstown.
His playing day cards, unfortunately, missed two iconic classic eras. The early 1910 Tobacco and Caramels as well as 1930s gum cards. Due to this and being in the shadow of iconic players like Cobb, Gehrig, and Ruth it's my belief that he has been overlooked by the sports card hobby.
George Sisler Rookie Card
Sisler has three different cards which could be considered his rookie. They are the 1916 M101, 1916 Ferguson Bakery Pennants, and 1916-20 UNC Big Heads.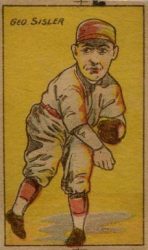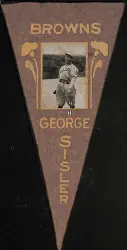 1916 Ferguson Bakery Pennants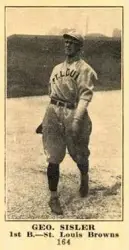 Sisler shares his Rookie Card with the Legendary Babe Ruth. While Ruth consistently sells for 6-7 figures, Sisler is on the more "Affordable" side of things. In May of 2022, an SGC 4 was auctioned on eBay for a total of $4,251. Which makes it his most expensive and desirable card.
1916 Ferguson Bakery Pennants
This is another rookie year release. Some people debate though whether or not it should be considered a sports card. 
These were miniature pennants that feature a card/picture of a player on the top with the player's name underneath. I've seen a few of these (not of Sisler) at card shows in Ohio. Outside of the state though, I have yet to find any.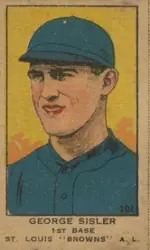 Sisler has many different strip cards throughout the 1920s, but I wanted to highlight one of his first releases which were the W514. Online there are a lot of debates on what years the cards were distributed (a flaw of strip cards), but many sites date this release from 1919 to 1921.
These cards are pretty affordable still for most collectors
1922 E121 American Caramel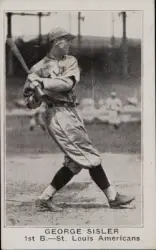 One of sislers best 1920s cards. The American Caramel cards stand out during a time of "Ugly" strip cards. These were much larger in size and featured better pictures. These do go for a small premium over the strip cards, but it's worth it.