Pete Rose Baseball cards are a part of many 60 and 70s collectors collections.
Pete Rose is one of the most famous baseball players of all time. Across his 24-year career, he acquired 4,256 hits making him the Hit King. Currently, he is banned from the baseball HOF due to him betting on baseball and being banned for life.
Even though he's banned, many collectors and Baseball fans want to have a card of his in their collection.
Pete Rose has two Rookie Cards. The 1963 Topps and the 63 French Bauer Milk Caps.
Most Valuable Pete Rose Baseball Cards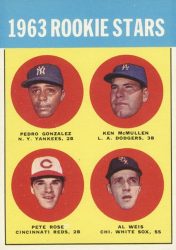 The 63 Topps is considered the first Pete Rose baseball card. While he shares the card with 3 other players, it's still his most desirable. A PSA 10 has sold for over $700,000. Even lower graded ones cost a minimum of 4 figures.
1963 French Bauer Milk Caps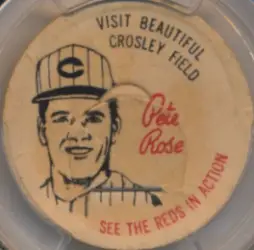 The alternative Pete Rose Rookie. These were milk caps released regionally in Cincinnati. Many were thrown away over the years. 
A PSA 2 recently sold for over $4,000. There is less than 20 total graded and a PSA 9 exists.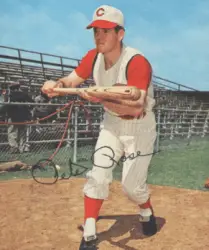 This is another regional release only distributed with Kahn's hot dogs. I've personally only seen them at Ohio card shows. A 10 has sold for over $6,000.
This is the first Topps release where Rose appeared by himself. The first one in 63 had 3 other players. Many collectors prefer this over the rookie due to the single image of Rose and the trophy. The PSA 9 of this card sold for close to $60,000.
Topps also had a 64 release in Venezuela. They have a different card stock but are extremely scarce and condition sensitive. Unlike the US Topps version, you will not find these in high grades. 
1965 is the third Pete Rose baseball card. a Nine has sold for over five thousand dollars. There hasn't been a 10 sale yet.
OPC first created Baseball cards in the 1930s, but this was the first licensed Topps released in Canada. With that being said it's still cheaper then the Topps.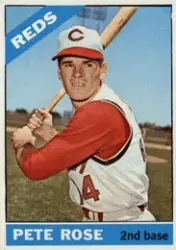 This is another early Pete Rose card. It won't put too much of a dent in your packet as you can find lower-graded examples under $100. However, once you get over a PSA 8 expect to pay $1000.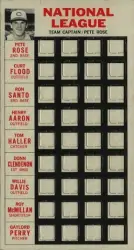 These were a regional test release only in Maryland. These cards feature a team captain followed by nine players. There are squares on the right that kids could punch out.
They are super scarce as PSA has graded only 8. The only one sold was a PSA 4 which went for $2,000. With the highest grade being an 8, it would read well over five figures.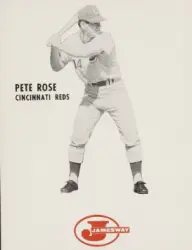 These cards were believed to only be distributed to Jamesway trucking executives. The last 10 sold over 10 years ago for $2,700 and a total pop of under 30.
Another Test issue. These are extremely difficult to find and to my knowledge, one hasn't sold at auction.
I would predict it to be a 5 figure card at auction.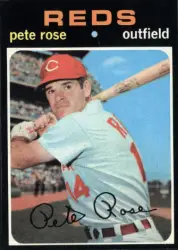 The 1971 releases outperform some of the late 60s Rose cards. Many collectors desire high-grade cards from this year due to their scarcity. These cards are damaged very easily. Chipping issue show white on the border and significantly lower the grade and eye appeal. 
The 71 O – Pee – Chee is much more difficult to find than the Topps. Although it's scarcer, more people desire the Topps pete rose baseball card. There are no PSA 10s that exist.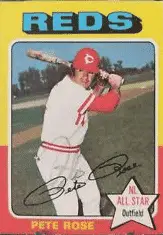 These were smaller cards and lacked the full distribution compared to their normal Topps counterparts. With 75 being a classic set, many collectors want a mini Pete Rose baseball card in their PC.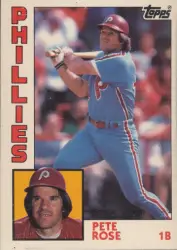 In 1984, Topps made their first ever Tiffany baseball card set. These limited edition sets go for a premium in comparison to the standard release. A PSA 10 goes for $500.
2008 Donruss Threads Jersey Auto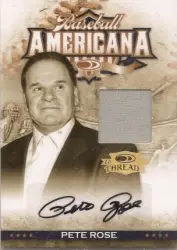 Pete Rose's first jersey & autograph cards were produced by Donruss in 2008. Besides the Threads, he also has an Americana.
2015 Topps WWE Undisputed Pete Rose Auto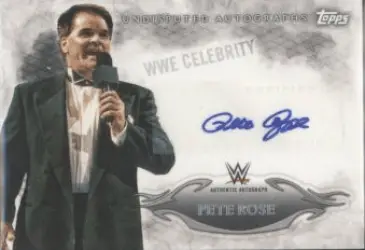 This was Pete Rose's first and only official Topps Autograph card. Surprisingly enough, it was through a WWE release instead of baseball.
Final Thoughts on Pete Rose Baseball Cards
While Pete Rose won't be a Hall of Famer for a long time, his cards will continue to be collectible. I can't see a player surpassing his hit record anytime soon.