Jordan is considered by many to be the best basketball player of all-time. He was drafted into the NBA in 1984, however some consider the 1986 Fleer to be his rookie card because it's the first Michael Jordan card in a full flagship set.
Jordan shined as an all-star when he entered the league. He took a lackluster Bulls team from the bottom of the league to NBA champions.
Jordan has many insane accolades including being a 6x NBA champ, 5x MVP, 10x scoring champ, rookie of the year, and defensive player of the year.  Crazy how he accomplished almost everything amazing a player would ever dream of during his career.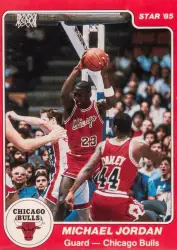 The Star Jordan #101 card is considered Jordans true XRC. It's one of the few Jordan cards made in 1984-85. It shows Jordan snagging a rebound and was sold in clear sealed bags produced by the Star company.
The other 2 normal sized cards in this set are the #288 (rookie of the year) and #195 (Olympic gold medalist).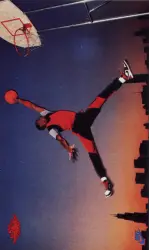 The Nike Promo Jordan is an oversized card that shows Jordan in his iconic pose. It has a bio on the back that talks about Jordan's career before the NBA. There are other players on these cards such as Dwight Gooden.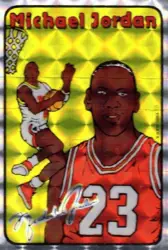 The Prism Jewel Sticker is easily Michael Jordan's most valuable true sticker. This card originally came from vending machines and it's one of Jordan's most unique cards. This is due to it being shiny like a refractor (before they became mainstream in the hobby). The card is condition sensitive and can sell for upwards of $20,000 in an 8 grade.
1985 Merchante Campeonato Baloncesto Liga #173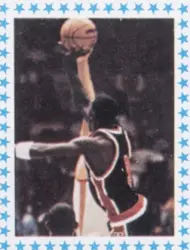 The Mechante Campeonato card originates from Spain. The image is not pleasant as it only shows the back of Michael Jordan on the USA teams and barely shows his number. On the back of this card are two different yogurt ads. There is also a 1986 version of this card (#163) that  shows Jordan's name, but uses the same picture (has a converse advertisement on the back).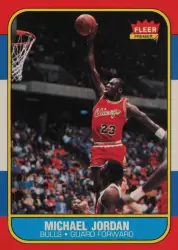 This card is also considered one of Michael Jordan's rookies. One of these sticker card inserts comes in every 1986 Fleer pack. The reason why this card is considered a sticker card is because it looks like a normal card, yet peels out like a sticker. Due to the composition of the card, these are difficult to find in pristine condition.
1986 Fleer Sticker Card #8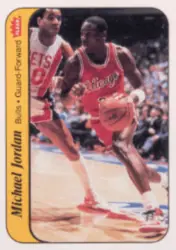 This is easily Michael Jordan's best known card. It depicts him dunking and is one of the most iconic basketball cards of all-time. Keep in mind that this card was made around the junk wax era. This means that there are more Jordans than what the PSA pop report shows due to some being raw, in unopened packs, or at other grading companies
Despite all the raw examples out there, this card still sells for around $8,000 in a PSA 8.
1996 Skybox E- X2000 Credentials #9 /499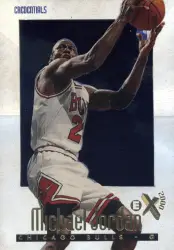 This card was released in the same year as the Kobe Bryant rookie card. There is also a bronze version of this card, but it isn't numbered and fairly common. The credentials white version is worth significantly more.
1997 Precious Metal Gems #23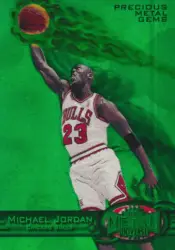 This card depicts a close up of Michal Jordan dunking with the ball in one hand. These Skybox inserts have two types: red (/90) and green (/10). 
The PMGs have gained notoriety in the hobby and become some of the most valuable inserts in sports cards. In fact, one of the green /10 Jordan PMGs sold for about $350,000 in 2019. It would be interesting to see what this card would sell for today.
1997 Skybox E- X2001 Jambalya #6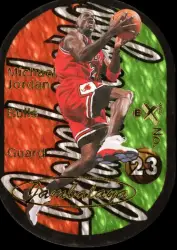 This card is easily recognizable due to its circular look and orange and green colors. Unfortunately, it is very hard to pull as the odds for a Jambalaya are 1 in every 720 packs. Despite being rare, these inserts aren't numbered.
1997 UD Michael Jordan Game Jersey Auto #GJ13 /23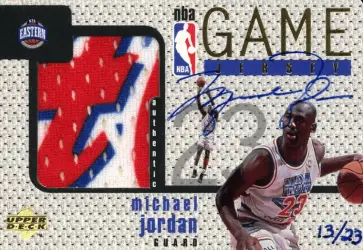 This is considered Michael Jordan's first patch auto card. Since he has no earlier card of this caliber, this card can fetch a high price in auction. In 2021, It sold in Goldin auctions for about 2 million dollars!