Hank Aaron baseball cards are some of the most sought-after cards of the post war "vintage" era of Card collecting.  The value of his cards ranks just behind those of Mickey Mantle and rival the figures received by the sales of Willie Mays, Roberto Clemente, Ernie Banks, and Sandy Koufax. 
Hank Aaron Life and Career
Henry Louis Aaron was born and grew up in Mobile, AL and was better known as "Hank" and spent the majority of his career with the Braves franchise.  Aaron began his professional baseball career with the Indianapolis Clowns of the Negro Leagues before signing with the Boston Braves in 1951.  Aaron almost signed with the New York Giants, which would have made him teammates with Willie Mays, instead his signing made him longtime teammates of Hall of Famers Eddie Mathews and Warren Spahn.  

Aaron would make the Major league club in 1954. By then the Braves franchise had moved to the city of Milwaukee.  Aaron (along with Mathews) would be with the Braves franchise through the entirety of their time in Milwaukee leading them to the World Series in 1957 and 1958 against the Yankees.  Aaron would win the NL MVP in 1957 and be elected to 25 All Star Games.
Aaron would move with the team to Atlanta in 1966 and become one of the most beloved figures in Southern Baseball, while also drawing ire from other fans. In 1974 Aaron would take down one of the most enduring records in baseball, Babe Ruth's all-time Home Run record of 714. Aaron would receive racial related threats in the days leading up to breaking the record but was largely loved by Braves fans until his death in 2021.  Aaron would return to Milwaukee for two seasons to conclude his career before his retirement with the Brewers in 1976.  He would be the Home Run King with 755 career Home Runs until his record was broken controversially by Barry Bonds in 2007.
How Much is a Hank Aaron Baseball Card Worth
A Hank Aaron baseball cards value is based around the decade it was produced, condition, and rarity of the card. Mid to late 50s cards tend to have the highest value where as 70s don't hold a ton. Test issue and autograph cards are going to be expensive.
Most Expensive Hank Aaron Baseball Card
The most expensive Hank Aaron baseball card is his 1954 Topps. a PSA 9 is around $500,000 and a PSA 8 is $50,000. His 1999 Upper Deck Relic Auto is also a $10,000+ card. It's limited to only 44 copies.
Hank Aaron 1954 Rookie Cards
Hank Aaron technically has two different rookie cards to collect. While most people know about the 1954 Topps he also has a Johnston Cookies. Both are a must have for Aaron collectors. Although his exhibits has a date range from 1947 to 66 most people don't accept it as a Rookie. The problem is finding the exact year the card was created and distributed.
Most Valuable Hank Aaron Baseball Cards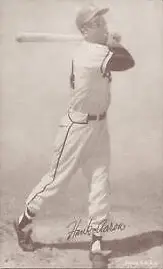 Exhibits are in a controversial spot within the sports card hobby. They don't have an exact year of production and some grading companies will not grade them. Seeing that Aaron was born in 1934 and signed with the Braves in 51, there is no way this card was released within the 40s or even early 50s.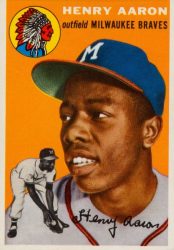 The 1954 Topps Henry Aaron is the undisputed Rookie Card and the undisputed top card in value for Hank.  In good condition it has a distinctive bright orange background with a profile view and a smaller photo of Hank fielding. On the high end, there are only two PSA 10 graded cards in circulation, one being previously a part of the famous Dmitri Young Collection. The last recorded sale of either PSA was the Dmitri Young owned card at auction for $357,594 in May 2012. 
Given the inflation of the vintage market and the economy as a whole, were either of these cards to surface for sale today it is likely that Hank's rookie card would hammer through the one-million-dollar barrier for the first time. Lower graded 1954 Topps still fetch in excess of $1,000 currently (September 2022) with really a poor condition raw card selling for as low $650. 
This card along with many of this era is prone to counterfeiting so if buying this as a gem of your collection, be sure that you are buying authentic.
1954 Hank Aaron Rookie Card Value
The 1954 Topps rookie in a PSA 1 is around a $2,000 card. The value can slightly change based around eye appeal.
Mid grate examples go for around $5,000.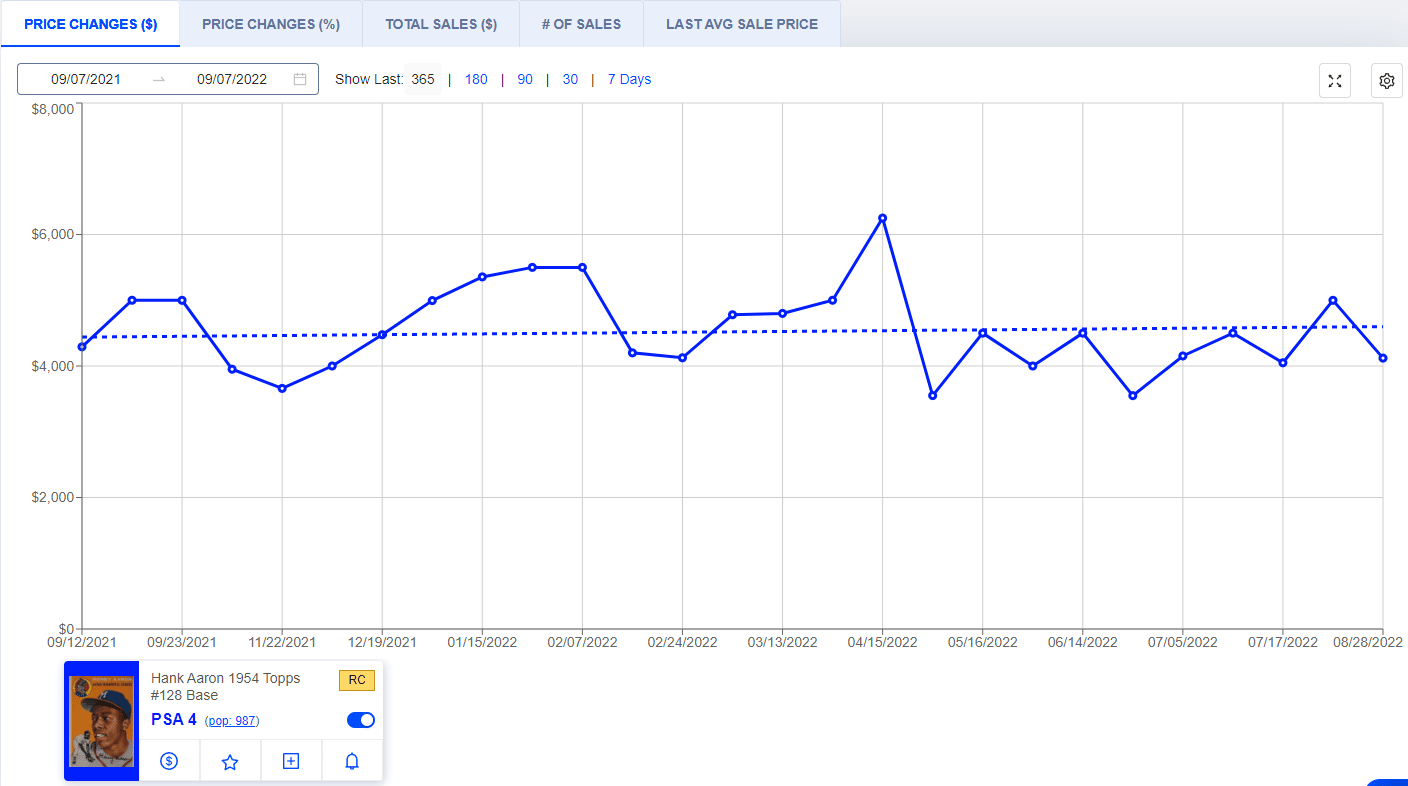 The above chart shows the prices of a PSA 4 Hank Aaron Rookie Card. This was grabbed from Market Movers. Get your first month for $1 using code BREAKOUT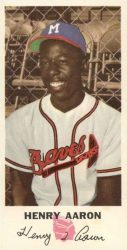 The Johnston Cookies Hank Aaron Rookie card is much rarer than his Topps. PSA only has a total of 300 graded. These cards were a local release and focused its subject matter to players on the Milwaukee Braves. The numbering system of the set is quite unique. Each card number is the player's uniform number.
If you are wondering why this card isn't #44, Hank Aaron officially changed his number in 1955.
1955 Topps Double Headers Hank Aaron #105 (w/ Ray Herbert #106)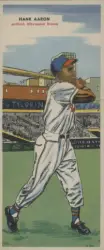 This is an oddball 2nd year card of Aaron. Each double header card featured two players. A line in the center allowed someone to fold the card in half to show the second individual. On the back were stats of both players as well as a short bio. A mid grade copy will run you around $500+. a PSA 9 sold back in 2015 for $5000.
1954-56 Spic and Span Braves Postcards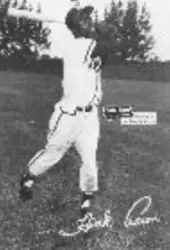 Prior to the Spic and Span die cuts, these postcards were created. The Spic and Span cards were a team issue of Braves players. This card looks similar to his exhibit card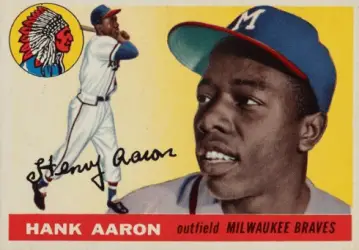 The second season Topps card for Hank Aaron does not carry the same rookie premium and is much more attainable for the average collector. This card features the same profile picture of Aaron on a yellow background, this time in a landscape card for the 1955 set.  Lower grade or altered raw cards can be attained for less than $100 if you are patient, shop around, and don't mind some defects.  If you want slabbed cards to ensure authentication your best values right now are around $175 at the lowest of the low end. 
PSA lists no known Grade 10s on their website but has 26 Grade 9s in public.  The highest grade to sell on eBay in 2022 was a PSA 8.5 which sold for $11.775.00 on Aug 17, 2022. PSA estimates the value of a 9 Grade at $54,000.  If you have an estate or garage sale find that grades a 10, you would have the only one known to exist making it a very exclusive card for all Hank Aaron collectors as well as Hall of Fame grade 10 collectors.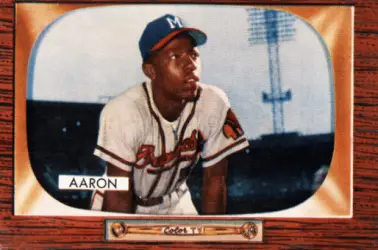 The only non Topps card on this list, the 1955 Bowman set is famous for two things.  First, the "faux-TV set" appearance of the card which make it appear that the players are inside of a wood paneled color televison. Second, it was the last real competative set for Bowman before being purchased by Topps in January of 1956.  There are also no existing PSA 10 copies of this card in existence, while PSA has graded four cards as a 9.  Two high grade cards have reached auction in the last 6 years with a PSA 9 selling for $26,798 (2016) and a PSA 8.5 selling for $23,772 (2020). This is a $35-$50 card raw in extremly poor condition with lower graded cards selling for just under $100 like the Topps counterpart. 
1955 SPIC & SPAN Braves Die Cut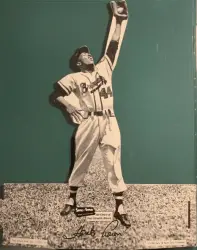 This set featured die cuts of different Braves players. In this example, Hank Aaron is jumping to catch a fly ball. The last low-grade example sold for $3000 in 2020. With less than 10 being in PSA holders, I feel this was a pretty good deal for a scarce release.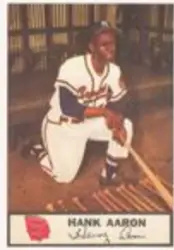 the 55 Johnston's cookies is Aaron's second card from this company. This was a team issue and his final Johnston's cookies card. This card is expensive as an SGC 2.5 recently sold for $880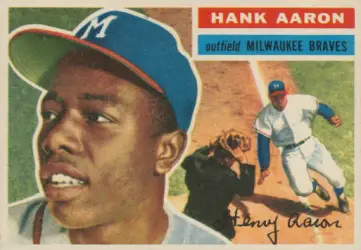 I can't believe they got away with it again.  Topps used the same profile picture of a legendary baseball star on his first three baseball cards.  To make matters stranger if you look closer at the player sliding into home plate on the card to the left of Hank's profile, you'll notice it doesn't exactly look like him.  That's because Topps mistakenly used a picture of Willie Mays and then did the 1950's version of photoshop to put a red and blue M cap on him so it wouldn't stand out.  Imagine Mays on those 56 and 57 Braves teams that went to Back to Back World Series. Now that's a Juggernaut! Maybe they would have never left Milwaukee? 
This card is part of a popular set. 1956 Topps has all of the big names of the vintage golden era.  A grade 9 PSA version actually out performed the 1955 Bowman and Topps Hanks in a 2020 auction when it sold for $27,600, however there are 6 PSA 9s out there.  Low grade raw cards still fetch around $50. Graded versions at a 1 come in just at $100.  The "Grey Back" version is considered slightly more valueable than the "White Back" version.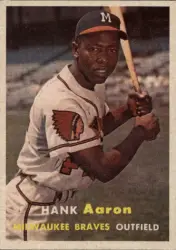 Topps finally stepped up its game right? No more reusing the same profile photo?  No misusing Willie Mays for Hank in this years set.  Oops. An uncorrected error appears in this set for the for first uncolored photo Hank Aaron card ever produced.  I don't know how this slipped past the guys at the production line.  First off, Hank is one of the most famous right handed power hitters of all time, and this photo shows him in a left handed batting stance. Second, the number 44 on his jersey is clearly transposed.
Still no PSA 10s in population, this card has the benefit of the high end on price of a recent auction. $37,200 was the selling price on April 25, 2022. There are 34 total PSA 9s at market.  Though close in value to the 1956, the higher population of the midgrade cards bring the prices down a little.  The raw version of this card can actually be had for around less than $30 in rough shape and the grade 1 versions are currently selling for around $75-$120 depending on eye appeal.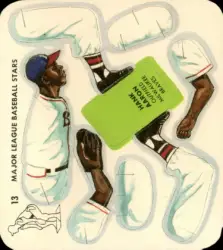 These "Cards" were distributed originally with Swift Meat Hot dogs. Each one comes with different punch outs pieces that would assemble a player. Many I assume were destroyed over the years. There are less than 50 graded with PSA. Due to rounded corners, many examples have high grades. A PSA 9 runs for slightly under $1000.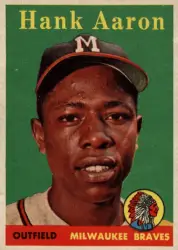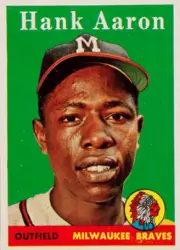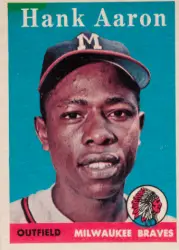 Blue Background (DO NOT BUY)
The 1958 Topps is another card that numbers are limited by variations.  There are two different copies: A common "White Name" version, a harder to find "Yellow Name" version.
 The "Yellow Name" version has no PSA 10 and only one PSA 9 according to the company.  The rarity allowed the PSA copy to sell at auction in May of 2022 for $173,582.40.  Grade 1s have sold for less than $50 so there is a wide disparity based on grade.  Obviously this is an older card, so many copies of this card have been "well loved."
The Blue Version of the card are examples that have been exposed to the sun for a large amount of time. As you can see with the example pictured, there is still part of the Green background on the top left. This should not go for a premium!
1958 Topps World Series Batting Foes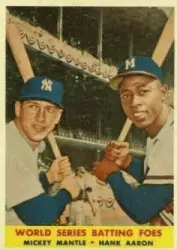 The Braves and Yankees squared off in two consecutive World Series in 1957 and 1958. Both Series went 7 games and both gave the baseball world the classic Aaron-Mantle matchup they could only see in the All Star game because MLB was still decades away from interleague play.  Aaron would lead the Braves to the 1957 World Championship and with the NL MVP that season.
This iconic card is driven by the value of both players, the Mantle market obviously being hotter.  Auction prices have been aproaching $40,000 for grade 9 cards with no grade 10 cards available.  Grade 1 cards will still run around $75. The "Mantle premium" is going to push all but the roughest of cards to the $50 range for raw offerings.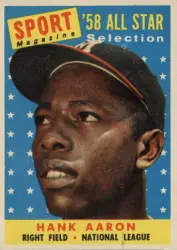 The third selection from this set.  This features a higher population of the higher graded cards from the same set.  If you want a 1958 Hank in good condition, this is your cheapest option.  The latest Grade 9 auctions have capped around $3,300, Grade 8 at $1,100.  You could get a slabbed version for just north of $50 and raw cards that got used up in some kid's bicycle can probably be yours for around $15.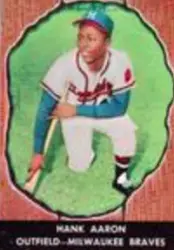 This card was given out when people bought root beer. It's perforated as there is an ad attached to it. Without the ad, this card sells for about $400 raw
1958 Topps Braves Fence Busters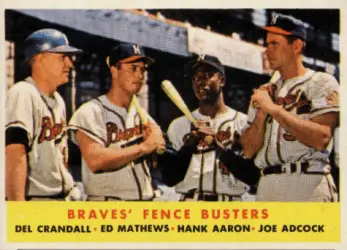 This card shows Hank with three of of his World Championship winning teammates from the 1957 Season before. Hall of Famer Eddie Mathews, Del Crandel, and Joe Adcock were all mainstays with Hank during the Braves great run in Milwaukee in the late 1950's.  This card is collectible for Aaron, Mathews, and Braves collectors.  As recently as August 2022, a PSA version of this card has auctioned for $760, so this card is also a climber in the right condition.
Like the 1958 Topps, the 59 Bazooka has two different text variations. A White and Yellow name. These Bazookas are hand cut cards. The Yellow name is much scarcer to find and has about half the population of the white. Most graded examples of both are either Authentic or low-Mid grade.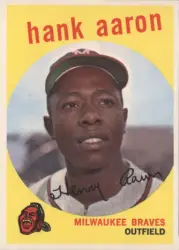 This card should probably be higher.  It is buoyed by two very strong auctions of PSA 9 cards, both in 2021. The card sold for $39,600 in February and then another sold for $42,000 in July.  Amazingly enough, there is one higher grade version of this card out there in PSA.  A grade 10 has been certified and auctioned twice.  Once in 2012 for $27,126 and again in 2018 for $26,976. The second buyer knew when to buy and hold as evidenced buy the prices on the grade 9s.  Given the price of the 1958 Yellow name Grade 9 and the 1959 Grade 9, this PSA 10 could be valued in excess of $200,000.
What can you get one for? Grade 1s are around $43-50.  Raw cards in poor condition are as low as $15.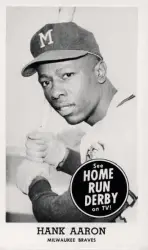 These cards were distributed to promote the Home Run Derby Tv show. Unlike the format of the HR derby of today, this was a series on TV instead of an individual event. Throughout the show, Aaron made 7 appearances and went 6-1.
This is actually one of the more expensive Aaron cards. A 7 sold for over $6000 in 2021.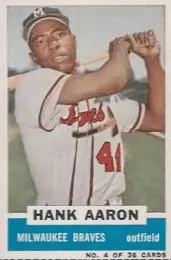 Just like the 59s, the 60 Bazooka were hand cut cards. A 9 recently sold north of 1200 but Authentic/low grades go for around $100-200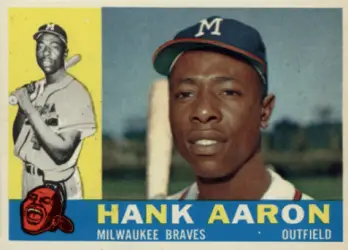 This card out performs many of the older cards in the Hank collection.  The layout was a return to horizontal format like the 1955 and 1956 sets.  All three sets seem to be very popular with vintage collectors.  A 2021 auction of a PSA 9 versions of this card saw the price sky rocket to $90,000.  The same exact card (same PSA serial number) sold for almost $50,000 less in 2016.  That's a 700+% ROI that would make a day trader do cartwheels.  Low grade versions of this card can be had for the much more reasonable price of $70.  Raw, beat up, cards can be had for around $20.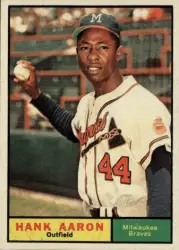 This Hank Aaron base card is the only one on this list where the main photograph pose is a fielding pose.  This card also had a breakthrough auction in 2021 when a PSA 9 sold for $20,188. Printing dots plague this year's run so, if you find a nice preserved card with one or two, don't be afraid to have it graded.  Raw cards in poor condition still sell for over $20 with Grade 1 cards selling for $75-$80.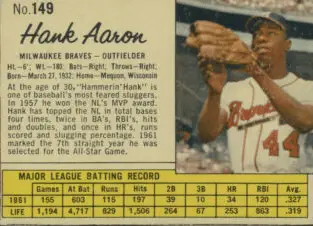 These were on the outside of Jell-O containers. Collectors had to cut them out from the packaging to add them to their card collectors. The card isn't too rare and prices reflect it.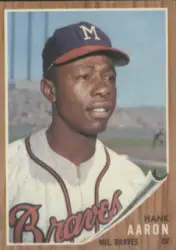 The 1962 offering is another card that makes a jump out of sequence. Just like the 1960 Topps, this set is also popular among collectors.  The wood grain border creates scarcity due to whiteness showing up more easily to graders, creating a lower population of high and mid grade versions of this card.  A grade 9 version of this card sold for $16,000 and then for over $21,000 in 2020.
Grade 1 slabbed cards are available around $35 at the low end with $25 being the low mark for the roughest of the raw cards.
Hank Aaron has two different Pittsburgh exhibits cards. Both are scarce as their is a total pop of under 10. Unlike the 47-66 exhibits the Pittsburgh exhibts are dated properly. Its exact year of release is 1962.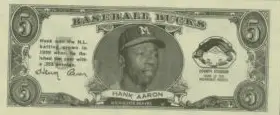 The topps bucks are much smaller than real Us currency but are a fun release. Each one features a player & bio. They were distributed originally in 1 penny packs.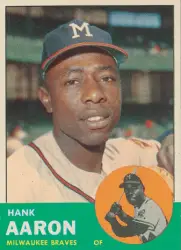 Finally another Hank Aaron Base Card with a PSA 10 floating around… somewhere.  There is no auction data on this phantom card.  Whoever has it isn't selling.  The Grade 9s haven't moved much lately either, with the latest auction going in May of 2016 for $9,766.  There is a somewhat higher population of higher grades of this card.  The majority of the border is white outside of the bottom name plate, the cards are obviously starting to get newer each year,  and Hank was getting to be a household name, so more kids and grown up kids were taking care of his cards. 
Like many of the previous offerings, the low end graded cards are priced in the double digits with the raw cards being very negotiable based off of the condition.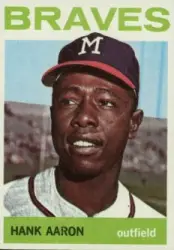 A beautiful card that has preserved well over the years, the 1964 Topps Hank Aaron is aided by completely white borders. There are eight PSA 10 cards certified for 64 Hank.  Even though the population is higher, the auctions have still brought in prices as high as $51,000+ in 2021. There are a staggering 83 PSA 9s in circulation, but those were still selling for $4,200 as late as April 2022.  
There are reprint versions of this card, so if you are a new collector looking to buy raw, obviously inspect the card.  The reprints are clearly labeled. Some versions have gold foil logo on the front.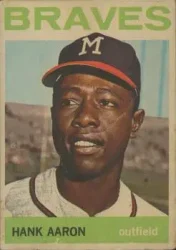 This was Hank Aarons first Venezuelan baseball card. Many of the Venezuelan sets featured the same design as the Topps but were printed on low-quality cardboard. Finding high-grade examples can be extremely tough. Even locating a low grade or authentic can take some time.
1964 Topps Tops the in NL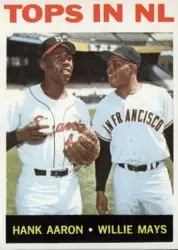 Pictured togther were two "almost teamates."  As Hank Aaron himself said, if the New York Giants would have matched the Boston Braves's signing bonus Hank and Willie could have played side by side together for a long time. Instead they were multiple time NL All Star Game teammates and side by side on this card.  Obviously this card is desireable for both Aaron and Mays collectors and during the pandemic the higher graded versions of the card crossed the $1,000 threshold for the first time since 2009.  Several PSA 9s have sold for close to $2,000 in 2021 but none have crossed that mark yet without an autograph.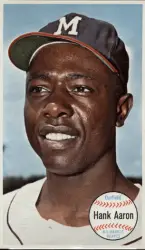 The Topps Giants never really took off with many collectors. Being oversized cards, they are too large to fit in a binder and there is a lack of availability of top loaders at times. You can pick up a cheaper copy at times for under $50 which seems like a bargain.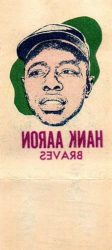 This "Card" is quite rare and actually an affordable entry-level Aaron if you can actually find it. A total of 16 have been graded with PSA but the most recent sales put mid-grade copies around $250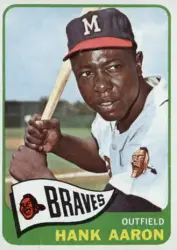 The final Milwaukee Braves Hank Aaron card and an aesthetically pleasing design featuring a team pennant on the front, this card is criminally underrated in my opinion. Three PSA 10s have been graded and two have been sold at auction going for $25,063 in 2017 and $19,176 in 2018.  The PSA 8 prices have been marching up recently with sales for $1,146, $1,175, and $1,358 in July and August of 2022.  Perhaps the market is starting to agree with me on the ranking of this card?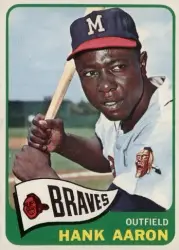 The OPC cards feature a nearly identical design to the Topps. The first Topps OPC cards were distributed in 1965 but O Pee Chee's baseball history goes back all the way to 1937. Finding an OPC can be tough as a lot less were printed then the standard Topps release. Even with the lower print run, they don't have as much demand.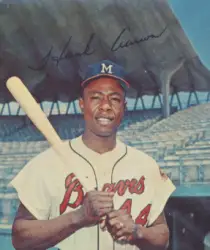 These were a locally distributed food card in Ohio. It's a semi-difficult card to locate as less than 100 cards have been graded. I've seen some in midwest shows but outside of that area it can take a while to locate.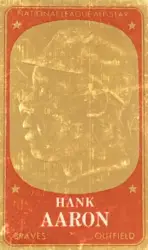 Although it's not too expensive, this is a unique card. Its gold embossed, and looks like it was made far after Aaron's playing day. However, It was made during his playing day and isn't embossed in real gold.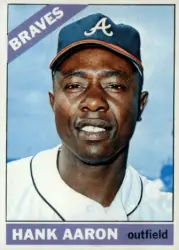 It's the very first apperance for Hank Aaron in the iconic Atlanta Braves cap on a baseball card.  It's a shame that there is not much iconic about the design of the set for the 1966 Topps season. On top of that, for the Braves team banner and name plates for players on their cards Topps selected a light purple.  No team logos appear on the front of the cards as in years past.  Had Hank's first Atlanta Braves card been a "cooler" design like the horizontal cards of the 60's or the 1971 set, this card may have been more popular. As of now the record was a PSA 10 sale in 2017 for $22,800.  The PSA 8 cards have settled around the $1,100-$1,200 mark in late 2022.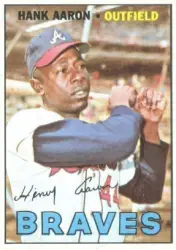 For all the complaints about the 1966 Topps card, the 1967 Topps Hank Aaron gets it right for an iconic Atlanta Braves Hank Aaron vintage card.  The team name is in team colors.  Hank is shown swinging a bat.  Topps chose the great looking home Atlanta Braves uniforms.  This is a great looking card.  Somehow no PSA 10s have surfaced but a good number of 9s are out there.  The value of the Grade 8 cards has ranged from $900-$1200 so this card has the potential to move up or down.  The 1967 set also features a popular Home Run Leaders card that has Hank, Richie Allen and Willie Mays on it, and an RBI Leaders card with Hank, Allen, and Roberto Clemente.  All of those cards carry decent value.
Additionally, this card has a Venezuelan Topps version that looks different and is much more expensive.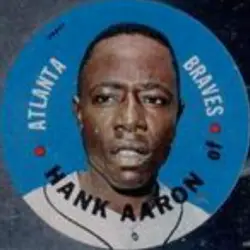 This card is circular and shows Aaron on a blue background. There aren't any recent sales of this card as it's a test issue. The Topps discs are scarce, so make sure to keep your eyes peeled if you want to add one to your collection
1968 Atlantic Oil Play Ball Contest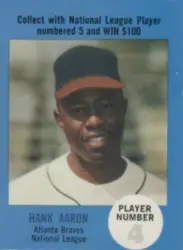 This card is a bit of an oddball, but it's still cool. This card has two different backs: Game rules and Play Ball. It only has a PSA pop of around 30, but is a fairly cheap card. This could be due to it's basic design.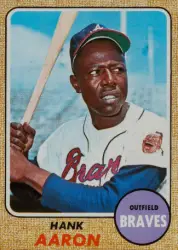 The 1968 Topps Hank Aaron Baseball card is an affordable option for many different collectors. Often you can find them raw at shows under $40. Even mid grade examples can be found under $200
This card also has an OPC and Milton Bradley version that sells for a bit more. In addition to these two, Aaron also has a Venezuelan Topps card in 1968 that is worth much more than any of the other cards mentioned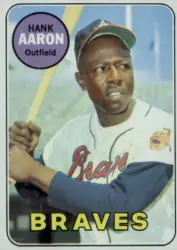 This card has two versions: OPC and the standard Topps version. It has a card decal card that looks almost like the 69 Topps except Aaron's name is in red on the front. The Topps version is cheap as a PSA 4 sells for about $50.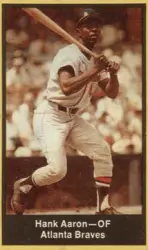 These hand-cut cards were originally distributed on the back of Tem flakes cereal boxes. They are quite affordable even though they are a bit scarce and are impacted by condition issues. High graded 8s only sell for $300.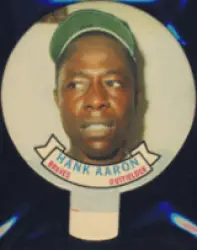 There are less than 15 of these Candy Lids graded with PSA. Ths example consistently sells for over $1000 in a PSA 8 grade. There was one 9 sale in 2008 that sold for over $2000.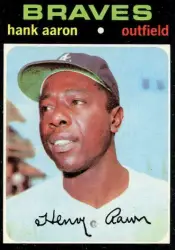 Out of nowhere a card from the 1970's?  How did this happen?  Well, the black border 1971 Topps cards are also very popular with collectors.  You also may have guessed that an all black bordered card may be tougher to find in pristine shape.  The population of the higher grades are lower for this card. The pandemic resurgence buying pushed a lot of movement in the market for this card, a PSA 10 for selling for an even $60,000 lead the way followed by a PSA 9 selling for $8,700 and PSA 8s selling consistently from $1,400-$1,700. August 2022 Prices have settled down to the $1,100 range for the PSA 8 range with Grade 2 cards selling for $50 and raw cards available for $5.  This card is condition dependent. It's a beautiful card and collectors want the perfect black border.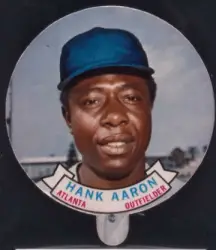 Like the 1970 Candy Lids, 72 are extremly tough to come by. There is only one documented sale in which a PSA 8 MC sold for over $1000.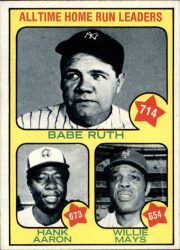 With the Home Run King chase happening, Topps monopolized on it with Aaron & Mays being in the top 3. By 1973, Mays was ready to retire, but Aaron still had a few years left.
1974 Topps Hank Aaron Home Run King Card #1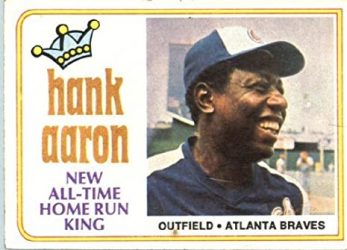 In the 73 season, Aaron ended up hitting 40 home runs which now put him at 713.  On April 8, 1974 Aaron would hit 715 which officially made him the NEW ALL-TIME HOME RUN KING!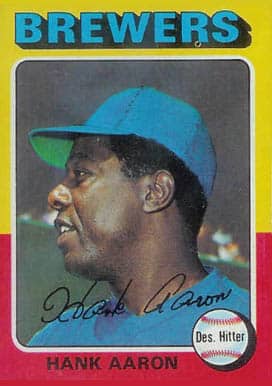 In 1975 Aaron returned to Milwaukee to play with the Brewers. The 75s are a pretty iconic set and have two different releases: Mini & Full Size. Due to the colorful borders, these cards chip really easily. It can be somewhat tough to find them in great shape.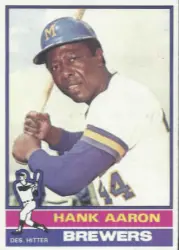 This was Hank Aarons last official Topps playing day card. He would retire at the end of 76 after hitting .229 with 10 hrs in 85 games. 
1976 Laughlin Indianapolis Clowns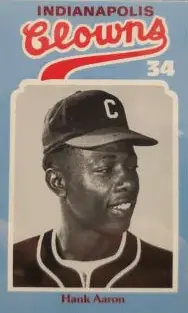 This card features probably the earliest picture of Aaron on cardboard. In 1952 Aaron played shortstop for the clowns before the Braves ended up acquiring him. 
1991 Upper Deck Hank Aaron Hologram Baseball Card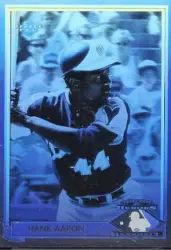 This card was produced in the Junk Wax era and is quite easy to find. Even 10s are only slightly over $100 with lower graded examples being found under $20
1991 Upper Deck Autographed Hank Aaron Baseball card #/2,500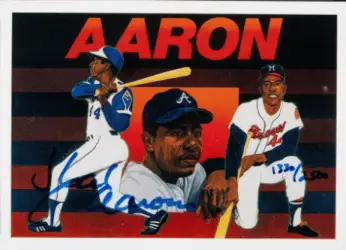 This was Hank Aaron's first ever pack pulled autograph card. Like many of the other early 90s Upper Deck Autos, this is limited to only 2500 copies. 
1999 Upper Deck A Piece of History 500 Club Game-Used Bat Relic Hank Aaron, Babe Ruth, Willie Mays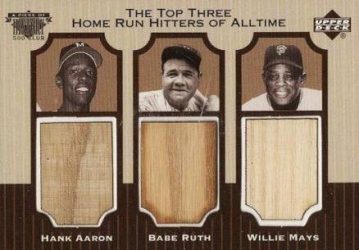 At the time this was produced, Aaron, Ruth, and Mays were the top 3 Home Run leaders of all time. The card features 3 bat relics from each of the players and is extremly tough to find. A PSA 9 will run over $1000 while a 10 is $3000
1999 Upper Deck A Piece of History 500 Club Autograph Hank Aaron #/44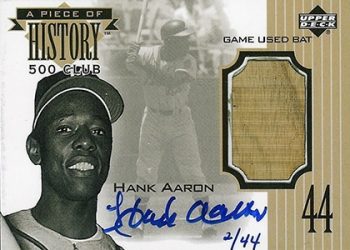 While Relic autos are common place today, these were rare back in the 90s. This Hank aaron is limited to only 44 copies and is from a subset featuring 500 hr club members.
2003 Topps Stadium Club Co-Signers Classics Hank Aaron, Willie Mays Autograph #CS-AM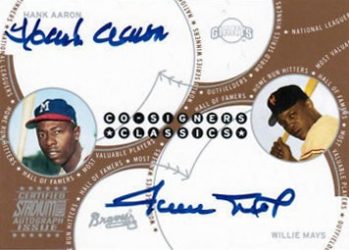 This was Willie Mays & Hank Aarons's first ever dual autograph card. While featured on many cards throughout their careers, this one is their most desirable. It features two on-card autos and can be tough to locate.
Hank Aaron Baseball Cards Longterm Potential
Many people to this day still credit Hank Aaron to being the home run king. Due to that his cards are going to stay popular for a very long time. Many modern collectors even want to have a Hank Aaron baseball card within their collection. Whether its an early playing day example or a post-career autograph card.