Minnie Minoso Baseball Cards span over 4 decades and help cement his legacy across the sport. He is featured in many international releases and oddball sets.
Orestes (Minnie) Minoso a.k.a. the Cuban Comet was born in 1925 in Cuba. He grew up on a sugar plantation where he picked sugarcane during the week and played baseball on the weekends. 
In 1945, He joined the New York Cubans which was a Negro League Team. In 1948, after his time in the Negro Leagues, Minoso signed with the Cleveland Indians. He had to wait until this time because Jackie Robinson was the one who broke the color barrier one year prior. He only played about nine games on the Indians before he was sent to the Minor Leagues. In 1951, Minoso was traded to the White Sox and had a stellar rookie season. He was with the White Sox for most of his pro career. 
Minoso averaged almost .300 for his 19 year MLB career. He won a Negro League World Series in 1947 and was a 3 time Golden Glove Winner. In 1976, Minoso played 3 games with the White Sox and became the second oldest player to get a hit at the age of 53. In 1980, he played 2 games with the White Sox which allowed him to declare that he played in professional baseball in 5 different decades! Insane.
Minoso was known for his speed and ability to run the bases. He was also the first Black Star from Cuba and known as the "Jackie Robinson" for Latin baseball players. He is a fairly unsung hero in terms of the value of his cards, but he was recently elected to the hall of fame (as of writing this) which might change that.
Most Valuable Minnie Minoso Baseball Cards
1945-46 Caramelo Deportivo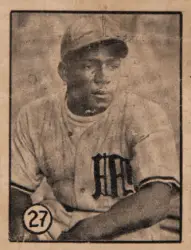 The 1945-46 Carmelo Deportivo is the first Minnie Minoso baseball card. It's from a Spanish set and depicts Minoso in the Cuban Winter league. This card is scarce and one of his most valuable cards. Most people don't know of it since it's so far removed from his first Topps card. PSA 1 versions of this card tend to sell for around the $2,000 range
1946-47 Caramelo Deportivo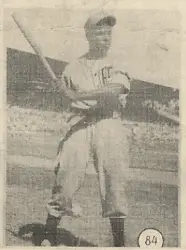 The 1946-47 Caramelo Deportivo is Minoso's second card. At the time he was playing for the legendary New York Cubans of the Negro League.
While the dating of the Exhibits mention 47-66 there aren't specific years defined. Minoso has two within the set a C on cap and White Sox Cap. The C on cap is a much lower pop card. There are only 30 of this copy graded compared to 66 of the White Sox.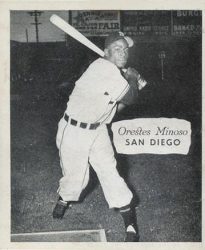 This is a rare Minnie Minoso baseball card. It shows him with the San Diego Padres (AAA team at the time). The Hage's dairy set featured many west coast teams from Sacramento all the way to Seattle.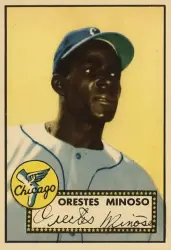 This is Minnie Minoso's first Topps baseball card. Some consider it to be a rookie because it's his first card of him in a major league jersey. It has a bright yellow background which makes it instantly unique.
Minnie Minoso Baseball Card Value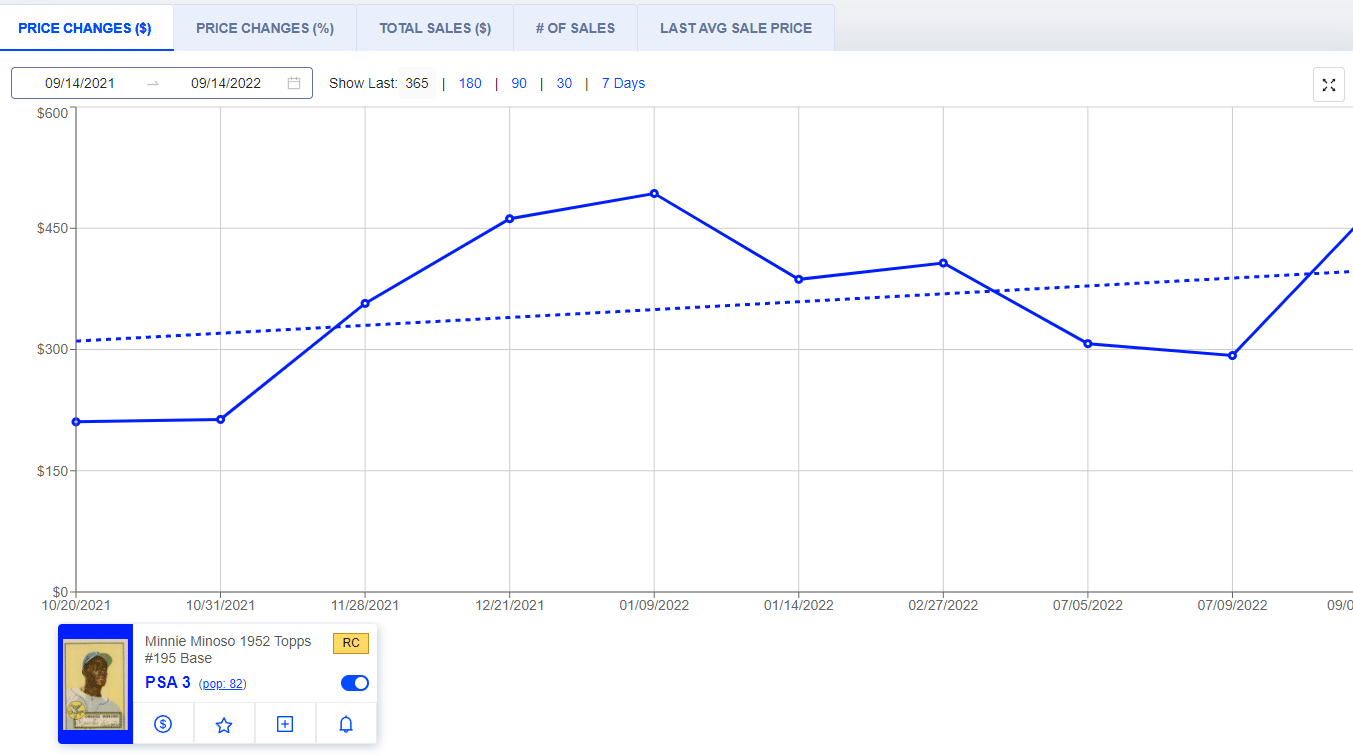 The above chart shows the prices of a PSA 3 Minnie Minoso 1952 Topps Baseball Card. This was grabbed from Market Movers. Get your first month for $1 using code BREAKOUT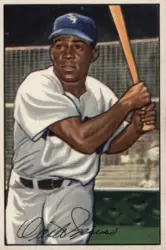 Another one of Minoso's rookie cards is his 52 Bowman. It's smaller than the 52 Topps, but cool that collectors have a choice between two major brands for Minoso's card.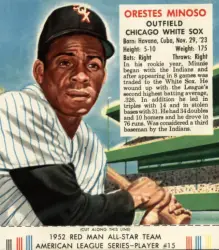 These Red Man cards were issued with tobacco. The card is a bit oversized. It has a perforation tab that was meant to be cut off. The players bio is on the top right. The card has bright colors and is easily recognizable.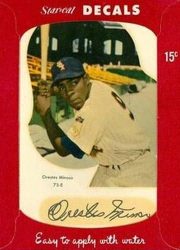 The Star-Cal Decals are a bit tougher to find than many of the other 1952 releases. They featured many different stars of the era including Mantle, Ted Williams, and Stan Musial.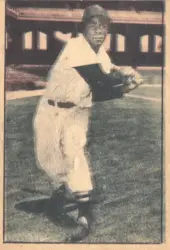 Unlike the previous release, this card is a stand alone and stars just one player. Good luck finding a perfectly centered version of this card as most are off-centered. This is due to the way they were cut.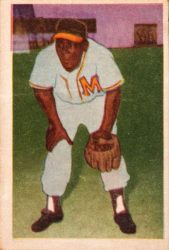 This set featured many of the Cuban stars. It's considered the toughest 1952 Minoso baseball card to find. While all the other 1952 cards feature Minoso with a White Sox uniform, this does not. Instead, he is wearing the uniform of the Marianao Cuban team.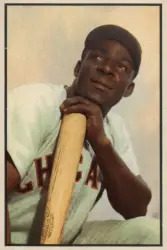 This card shows Minoso staring off into the distance. This card is fairly cheap as a PSA 6 example sells for around $150. It's a great looking card and I see it around often at card shows.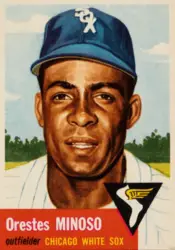 This is Minoso's second Topps card and shows a portrait of him with the sky in the background. PSA 6 versions of this card sell for around $250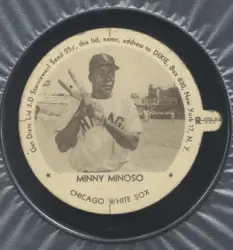 These "Cards" were distributed by Dixie Lids ice cream and were the top of the containers. Baseball has had a few releases as there was another set produced back in 1938.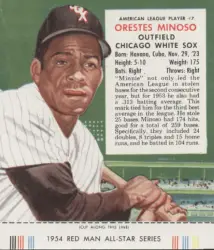 This Minnie Minoso baseball card looks almost the same as the 52 Red man except it has a green background.  It's extremely affordable as you can find one for around $15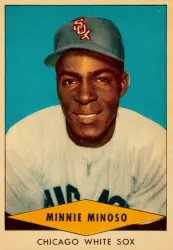 The origins of the Red Heart card stem from dog food. It was a regional East Coast brand that produced an unnumbered 32 card set. It is also the first card to have Minnie instead of Orestes.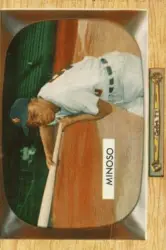 The 55 Bowman set has the player pictured inside a TV border. This was the last year Bowman made cards (until they were bought out and revitalized). 
1955 All American Sports Club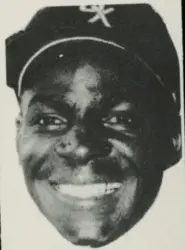 This is a multi-sport set. There are about 500+ All-American Sports Club cards. They are small and hand-cut. Others HOFers in the set include Mickie Mantle and Jackie Robinson.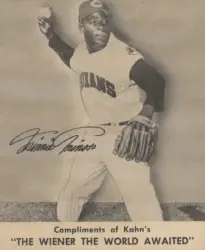 This is an extremely tough Minnie Minoso baseball card to find. It was a regional set that was given out with hot dogs. It's typical to see these cards with stains. These are oversized cards and the first and only Kahn's card of Minoso
1959 featured two cards with practically the same design. It was the first year that Topps created cards in venezuela. The card stock of these were very poor in comparison to the US release and anything over a 3 tends to go for a premium.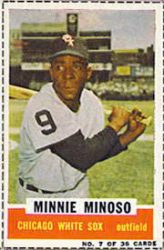 Bazooka cards were hand cut and are a bit scarcer than many of the other Topps releases during the era. 
Like 1959, the 1962 Topps has both a normal and Venezuela edition. The card features wood borders and is condition sensitive.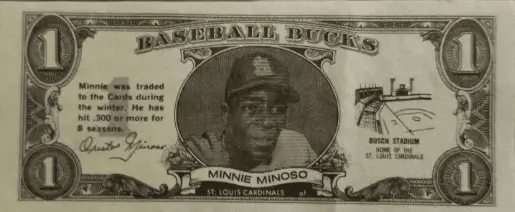 This was an oddball Topps release in which players were featured on different versions of Baseball Bucks. PSA has graded about 20 of Minoso. The last 8 sale was back in 2018 and it sold for $100.
This is the last Minnie Minoso Venezuelan Baseball card. It's from the  "retirado" set which featured legendary retired players ranging from Gehrig to Satchel Paige. What makes it interesting is this technically is not his last playing day card.
1977 Topps/OPC Record Breaker
The 1977 card has a Topps and O-Pee-Chee version. This is Minoso's first OPC card and his last true playing day card. He did have a stint in the majors again in 1980, but his last true card is this one. It pays homage to his legacy and it's unbelievable how long he influenced baseball. At the time, he was the oldest player to get a base hit in MLB history!
2001 Topps Heritage Real One Autographs #THA-MM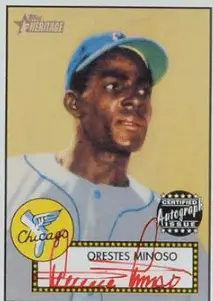 2001 was the first year of Topps Heritage. Like the cards of today, real one autos have two versions, a blue and red auto. The red autos are worth much more and are typically numbered to the sets year. So with this Minoso there would be only 52 copies available.
2001 Heritage Clubhouse Collection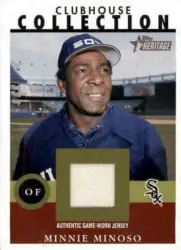 Minoso had a few relics in 2001, but I wanted to feature this one. There is also a version with an Autograph & jersey limited to just 25 copies.
Minnie Minoso Baseball Cards Longterm Potential
Since Minoso made the Baseball Hall of Fame, there has been a lot of interest in his cards. His 1952 Topps has gone up significantly over the last year. Seeing that he's a pioneer helping break barriers, I believe there will be an interest in his cards for years to come.