Walter Johnson Baseball cards are some of the most in demand pre war cards to collect. They span from T206s to late caramel cards.
Walter Perry Johnson A.K.A The Big Train was born in 1887 in Kansas. He grew up on a farm and baseball did not have an impact on his early life.
It wasn't until Johnson was 16 that he joined his first organized baseball team. He played against full grown adults and was a stand-out. Interestingly enough, Walter Johnson explained that his gift for pitching was essentially innate.
When Johnson was 19, he received a contract to play for the  Washington Senators and accepted. Even after the first game he played against the Detroit Tigers, one of the opposing players said he was, "the best raw pitcher I have even seen". Johnson posted a 1.88 ERA in his career. In 1910, He was able to finish the season with a 1.36 ERA. Around this time is where he earned the nickname "Big Train" for his ability to throwing a blazing fastball. In 1912, Walter Johnson was some dominant in the American League that he won the MVP. it wasn't until 1924 that Johnson won his first championship with the Senators. Johnson played his last season in 1927.
Walter Johnson is one of the best pitchers of all-time. He obtained a staggering WAR of 164 which is second to only Babe Ruth. He had over 400 wins in his career and an ERA of 2.17.
Most Valuable Walter Johnson Baseball Cards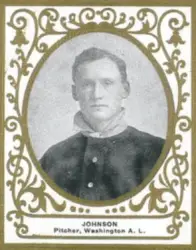 These cards are gold embossed cards. Unfortunately this makes them prone to shipping. They have an elegant look and are extremely hard for scammer to replicate.
There are only 37 copies of this card at PSA. The Ramly is very expensive as a PSA 8 recently sold for almost $250,000!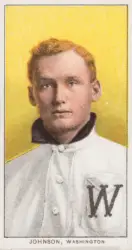 The T206 portrait card of Walter Johnson is his most valuable T206 card. The card is condition sensitive as it was packaged with cigarettes which normally damaged the card.
There are many different T206 backs that the Walter Johnson portrait has including (but not limited to) El Principe de Gales, Hindu Brown, Old Mill, Piedmont, Sovereign, and Sweet Caporal. 
A PSA 9 of this card sold on REA in 2005 for $37,000.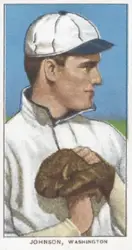 Along with the portrait, this is Johnson's other card from the T206 set. It's not quite as expensive, but still a cool card.  
According to the PSA website, this card has some rare backs that the portrait card does not have which include: American Beauty, Broad Leaf, Cycle, Drum, Hindu Red, Lenox Black, Polar Bear, and Tolstoi
T206 Walter Johnson Baseball Card Value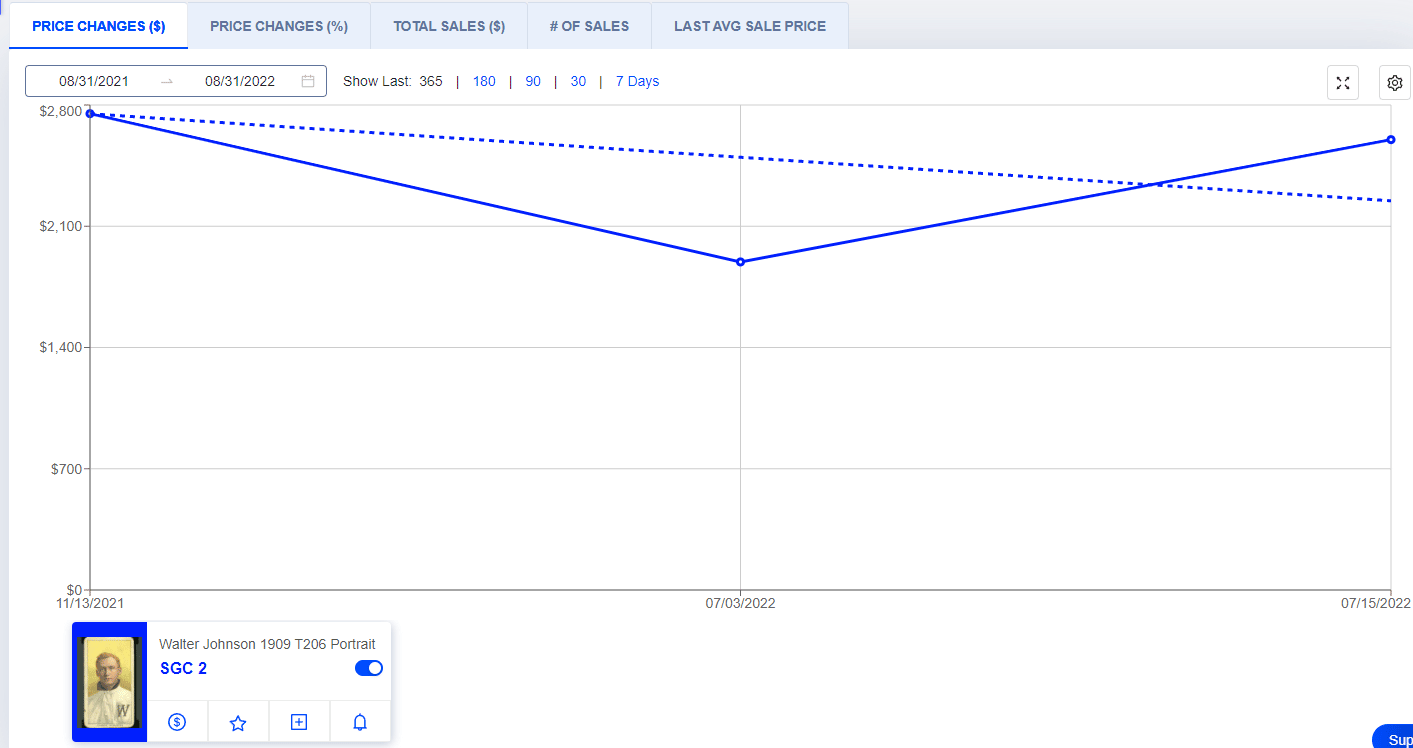 The above chart shows the prices of a SGC 2 Walter Johnson Portrait. This was grabbed from Market Movers. Get your first month for $1 using code BREAKOUT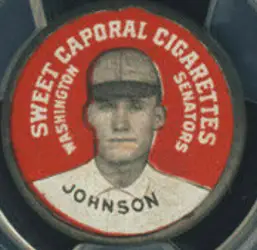 These disks were made by the Sweet Caporal company. The front of these show the player's portrait, team, and name. On the back there is a dot configuration that people used when playing dominos. The cards have a thin metal disc around them to hold them in place and are certainly considered oddballs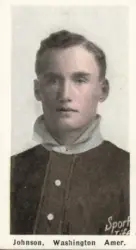 Not to be confused with the Sporting News supplements card, these cards have the same picture as the T206 portrait with different colors
In 2017, a PSA 9 copy sold for $20,400.
1910 E91 American Caramel Set C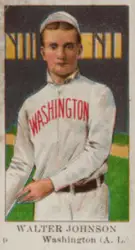 This is surprisingly his only "E" series early career card. This card also has a tobacco card style and shows a unique portrait of Johnson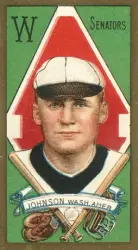 Similar to the T204, Johnson's T205 baseball card is also gold embossed. However, this card only has the border part embossed as opposed to other parts of the card. This card, similar to the T204, is also prone to chipping.
In 2019, a PSA 8 version of the card sold for $63,000
1912 T207 Brown Background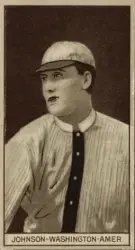 The T207 cards have two backgrounds: the brown and recruit cigarettes back. The recruit cigs background tends to sell for more than the other. 
The card has a sepia look to it as the only prominent colors are brown and white
This is an oversized card. Unlike other candy releases of the era, this card is in black and white. PSA has only graded 135 cards total in this entire set. Only 1 Walter Johnson has been graded by PSA. Unfortunately, there is no picture of this exact card, but ones other cards in the set can be found by a simple google search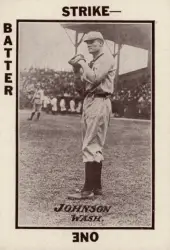 This card is part of a playing card game. There is also a Tom Barker Game card that looks almost identical to this one. It's not a too expensive card and does appear in high grade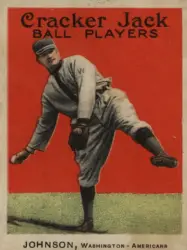 These cards are iconic as they were in cracker jacks snacks that were sold at baseball games (and are still enjoyed by many til this day!). There are two different versions of this card made from two different years: 1914 and 1915
Be aware that both cards have a description written on the back, but it's upside down. A 1914 Cracker Jack of Wajo sold for $84,000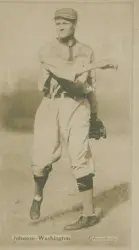 The fatima card is oversized as it's longer than a normal card. This card is rare as there are only 10 of these in the PSA pop report and alm0st 600 cards in total from the set.
The Texas Tommy card has a yellowish background and has no color. The set is extremely rare as there are only 32 cards authenticated by PSA. There are only 3 copies of this card verified by PSA.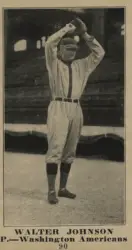 This Walter Johnson baseball card has two different versions: M101-4 and M101-5. Be aware that this card  can either have a Sporting News back or a blank back.  Additionally, this card can also have a Standard Biscuit back or Herpolsheimer Co. back
1916-20 W-UNC Big Head Hand Cut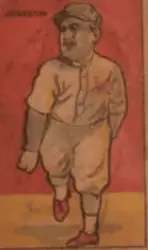 These cards have a cartoon styled look and were made over a span of multiple years. It's definitely a unique card and a PSA 3 last sold for $2,300 in 2021.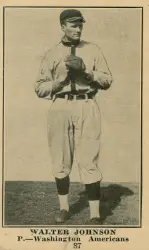 The Collins-Mccarthy is not oversized but is larger than the 1916 M101 cards that it normally gets compared to. This is because the image on the 1916 card is sometimes reused for the 1917 card. However, in the case of Walter Johnson, this is not true.
1917-20 Felix Mendelsohn M1010-6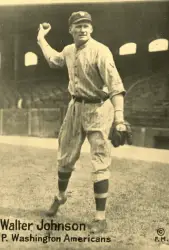 The Felix Mendelsohn photo is considered an oversized card. These cards have a blank back. The card was named after a Chicago publisher who took the pictures. The total PSA pop on these cards is 88.
1921 E121 American Caramel Series of 80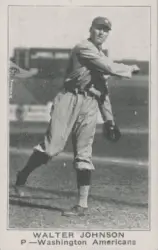 Believe it or not, Johnson's next American caramel came out 10 years later. He also has an E120 Version of this card that uses the same picture as this one. The only difference is it has intricate borders.
1921 E220 National Caramel
The picture of this card looks similar to the previous card. There are two National Game poses: Hands at Chest and a throwing pose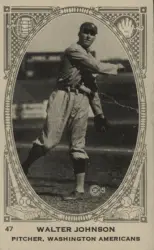 This card has the same photo as the 1921 American Caramel. The only difference is that there is a Neilson's chocolate ad on the back. There is a type 1 and type 2 of this card.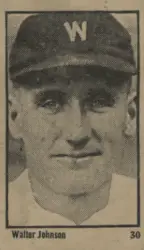 Despite looking like hand-cut cards, these were actually factory cut. The Maple Crispette company made candy and was based out of Canada. There are only 30 cards in this set
1927 E126 American Caramel Series of 60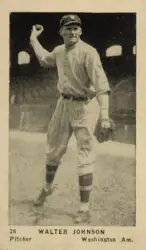 This is one of the last cards for both Walter Johnson and the American caramel company. 
Walter Johnson officially retired at the conclusion of 1927. The American Caramel company ran out of business the following year.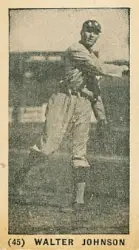 This is another one of Walter Johnson's last playing day card. They rarely make it to market as the last PSA sale was all the way back in 2017.
Walter Johnson Baseball Cards Long Term Potential
Long term, there will continue to be demand for Walter Johnson Baseball cards. Many consider him a top 5 pitcher of all time and is one of the best pre war players to collect.