This is one of the sets that Topps made throughout the mid 70s. In the beginning of the 70s, Topps made Tall boy sets such as the 1970 Topps set which featured oversized cards. 
Fast forward to 1974 and we have a unique set in terms of how it was designed. There are two types of cards in this set: portrait and action. However, unlike preceding sets, each player either has a portrait or action card. Not both.
These cards are normally sized. On the front, they have the team name of the player written vertically. There is also the player's name printed on the front and the player's position written inside a small basketball. These cards have a white stock and a colorful background. In the background, there is a colored picture of the player.
On the back, these cards are horizontal even though the front is vertical. On the back, there is a cartoon character, player details, and a player bio.
There are 264 cards in this set. NBA cards appear on cards 1-176 and ABA cards show up on cards 177-264 which is typical for sets made during the early 70s. One interesting feature of these sets is that each pack comes with a scratch off game.
Now, let's take a look at some of the most notable cards in the set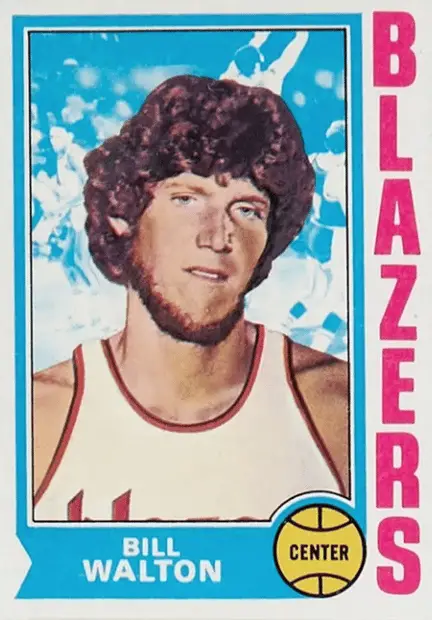 Bill Walton was a UCLA legend coached by one of the greatest college coaches of all time: John Wooden. Walton only played 10 years in the league due to a lingering foot injury. Regardless of the injury, Walton averaged a double-double with 13 points and 10 rebounds per game. 
Along with averaging a double double, Walton has many accolades including 2 NBA championships, sixth man of the year, And MVP.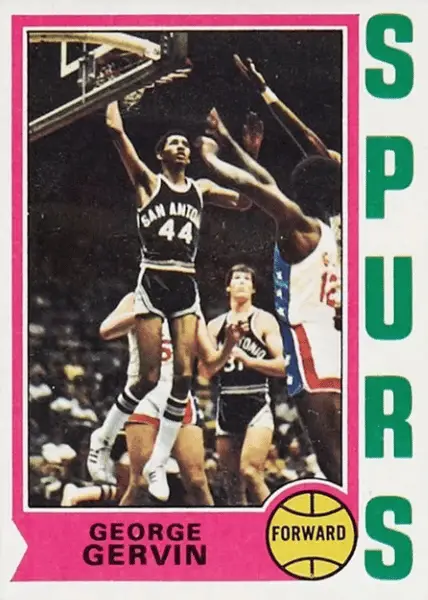 George Gervin was the first all-time great in the Spurs' franchise history. He was initially drafted into the ABA as a member of the Virginia Squires where he played alongside Julius Erving. It wasn't until 1976 that Gervin made his NBA debut. He averaged 25 points per game and played professional basketball for 14 years. Despite not winning an NBA championship, he is still rebounded as one of the top 75 players of all time. Gervin was dubbed "the iceman" for his ability to hit clutch shots.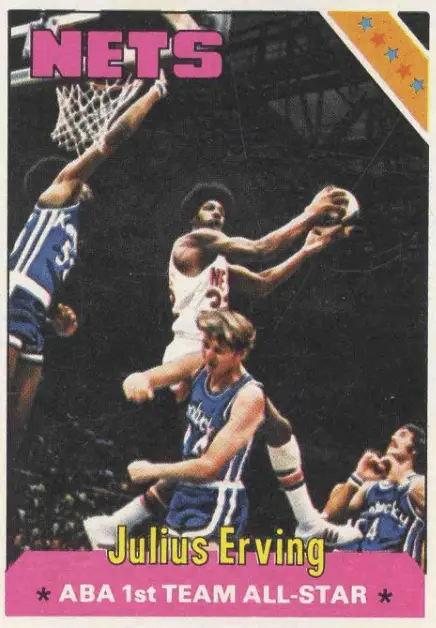 Julius Erving earned the nickname "Dr.J" while playing streetball at the infamous Rucker Park. He was drafted in the ABA and eventually made his way into the NBA. During his career, Erving won the MVP award 4 times and only won one NBA championship. This is because he wasn't technically in the NBA until he was 26. While he was in the ABA, he also won two championships in that league.
1974 Topps Basketball Checklist
1 Kareem Abdul-Jabbar 
2 Don May 
3 Bernie Fryer 
4 Don Adams 
5 Herm Gilliam 
6 Jim Chones 
7 Rick Adelman 
8 Randy Smith 
9 Paul Silas 
10 Pete Maravich 
11 Ron Behagen 
12 Kevin Porter 
13 Bill Bridges 
14 Charles Johnson 
15 Bob Love 
16 Henry Bibby 
17 Neal Walk 
18 John Brisker 
19 Lucius Allen 
20 Tom Van Arsdale 
21 Larry Steele 
22 Curtis Rowe 
23 Dean Meminger 
24 Steve Patterson 
25 Earl Monroe 
26 Jack Marin 
27 Jo Jo White 
28 Rudy Tomjanovich 
29 Otto Moore 
30 Elvin Hayes 
31 Pat Riley 
32 Clyde Lee 
33 Bob Weiss 
34 Jim Fox 
35 Charlie Scott 
36 Cliff Meely 
37 Jon McGlocklin
38 Jim McMillian 
39 Bill Walton 
40 Dave Bing 
41 Jim Washington 
42 Jim Cleamons 
43 Mel Davis 
44 Garfield Heard 
45 Jimmy Walker 
46 Don Nelson 
47 Jim Barnett 
48 Manny Leaks 
49 Elmore Smith 
50 Rick Barry 
51 Jerry Sloan 
52 John Hummer 
53 Keith Erickson 
54 George E. Johnson
55 Oscar Robertson 
56 Steve Mix 
57 Rick Roberson 
58 John Mengelt 
59 Dwight Jones 
60 Austin Carr 
61 Nick Weatherspoon 
62 Clem Haskins 
63 Don Kojis 
64 Paul Westphal 
65 Walt Bellamy  
66 John Johnson 
67 Butch Beard 
68 Happy Hairston 
69 Tom Boerwinkle 
70 Spencer Haywood 
71 Gary Melchionni 
72 Ed Ratleff 
73 Mickey Davis 
74 Dennis Awtrey 
75 Fred Carter 
76 George Trapp 
77 John Wetzel 
78 Bobby Smith 
79 John Gianelli 
80 Bob McAdoo 
81 Atlanta Hawks Team Leaders
82 Boston Celtics Team Leaders
83 Buffalo Braves Team Leaders
84 Chicago Bulls Team Leaders
85 Cleveland Cavaliers Team Leaders
86 Detroit Pistons Team Leaders
87 Golden State Warriors Team Leaders
88 Houston Rockets Team Leaders
89 Kansas City-Omaha Kings Team Leaders
90 Los Angeles Lakers Team Leaders
91 Milwaukee Bucks Team Leaders
92 New Orleans Jazz NBA's Newest Entry
93 New York Knicks Team Leaders
94 Philadelphia 76ers Team Leaders
95 Phoenix Suns Team Leaders
96 Portland Trail Blazers Team Leaders
97 Seattle Supersonics Team Leaders
98 Capitol Bullets Team Leaders
99 Sam Lacey 
100 John Havlicek 
101 Stu Lantz 
102 Mike Riordan 
103 Larry Jones 
104 Connie Hawkins 
105 Nate Thurmond 
106 Dick Gibbs
107 Corky Calhoun 
108 Dave Wohl 
109 Cornell Warner 
110 Geoff Petrie 
111 Leroy Ellis 
112 Chris Ford 
113 Bill Bradley 
114 Clifford Ray 
115 Dick Snyder 
116 Nate Williams 
117 Matt Guokas 
118 Henry Finkel 
119 Curtis Perry 
120 Gail Goodrich 
121 Wes Unseld 
122 Howard Porter 
123 Jeff Mullins 
124 Mike Bantom 
125 Fred Brown 
126 Bob Dandridge
127 Mike Newlin 
128 Greg Smith 
129 Doug Collins 
130 Lou Hudson 
131 Bob Lanier 
132 Phil Jackson 
133 Don Chaney 
134 Jim Brewer 
135 Ernie DiGregorio 
136 Steve Kuberski 
137 Jim Price 
138 Mike D'Antoni 
139 John Brown 
140 Norm Van Lier
141 NBA Checklist (#1-176)
142 Slick Watts 
143 Walt Wesley 
144 1973-74 NBA Scoring Leaders
145 1973-74 NBA Scoring Average Leaders
146 1973-74 NBA Field Goal Pct. Leaders
147 1973-74 NBA Free Throw Pct. Leaders
148 1973-74 NBA Rebound Leaders
149 1973-74 NBA Assist Leaders
150 Walt Frazier 
151 Cazzie Russell 
152 Calvin Murphy 
153 Bob Kauffman 
154 Fred Boyd 
155 Dave Cowens 
156 Willie Norwood 
157 Lee Winfield 
158 Dwight Davis 
159 George T. Johnson 
160 Dick Van Arsdale 
161 1973-74 NBA Eastern Semi-Finals
162 1973-74 NBA Western Semi-Finals
163 1973-74 NBA Finals
164 1973-74 NBA Championship – Celtics vs. Bucks
165 Phil Chenier 
166 Kermit Washington 
167 Dale Schlueter 
168 John Block 
169 Don Smith 
170 Nate Ahibald 
171 Chet Walker 
172 Ahie Clark 
173 Kennedy McIntosh 
174 George Thompson 
175 Sidney Wicks 
176 Jerry West 
177 Dwight Lamar 
178 George Carter 
179 Wil Robinson 
180 Artis Gilmore 
181 Brian Taylor 
182 Darnell Hillman 
183 Dave Robisch 
184 Gene Littles 
185 Willie Wise 
186 James Silas 
187 Caldwell Jones 
188 Roland Taylor 
189 Randy Denton 
190 Dan Issel 
191 Mike Gale 
192 Mel Daniels 
193 Steve Jones 
194 Marv Roberts 
195 Ron Boone 
196 George Gervin 
197 Flynn Robinson 
198 Cincy Powell 
199 Glen Combs 
200 Julius Erving 
201 Billy Keller 
202 Willie Long 
203 ABA Checklist (#177-264)
204 Joe Caldwell
205 Swen Nater 
206 Rick Mount 
207 1973-74 ABA Scoring Average Leaders
208 1973-74 ABA Two-Point Field Goal Leaders
209 1973-74 ABA Three-Point Field Goal Leaders
210 1973-74 ABA Free Throw Pct. Leaders
211 1973-74 ABA Rebound Leaders
212 1973-74 ABA Assist Leaders
213 Larry Miller 
214 Stew Johnson
215 Larry Finch 
216 Larry Kenon 
217 Joe Hamilton 
218 Gerald Govan 
219 Ralph Simpson 
220 George McGinnis 
221 Carolina Cougars Team Leaders
222 Denver Nuggets Team Leaders
223 Indiana Pacers Team Leaders
224 Kentucky Colonels Team Leaders
225 Memphis Sounds Team Leaders
226 New York Nets Team Leaders
227 San Antonio Spurs Team Leaders
228 San Diego Conquistadors Team Leaders
229 Utah Stars Team Leaders
230 Virginia Squires Team Leaders
231 Bird Averitt 
232 John Roche 
233 George Irvine 
234 John Williamson 
235 Billy Cunningham 
236 Jimmy O'Brien 
237 Wilbert Jones 
238 Johnny Neumann 
239 Al Smith 
240 Roger Brown 
241 Chuck Williams 
242 Rich Jones 
243 Dave Twardzik 
244 Wendell Ladner 
245 Mack Calvin 
246 1973-74 ABA Eastern Semi-Finals
247 1973-74 ABA Western Semi-Finals
248 1973-74 ABA Finals
249 1973-74 ABA Championship – Nets vs. Stars
250 Wilt Chamberlain 
251 Ron Robinson 
252 Zelmo Beaty 
253 Donnie Freeman 
254 Mike Green 
255 Louie Dampier 
256 Tom Owens  
257 George Karl 
258 Jim Eakins 
259 Travis Grant
260 James Jones 
261 Mike Jackson
262 Billy Paultz 
263 Freddie Lewis 
264 Byron Beck