Nikola Jokic Rookie Cards have gone up quite a bit over the past few years. 
In 2014, an unknown Serbian prospect was drafted into the NBA with the 41st pick. 7 years later Nikola "Joker" Jokić won his second MVP in 2022. Jokić has played seven years with the Denver Nuggets as of writing. Before being drafted he spent two years with Mega Basket, a Serbian Basketball Team notable for several NBA Drafted Prospects. As of 2022, Nikola Jokić has 2x MVP, 4x All Star, 3x 1st All NBA Team, 1x 2nd All NBA Team, and 1st All Rookie Team. Jokić known for his incredible passing vision as possibly the best passing center to ever play averaging 6.2 Assist throughout his career.
As a second round rookie, Nikola Jokić's rookie cards weren't considered good when they were first released. This led to a rare case of limit stockpiles as few people collected international second round rookies. Now Jokić rookie cards are going for thousands due to the limited sets he's included in. Here is a list of Nikola Jokić rookie cards
Most Valuable Nikola Jokic Rookie Cards
Donruss Rated Rookie #215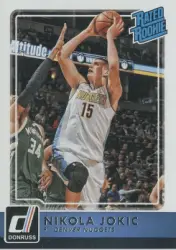 This was a common rookie card found in Retail Donruss Blasters, Fat Packs, and Megas.  Only around ~500 PSA Graded Rated Rookie cards exist with 95% being Base cards. Parallels include Holos, Inspirations Die-cuts, Press Proof-Gold, and Status Die-cut.
Nikola Jokic Rookie Card Value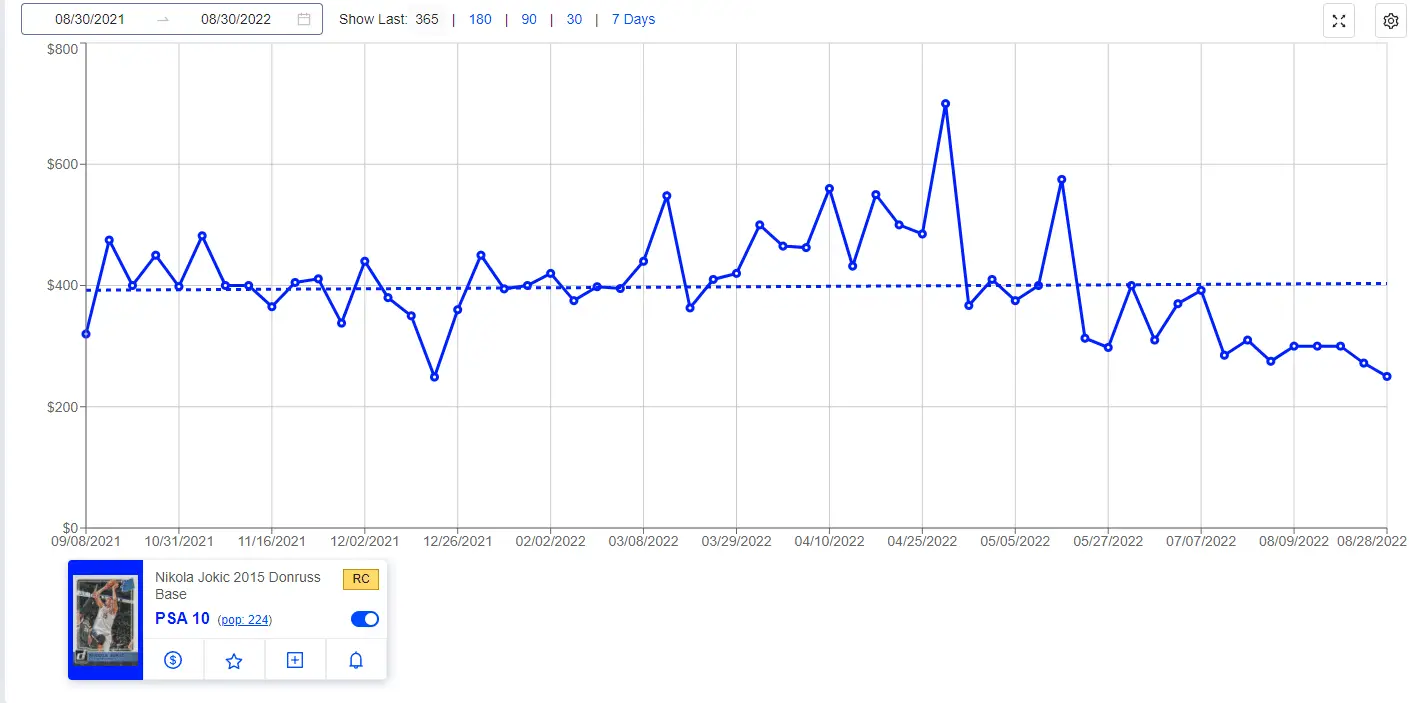 The above chart shows the prices of a PSA 10 Donruss Rated Rookie of Jokic. This was grabbed from Market Movers. Get your first month for $1 using code BREAKOUT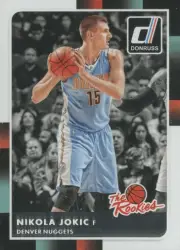 This card was a rarer rookie card compared to Rated Rookie. This card was found in the same boxes as a Rated Rookie with around ~150 PSA Graded. Parallels include Holos, Inspirations Die-cuts, and Status Die-cut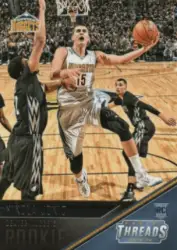 A retail series known for Rookie cards 

This series seems to be the most rare for PSA Graded cards with ~35 total 

Parallels include Leather Rookies in Premium Boxes, Wood Rookies in Blasters, Micro-Etch in Gravity Packs, Team Threads Die-Cut in any box/pack, and Signage Set in Premium Boxes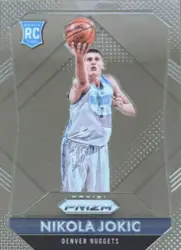 Prizm is a well respected Panini Set that still continues to this day. A common card with ~3,500 PSA Graded cards with several variations. 
Parallels include Flash, Gold (Rarest Graded), Green, Light Blue, Mojo, Orange, Orange Wave, Purple, Red/White/Blue, Ruby Wave, Silver (Most common non-base graded), and White Sparkle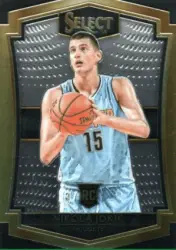 2015 was back when Select was a hobby set resulting in fewer Select Jokić cards compared to new releases. Only ~450 PSA Graded Cards from this set
Parallels include Gold Die-cut (Rarest), Light Blue Die-cut, Purple Die-cut, Silver, Tie-Dye Die-cut, and Tri-Color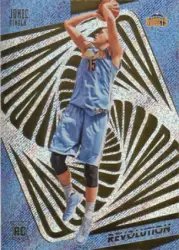 Revolution, which is known for high levels of Parallels of Base cards, contained very few Jokić cards. He was completely missing from the Rookies Revolution set.
Jokić only has 2 cards in this series as a Base and New Wave
There is a total of ~160 PSA graded cards with both Base and New Wave of all Parallels. These Parallels include Infinite, Nova, Angular, Galactic, Cosmic /100, Sunburst /75, and Futura /25.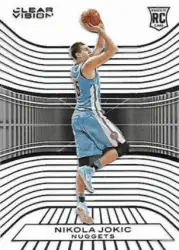 Clear Vision Series was a stand-alone Hobby box in 2015/2016.
Due to this, the cards from this series aren't in high demand for a hobby box series 
Only ~55 PSA Graded Cards as a result of being a relatively. Parallels include Bronze, Blue /149, Red /99, Purple /25, Gold /10, and Black /1
Nikola Jokie Rookie Card Flawless #145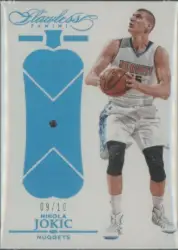 A hobby series Flawless is on the higher end of hobby box costs with an initial price of $1,700 per box of 10 cards.  All cards within the Flawless series are numbered /25 /20 /15 /10 /5 and /1
Only a total of 148 cards exist of Jokic in this series with 3 total PSA Graded. Parallels include Ruby /15, Sapphire /10, Emerald /5, and Platinum /1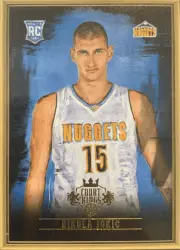 A very sought after Hobby box to this day, but a series with only 1 Jokić Rookie card: The Portraits set
Only ~20 PSA Graded cards exist with the 1/1 being ungraded
Parallels include Sapphire /25, Ruby /15, Emerald /10, and Masterpiece /1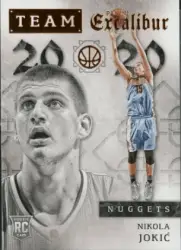 Excalibur was a discontinued Hobby series that featured a couple of Jokić rookie cards
A set in this series was fittingly called 'Team 2020' containing the description of "a league MVP in Europe". ~25 'Team 2020' and ~60 Base/Parallel PSA Graded cards exist
Parallels for 'Team 2020' are Silver /70, Gold /25, Black /1. Parallels for Base were Knight's Templar, Light Blue, Silver /70, Gold /25, and Black /1. 
This series also featured 'Rookie Rampage Jumbo Jersey Autographs' in Prime /25
Nikola Jokic Immaculate RPA #133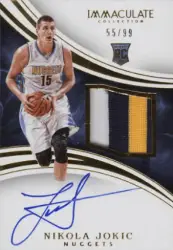 This series has dual player cards with Jokić/Nemanja Bjelica and Jokić/Emmanuel Mudiay autograph cards
Immaculate contains 5 different Jokić autos in the set of Autographs /99, Shadowbox /99, Dual Autographs /49, and Rookie Patch Autographs /99
This series also contains a 1/1 Logoman Jersey Card
PSA has only graded ~60 with the 1/1 Logoman being a Grade 7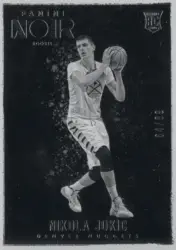 This hobby features a Black/White and Colored version of Jokić Base and Rookie Patch Auto
PSA has graded ~30 Base ~4 Autos and ~4 Acetate
Parallels include /8 Jumbo Prime Patch, /49 Noir Autographs /25 /5, Acetate Noir Prime /49 Tags /5, Autographed Patch Rookie /99 Tags /5, Base /99 Platinum /10 Gold /10
Nikola Jokic Rookie Card Longterm potential
Nikola Jokić rookie cards remain good investment cards as Jokić expected to have a long NBA Career with many awards and Playoff runs. This combined with limit options due to Panini running Jokić in few Series/Sets compared to bigger rookies like Victor Oladipo. Grading existing Jokić with low PSA pop can increase the card value as Jokić rookies weren't graded en masse.