Kobe Bryant was born in Philadelphia, Pennsylvania in 1978. During his childhood, Kobe lived in Italy because that is where his dad played professional basketball for part of his career
Kobe got the opportunity to come back to the U.S. and attended Lower Merion High School. Kobe absolutely dominated high school basketball and won national player of the year several times.
He made the decision to skip college basketball and go straight to the pros. With the 13th pick in the draft, the Charlotte Hornets selected him, but then traded their pick to the Los Angelos Lakers
Kobe Bryant became the second-youngest player to play a game in NBA history. Although he might have been young, he definitely proved himself by becoming an NBA all-star after only his second season.
After this, the rest was history. Kobe teamed up with Shaquille O'neil and won three straight championships (2000-2002). Then, when people thought Kobe's championship days were over, he won 2 straight championships (2009-2010).
1996 Topps Refractor #131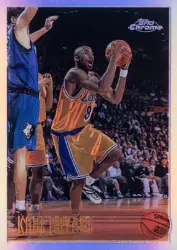 This is Kobe Bryant's main rookie card. There are three versions of the card: the paper base card, the Topps chrome card, and the Topps chrome refractor. The odds for a refractor are 1 :12 and there are 220 cards in the set. Therefore, the Kobe Bryant refractor is very hard to pull. 
A black label BGS 10 recently sold for $1.8 million in the Goldin auction.
1996 E-X2000 #30 Skybox Credentials /499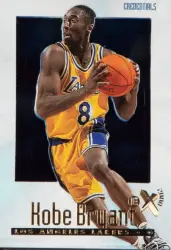 The E-X2000 card is a popular Kobe Bryant rookie card. There are a limited amount of the Credentials version, however there is also a base version of this card. It looks almost the same as the credentials version except it is green. These cards are difficult to get high grades on due to their intricate design.
1997 Precious Metal gems #81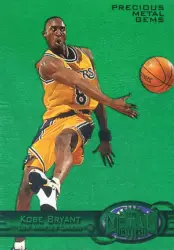 This card has two different versions: red and green.There are only 100 PMGs. The first 10 cards are green and the remaineing 90 are red. It shows Kobe passing the ball and is a mostly chrome card
This is Kobe's most valuable card. Despite it not being a rookie card, it slightly edged the black label topps refractor when it sold for $2 millon in early 2022.
1996 Flair Showcase Legacy #31 /150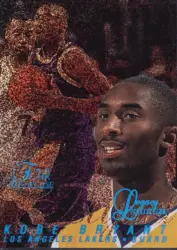 Flair Showcase is an average brand when it comes to pricing, however the /150 cards can go for big money. 
In the Flair showcase there are four types of cards: row 3, row 2, row 1, and row 0. Each of these rows has a teal version that is numbered to /150. This is unique because the numbering takes a base card, and turns it into something of extreme collectable value.
1996 Topps Finest Gold refractor #269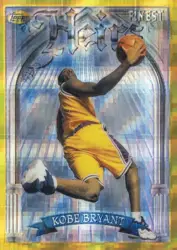 In Topps Finest, Bryant has two cards: a bronze apprentice version and a gold heir version. Both of which have a protective coating.
However, there are also refractor versions of the bronze and gold versions. The gold version is rarer than the bronze version which also makes it more valuable. Besides the normal Topps refractor, This set contains Bryant's only other rookie refractors.
1997 E-X2001 Jambalya #12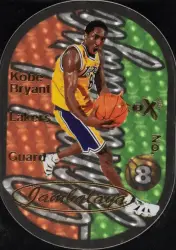 Jambalya inserts are easily identified. They have a unique circular shape and green and orange colors. This Skybox insert is not numbered, but the odds are 1 in every 720 packs.This makes it very hard to hunt for this card if you want to go out and rip some packs.
1997 Skybox Premium Star Rubies #23 /50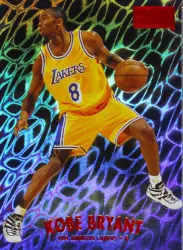 These parallels are extremely tough to pull. The Star Rubies all have an emblem in the top right that makes them distinct. The Kobe Bryanr card has a pattern background and easily one of Kobe Bryant's rarest cards
2003 Exquisite Collector Limited Logos #KB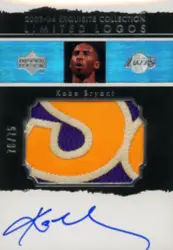 In the early 2000s, Exquisite was the premier brand for ultra-modern cards. The design of this set became iconic, however there was also a star studded draft class featured in this set headed by none other than Lebron James.
Although this is is towards the middle/end of Bryant's career, this set become iconic in the Hobby and multiple colored patches of this cards can easily cost upwards of six figures.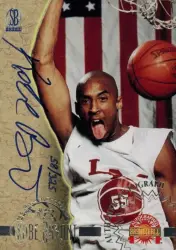 Although not numbered, this card is awesome because it's  Kobe Bryants first auto card. The score brand is knownfor making inexpensive card, however this card is an exception.
There are different versions and this card has Kobe's rookie on card auto on it. There are no other on card rookie autos of Kobe, so that makes this card special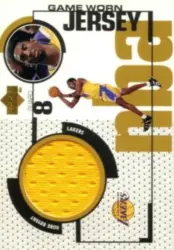 This is the first year that game-worn jersey cards were made. Even plain jersey cards were coveted and Kobe Bryant's is no exception. These cards were incredibly hard to pull as the odds were 1: 2,500. Along with this card there is also another card that can be pulled from Hobby packs.