Adrian Cap Anson was one of baseball's first-ever superstars. In his 27-year career, the Chicago legend had over 3000 hits, a lifetime .334 batting average, and 94.3 WAR. He was also an innovative coach as it's rumored he created plays like the hit and run. Anson was also featured on an episode of the Simpsons when Mr. Burns put him on his all-time team.
Cap Anson cards have a strong niche collector base. Since he played on the White Stockings and Colts, many Chicago Cubs collectors want a card as part of their collection. At the same time, pre-war and HOF collectors chase after him as well. Being that 1800s cards are tough to come by, they always fetch a good amount of money at auctions.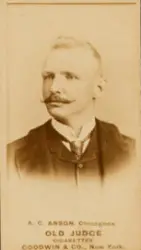 Cap Anson has many different designs within the N172 and N173 Old Judge sets. The N172s were smaller cards while the N173 is a cabinet. 
The most expensive Anson card in existence is the Chicago Uniform N 172. Many people consider this the best Old Judge card produced and possibly the best 1800s baseball card.
1887 Buchner Gold Coin (N284)
While the name may be misleading, these cards were distributed by a tobacco company. Buchner Gold Coins were much thicker and larger cards than some of the other releases within the time period. 
Cap Anson has two different designs within the release. One with his left hand on his hip while the other has him catching a throw at first base.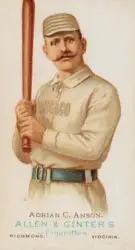 While many collectors know A&G for the annual Topps release, the first set came back all the way in 1888. Cap Anson was one of the 10 baseball players in a release that featured athletes among many different sports like tennis, boxing, and wrestling. 
G & B Gum cards were the first-ever baseball cards distributed through a gum or candy product. Although we think its commonplace as a hobby, every other brand during this era focused on selling through tobacco. Within this set Anson has two different images, one of a portrait and the other batting.
1888 Goodwin Champions N 162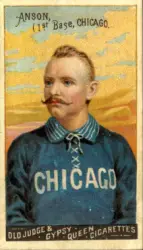 Like Allen and Ginter, this set had a focus on many different sports. These were a bit tougher to find than A&G. Many would consider this Cap Anson to be one of the best-looking cards within the hobby. The imagery is striking in person. Pictures online don't do it justice.
These were locally distributed from the August Beck Company in Chicago. As with many of the other releases Anson was in, he has two designs. One portrait and one batting. 
This was the last playing day release for Cap Anson. These black border cards really stand out in person with their deep rich colors. Mayos are an iconic set/brand as they made some of the first cards for Boxing and Football.