Oscar Robertson is considered by many to be a top 10 basketball player of all-time. One of his most insane achievements is that he once averaged a triple double. He is one of only two players in NBA history to do this in a season. 
In addition to this one season, Robertson averaged 25 points, 7 rebounds, and 9 assists in his career. Crazy how he almost averaged a triple double in his entire career! Robertson played for the Royals for most of his career until he got traded to milwaukee to team up with a young Lew Alcindor.
Oscar Robertson's Best Cards
This is considered Robertson's first ever card. It came with hot dogs that people purchased. All of the cards in this set are Cincinati Royals players except the Jerry West card.
Robertson was not the HOF legend he is known as today, so lots of these cards were thrown out or destroyed. However, there are some that survived and these cards are considered a rarity in the hobby. 
Many of these cards have hot dog stains on them and most are not in good condition. In fact, there are no PSA 9s or 10s.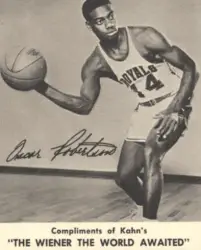 The Fleer card is Robertson's first mainstream card. It has distinct red and orange colors. There are lots of other half-of-famers in this set including Bill Russell, Jerry West, Elgin Baylor, and Wilt Chamberlain. This card is also condition sensitive as PSA 9 examples have sold for about $80,000.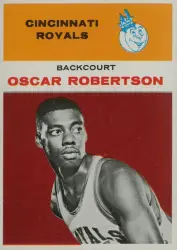 There are very few of these cards as they were not released to the public. Even though 1969 Topps has tall boy cards, these are normal sized. Each player has just a handful of their cards in the PSA registry and oscar robertson was no exception. He has only 9 examples of this card at PSA.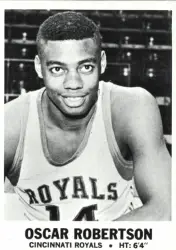 This is Robertson's first tall boy card. SInce there were no sets produced for 8 years, some consider this to be Robertson's second year card. It depicts a close-up photo of Robertson with a green background. Since this card is large in size, this makes it hard to keep in pristine condition. This card is in the same set as Lew Alcindors mainstream rookie card.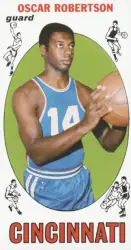 During this year, Topps switched back to producing normal sized cards. This card was made towards the end of his career, however his last card was made in 1974. The 71 Topps card is the first that shows Robertson in color with his whole body fitting within the picture.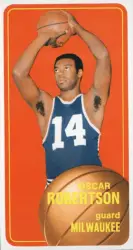 This card comes from a California company and is very fragile. They use the same picture as the 1972 Topps and are thin looking cards. There are only 13 examples of this card in PSAs database.