Allen Ezail Iverson was born in 1975 in Hampton, Virginia.
Iverson's mom was a single mother and worked hard to provide for her family. Despite all the hardship at home, Iverson thrived in athletics. He won states for basketball and football when he was only a junior. Keep in mind that he was fairly skinny and only around 6 feet tall.
Things took a turn for the worst when Allen Iverson was involved with a bowling alley incident. He ended up getting arrested for 15 years. Fortunately, Iverson was about to get out early on conditional clemency and played for the University of Georgetown. Iverson averaged 22 points per game and led the Hoyas to the Eilite 8. After this year, Iverson was drafted 1st overall by the Philadolphia 76ers
In his first year in the league, Iverson won the rookie of the year award. Some did not like Iverson because of his style of play. With this being said, others loved his style on and off the court because it promoted streetball culture.
In the 2000-2001 season, Iverson was the league MVP. He led his team to the Finals this year and fell short to Kobe Bryant and the Los Angelos Lakers. Iverson never won an NBA championship, but he still had an amazing NBA career.
Why are his cards so expensive?
Allen Iverson was a menace on the court. He was extremely quick and hard to guard.
 Iverson also had an insane jumping ability for someone who is one 6 feet tall. 
He could shoot from the outside and had amazing handles. 
Iverson was one of the first smaller players that could absolutely dominate a game.
His cards aren't too expensive, however they have been coming up recently. People are starting to recgonize sports cards as a major asset class. In turn, certain cards of hall-of-famers are starting to rise. Although Iverson does not have a ring, he is an iconic figure that 90s kids adore
This card depicts Iverson making a backwards pass
It is a cool action card
This card is affordable and pretty cheap in a raw state
The Fleer card is found in Fleer Series #2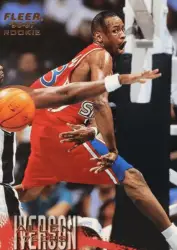 This card is aesthetically pleasing
It shows iverson carrying a ball and his name is in chrome
The Fleer Ultra card is found in Seires 1 and there are rare parallels titled Gold Medalion and Platinum Medalion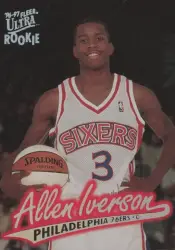 The hoops rookie depicts Iverson going for a dunk
This is a card you are going to want to pick up if you are on a budget
In terms of value, this card has lots of room to grow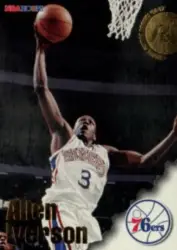 This is one of the more valuable rookie cards
Iverson is pictured yelling 
The card is paper but Iverson's name and the Topps brand has a chrome finish
The Topps cards are always sought after if a player is outstanding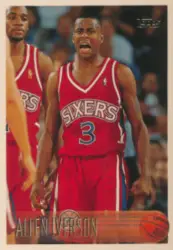 This card shows Iverson holding up the number 1 and a jersey
He did this because he was the first pick in the draft
Upper deck is not the most high end brand, but this card is still nice to have and looks great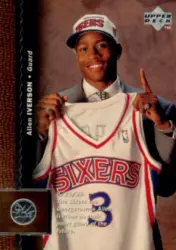 This card depicts Iverson driving to the basket
Iverson's Bowmans Best is not as expensive as some of the other cards here, but still a great choice
Be on the lookout for Atomic Refractors and other awesome paralels.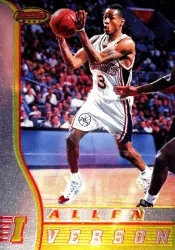 The E-X2000 cards look amazing and are super collectable
The card has a pink background and the blue portion outside Iverson is see through
These cards are tough to find in high grades, so be on the lookout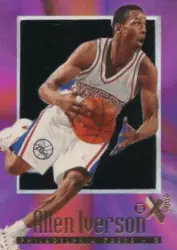 This card has the same picture as the paper topps rookie
The only difference with this card is that it has a chrome finish
There is also a refractor version of this card that is worth loads of money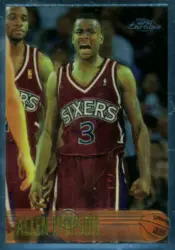 Allen Iverson is a hall-of-fame-player who had an outstanding career. 
His cards have lots of potential as they are not too expensive. 
He was not able to win a ring, but Iverson proved to everyone that heart trumphs height.
Allen Iverson is a point/shooting guard
He was nicknamed the Answer becasue he was Philadolphia's answer
Iverson is known for his insane crossover move
His cards are undervalued as of now and he is loved by 90s kids everywhere
A street culture icon