Lynn Nolan Ryan was born in 1947 in Texas. Nolan Ryan always loved sports. In fact, he even spent two years on his high school basketball tea. (while also playing baseball of course). Ryan was named all-state in high school in baseball.
In 1965, Ryan was drafted as a free-agent by the New York Mets minor league team. The Team respected Ryan's fastball although he did lack some ball control. Nonetheless, he got called up to the majors in the following year
Nolan Ryan became a legendary pitcher who threw 7 no-hitters and stuck out 5,714 batters across his 27-year career. The strikeout king is one of the most collectible baseball players out there. He is still respected for his fastball. Many collectors want a card of his in their collection.
1968 Nolan Ryan Rookie Card
Nolan Ryan has 4 different Rookie Cards. Each of them feature a horizontal design with pitcher Jerry Koosman. Many people don't realize that Koosman actually had a borderline HOF career. He won over 200 Games and had over 2500 strikeouts.
The most expensive Ryan rookie in high grade is the standard Topps. However, the most expensive low graded option is a Venezuela. The reason is that they are extremely scarce to find. They rarely make it to a marketplace or a card show. And most examples are lost/destroyed due to the cheap card stock and distance from Venezuela to the US.
Nolan Ryan is lucky to have all 4 variants as the Johnny Bench Rookie only has a Topps and Venezuela.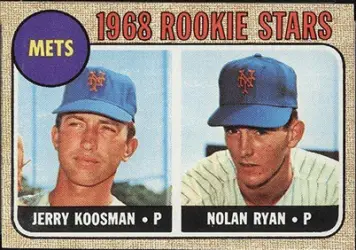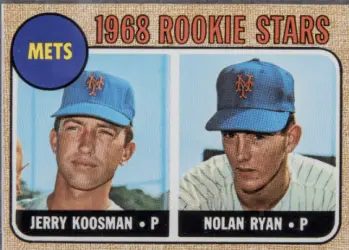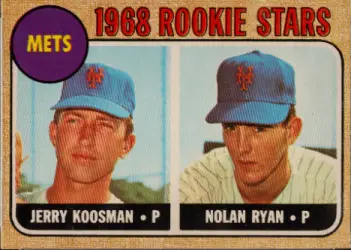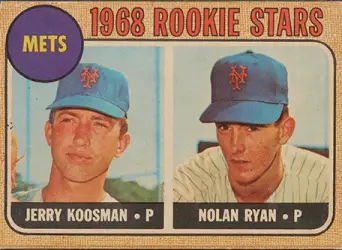 The 68 Topps is one of the most iconic sports cards in the hobby. Often one of the cards is shown on promo flyers promoting card shows or other card businesses. 
It's not a rare card by any means with over 10,000 graded alone at PSA. However, high-graded examples are much scarcer and go for a lot of money. Poor centering issues often limit the opportunities for high grades.
The PSA 10 example of this card sold for $600,000 at Goldin Auctions. Even a 9 is currently a six-figure card.
Lower graded examples are still affordable for most collectors. You can find sub-PSA 3s for under $1000.
The 1968 Milton Bradley was distributed in the "Win a Card" board games. The game featured Baseball, Football, and Automobile cards. 
The total PSA pop is around 500 but the price of the card in lower grades is around that of the normal Topps. 
The way you can tell the card is a Milton Bradley is a white line on the edge and a brighter yellow back. 
O-Pee-Chee (OPC) is a Canadian brand that is known for producing Hockey Cards. In 1965, Topps Gave OPC the license to produce baseball cards. Finding an OPC Ryan rookie is much tougher than a Milton Bradley or Topps. There is a total POP of 147 graded.
With regards to pricing, they are very similar to the Milton Bradley. The highest graded OPC sold for $21,000. 
The Venezuelan Ryan rookie is the toughest to find. With a total PSA pop of 30, they very rarely get to the market.  These cards are extremely tough to find in high grade because the card stock quality isn't that great and you had to ship the cards from South America all the way to America. Don't expect to find an 8, 9, or 10.
Even low-graded 1 and 2s can fetch a few thousand dollars. The highest graded example sold for $16,000 which I think is a bargain compared to the prices of the other Ryan rookies.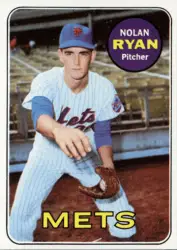 The 1969 Topps is a 2nd year release for Nolan Ryan. It's his first card by himself since the 68 has a split image with Koosman.
The PSA 10 last sold in 2012 for $20,000 but prices have appreciated a ton since then. in fact, a PSA 9 sold for $12,000 in 2021. If the 10 got to auction today, I wouldn't be surprised to see it selling well over $100,000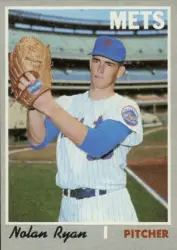 This is Ryan's third year on cardboard. The card is expensive because of it being a high number. If you don't know what a high number is, they were cards printed later in the year. Often in September or October.
During this time of the year, there wouldn't be as much demand for them so the pop reports are a little bit lower. A good example of how a high number gets a premium is by looking at the 1952 Topps set. Compare the prices of Yogi Berra to Roy Campanella.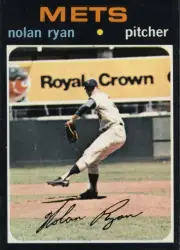 What makes the 71 Topps cards special is the black borders on them. They often chip very easily so finding a high grade on these cards is extremely tough. Many collectors will also pay a premium for them. 
With this card, the highest graded out there is a 9, there are no 10s.
The 71 OPC is a much more difficult card to locate. There have only been 250 graded. However, there are two 10s. 
The front looks nearly identical, however the back is completly different. The OPC is bright and features a players face directly in the middle.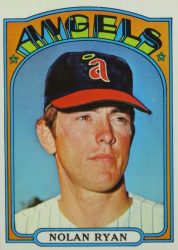 Midgrade examples of the 1972 Topps Nolan Ryan isn't too expensive. But when you get into the higher graded examples the value goes way up. The last 10 sold at Heritage auctions for $45,000.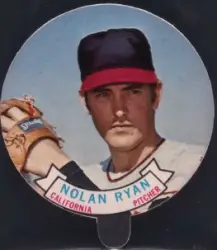 These were a test issue before being released in 1973. They weren't meant to be leaked to the public.
With that being said, PSA has graded 5 of them. Only one has ever made it to auction and it fetched close to $5,000. If one were to go to auction in todays environment, I would expect it to fetch 5 figures.
1973 Topps Comics Test Issue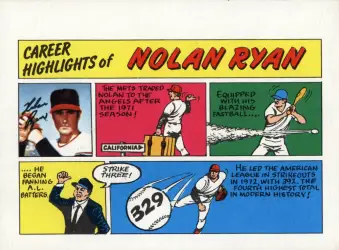 This technically isn't a baseball card, however, it's still issued by Topps. These were supposed to be wrappers used for Topps gum. As a test issue, they were never rolled out to production nationwide. Most examples today will fetch $10,000+ for a mid-grade.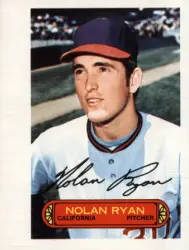 This was another Test Issue that leaked. Currently, 18 are graded. A PSA 8 also sold for close to $5,000. 
Unlike the Candy Lids, these were never released to the public. Topps did honor them in their 2022 Topps Heritage release.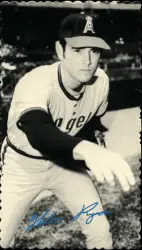 While inserted within many of the topps heritage releases of today, this was another example of a test issue topps produced in the early 70s. Like the others it's extremly tough to find and can command a premium when at an auction house.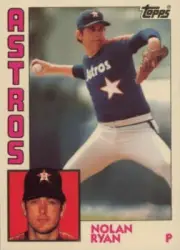 While the 80s had tons of cards produced, the Tiffany sets Topps created were much scarcer. In 1984 Topps released the inaugural set in which only 10,000 were produced. A 10 will cost you over $1,000 and a 9 is a couple of hundred dollars.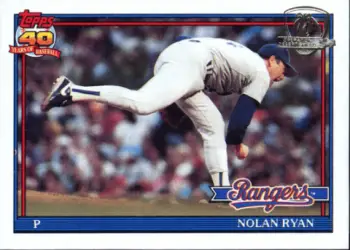 These cards were originally created for soldiers serving overseas on Operation Desert shield. An operation where the US was protecting Saudi Arabia from an Iraq attack.
While many people know this set for the Chipper Jones rookie, the Nolan Ryan is super desirable. It's card #1 and a 10 can go for over $2,000. PSA has only graded 500 of these so it is a tougher card to find.
1991 Upper Deck Heroes Auto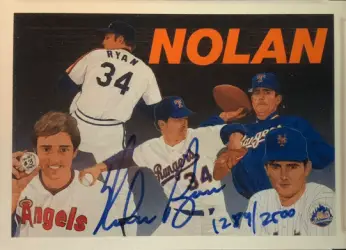 This one of the first pack pulled Nolan Ryan autograph cards. Hand-numbered to only 2500, these cards are super desirable today. The year before, Upper Deck did another promotion of autograph cards with Reggie Jackson. 
1993 Finest Refractor #107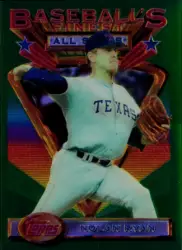 Today in the hobby everyone chases refractors and other parallels, but in 1993 Finest was the first time Topps or any other card company introduced this technology.
The total pop on this card is 140 and a PSA 9 recently sold for $3600 however there's been no sales of a 10. If a 10 was sold in an auction I could easily see it crossing the $5,000-$7,500 threshold.
1999 Upper Deck Game Jersey
To my knowledge, this is the first Nolan Ryan Game Used Jersey Card inserted into a product. Ryan has 3 different cards within the set: A jersey/auto, Astros Jersey, and Rangers Jersey.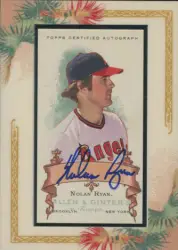 The Nolan Ryan was a chase auto for the first year of A&G. While not marked on the card, there are only a total of 50 copies in existance.