Roberto Clemente Baseball Cards are a staple of any vintage collector's collection. Even modern collectors strive to get a rookie or 1956 Topps.
Before we jump into some of his most valuable and scarcest cards, let's talk about him in more detail.
Who was Roberto Clemente?
Roberto Clemente was born in 1934 in Carolina, Puerto Rico. When he was younger, he worked on a sugarcane plantation. It was apparent early on that Clemente had a knack for baseball. He also did track and field events, but baseball was his passion.
In 1954, Clemente joined a Puerto Rican Baseball team and reportedly played with Willie Mays. He was signed by the Dodgers in this same year and played on their AAA league team. However, Clemente was selected by the Pittsburg Pirates in 1955 during the Rule 5 Draft. 
Since Clemente entered the league, he was an all-star. He had 3000 hits, almost 100 WAR,  and a lifetime .317 batting average. He also won an MVP award, 2 World Series championships, 12 golden gloves, and 4 batting titles.
Unfortunately, his life was cut short when his plane crashed outside of Puerto Rico in 1972. At the time Clemente was on a mission to help aid the victims of an earthquake in Nicaragua.
Clemente is revered as a Latin American hero and there are many public buildings named after him. He is known for being very endearing toward kids. His hero growing up was none other than Monte Irvin who entered the league shortly before he did. Clemente will always be remembered by baseball fans and vintage card collectors everywhere.
How Much is a Roberto Clemente Card Worth
Most Roberto Clemente baseball cards can be found from $50-$200 in lower to mid-grade condition. His rookie and oddball releases are much more expensive and the value is going to start around $1,000.
The Top 10 Most valuable Roberto Clemente cards can be found in the following YouTube video on the Breakout Cards YouTube channel. Check it out above for even more content.
Most Valuable Roberto Clemente Baseball Cards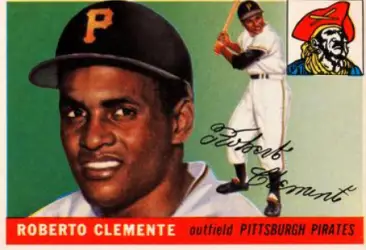 1955 Topps is widely considered Roberto Clemente's rookie card. It's slightly oversized and has a distinct dark green background.
This is definitely one of his most valuable cards as lower-grade versions can cost thousands of dollars. A PSA 9 has reached 7 figures at Goldin Auctions.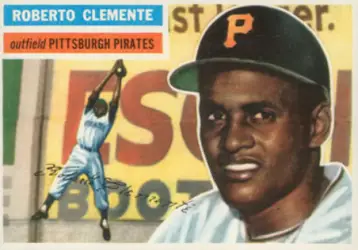 This is Clemente's second year card. It's the same size as his 55 Topps card and uses the same portrait picture. This year they added a white stroke and added an action shot to the background.
The second-year card is a much more affordable option, however, higher-graded examples can get expensive. You can also find this card in both white and gray backs.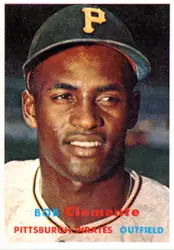 In 1957 Topps finally used a new picture of Clemente. Also unlike earlier cards, Topps now used the first name Bob. 
The 57 Topps cards are notoriously off-centered, so finding a centered version demands a premium.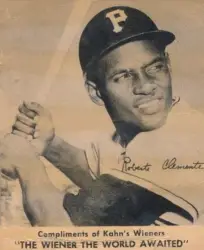 This is Clemente's first Kahns card. These were originally distributed with hot dogs throughout the Midwest. 
This card is wider than a normal card and is a bit oversized. It's pretty scarce as there are only about 40 copies in the PSA registry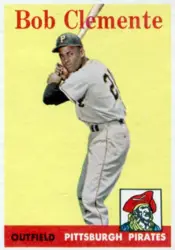 Interestingly enough, the 1958 topps has two variations to it: one with the team "Pittsburg Pirates"  in white letters and one with yellow letters. The Yellow print (as with other cards such as the Hank Aaron) is more of a short-print and worth a bit more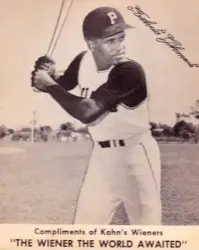 This card is the same size as the previous year Kahn's card. It shows a full body picture as opposed to the earlier portrait. This card is EXTREMELY rare as there are only 8 graded in the PSA registry. It's actually worth quite a bit more than the 57.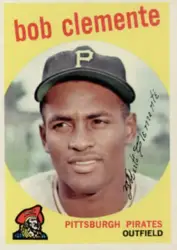 Similar to the 58 Topps, this card also has a yellow background. One difference is that this card is a portrait. You can usually find a decent copy for under two hundred dollars.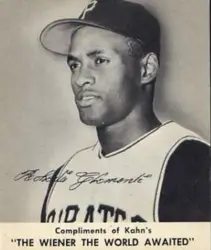 This Roberto Clemente baseball card looks similar in previous years. Its not as scarce as the 58 issue but still rare. High grades demand a premium. In fact, a PSA 7 sold for about $5,500.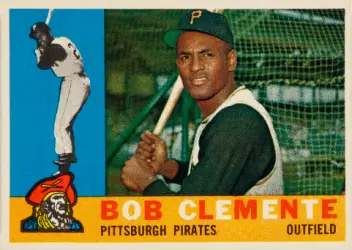 In 1960 Topps went back to a horizontal design. This card used bright contrasting colors of Blue/Yellow and a close-up batting portrait.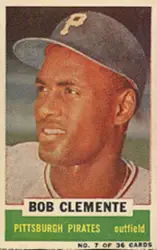 This card shows an up-close portrait of Clemente. It's a hand-cut card from the box bottom of Bazooka gum. In higher grades, this card seller for a bit of a premium. In fact, a PSA 9 version just sold for $1,000
1961 Manny's Baseball Land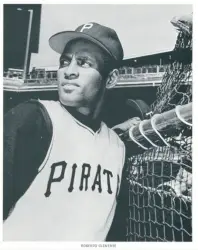 This card is as big as a cabinet card. There aren't many sales of this card and not many are graded. PSA has only graded 83 of these in total.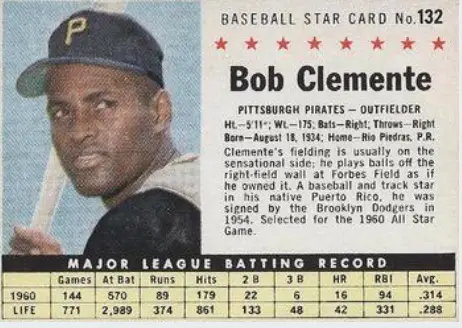 The post cereal cards are hand cut off the back of the cereal box.  A lot of these cards end up receiving an authentic grade because the borders of this card can't be missing. It's actually a quite affordable Clemente for a beginner collector.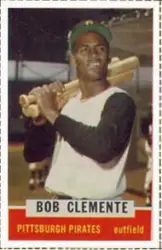 This card is much smaller than the previous Bazooka. It came attached in a 3 card panel with Dick Howser and Al Kaline. You can see the perforations on each side. Collectors can either grade the uncut trio or Clemente as an individual.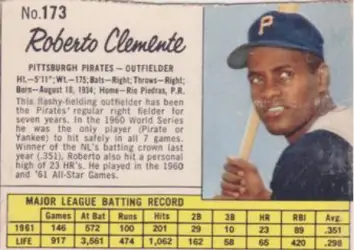 This card looks strikingly similar to the Post Cereal card. It's also the same size and came from a jello box. Prices for these are also very similar.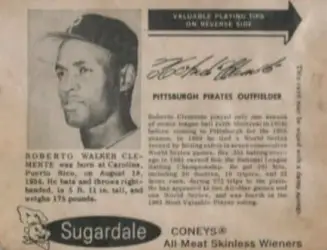 Believe it or not, there is another hot dog company with Clemente's card. This card looks as if it was pulled out of a news article. It doesn't have any stats but does have a full bio on the card. Very few copies exist and the price is over $1,000 for any copy.
1962 Topps Baseball Bucks
This is an oddball as the card looms like U.S. currency. Clemente is on the $5 bill in this set created by Topps. It's fairly affordable and is only around $100.
1962 Venezuelan Topps #10
This Roberto Clemente baseball card was originally printed in Venezuela! Although it looks almost identical to a normal topps version, its much more expensive.
One way to know if you have a US or Venezuela card is to look at the bio on the back. The Venezuelan card is in spanish. 
These cards have become much more valuable over the past few years and are condition sensitive.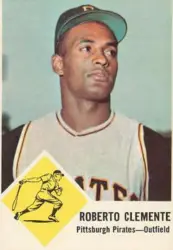 This is another cheaper Clemente option. It's his first Fleer card and only high grades of this example hit 4 figures.
The Topps Stand up has a distinctly yellow and green background. It shows Clemente throwing and has a perforation on the outside of the card. Looks very similar to the 1934 Batter Ups.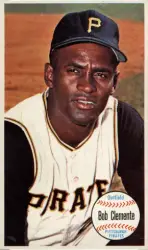 1964 Topps Giants are an extremly great way to get into HOF players cheap. Most upper mid grades can still be found for around $100 already graded.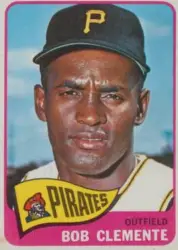 This is Clemente's first O-Pee-Chee card. These were made in Canada and look strikingly similar to the U.S counterpart. One way to differentiate them is to look at where the cards were printed and the cut to them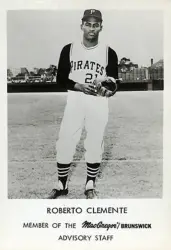 This card is oversized and has no color. This card elusive and part of an 11 card set. This card says "advisory staff" on it. This card was intended to be a promo, but ended up. being a rarity of the hobby.
1966 Venezuela Topps #300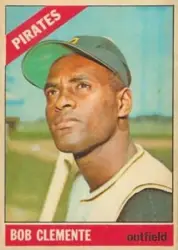 This is Clemente's second Venezuelan Topps card. Although most are low grade, this card sells for a premium especially if it's not too beaten up.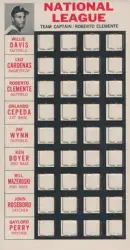 The punchouts are an EXTREMELY tough test issue to find. These were originally distributed in Maryland and very few are still left in existence. 
The Punchouts show a team captain on the top left as well as a full lineup down below.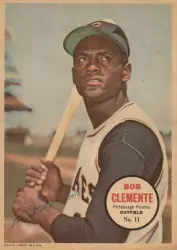 One of Clemente's larger "Cards" these pinups are 5" by 7" and feature blank backs. All pack-pulled examples will have multiple creases on them as well as they were folded up into packs.
1967 Topps Pirates Stickers #6 and #27
This was another test issue set that Topps released exclusively to the Pittsburgh market. The set has a total of 33 cards and Clemente is featured twice. 
The Bob Clemente for Mayor card is one of my favorites and something I didn't know existed until researching this article.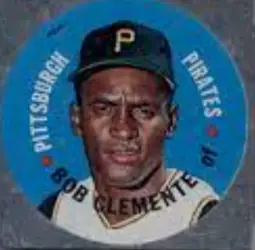 These discs were never released to the public. In fact, most that are out there come from uncut sheets. That's why they look as if they were meant to be cut out in a disc shape, however they have a square shape if you include the background
1967 Venezuelan Topps​ #278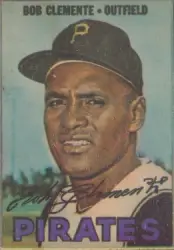 The 1967 Venezuelan cards are a bit controversial.
Rumor has it that Topps never officially licensed these and that they are technically bootlegs. Regardless there is a ton of demand for them since they are a tougher year for Venezuelan cards.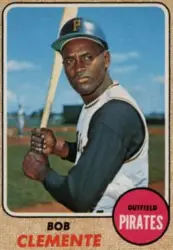 This is Clemente's second O Pee Chee baseball card. It appears to have a slightly lighter tint that a normal Topps card. As mentioned before, it also says it's made in Canada on the back of the card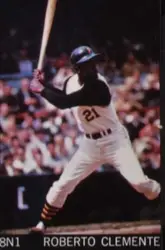 The Sports illustrated card was a poster promo card. And to my knowledge this is the first time that Sports Illustrated made cards.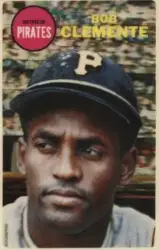 This is one of Clemente's most expensive cards. It's part of a 12 card test set and was pretty revolutionary as it was the first 3d design. It's rumored that they were offered only in Brooklyn stores. Many of the copies today also exist from Topps employees who took examples home. A PSA 10 example recently sold for $162,000 making this the 2nd most expensive Bob Clemente baseball card.
1968 Venezuelan Topps #150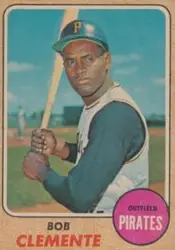 As well as a Topps and OPC version, there is also a Venezuelan version of this card. Similar to other vennys, it is scarce and condition sensitive. One easy way to tell this card apart from its counterparts is the brownish quality of the paper stock
This is Clemente's first Milton Bradley card. It was a toy company and this card has rounded corners. Its an affordable card, and only gets expensive in PSA 10 condition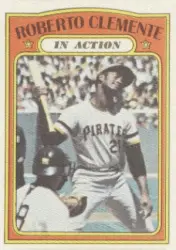 The 1972 Topps Cloth was another test issue that ended up in the hands of the public through employees. 
The only examples known to exist came from uncut sheets. 
Due to this, many are high grades.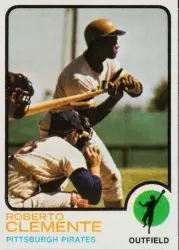 This is Clemente's last playing day Topps card. It's a cool card that shows him batting. Its extremely cheap and can be found for a few dollars in the raw state.
Final Thoughts on Roberto Clemente Baseball Cards
Roberto Clemente baseball cards are going to be in demand for a very long time. To this day, hes still one of the most popular MLB players of all time and even has an award named after him.
With a wide variety of cards ranging from standard Topps to rare oddballs, there is a card for every type of collector.