From 1964 to 1967 Topps lost the NFL license to Philadelphia Gum Company. This led to a split in future Hall of Fame rookie cards across Philadelphia, for the NFL, and Topps, for the AFL. Standard size cards every year, Philadelphia mostly featured the same portrait style photos with blank backgrounds as had been the style Topps had used. The unusual part about that is the NFL, unhappy with Topps with for not doing a better job with this, chose Philadelphia Gum, who did the exact same thing. Side note, can the NFL finally get tough on EA Sports and Madden for being complacent? Please. We're begging you.
Seven Pro Football Hall of Famers find their rookie cards in 1964 Philadelphia. The unfortunate part is none of the seven are in the upper portion of collectability. Not a good start for Philadelphia to make their mark, or now looking back upon it.
Most Valuable 1964 Philadelphia Football Cards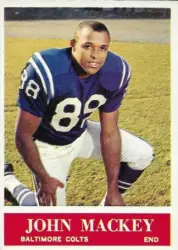 Mackey was essentially Travis Kelce in the 1960's. Ability to run over defenders, along with just enough speed to run past all but the secondary was terrifying in the 1960's. Five-time Pro Bowler won a Super Bowl as a key piece and has the 'John Mackey Award' named after him for the best collegiate tight end of the year.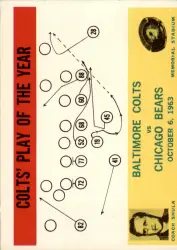 Don Shula never got a card during his seven-year playing career outside of the obscure 1955 All American Club set. Four-time coach of the year won two Super Bowls as coach. Direct descendent of the Paul Brown school of study film and prepare, Shula's teams were contenders for close to four decades. Major release rookie card comes on the Play of the Year team card featuring his image on the bottom left corner.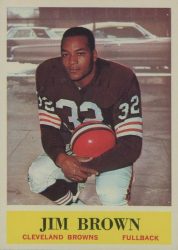 There are other cards that are more valuable than most of these Hall of Fame rookies. The Jim Brown for example would be most valuable across all cards if grade was equal and not being some random single digit population graded copy set collectors chase harder than they should. Johnny Unitas and Bart Starr are more valuable than most of this list. Mike Ditka, Bob Lilly, Dick 'Night Train' Lane, and others have cache to trump rookie value as well.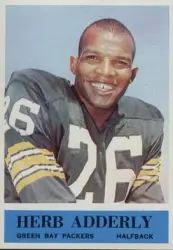 Herb Adderley was a seven-time All-Pro, won six league championships, and was one of the leagues best ball hawks for a decade. Used a technique to bait quarterbacks into thinking his receiver was open to generate interceptions. Was switched from running back to cornerback during his second pro season. Has a 1961 Lake to Lake pre-rookie as well that was stapled onto milk cartons. His regular Philadelphia rookie carries an uncorrected error where his last name is spelled 'Adderly'.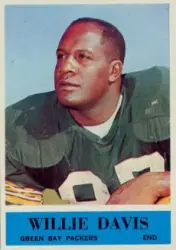 Davis was drafted in 1956, but only started with the Cleveland Browns in 1958 due to military commitments. Was then a backup, and traded to the Packers in 1960 for A.D. Williams, who had a career 15 receptions. Whoops. What the Browns gave away was an end who probably averaged 10+ sacks for a decade as sacks were not officially kept until 1982. Six-time All-Pro won five league championships with the Packers. Has a 1960 Kahn's Weiners pre-RC in a Browns uniform that is extremely rare, and like Adderley, a 1961 Lake to Lake milk carton card, where Davis is an expensive short print.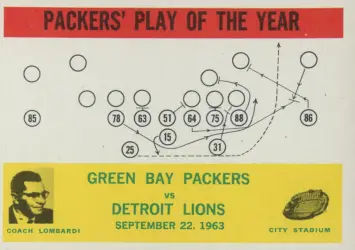 Lombardi is simply top tier all time amongst even the Hall of Fame coaches. Few of the 1960's Packer legends were high draft picks, and Lombardi developed them all. Does get hobby love in terms of autographs and memorabilia cards, but his rookie cards are dirt cheap. Featured on a 1956 Giants team card, but as an assistant coach so his 1964 Play of the Year is considered his rookie. Like Shula, and all the other Play of the Year cards, his photo is prominent in the bottom left.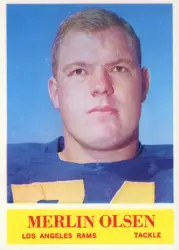 Olsen was a 14-time Pro Bowl selection, tied for second all-time behind only Tom Brady. Had a lethal combination of size, speed, and technique to be on the of the few players to make the All-Decade team in two decades. Along with arguably the best defensive end of all time, Deacon Jones, and Pro Bowl caliber players Rosey Grier and Lamar Lundy, formed 'The Fearsome Foursome'. Became a broadcaster after his playing career.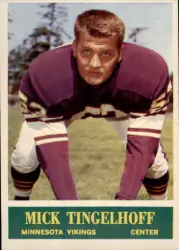 Seven-time All Pro originally started as an undrafted free agent. Was a key piece of the Minnesota Viking teams that made it to four Super Bowls. Started 240 consecutive games at center.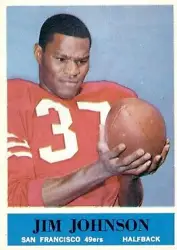 Jim Johnson, no, not the Cowboys coach, was a two-way player in both college and the NFL. Injuries forced him into playing offense in 1962, and Johnson was actually good at it. Eight-time All Pro player, Johnson used his speed to become a man coverage demon.
In summary, there is an element of only football guys chasing this checklist, but there's two top-tier coach rookies, a possible greatest of all time defensive tackle, and two Packers who will always have a
fanbase to support. Philadelphia Gum Company may be a line item for Tootsie Roll Industries currently, but they will always have a place in football card history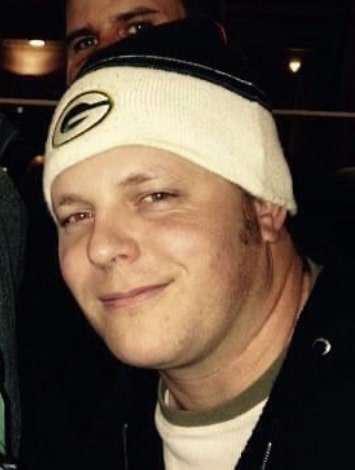 Paul. Card collector since 1993. Serious collector since 2014. PC Pro Football Hall of Famers regardless of team. Go Packers, Seminoles, New Jersey Devils, Milwaukee Bucks, and whoever I have money on in auto-racing. Would rather be found forging my own path than following the beaten one.