Sandy Koufax baseball cards are some of the most desirable in the 1950s and 60s. Many consider him to be one of the most dominant pitchers ever. He has a cult-like following among many card collectors. 
Sanford Koufax was born in 1935 in Brooklyn New York. Unbeknownst to some, he first excelled in basketball and earned a scholarship to the University of Cincinatti. While in college he also joined the varsity squad. His time in Cincinatti was brief as Koufax was signed by the Dodgers after his first year.
For the start of Koufax's career he was fairly average. It wasn't until 1961 that he had his breakout season. He ended up breaking Christy Mathewson's strikeout record (269). he ended up winning NL MVP in 1963.
Koufax led the Dodgers to the World Series in 1963 and 1965. In the 1965 World Series, Koufax famously sat out of Game 1 because it fell on Yom Kippur. His last season was in 1966 where he posted career bests in games won and ERA and also won the Cy Young award.
During his career, Koufax won MVP, 4 World Series, 3 Cy youngs, and 3 Triple Crowns. Pretty impressive. Not to mention he had an ERA of 2.76 and 165 wins in his career.
How Much is a Sandy Koufax Baseball Card Worth
Most common Sandy Koufax cards in low to mid grade are worth around $100. A rookie and Venezuela cards can be $500+
Most Expensive Sandy Koufax Baseball Cards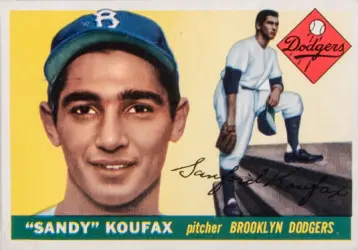 The 1955 Topps baseball card is Koufax's first card. It has a distinct yellow background and is considered his rookie card. The price of this card increases greatly as the consider goes up, however you can obtain a lower grade version of this card for a few hundred dollars.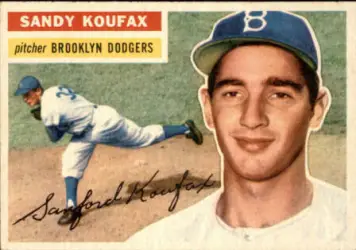 This card is the same size as his rookie card but sports a different picture. It's cheaper than his 55 Topps card and you can find mid graded versions for a few hundred dollars.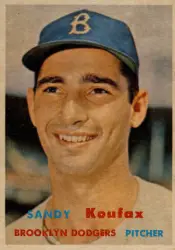 This card depicts Koufax was a standard portrait image. This set is notoriously off-centered, so keep in mind that any centered version will come with a bit of a premium. Higher grade versions of this card sell in the thousand dollar range.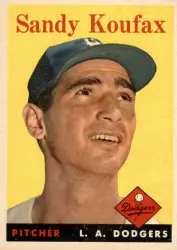 Similar to the rookie card, this card has a bright yellow background. In a PSA 6, this card sells for about $250. A super affordable card with a good image that can be obtained in high grade.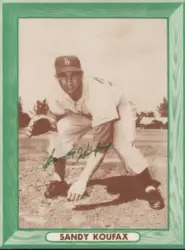 This slightly oversized card was a regional release. There are about 100 graded copies at PSA and the card has a facsimile autograph. It carries a high premium as this card sold for $9,000 at auction in a PSA 8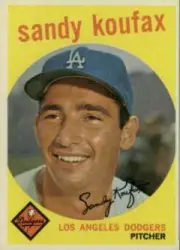 Along with the two previous cards, this card also has a yellow background. Its also extremely affordable in low grade, so keep a lookout for it at your next card show!
This card looks strikingly similar to the 59 Topps except the hue and stock look a bit different. This is because it's a Venezuelan Topps card. These are scarce and extremely condition sensitive. A PSA 3 example sold for $3,300 in 2018 by REA auctions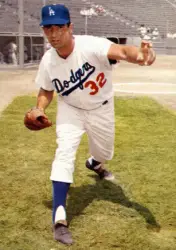 This card sports a crisp image of Koufax pitching. It was given with packages of meat and was part of a 12 card series. According to Heritage auctions, this card has a total graded population of 9.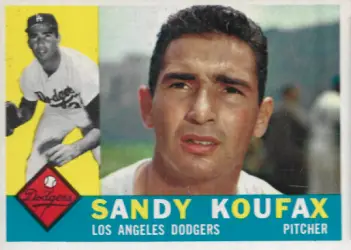 The Topps company really liked associating Koufax with the color yellow because this is 4th time he has a good amount of yellow in his card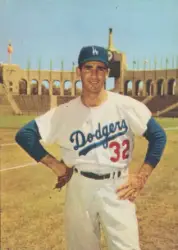 This is his second card from this meat company. It's not nearly as expensive as the initial release. You can get a mid grade version of this card for a few hundred dollars.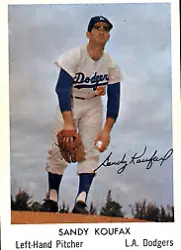 This card shows Koufax standing. It's the third card this company has produced. It's not too expensive and can be obtained with a few hundred dollars. 
This is a hand-cut card of Koufax. It came with bubble gum. Its smaller in size and can eclipse 4 figure in high grade.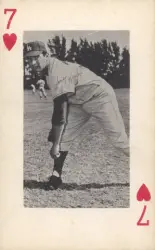 This is an exhibit card which means it's oversized. This card is the 7 of hearts which is interesting considering it's much bigger than a playing day card. 
1964 Meadowgold Dairy Hand Cut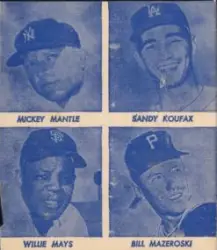 The Meadowgold Dairy card was placed on the back of milk cartons with three other cards. The Koufax can be found in either a blue or green tint. The card shows a picture of him laughing.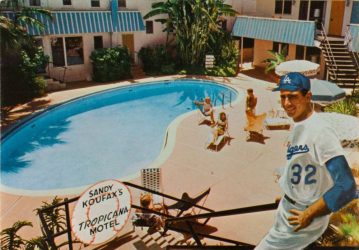 This is a valuable postcard with two variations: street clothes and uniform. It's very rare and this attributes to it's value. A PSA 9 street clothes variation sold for $7,800 in 2018. The variation with the uniform sells for more.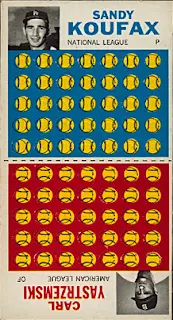 The 1966 Punch-Outs are considered one of the rarest test issues that Topps ever produced. This special card features two hall of famers. Both Sandy Koufax and Carl Yastrzemski. Due to that, it would be close to a five figure card if it hits an auction house.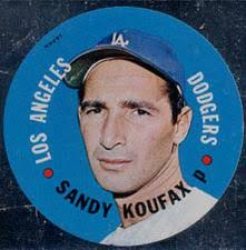 These were test issue cards. This makes them scarce and also valuable. Some other hall of famers such as Carl Yastrzemski. The only copies on the market today came from sheet(s) that were cut after market.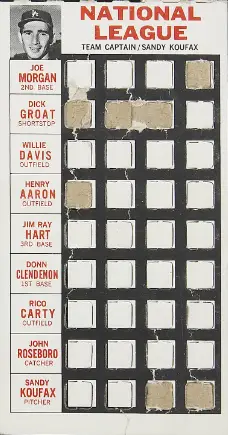 While not as tough as the 1966 release, this is still not easy to find. This Koufax baseball card includes a lineup with an image of Sandy on the top left.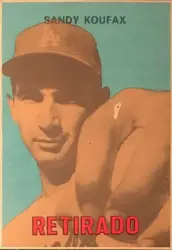 This is a non-playing day card of Koufax (Retirado means retired in Spanish). It has a distinct blue background. Due to its origin, this card is condition sensitive. Non-playing day cards normally do not have much value but this is an exception
Final Thoughts on Sandy Koufax Baseball Cards
There are lots of cool Sandy Koufax baseball cards to collect. Some are mainstream and others are more niche. There's lots to collect for everyone, so try to find the card that's right for your collection