Hank Greenberg Baseball Cards are a staple of the 1930s releases.
Hank Greenberg (a.k.a the Hebrew Hammer or Hammerin' Hank) was born In 1911 in New York City, New York.
Greenberg was a star at his local high school as a baseball player. He achieved every kid's dream and was offered a contract by the New York Yankees out of high school. However, he knew he would have to outperform Lou Gehrig to be able to play and turned down the offer. Greenberg went to New York University.
After attending university for one year, he signed to the Detroit Tigers in 1929. Shortly after, he was sent to the minors. It wasn't until 1933 that he played a full major league season.
In precedent to Sandy Koufax, Greenberg sat out of a playoff game in 1934 because it was on Yom Kipper. It wasn't until 1935 that Greenberg helped the Tigers win a world series. In 1938, Greenberg came 2 home runs shy of Babe Ruth's home run record at the time. 
Hank Greenberg was the first Jewish superstar in baseball. One cool fact is that he publicly welcomed Jackie Robinson in his major league debut in 1947. He served in World War 2 and his baseball career was cut short. He only played 9 years yet amassed a WAR of 55. In these 9 years he had over 300 home runs and 1,000 RBIs. Hank Greenberg is somewhat of an unsung hero and an absolute baseball legend.
Most Valuable Hank Greenberg Baseball Cards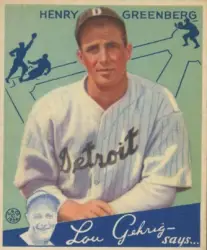 This is Greenberg's mainstream rookie card. It's arguably his most sought after card. It comes out of the second Goudey baseball card set. You can find a PSA 4 for about $2,000. With regards to higher end examples, a PSA 9 of this card sold for $220,000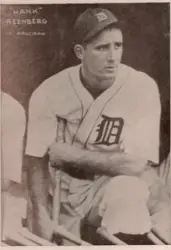 This card was part of a 23 card regional set. This card is part of a Tigers team set. Its fairly rare, so keep your eyes out for this card
1934 R304 Al Demaree Die-Cuts

This card don't look like your standard card would. It's fairly long and shows Greenburg standing. This is another rare Greenberg card that sells infrequently.
1934-1936 Diamond Stars Hank Greenberg #54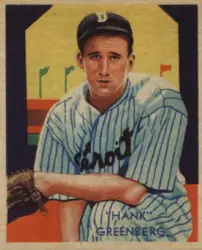 This is his second card from a major release. Unknown to some, there are two versions of this card. One of which spells his last name wrong (Greenburg) and is much rarer. A normal version of this card typically sells for about $1,000
1934-36 Batter Up Baseball Hank Greenberg #57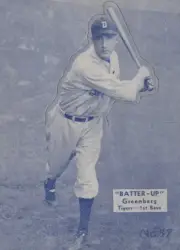 Another card from 1934 is the Batter-up card. This card has perforations and can be cut out in the center. The card is worth more if it's in tact and a mid grade version goes for around the $1,000 range
1935 Goudey 4-In-1 Pete Fox, Hank Greenberg, Gee Walker, Schoolboy Rowe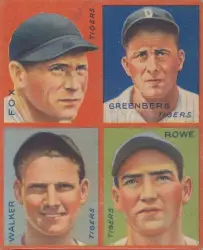 In this set, 4 players are featured on one normal sized card. Mid graded versions of this card sell around a few hundred bucks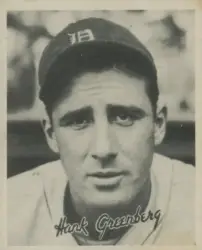 These cards are in black and white and pretty distinct. Low graded versions of this card sell for about a few hundred dollars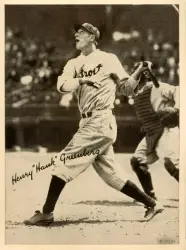 This card is oversized as it's a premium. It's a cool picture that depicts Greenberg swinging. It's not too expensive and sells for a few hundred dollars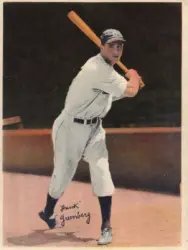 The R312 is also a premium but it has cool. It also has a different picture that's in color.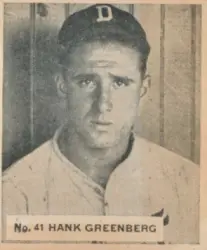 The World Wide Gum card is rare and this one can sell for a few thousand dollars in low to mid condition. This set is a Canadian release.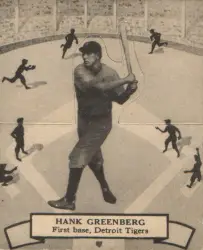 This is a Canadian release and the first OPC baseball card release. It has a distinct baseball diamond look. This card carries a high premium as a PSA 7 sold for $4,000.
1938 Goudey Hank Greenberg #253, #277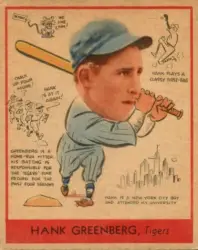 There are two versions of the card: one without cartoon drawings and one with. Other than that detail, these cards look the same. This is Goudey's last release. Mid grade versions of these cards sell for around $1,500.
1939 Play Ball Hank Greenberg #56
1940 Play Ball Hank Greenberg #40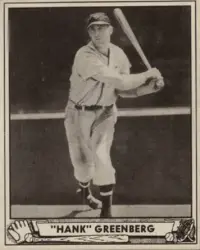 This card is in black and white and has a nice border background. Mid graded examples sell around $100
1941 Play Ball Hank Greenberg #18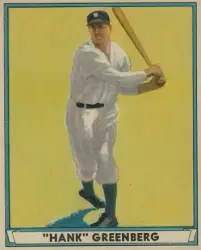 The 1941 Playball looks similar to the 1940 Playball except it'a in color. In terms of price, this one sells for slightly more as the 1941 is preferred over the 1940 due to it's appearance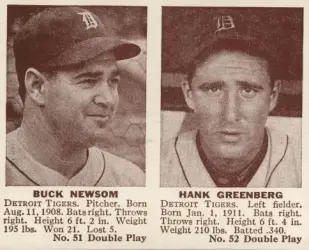 Greenberg has two cards in this set. One with Red Ruffing and another with Buck Newsome. Both of these cards are cheap and can be found for under $100 in poor condition.
1946/1947 Propagandas Montiel #59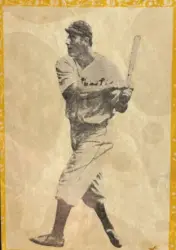 This is a Cuban release that features American baseball players. These cards are extremely condition sensitive and rare as well. Centering is an issue with these also. A PSA 1 sold for $150 in 2019, but the rarity definitely carries a premium.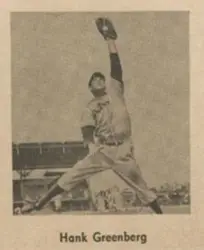 These are hand cut cards. Surprisingly, there are high grade versions of these cards that have survived. This card is rare as a PSA 3 recently sold for $460
This is Greenberg's final playing day era card. This card was hand cut. You can find. a mid-grade version of this card for about $100 
2002 SP Legendary Cuts Hank Greenberg Cut Autograph #/94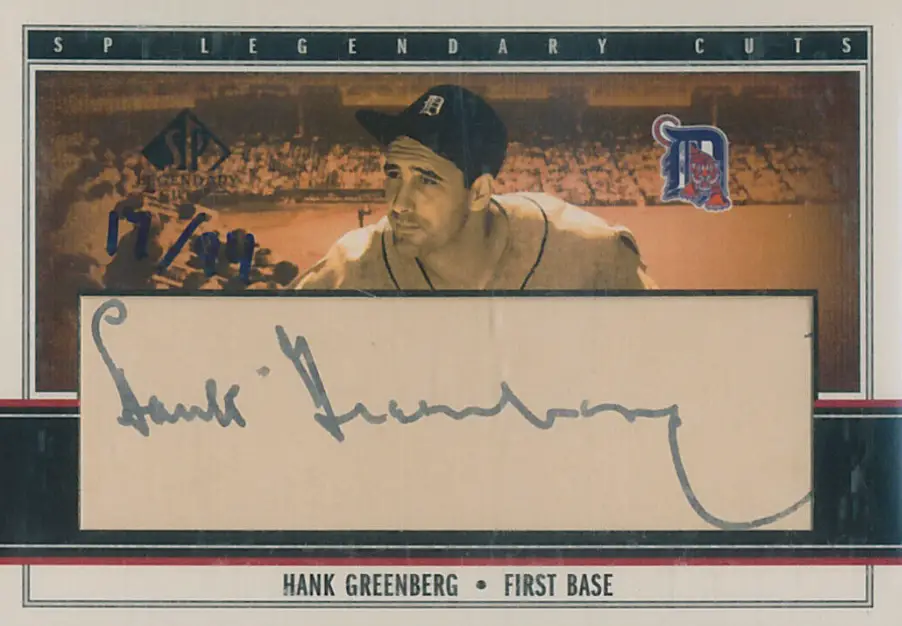 This is Greenberg's first autograph card. His autograph is not too common (especially if you look at how many signed cards he had). This one in particular isn't too expensive and costs a few hundred dollars
Final Thoughts on Hank Greenberg Baseball Cards
Hank Greenburg was the first all-time great Jewish baseball player (before Sandy Koufax)
He was a superstar and got cut short due to the War.
His cards are valuable and have become collectable over time.