Tristram E. Speaker was born in 1888 in Texas. His family supported the Confederacy during the Civil War which only happened around 20 years before Speaker was born.
He was born right handed, however he learned to use his left hand to throw and hit. Speaker also played football in high school. After his time in high school, he went to Fort Worth Polytech (a.k.a. Texas Wesleyan University) where he played for their baseball team.
When his time in college commenced, he wrote professional teams and asked for a tryout. This landed him a position in the Texas league. Speaker was originally a pitcher, but it didn't work out. However, he started to find success as an outfielder.
In 1907, the Boston Red Sox purchased his contract. He had an underwhelming year and the Red Sox didn't extend him a contract. He then called John Mcgraw, manager of the New York Giants, and asked him to play for the team. He refused and Speaker went back to the minor leagues. Speaker proved his worth, and made it back to the Red Sox. He then led then to 2 World Series championships in 1912 and 1915.
While Speaker had a career WAR of 135, 3500 hits, and a 158 OPS+ his cards are a fraction of the price of Cobb's. This makes Speaker a more affordable option if you are looking for HOF Pre War Cards or legendary baseball players
Speaker has a few cabinet and postcards from 1907 and 1908 but many consider his T206 to be the true rookie card. 
It came out in 1909 which was his 3rd year in the league.
Most Valuable Tris Speaker Baseball Cards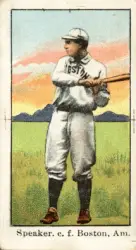 While the most valuable card in the set is the Joe Jackson rookie card, Speaker is still heavily desirable. The E90s have bright colors and pop out to the eye. In my opinion with the Speaker, looking way nicer than his T206 counterpart. 
Price wise you are looking at low 4 figures for a 1 or a 2.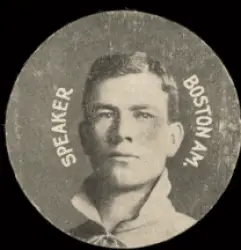 The Colgan's chips were circular discs which were unlike most releases during the time period:  they were tiny and lacked color. 
Although the set is loaded with stars, the price point on many is still somewhat affordable. Within the set you can also find the "Poor Mans" copy of Honus Wagner. 
A low to mid-grade example of the Speaker run under $300 so it is a great budget-friendly option.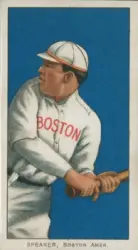 Unlike many other stars in the T206 set, Speaker only has one card. Which makes finding a T206 a bit more difficult.
Different backs found on the cards will increase the value. Rarer backs like Hindu or Lenox multiply the value of the card.
1910-19 Coupon Cigarettes T213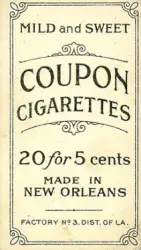 This card has a nearly identacal front as a T206, however, they have a large Coupon Cigarettes back. Many collectors believe that the Type 1 should be classified as a T206 whereas Type 2 and 3 are different releases. 
These cards came out after the T206 set and are considered fairly rare.  There are three different Types. Type 1 – 1910, Type 2 – 1914, Type 3 – 1919
1910 American Caramel Die Cuts E125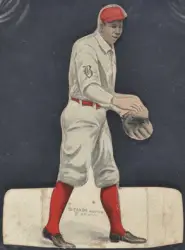 The E125 Caramel die cuts were much larger than other typical caramel cards. In the set, Tris Speaker has two different cards: One fielding and one batting.  
The last PSA 1 Fielding went for over $2,000 at auction all the way back in 2018.
1910 American Caramel E91-C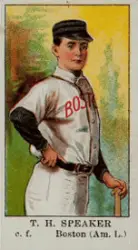 The E91C is another early example of a Tris Speaker caramel card. It's actually a bit cheaper than his e90 although it has a slightly higher pop report. As of the moment there are less than 40 graded with PSA.
1910-11 Sporting Life M116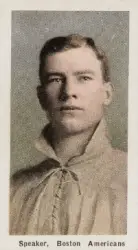 This set was distributed to subscribers of Sporting life magazine. Due to this distribution method, many of the copies around are still in fairly high grade. 26/38 of the Speaker cards graded with PSA are a 5 or higher. 
Due to this, an 8 back in 2021 only sold for $4,800.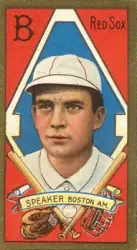 The T205 Cards are considered some of the best-looking cards ever produced. The T205 is a slightly cheaper option but in my opinion a much nicer-looking card.
They have a gold finish to them which makes the cards stand out quite a bit,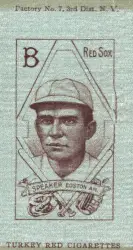 The S74 silk uses the same exact image as his T205 card from above. To my Knowledge PSA does not currently grade these cards, however, SGC does. 
1911 Baltimore News Newsboys Series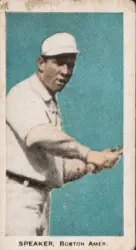 The newsboys card is extremely rare and has a distinct blue background. These cards are considered to be newly discovered and you can count the pop by using one hand. a PSA 3 sold for $4,000 in 2019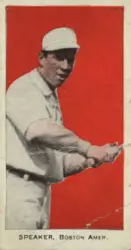 This card was distributed by a candy shop when people bought from them. There are multiple different color backgrounds including Red, light green, dark green, and purple.
This card has the same image as the Newsboys card, but was made by a different company.
1911 Mecca Double Folders T201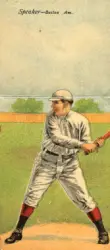 The Mecca double folders were much larger than many cards of the era. Two players are featured on each card. Speaker shares his with 2b Larry Gardner a 4x World Series champion who accumulated close to 50 WAR across his career.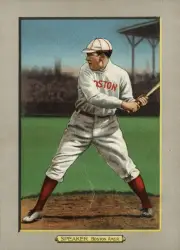 One of the best looking sets during the era. Each cabinet card features large painted pictures. It's a shame they didn't have smaller cards as they would be much more desirable.
Topps remade these within baseball card sets in the early 2000s. 
The T207 cards were produced in 1912 which was Tris Speakers MVP year. That year, Speaker hit .383 and stole 52 bases.

Like the T205 and T206 cards, you can find different advertisements on the back. The most common in this set are Recruits which wasn't featured in the previous speaker cards.
You can also find Broadleaf, Cycle, Napoleon, and Red Cross.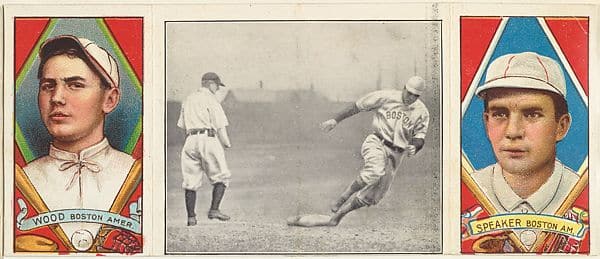 Also released in 1912 Hassan Triple Folders features 3 different cards in one. The booklets featured portraits on both sides and a big picture in the middle. 
The images used on the portraits were the same as the previous year's t205 release.
Tris Speaker has two different cards in this set. One with Smokey Joe Wood and the other with Hack Engle.
Joe Wood is the one to get as he had a borderline HOF career as a two-way player. He was a great pitcher until hurting his arm. He then transitioned to a position player where he batted .283 for his career. In total, he had over 40 WAR in his short injury-plagued career.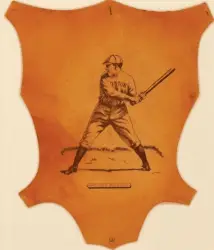 This is not your traditional card, instead of cardboard, this is made out of genuine leather. One had to redeem 50 Turkish Trophies cigarette coupons to receive a player.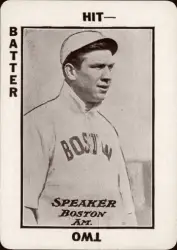 This card comes from a playing card set and has a red background. It is curved at the corners and high grades of this card exist frequently.
There is another version of this card called the Tom Barker game card which features the same design but a different card stock.
CJs are some of the most iconic baseball card sets of all time. These cards are much more difficult to find than other cards on this list. In fact, the 1914 Cracker Jack Speaker is more expensive than his t206 rookie card in low grade.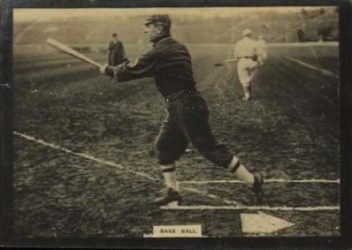 Susini is an oddball multi-sport release in which you can find athletes ranging from George Hackenschmidt to Jack Johnson. Released in Cuba, these black border cards are tough to get in good shape. 
The front of the card states Base Ball, and speaker isn't directly named. But this was common with international pre-war baseball cards.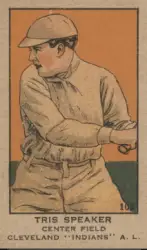 This card was hand-cut and is considered a strip card. Note that if a card is in the "W" series and has a cartoonish look then it is probably a strip card.
This one features Speaker later on in his playing day
1921 Oxford Confectionery (E253)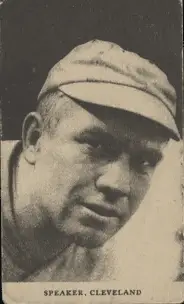 The Oxford Confectionery card was given out with caramels. It is common to see a caramel stain on this uncommon card. It makes high grades tough to come by.
1922 American Caramel E121
Tris Speaker has two variations in this set: a small and large projection. The Large projection is much scarcer with a total pop of 6! The small projection has 30 graded.
1928 Harrington Ice Cream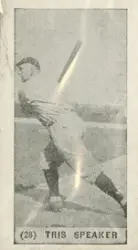 This card was distributed when people bought ice cream. it shows the same picture as the American Caramel featured above, but has a different description and is much smaller in size. it's one of his last playing day card.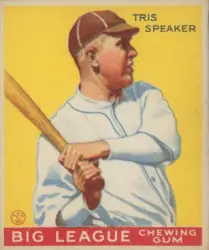 While Speaker retired in 1928, this card was released 5 years later. This wasn't uncommon in the 33 Goudey release as other retired stars like Lajoie and Cobb also have appearances.
Being an iconic set in the hobby that many people want to collect, the Speaker always has a high demand.