Most Pre War card collectors will have at least one Cy Young Baseball Card within their collection.
Denton Cy Young was born shortly after the Civil War in 1867. Young grew up on a farm.
Young spent much of his childhood on a farm and dropped out in 6th grade to help his family out. During this point in his life, he started playing baseball and joined two semi-pro teams. In 1890, Cy Young signed his first pro contract with a minor league team in Canton, Ohio at the age of 23.
It was here that he was dubbed "Cyclone" which was shortened to just "Cy". Some don't realize it, but Young was 6' 2" and a little over 200 pounds which was considered huge during this time period.
After a short minor league stint, his contract was purchased by the Cleveland Spiders (now known as the Cleveland Guardians). In 1901, he got a massive contract from the Boston Americans (later known as the Red Sox).
He won the triple crown in Boston his first year there. And in 1903  helped the Americans win their first ever World Series. Cy Young has very few 1800s cards but has a lot towards the end of his playing day career.
Most Valuabel Cy Young Baseball Cards
1893 Just So Cy Young Rookie Card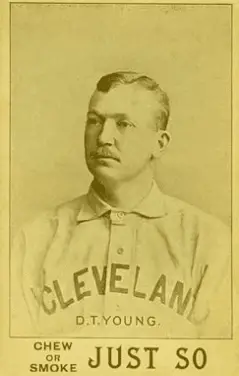 Getting called up in 1890, Cy Young just missed out on having an Old Judge or Allen & Ginter Rookie Card. His first official release is 1893 Just So. The set only had 16 players who had played for the Cleveland Spiders. These were much larger then other cards from the era.
Besides Young, you can also find cards for HOFs like Buck Ewing, John Clarkson, and Jesse Burkett.
At the moment, none have reached an auction house. It would be assumed that this would be a high 6 figure, if not 7 figure card.
In 2018 Heritage auctioned a cabinet card with a similar design. It sold for slightly under $100,000.
1903 Breish Williams E107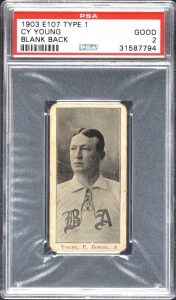 With the lack of a N300 Mayo, the next major card for Young came 10 years later in 1903. The E107s were the first cards released in the 1900s.
E107s are really tough to come across and expensive when they eventually make it to an auction house. 
A PSA 1 Cy Young Blank Back sold for $22,000 in early 2021.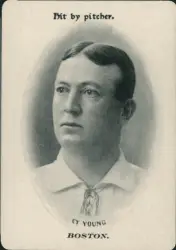 The Fan Craze Cy Young Baseball card look more like a deck of playing cards than your typical sports cards of the era. Although this was produced 13 years after Cy Young's rookie, it's still one of his first playing day cards. The imagery used is the same as that of his E107. 
It's also much more affordable than many of the other cards featured on this list. The last 8 sold in 2020 for $1,800. 
The W555s are a tough-to-find hand-cut release from 1909. They were a local regional release from Philly and could be found on the top of Jay S Meyer's confectionary boxes. 
Cy Young technically has two cards within the set, however, one is an error. The one labeled Cy Young is actually a picture Irv Young. Irv Young was a Pitcher who player for the Pittsburgh Pirates and Boston Doves in 1908.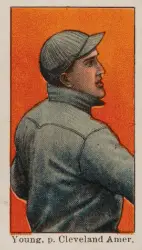 There are six different backs lumped into the E92 categorization. The four pictured below as well as three color variations on the Croft's Candy: Red, Blue, and Black. The most difficult of the six backs to grab is the Croft's Cocoa. 
Only PSA 5 examples have sold, with the last sale being around $4000.
1909 E101 Set of 50 & 1909 Niagara Baking (D355)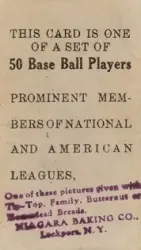 1909 Niagara Baking (D355)
These cards both have identical fronts to the e92 but have slightly different backs. The E101 is an anonymous set whereas the D355 has an additional stamp stating its from the Niagara Baking Company based out of New York.
Like the W555, Cy Young once again is mis labeled on the card. The imagery used is that of Irv Young. The card has a variation within the set showing Boston as the team. 
Similiar to players like Ty Cobb, Cy Young has 3 different T206 cards in the set. His most expensive is the green portrait.
As with all other T206 cards, you can find a variety of different backs that can greatly impact the value. Scarcer backs can be in the 5 figure range for even low graded examples.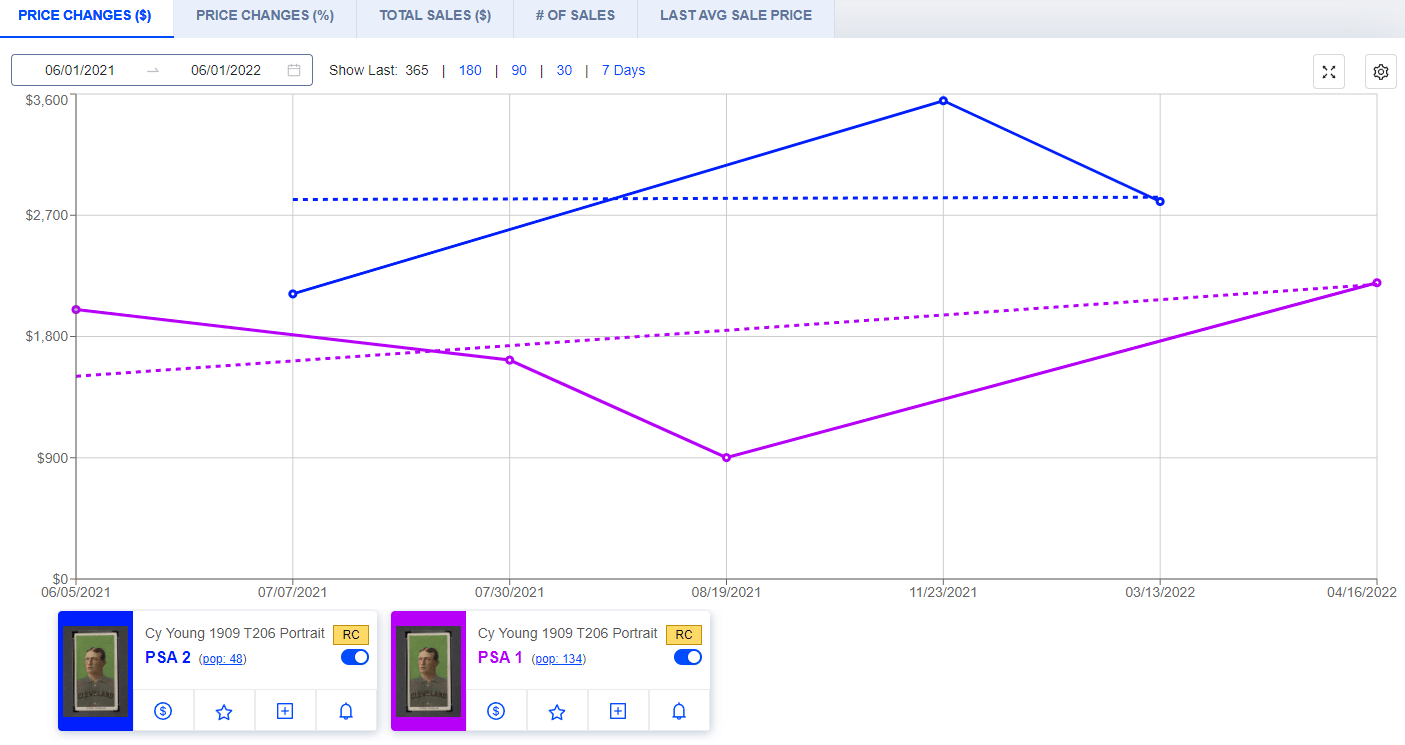 The above chart shows the prices of a PSA 3 and 3 Cy Young Green Portrait. This was grabbed from Market Movers. Get your first month for $1 using code BREAKOUT
1910-12 Red Cross Tobacco T215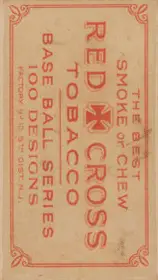 The red cross tobacco uses the same imagery of the Glove shows T206. The only sold listing was a PSA 8 which went for $34,000 back in 2019. It's an extremely tough card to find with less than 3 examples graded.
In Early 1909, Young was traded from the Boston Americans to the Cleveland Naps for $12,500 and 2 other players. This release depicted Cy Young on both teams through two different cards.
The Boston Americans Cy Young Caramel was also featured on season 5 of Pawn Stars. Rick ended up purchasing a raw beater for $300.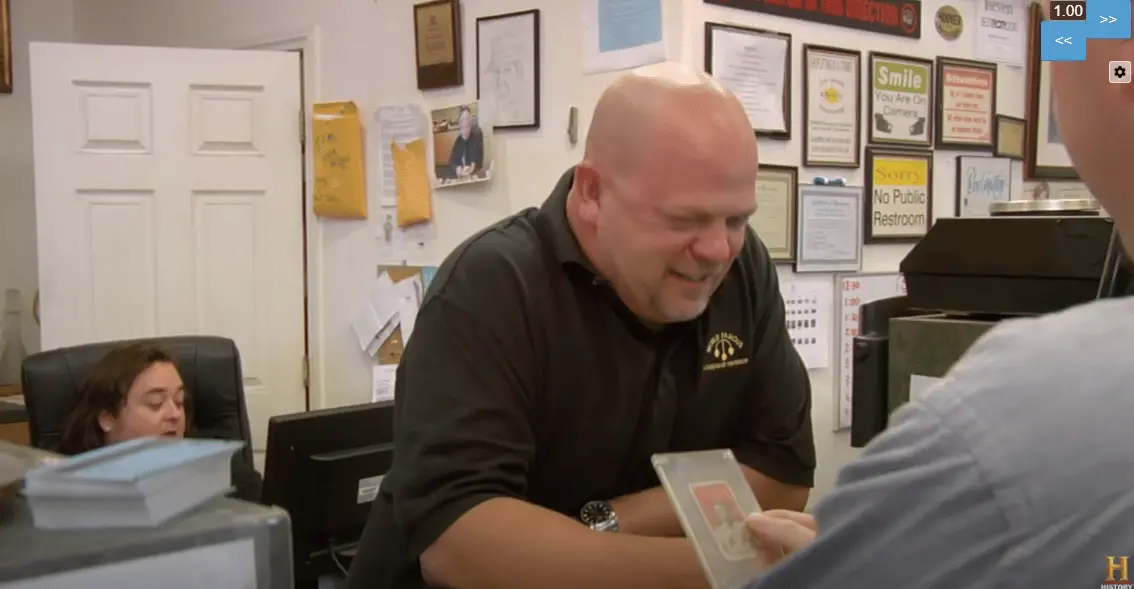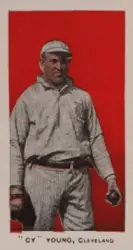 Many cards within the E98 set are part of the incredible Black Swamp find. On top of that, there are two different 10s within the PSA pop report! You can find a total of 4 different colors: Red, Orange, Green, and Blue. 
1910 Standard Caramel E93 #30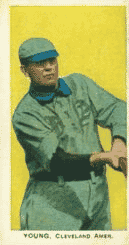 This is a unique Cy Young baseball card as it has him holding a baseball bat. An incredible PSA 9 sold at REA in 2022 for over $500,000! Low-graded examples will run around $2,000
1910-11 Sporting Life M116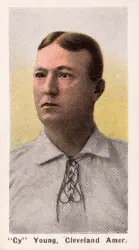 The M116 uses the same photo as his E107 and Fan Craze. The difference though is the number of vibrant colors used. This card was made by the same company that made the w600 sporting life cabinets in the early 1900s.
1911 George Close Candy (E94)
Like the e98s, you can find the e94 in multiple colors: Red, Bright Green, Purple, Dark Green. On the front of the card it mentions Cy Young as "Old" which at the time he was 44. 1911 would be the final season from the legendary pitcher.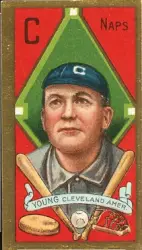 The T205 Gold Border was Cy Young's last playing day card. The T205s have a gold/metal look to them and are stunning in person. Often they chip easily so finding a higher grade can be tough.
I picked up one of these at the Dallas Card show when I traded away my Nolan Ryan BVG 6 rookie card.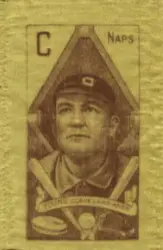 The S74 silks used the same imagery from the T205 set. You can find slight variations based on the tobacco brand as well as white and colored editions of the silk.
1911 Turkey Red Cabinets T3 #42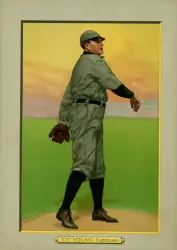 Coupons had to be exchanged to receive a Turkey Red Cabinet Card. This set featured prominent Baseball players and Boxers. They have a large gray border surrounding the card and a colorful painting inside.
1911-14 General Baking (D304)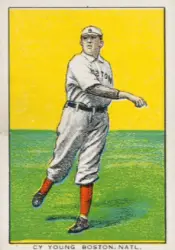 The D304 cards have multiple backs: General Baking, Marten's Bakery, Brunner's Butter Crust, and Weber's Bakery. The card shows Young throwing a baseball and is in a different cardboard size than many of the releases during the era.
1912 Hassan Triple Folders T202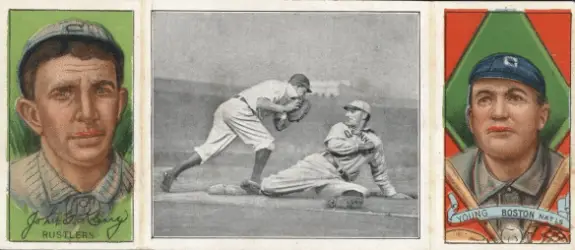 This was the first Cy Young baseball card after his career ended. The fold also features Johnny Kling a catcher who accumulated 29 WAR and 1150 hits throughout his 13-year career. The image used of Young is the same as his silk and T205.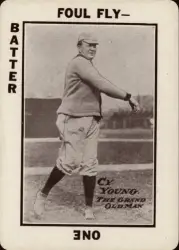 This rendition of a Cy Young baseball card has a red playing card back. It has the same cut-out as that of the 1906 Fan Craze. There is another set called "Tom Barker Game" that looks nearly identical to this one. The National Game is probably the most affordable pre-war Cy Young card to own.
Final Thoughts on Cy Young Baseball Cards
Since the pitching award is names after him, Cy Young baseball cards will always have a collecting base