After the tremendous success of the T206 cards, the American Tobacco Company needed a worthy follow-up release. In 1911, the T205 Gold Border set became that. The cards were distributed by 11 different cigarette brands across the country.
While a lot of newer collectors may think T205 baseball cards come before the T206 set, they were actually a follow-up to the T206s. Like many of the other tobacco card sets, the name designation came from Jefferson Burdick's book: The American Card Catalog. 
With regards to the design, the T205 baseball cards featured a gold gilded border. Since they used metal dust in the ink, many cards have changed color over time. You'll see that some now have a green appearance to them.
The gold color also makes wear show easily on the cards. There are only 4 current examples graded a PSA 9 in the set registry. High grades in these are expensive!
The T205s also have 3 distinct designs based on the league a player was in.
Three t205 baseball card designs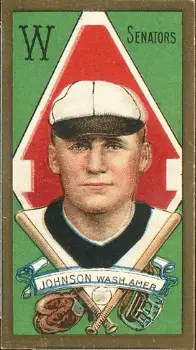 The American league cards have a diamond frame that features a baseball, two bats, and catchers equipment.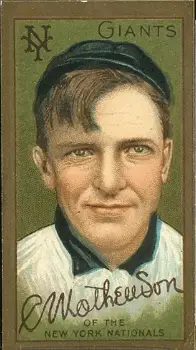 The National league cards have large portrait shots with the an autograph below the picture. It's actually the first time a signature appeared on a card.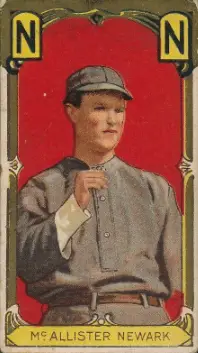 Minor league cards have an elaborate design that features columns on both side
This set is much easier to complete than the T206. While the back states there are '400 Designs' there really are only 208 cards (232 if you hunt the variations).  This was common with pre-war sets as even later brands like Goudey promised large releases which they never produced.
While some players like Roger Bresnahan and Eddie Collins have multiple cards, it's nothing like the T206 set where players can have up to 5 different images. There's a total of 27 different HOF players including Ty Cobb, Tris Speaker, Walter Johnson, Cy Young, and Christy Mathewson.
The following brands are featured on the backs of t205 baseball cards. They are listed down below in order of scarcity. In total, there are 17 different back combinations when you include factory numbers. If you look carefully, you might be able to find a Piedmont Factory 42 at a card show. Often many people don't realize how scarce they actually are and assume its a normal piedmont.
Piedmont Factory 25

Polar Bear

Sweet Caporal

Sweet Caporal Factory 25

Sweet Caporal Factory 42

Hassan Factory 649

Honest Long Cut

Sovereign

Hassan Factory 30

Cycle

American Beauty green

American Beauty black

Piedmont Factory 42

Broadleaf black

Hindu

Drum
Most Valuable t205 baseball cards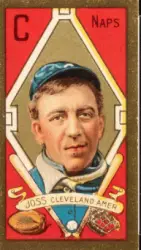 Joss was on track for a HOF career before tragically passing away due to tubercular meningitis before the start of the 1911 season.
In only 9 years, he had over 150 Wins with a sub 1 WHIP and sub 2 ERA. 
His t205 baseball card was a tribute to his life and career.
The back states: "Addie Joss, whose death in 1911 was a great loss to his team and to the national game, was a native of Cleveland, and had always played with the team from that city. His best year was in 1908, when he won 24 games out of 35, and put the Naps within half a point of the pennant. On October 2 of that year he pitched a game against Chicago, when no player of the White Sox reached first. He was a faithful player, liked by his team mates (sp.) and respected by the public, many thousands of whom attended his funeral."
In 1978, Joss would be elected to the baseball HOF. This made him the only player to make the Hall of Fame without playing a full 10 seasons.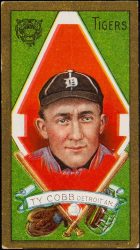 Ty Cobb is the best player featured in this set. There are many pre war and vintage collectors who want to acquire any of his playing day cards.
Unlike the T206s he only has one card which makes this much scarcer to find.
Also, 1911 was the year that he won his first and only MVP award. He batted .419 with 248 hits and a 196 OPS+.
Christy Matthewson Cycle Back Error
Christy Matthewson was one of the top pitchers in baseball in the early 1900s. Due to a printing error on his cycle back card, it lists Matthewson as only having 1 loss in 1908. 
On every other t205 baseball card, it shows 11 losses. 
Due to the scarcity of the cycle back and the stardom of Matthewson, this card is extremely expensive. 
There are a total of 26 graded with PSA. The last 1 did $4,200 in a 2021 REA Auction.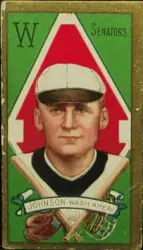 Walter Johnson was the 2nd best player in the game at the time behind only Ty Cobb. The legendary pitcher won 2 MVPs and 3 Triple crowns across his career. He also accumulated 165 WAR and 3,500 strikeouts.
The T205 baseball card is one of his earlier career cards and much more affordable than his T206 Portrait or T204 Ramly.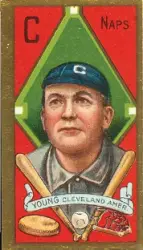 1911 features one of the last playing day of cards of Cy Young. That year Young split time between the Cleveland Naps and Boston Rustlers before officially retiring at the age of 44.
Across his 22 year career, he ended up winning 511 games! Cy Young is a popular card amongst collectors due to the pitching award named after him. Tons of collectors will want any card with his name on it.
I picked up an SGC 1 at the Dallas Card Show in 2021 when I traded away my 1968 Nolan Ryan rookie card.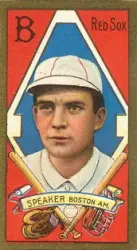 While Tris Speaker had an amazing career, his t205 often flies under the radar for many collectors. His T205 is considered an early card of his and is still somewhat cheap. 
You can often find lower graded copies under the $500 threshold.
T205 baseball card Set Checklist
Ed Abbaticchio – Boston Rustlers
Doc Adkins – Baltimore Orioles
Leon Ames – New York Giants
Jimmy Archer – Chicago Cubs
Jimmy Austin – New York Yankees
Bill Bailey – St. Louis Browns
Home Run Baker – Philadelphia Athletics
Neal Ball – Cleveland Naps
E.B. Barger – Brooklyn Dodgers
Jack Barry – Philadelphia Athletics
Emil Batch – Rochester Bronchos
Johnny Bates – Philadelphia Phillies
Fred Beck – Boston Rustlers
Beals Becker – New York Giants
George Bell – Brooklyn Dodgers
Chief Bender – Philadelphia Athletics
Bill Bergen – Brooklyn Dodgers
Bob Bescher – Cincinnati Reds
Joe Birmingham – Cleveland Naps
Lena Blackburne – Chicago White Sox
William E. Bransfield – Philadelphia Phillies
Roger Bresnahan – St. Louis Cardinals
Al Bridwell – New York Giants
Mordecai Brown – Chicago Cubs
Bobby Byrne – Pittsburgh Pirates
Hick Cady – Newark Indians
Howie Camnitz – Pittsburgh Pirates
Bill Carrigan – Boston Red Sox
Frank Chance – Chicago Cubs
Hal Chase – New York Yankees
Eddie Cicotte – Boston Red Sox
Fred Clarke – Pittsburgh Pirates
Ty Cobb – Detroit Tigers
Eddie Collins – Philadelphia Athletics
Jimmy Collins – Providence Grays
Frank J. Corridon – St. Louis Cardinals
Otis Crandall – New York Giants
Lou Criger – New York Yankees
Bill Dahlen – Brooklyn Dodgers
Jake Daubert – Brooklyn Dodgers
Jim Delehanty – Detroit Tigers
Arthur Devlin – New York Giants
Josh Devore – New York Giants
W.R. Dickson – New York Giants
Jiggs Donahue – Chicago White Sox
Red Dooin – Philadelphia Phillies
Mickey Doolan – Philadelphia Phillies
Patsy Dougherty – Chicago White Sox
Tom Downey – Cincinnati Reds
Larry Doyle – New York Giants
Hugh Duffy – Chicago White Sox
Jack Dunn – Baltimore Orioles
Jimmy Dygert – Philadelphia Athletics
Dick Egan – Cincinnati Reds
Kid Elberfeld – Washington Senators
Clyde Engle – Boston Red Sox
Louis Evans – St. Louis Cardinals
Johnny Evers – Chicago Cubs
Bob Ewing – Philadelphia Phillies
George Ferguson – Boston Rustlers
Ray Fisher – New York Yankees
Art Fletcher – New York Giants
John Flynn – Pittsburgh Pirates
Russ Ford – New York Yankees
Bill Foxen – Chicago Cubs
Jimmy Frick – Newark Indians
Art Fromme – Cincinnati Reds
Earle Gardner – New York Yankees
Harry Gaspar – Cincinnati Reds
George Gibson – Pittsburgh Pirates
Wilbur Good – Boston Rustlers
George Graham – Chicago Cubs
Eddie Grant – Cincinnati Reds
Dolly Gray – Washington Senators
Clark Griffith – Cincinnati Reds
Bob Groom – Washington Senators
Charlie Hanford – Jersey City Skeeters
Bob Harmon – St. Louis Cardinals
Topsy Hartsel – Philadelphia Athletics
Arnold J. Hauser – St. Louis Cardinals
Charlie Hemphill – New York Yankees
C.L. Herzog – Boston Rustlers
Dick Hoblitzell – Cincinnati Reds
Danny Hoffman – St. Louis Browns
Miller Huggins – St. Louis Cardinals
John Hummel – Brooklyn Dodgers
Fred Jacklitsch – Philadelphia Phillies
Hughie Jennings – Detroit Tigers
Walter Johnson – Washington Senators
Davy Jones – Detroit Tigers
Tom Jones – Detroit Tigers
Addie Joss – Cleveland Naps
Ed Karger – Boston Red Sox
Ed Killian – Detroit Tigers
Red Kleinow – Boston Red Sox
Johnny Kling – Chicago Cubs
John Knight – New York Yankees
Ed Konetchy – St. Louis Cardinals
Harry Krause – Philadelphia Athletics
Floyd M. Kroh – Chicago Cubs
Frank LaPorte – St. Louis Browns
Frank Lange – Chicago White Sox
Arlie Latham – New York Giants
Tommy Leach – Pittsburgh Pirates
Watty Lee – Newark Indians
Sam Leever – Pittsburgh Pirates
Lefty Leifield – Pittsburgh Pirates
Ed Lennox – Brooklyn Dodgers
Paddy Livingston – Philadelphia Athletics
Hans Lobert – Philadelphia Phillies
Bris Lord – Philadelphia Athletics
Harry Lord – Chicago White Sox
John C. Lush – St. Louis Cardinals
Nick Maddox – Pittsburgh Pirates
Sherry Magee – Philadelphia Phillies
Rube Marquard – New York Giants
Christy Mathewson – New York Giants
Al Mattern – Boston Rustlers
Sport McAllister – Newark Indians
George McBride – Washington Senators
Amby McConnell – Chicago White Sox
Pryor McElveen – Brooklyn Dodgers
John J. McGraw – New York Giants
Harry McIntyre – Chicago Cubs
Matty McIntyre – Chicago White Sox
Larry McLean – Cincinnati Reds
Fred Merkle – New York Giants
George Merritt – Buffalo Bisons
Chief Meyers – New York Giants
Clyde Milan – Washington Senators
Dots Miller – Pittsburgh Pirates
Mike Mitchell – Cincinnati Reds
Pat Moran – Philadelphia Phillies
George Moriarty – Detroit Tigers
George Mullin – Detroit Tigers
Danny Murphy – Philadelphia Athletics
Jack Murray – New York Giants
John Nee – Newark Indians
Tom Needham – Chicago Cubs
Rebel Oakes – St. Louis Cardinals
Rube Oldring – Philadelphia Athletics
Charley O'Leary – Detroit Tigers
Fred Olmstead – Chicago White Sox
Orval Overall – Chicago Cubs
Freddy Parent – Chicago White Sox
Dode Paskert – Philadelphia Phillies
Fred Payne – Chicago White Sox
Barney Pelty – St. Louis Browns
Jack Pfiester – Chicago Cubs
Jimmy Phelan – Providence Grays
Ed Phelps – St. Louis Cardinals
Deacon Phillippe – Pittsburgh Pirates
Jack Quinn – New York Yankees
Bugs Raymond – New York Giants
Ed Reulbach – Chicago Cubs
Lewis Richie – Chicago Cubs
John Rowan – Philadelphia Phillies
Nap Rucker – Brooklyn Dodgers
W.D. Scanlan – Brooklyn Dodgers
Germany Schaefer – Washington Senators
Admiral Schlei – New York Giants
Boss Schmidt – Detroit Tigers
Frank Schulte – Chicago Cubs
Jim Scott – Chicago White Sox
Bud Sharpe – Boston Rustlers
David Shean – Boston Rustlers
Jimmy Sheckard – Chicago Cubs
Hack Simmons – Detroit Tigers
Tony Smith – Brooklyn Dodgers
Fred Snodgrass – New York Giants
Tris Speaker – Boston Red Sox
Jake Stahl – Boston Red Sox
Oscar Stanage – Detroit Tigers
Harry Steinfeldt – Chicago Cubs
George Stone – St. Louis Browns
George Stovall – Cleveland Naps
Gabby Street – Washington Senators
George Suggs – Cincinnati Reds
Ed Summers – Detroit Tigers
Jeff Sweeney – New York Yankees
Lee Tannehill – Chicago White Sox
Ira Thomas – Philadelphia Athletics
Joe Tinker – Chicago Cubs
John Titus – Philadelphia Phillies
Terry Turner – Cleveland Naps
James Vaughn – New York Yankees
Heinie Wagner – Boston Red Sox
Bobby Wallace – St. Louis Browns
Ed Walsh – Chicago White Sox
Zack Wheat – Brooklyn Dodgers
Doc White – Chicago White Sox
Kirby White – Pittsburgh Pirates
Kaiser Wilhelm – Brooklyn Dodgers
Ed Willett – Detroit Tigers
Chief Wilson – Pittsburgh Pirates
Hooks Wiltse – New York Giants
Harry Wolter – New York Yankees
Cy Young – Cleveland Naps
E.B. Barger – full "B" on hat

E.B. Barger – partial "B" on hat

Roger Bresnahan – mouth closed

Roger Bresnahan – mouth open

Hal Chase – gold diamond frame ends below shoulders

Hal Chase – gold diamond frame ends at shoulders

Eddie Collins – mouth closed

Eddie Collins – mouth open

Otis Crandall – "t" in name is crossed

Otis Crandall – "t" in name not crossed

Patsy Dougherty – Sox sock icon filled with red

Patsy Dougherty – Sox sock icon filled with white

Russ Ford – black cap

Russ Ford – white cap

Dolly Gray – no stats on back

Dolly Gray – stats on back

Bob Harmon – shows both ears

Bob Harmon – shows left ear

Dick Hoblitzell – no stats on back

Dick Hoblitzell – "Cin." listed after 1908 in stats

Dick Hoblitzell – name incorrectly listed as "Hobitzel"

Dick Hoblitzell – "Cin." not listed after 1908

Arlie Latham – Listed as A. Latham on back

Arlie Latham – Listed as W.A. Latham on back

Lefty Leifield – Listed as A. Leifield on front

Lefty Leifield – Listed as A. P. Leifield on front

Christy Mathewson – W/L record on back shows "37-1" instead of "37-11"

Pat Moran – no line under stats

Pat Moran – line under stats

Bobby Wallace – one line of 1910 stats

Bobby Wallace – two lines of 1910 stats

Irwin K. Wilhelm – missing letter "r" in suffered

Hooks Wiltse – shows both ears

Hooks Wiltse – shows left ear