Tyrus Raymond Cobb was born in 1886 in Narrows Georgia. His parent's really wanted him to pursue an academic career, however, Ty Cobb had other plans.
In 1904 he started his professional career with the Augusta baseball team of the South Atlantic League. It was this early in Cobb's career that an announcer saw him play and gave him the nickname "George Peach".
Cobb officially joined the Detroit Tigers in 1905. Keep in mind, in the dead ball era, pitchers dominated the game and batting averages were fairly low. However, Cobb was an exception to that rule as he averaged .320 in one of his first years in the league. 
Cobb was known to be very competitive. He is quoted saying "I never could stand losing… Second place didn't interest me. I had a fire in my belly". It's reported that this desire stemmed from his demanding father. He was known as a perfectionist and tried to be outstanding in ever aspect of baseball. He succeeded.
Ty Cobb was one of baseball's earliest stars. Playing for the Detroit Tigers, Cobb accumulated 150 WAR, 4,189 hits, and 900 SBs. He accomplished these feats while having a lifetime batting average of .366 and an OPS+ of 168. No wonder why many people still consider him a top 5 baseball player of all-time even to this day. 
Due to this and low populations, Ty Cobb Baseball Cards are expensive. They are some of the most valuable cards in a release.
Ty Cobb's official rookie card can be classified as anything produced in 1909. That year had his first major releases. Prior to 1909, Cobb had many different postcards. but these aren't officially counted as baseball cards. However, they definitely still have a following of collectors who would want one in their collection.
The first card(s) that should be mentioned is from the T206 set. Cobb actually has 4 different designs: a red portrait, green portrait, bat on shoulder, and bat off the shoulder.
The T206 set is considered one of Baseball's most important releases. The set features the biggest names in baseball from the early 1900s.
One thing that makes it stand out is the variety of backs that are found on the cards. This increases the value of a card depending on scarcity. 
Most Expensive Ty Cobb Baseball Card
The scarcest T206 back in existence is the Ty Cobb back.  There are less than 25 known examples out there. 
In 2016, a "Lucky 7 find" discovered 7 new examples of the Cobb back in an attic. With a minimum value of $100,000 a card, it was an incredible find. One of the Cobb's even graded a 4.5! The highest known example.
I also want to mention that there are other brands that use the same design as the T206. They are the 1914 T213 Coupons and 1912 T215 Red Cross Tobacco.
Both are scarce cards to find and have a premium over a common T206 back
Ty Cobb Rookie Card Value
For the T206 Portrait Ty Cobb Rookie Card, you can expect to pay close to $3,000 for a good looking PSA 1 and $5,000 for a PSA 2. This is under the assumption that the back of the card is common and not a rarer variation.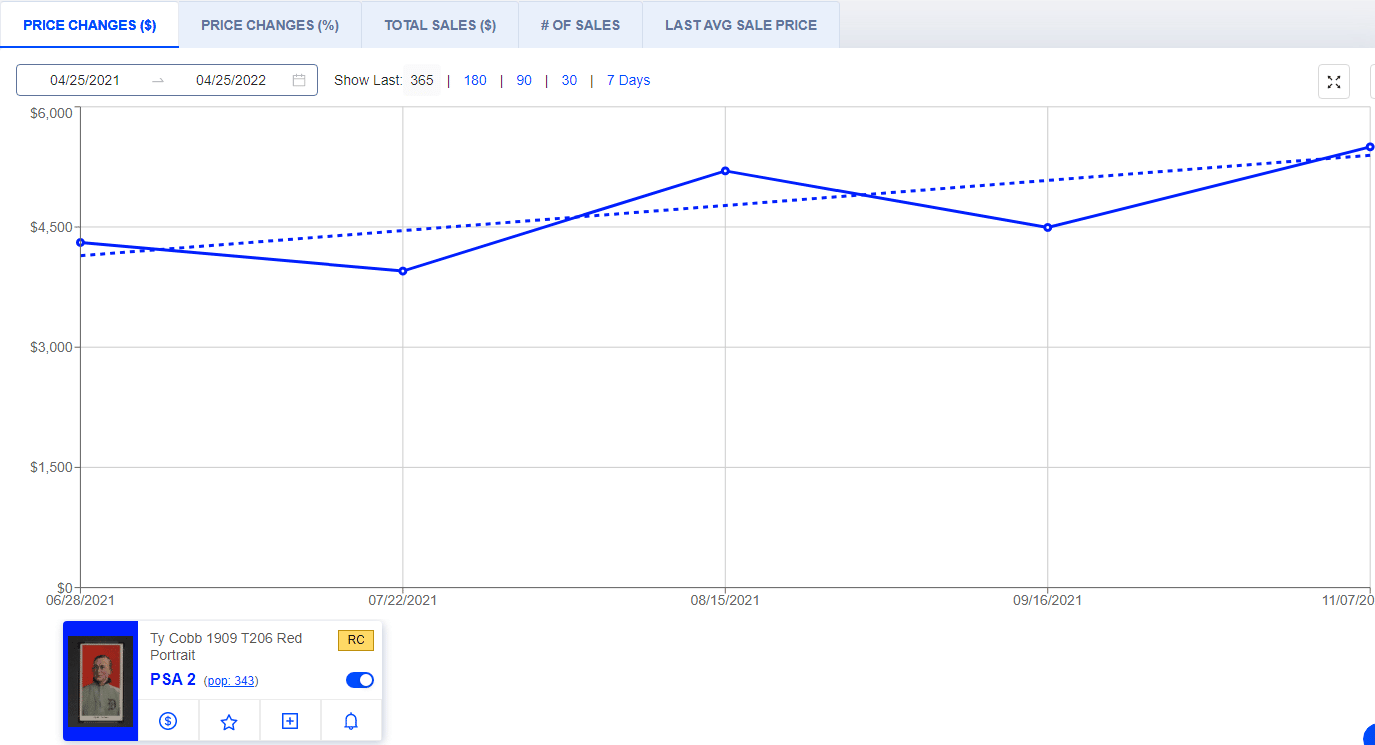 The above chart shows the prices of a PSA 2 Ty Cobb Red Portrait. This was grabbed from Market Movers. Get your first month for $1 using code BREAKOUT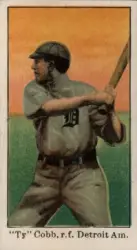 Ty Cobb has a few caramel cards from 1909, but I wanted to highlight the E90-1.
This card has a similar design and size when compared to the T206s, but a lot harder to find. What also makes this set intriguing is that Cobb isn't the most expensive card. The rookie card of Shoeless Joe Jackson outsells it. Jackson has very few playing day cards and is an important figure in baseball folklore. He was a key part of the 1919 Black Sox scandal and was banned from baseball for life. Before being thrown out of the game, Jackson was on track for Cooperstown.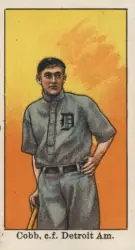 This card shows a zoomed out picture of Cobb and a bright yellow background. The full 25 card set is listed on the back of each card. Due to this being a tobacco card, it's extremely difficult to find one without obvious defects (if you can find one at all). This card also has different backs which include croft's candy back, an E101 version that comes out of a set of 50, and  E105 Mello-mint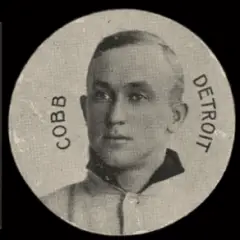 The Colgan's chips cards was packaged with potato chips. It's small in size and depicts portraits of players. These are difficult to find in high grade due to them being associated with food, but a cool find considering they came out before the 1910s.
1909 E95 Philadelphia Caramel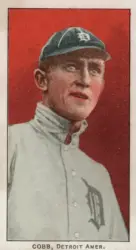 The Philladelphia Caramel depicts a portrait of Cobb with a maroon background. There are 25 cards in this set and all of which are listed on the back of each card
1910 E-UNC Candy Hand Cut
This card has a similar design to the E93 standard caramel card except it has either a red or blue design and  border. The UNC card is hand cut and very scarce.
1910 E103 Williams Caramels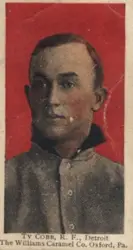 This card features the same picture as the T206 portrait card. The only major differences with regards to the picture are that the Williams Caramel cards are a bit darker and the picture is zoomed in.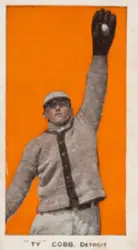 Cobb os seen catching a fly ball in this picture. This card comes in may different colors including orange, red, blue, and green. The E93 standard card and the UNC card have have the same picture as this one. The E93 is only pictured in orange. Also, there is a close candy version that has a dark green background
1910 Orange Borders Hand Cut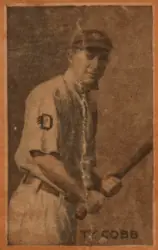 The Orange border card is extremely scarce and shows a unique picture of Ty Cobb. It looks similar to the Brunner's bread card, however it's a bit different. This card is not from the "E" series and just referred to as the "Orange Borders" set.
1911 D304 General Baking Co.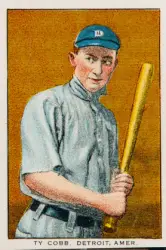 There are four different backs of this card: General Baking, martens, Butter Krust, and Brunners. It's popular for collectors as the card has a bright tone to it. It's reported that this card was produced for 4 years (up until 1914).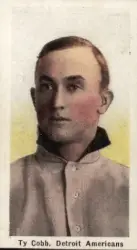 This card has the same picture as the Williams caramel, but it has color. This card is not to be confused with the 1916 M101 sporting life card which is black and white or the sporting supplement card which is also black and white, and oversized. This card has a white background, but there is also a blue background version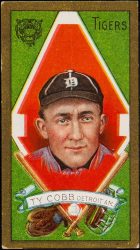 The T205s are the follow-up release to the monster T206 set. Unlike the T206s, Cobb only has 1 card in this release which makes it much harder to find.
1911 is also a desirable year for Cobb's cards since he won the MVP when he hit .419 and stole 83 bases. 
Finding a T205 in high grade can be extremely tough since the gold border is prone to chipping. Not to mention, the card is well over 100 years old.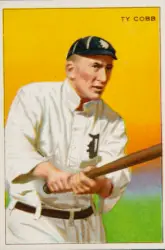 The T227 Series of Champions was a multisport release that featured athletes from Baseball to Boxing. There were four baseball players featured in the set: Cobb, Baker, Bender, and Marquard.
The cards in this release were much larger than other tobacco cards from the period which really makes them stand out. PSA has graded less than a total of 100 Cobbs as well which makes finding one tough.
1914 Cracker Jack Ty Cobb #30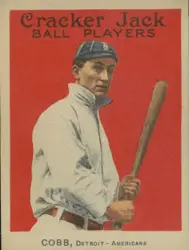 Produced in 1914 and 15, Cracker Jacks were some of the most visually stunning cards in the mid-1910s. 1914 goes for a premium since they weren't distributed as a full set. You can tell the difference in the year with the back. The 15 back is upside down.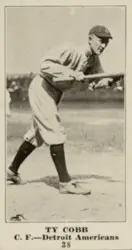 This is Cobb's only playing day card that shows him bunting. It can either have a blank back or the Sporting News add on the back.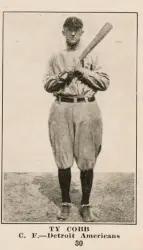 This card depicts Cobb with a batt at the shoulder. for a size reference it is much wider than the 1915 M101. Some players have the same pose for their M101 and Collins-Mccarthy poses, however Cobb has two different poses.
1921 Oxford Confectionary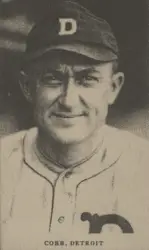 The Oxford confectionary card was packed with caramels. Because of this, it's typical to see them with brownish stains and most have the rounded corners even though the card originally has sharp corners
1932 U.S. Caramel Ty Cobb #14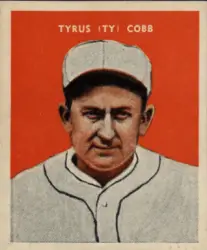 Like the T227s this was another multi-sport release. It focused primarily on baseball, but had boxers and golfers as well.
This was one of Cobb's first cards since his retirement in 1928.
1933 Goudey Sport Kings Ty Cobb #1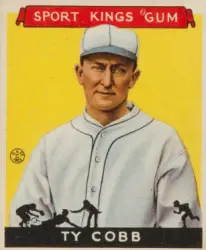 Another post-retirement cobb card, the Sports Kings, was produced by Goudey in 1933. They featured the best of the best athletes across numerous sports like Boxing, Hockey, and Football.
This card is much easier to find than the US Caramel, but there are a lot of Goudey/Sports Kings collectors out there who want to complete a set.