Ty Cobb was one of baseball's earliest stars. Playing for the Detroit Tigers, The Georgia Peach accumulated 150 WAR, 4,189 hits, and 900 SBs. He accomplished these feats while having a lifetime batting average of .366 and an OPS+ of 168. No wonder why many people still consider him a top 5 baseball player of all-time even to this day. 
Due to this and low populations, Ty Cobb Baseball Cards are expensive. They are some of the most valuable cards in a release.
Ty Cobb's official rookie card can be classified as anything produced in 1909. That year had his first major releases. Prior to 1909, Cobb had many different postcards. but these aren't officially counted as baseball cards. However, they definitely still have a following of collectors who would want one in their collection.
The first card(s) that should be mentioned is from the T206 set. Cobb actually has 4 different designs: a red portrait, green portrait, bat on shoulder, and bat off the shoulder.
The T206 set is considered one of Baseball's most important releases. The set features the biggest names in baseball from the early 1900s.
One thing that makes it stand out is the variety of backs that are found on the cards. This increases the value of a card depending on scarcity. The scarcest back in existence is the Ty Cobb back.  There are less than 25 known examples out there. 
In 2016, a "Lucky 7 find" discovered 7 new examples of the Cobb back in an attic. With a minimum value of $100,000 a card, it was an incredible find. One of the Cobb's even graded a 4.5! The highest known example.
I also want to mention that there are other brands that use the same design as the T206. They are the 1914 T213 Coupons and 1912 T215 Red Cross Tobacco.
Both are scarce cards to find and have a premium over a common T206 back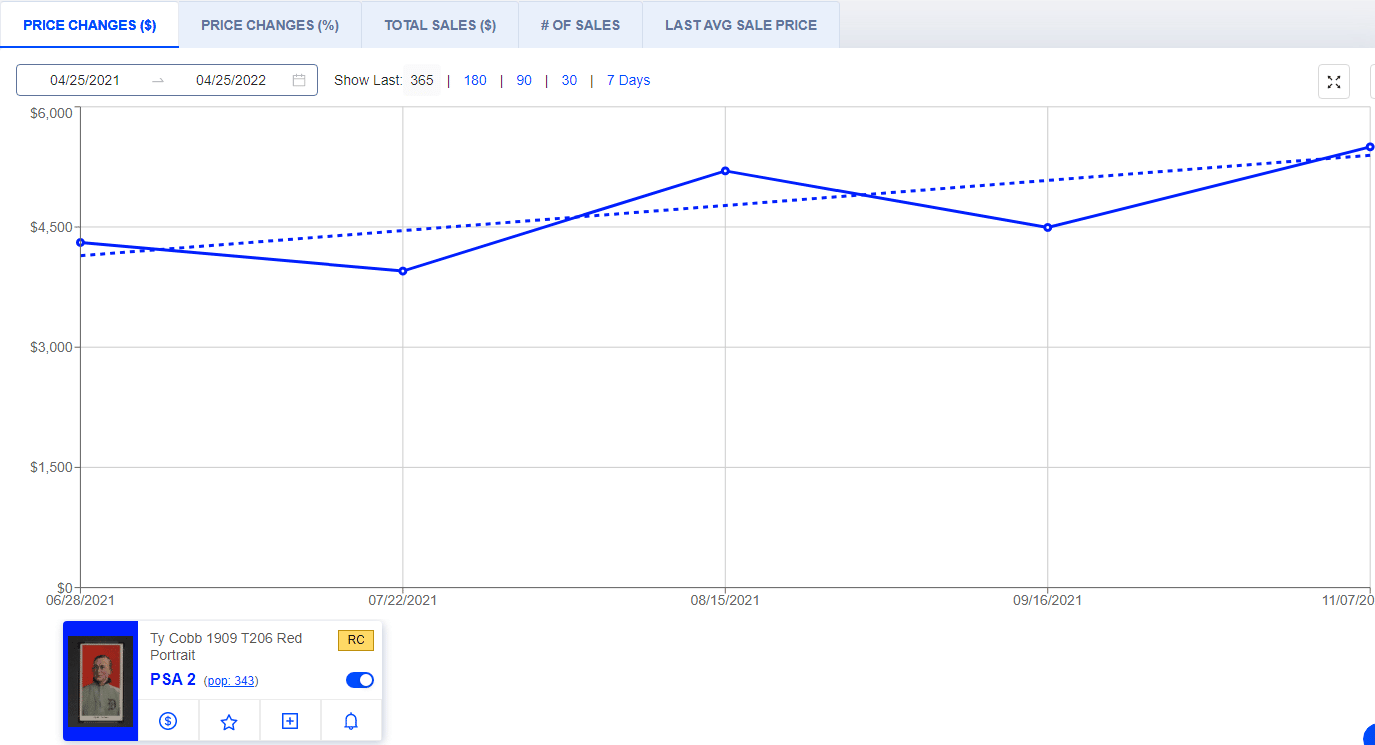 The above chart shows the prices of a PSA 2 Ty Cobb Red Portrait. This was grabbed from Market Movers. Get your first month for $1 using code BREAKOUT
Ty Cobb has a few caramel cards from 1909, but I wanted to highlight the e90-1.
This card has a similar design and size when compared to the T206s, but a lot harder to find. What also makes this set intriguing is that Cobb isn't the most expensive card. The rookie card of Shoeless Joe Jackson outsells it. Jackson has very few playing day cards and is an important figure in baseball folklore. He was a key part of the 1919 Black Sox scandal and was banned from baseball for life. Before being thrown out of the game, Jackson was on track for Cooperstown.
The T205s are the follow-up release to the monster T206 set. Unlike the T206s, Cobb only has 1 card in this release which makes it much harder to find.
1911 is also a desirable year for Cobb's cards since he won the MVP when he hit .419 and stole 83 bases. 
Finding a T205 in high grade can be extremely tough since the gold border is prone to chipping. Not to mention, the card is well over 100 years old.
The T227 Series of Champions was a multisport release that featured athletes from Baseball to Boxing. There were four baseball players featured in the set: Cobb, Baker, Bender, and Marquard.
The cards in this release were much larger than other tobacco cards from the period which really makes them stand out. PSA has graded less than a total of 100 Cobbs as well which makes finding one tough.
1914 Cracker Jack Ty Cobb #30
Produced in 1914 and 15, Cracker Jacks were some of the most visually stunning cards in the mid-1910s. 1914 goes for a premium since they weren't distributed as a full set. You can tell the difference in the year with the back. The 15 back is upside down. 
1932 U.S. Caramel Ty Cobb #14
Like the T227s this was another multi-sport release. It focused primarily on baseball, but had boxers and golfers as well.
This was one of Cobb's first cards since his retirement in 1928.
1933 Goudey Sport Kings Ty Cobb #1
Another post-retirement cobb card, the Sports Kings, was produced by Goudey in 1933. They featured the best of the best athletes across numerous sports like Boxing, Hockey, and Football.
This card is much easier to find than the US Caramel, but there are a lot of Goudey/Sports Kings collectors out there who want to complete a set.